She Knows Tech has announced an unmissable Summer Series of virtual masterclasses from a host of incredible producers, audio engineers, performers, and more.
The She Knows Tech Summer Series convenes twice monthly from June through September and is presented by an iconic all-women line-up. Sponsored by Reverb, the series will inspire creators through enlightening workshops with industry professionals, sharing their studio skills and doing what they do best.
Each of the eight sessions will focus on a different topic in music technology and will be led by an expert in that field. The schedule, according to She Knows Tech, includes:
Jun. 12: Songwriting & Producing with Rachel K Collier
Looking to create a professional-sounding demo? Want to level up your songwriting game? In this session, singer, songwriter & producer Rachel K Collier will show you how to write, build and produce your song as one consistent process.
Jun. 26: Beat Making with Gnarly
Want to spice up your beats? Renowned finger drummer and beatmaker Gnarly will walk you through how to create interesting and saucy grooves in your beats.
Jul. 11: Sound Design with Michele Darling
How do you find your sonic identity and form your quintessential sound? Do you hear the sound in your head but can't quite translate it into your music? Michele Darling will break down the elements of different genres and show you the science of designing your unique sound. Every genre has its sound, let's find yours.
Jul. 24: Mixing & Producing with Shani Gandhi
In this masterclass, Grammy-Winning Engineer Shani Gandhi takes us on a deep dive into some of her award-winning projects, detailing everything from the production and recording process to the final mixing stage.
Aug. 7: Vocal Mixing with Gloria Kaba
Do you struggle to get your vocals to sit at the forefront of your mix? Do you find yourself drowning out issues with excessive reverbs and delays? Gloria Kaba (Beyoncé, Madonna, Anderson .Paak) teaches us how to get a killer vocal sound that will give your voice the spotlight it deserves.
Aug. 21: Mastering with Piper Payne
OK, but what does a mastering engineer actually … 'do' though? There is no better person to break down the mystery of the mastering process and put your ears to work like Piper Payne. In this session, Piper will demystify the mastering process and teach you what you need to listen out for in your masters.
Sept. 4: DJing & Producing with Xiaolin
Are you struggling to make your DJ sets compelling and unique? DJ/producer/violinist/songwriter Xiaolin teaches us what makes an interactive killer DJ set while expressing your unique musicality.
Sept. 18: Turning Passion into Career with Neon Vines
Want to perform your tracks using tech but don't know where to start? In this masterclass, Neon Vines walks us through how she puts together her notable performances and shares what you need to know to get started and turn your passion into a career.
The Summer Series is an online event that is inclusive of all music-makers at all experience levels, skill sets, and focus areas. In addition to deepening your music tech knowledge and connecting with fellow artists, attendees will receive a digital swag bag and have the opportunity to win additional prizes during the sessions.
Tickets can be purchased here as a Complete Series Bundle, on a Monthly Ticket basis, or à la carte as Single Tickets. Our pro tip: use the exclusive code REVERB20 to get 20% off any level of ticket purchase. For more information about each session and the presenters, visit www.sheknows.tech.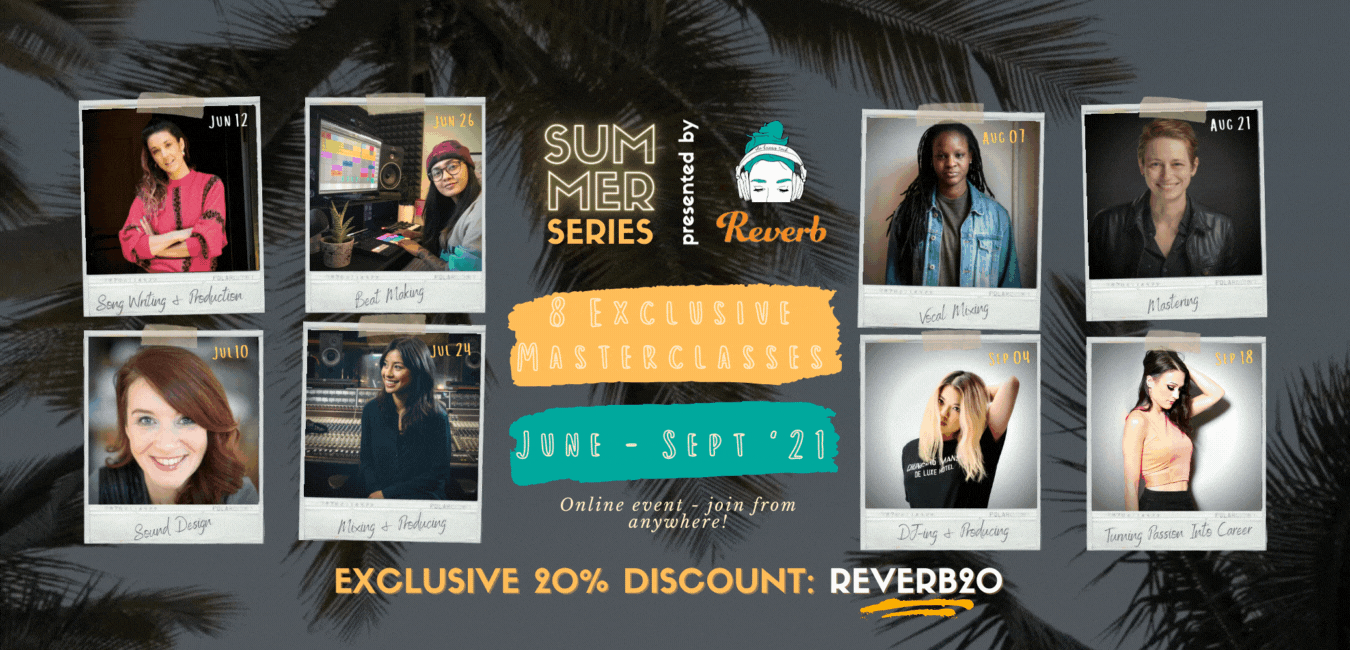 Rachel K Collier's Top Studio Gear
What are Rachel K Collier's Top 5 Studio must-haves? Click the links to learn more about the products she chose.
Keep your eyes on Reverb's Instagram Live this season and meet some of the illustrious artists who will be lending their expertise as presenters during this year's Summer Series sessions.
"We want to channel waves of trained women into technical roles in the music industry and dispel the notion that there are not enough female professionals in music production and technology. We dream of working in a music industry that is flooded with female-identifying producers, engineers & tech performers." This is the mission statement of She Knows Tech, and the organization has been hard at work devising ways to make that dream a reality. From boot camps to mentorship programs and virtual summits, SKT provides women in the music tech industry with a platform to showcase their work and vital resources to help them succeed.
Reverb is proud to partner with She Knows Tech to amplify their message.