There's a new kind of pedal out here, but you very well might have missed it, simply because there's no good name for the category.
Delay, dirt, reverb, modulation—these are broad terms that adequately capture a huge range of various individual effects. If your buddy asks to borrow your delay, you may need them to specify between your analog Carbon Copy or your do-it-all digital Timeline, but you broadly know what they're asking for.
Now, consider the Mod Devices Mod Dwarf.
With the Mod Dwarf, you can patch together a virtual pedalboard, so it's fair to call it a multi-effect akin to the Line 6 HX Effects, Boss GT-1000, or others. But the Dwarf also offers amp modeling, so it's probably more accurate to call it a multi-effect and amp modeler, like Line 6's larger Helix system, the Neural DSP Quad Cortex, or Fractal Audio's Axe series, even if you forego the amp modeling in favor of building elaborate effects chains instead.
But then there's the fact that you certainly don't need to use a guitar—the Mod Dwarf just as well works with synthesizers or other instruments—and in fact contains its own sound generators that can be played via a MIDI controller, sequenced via built-in MIDI sequencers, and patched into the rest of its effects and amps chains, making this "pedal" a self-contained instrument (or, really, instruments) all by itself.
What should we call a pedal that can do all of the above?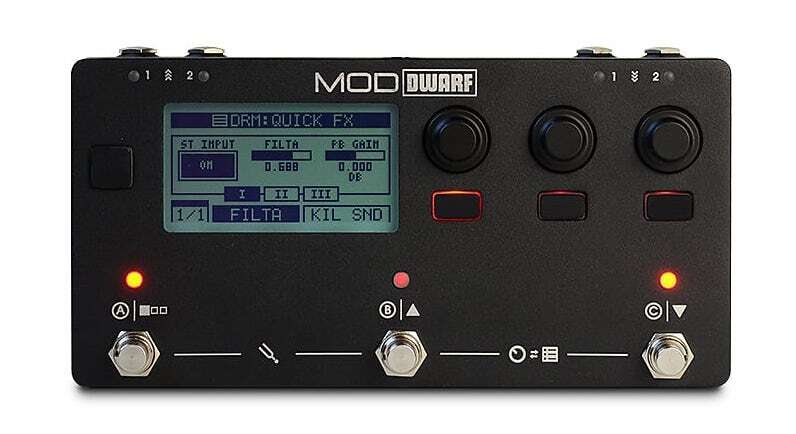 Mod Devices Mod Dwarf
In one of the best reviews of the Mod Dwarf soon after its release, YouTuber loopop said it was part of "a new category of pedals that don't just chain effects but also attempt to make your creative hardware setup dreams come true."
This new class includes machines like Mod Devices' earlier releases, the Mod Duo and Mod Duo X, as well as the Empress Effects Zoia and Poly Effects Beebo—all of which take on the form of a pedal but go well beyond a standard effects pedal's functions.
Empress calls its Zoia "basically a modular synthesizer in pedal form" because it offers the building block modules—LFOs, filters, envelope followers—that allow users to create standard effects like phasers, tremolos, reverbs, and more. For guitarists that just want to plug in and play, it does come with some "ready-made effects" pre-patched. But like the Mod Dwarf, there are also onboard oscillators, so it's a noise generator all its own too, with enough MIDI I/O and other connectivity to be used in plenty of guitar-less music-making rigs. Poly Effects similarly says that its Beebo "gives you the power of a modular synth in an easy to use touch screen format."
But maybe equating the patchability and tweakability of these pedals with modular synths muddies the waters. They're not synths alone, just as they're not multi-effects alone.
So, truly, what should we call these things? Don't these pedals deserve a succinct name that can, in a few words, capture the broad strokes of what they do? To get the ball rolling, maybe:
Pedal workstations?
Modular stompboxes?
Patchable pedal wonderlands?
Pantology circuits?
Jack-of-All-Tones?
The trick of course is to keep it short enough to be memorable yet broad enough to encompass the variations and peculiarities of the machines. Of our five suggestions, there's maybe one good one, so we'd love to hear from you.
Do you have an idea for a category name? Let us know. If you need some inspiration, see some examples of how music makers are using them below.
Loopop's Exploration of Mod Devices Mod Dwarf
Review: MOD DWARF can revolutionize your setup, if you let it
Red Means Recording w/ Mod Duo X
MOD Devices Mod Duo X - Generators
Benn Jordan w/ the Poly Beebo
Poly Digit and Bebo Pedals: Modular Multi-touch Mania
Knobs w/ Empress Zoia
Introducing: Zoia / Empress Effects