Photo of Ali Shaheed Muhammad, Adrian Younge, and Gary Bartz by Artform Studios. Used with permission.
On their 1990 single "Jazz Thing," Gang Starr's chief voice and lyricist, Guru lays out a concise but detailed history of jazz and Black American music. Tracing its origins across the Atlantic, from Africa to America, his words take us on a trip through centuries of cultural evolution:
Now, dig the story and follow
For then it landed, on American soil
Through the sweat, the blood and the toil
Hear "Praise the Lord," shouted on chain gangs
Pain they felt, but it helped them to maintain
Scott Joplin's rags, Bessie Smith's blues
St. Louis blues, they were all the news
Ringin' smooth, in all the listeners' ears
Fulfilling the needs, and planting the seeds of a jazz thing.
With Guru's words and DJ Premier's swinging, jazz-sampling beat, "Jazz Thing" is one of the best examples of hip-hop music's historical relationship with jazz. It is a relationship that is intergenerational, with both genres sharing common African diasporic roots.
For decades, sampling and DJ culture has done some heavy lifting in connecting the dots and creating an intimate working relationship between hip-hop and jazz. Even beyond groups like Gang Starr, Digable Planets, and Dream Warriors, who were erroneously labeled "jazz-rap" by the media, you'd be hard-pressed to find a notable rap group in the '90s who didn't pull from jazz as source material.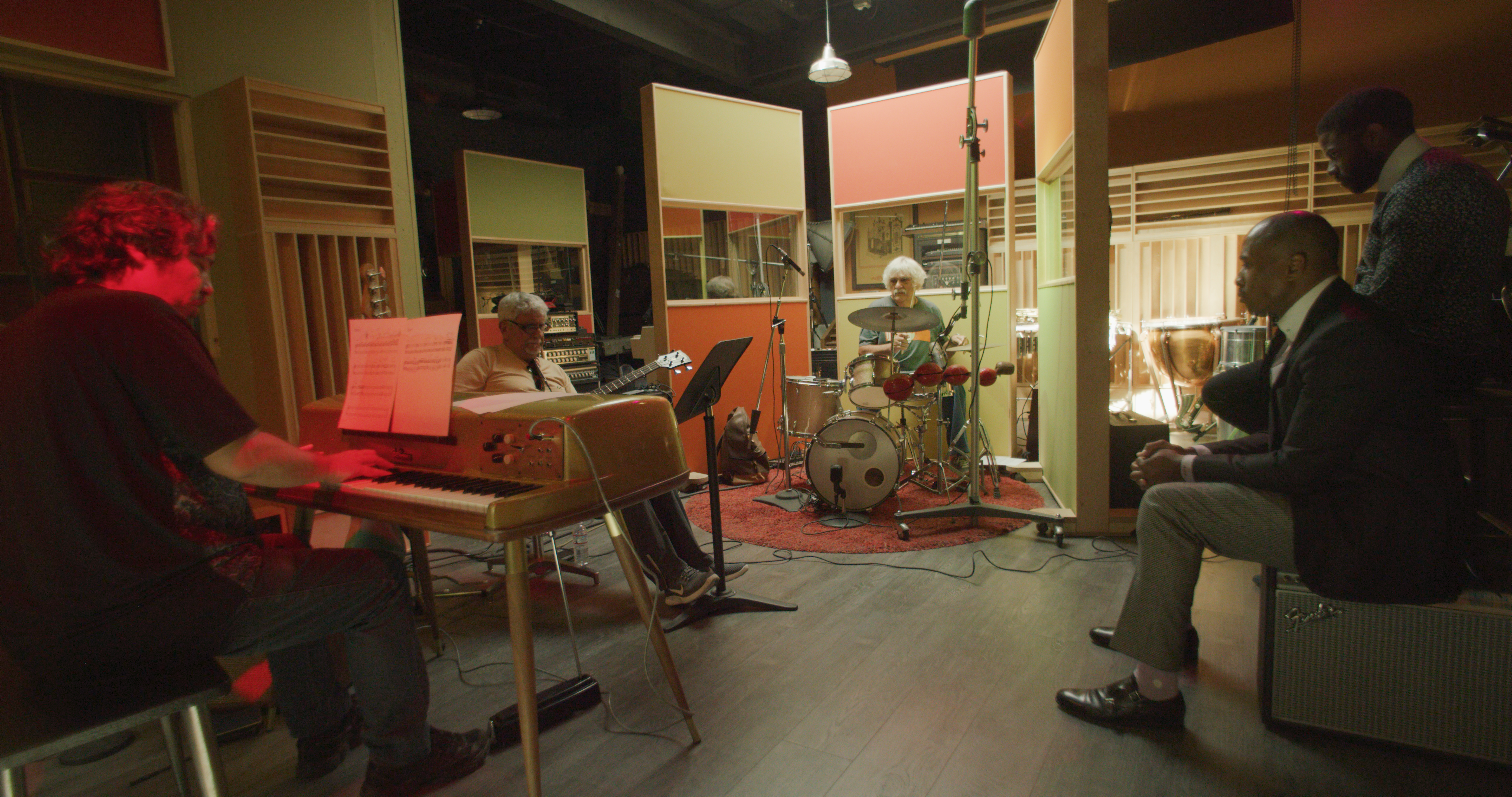 Azymuth, Ali Shaheed Muhammad, and Adrian Younge at Linear Labs. Photo by Artform Studios.
There is perhaps no group more integral to promoting the connection between jazz and rap than A Tribe Called Quest. In addition to mining colorful source material from luminaries like Grant Green, Billy Brooks, Art Blakey, and others, ATCQ's songs gave direct shoutouts to their jazz ancestors ("Excursions") and they also collaborated with living icons like bassist Ron Carter.
It is in the spirit of this intergenerational connection that the label Jazz Is Dead operates. Guided by the creative vision of producer/multi-instrumentalist Adrian Younge and A Tribe Called Quest's Ali Shaheed Muhammad, Jazz Is Dead pairs the duo with some of jazz's elder statesmen. So far, the series has featured Roy Ayers, Gary Bartz, Azymuth, Doug Carn, Marcos Valle, and Brian Jackson.
Younge and Muhammad's dedication to vintage recording gear and techniques have helped them recapture the sound and feel of these jazz legends' most beloved albums. Spawned from a concert series of the same name, Younge and Muhammad would invite the musicians to Younge's Linear Labs Studio in Highland Park, California, for sessions that replicated the traditional recording techniques used in the '60s and '70s.
Speaking with Reverb for this piece, Younge explains exactly how Jazz Is Dead came to be:
"So our business partner Andrew Lojero came up with this idea to have a concert series called Jazz Is Dead, and we said, 'Yeah, that's dope.' And we bring out all these iconic cats to do shows, and at that time, our other really good friend Adam Block joins. So it's me, Adam, Andrew, and Ali. We all kind of came together to really forecast where this can go. I've always wanted to have an ill Jazz label record the same way they did. And each one of us individually had this idea we've always wanted to do something cool like that, so we'll bring these cats out."
The Song Book (Composition and Arrangement)
"Spiritual Ideation" - Gary Bartz, Ali Shaheed Muhammad, & Adrian Younge
Whether it's the grand and uplifting feel of Gary Bartz's "Spiritual Ideation," the head-nodding pulse of Doug Carn's "Dimensions,'' or the delightfully complex rhythms of Azymuth's "Cat Jump," each entry in the Jazz Is Dead series is packed with strong compositions. Before the music is recorded through the vintage mics and amps, it all starts with the songs. Muhammad explains that sometimes the pieces are written by him and Younge, sometimes they are composed by committee or the featured musician:
"Every artist is different. Adrian and I have a purpose of trying to connect with the music of each artist and the time period of their records that really connected with us. And so we go in writing a few songs of that ilk for each artist. We also leave room for once we're all in the studio together to jam out, vibe out, and work on music that the artist has in mind; sometimes it's just right there on the spot, in the moment.
Stylistically, each album in the series is rich and diverse. From the utopian jazz-funk of Gary Bartz's JID006, to the breezy Brazilian-soul of Marcos Valle's JID003, the intense attention to the details of the recording does not detract from songs. "Ao Redor Do Samba" from JID004 is a funky jam built around Azymuth drummer Ivan Conti's driving samba rhythm. "Mars Walk" with Brian Jackson is a stark and dramatic piece with Jackson's atmospheric Rhodes and synth playing recalling his classic collaborations with Gil Scott-Heron in the '70s.
"Let's just say we're going to record an album with Ahmad Jamal. We know our favorite Ahmad Jamal songs, we know our favorite songs of his that have been sampled," Younge says. "We know that as collectors, there's a certain kind of album that we want from Ahmad Jamal, so Ali and I will write from that perspective. What Ali and I do is make sure that it passes the hip-hop muster."
The Sound (Recording and Mixing)
"Mars Walk" - Brian Jackson, Adrian Younge, and Ali Shaheed Muhammad
Throughout our interview, Younge stressed that it is his and Ali's perspective that informs their approach to the sound of each record. With the duo's hip-hop roots as a foundation and armed with an intimate knowledge of vintage gear and recording techniques, the crew began recording sessions for the series at Younge's Linear Labs Studio in Los Angeles.
"It's just a dream to be able to record something like that. You know, look at somebody like Ali that is from arguably the illest hip-hop group of all time. They [A Tribe Called Quest] put us up on a lot of dope shit, you know? Gary Bartz, Roy Ayers... like all these different samples, and you get to the point where like, 'Yo, wait a minute, we're actually bringing these musicians out to perform. What if we recorded them to analog tape with the same kinds of instruments that they used back then, but we curate the records using the breaks perspective? Us being diggers and DJs, we know the illest records. What if we brought in these luminaries to create new albums looking back to move forward?'"
Meticulously designed and outfitted to replicate the "golden era of sound" ('68-'73), Linear Labs is a throwback to a time in history when the process of recording popular music was elevated to the level of high art. Younge explains that Linear Labs' vintage setup not only helps to serve a specific sound, it also inspires the musicians and puts them back in a creative headspace that is similar to how they thought and played on those classic albums of the past.
"When they walk into the studio and see all the old gear, it takes them back to a time when they were comfortable with their new ideas, perfectly. When we brought Lonnie Liston Smith (for his as yet-unreleased Jazz Is Dead album) the first thing he said was, 'Dude, I haven't played a Rhodes since the '70s.' He would sit there and noodle with it, and we're bringing in a Mu-Tron Phasor and a delay to get his sound. When he got there, we already put the Phasor on and it wasn't exactly where his sound was and we adjusted it and he's like, 'Yeah, that's perfect.' It's little details that kinda separate what we're doing from other people because Ali and I have a very sagacious hip-hop ear. It's very sharp, so we know what we want from Lonnie Liston or Roy Ayers. We know what we want."
Behind the scenes with Doug Carn at Linear Labs.
For the Jazz Is Dead series and any of the projects that Younge and Muhammad create at Linear Labs, the approach is intentional and the various aspects of the process are interrelated. Capturing a great performance is a key element to a Jazz Is Dead session and there is a great attention to detail required to execute the desired sound.
"If we're recording the Rhodes in the room. First of all, we're not playing loud." Younge says. "When we're tracking, we're not tracking loud—we're not necessarily quiet—but we're not loud where there's an enormous amount of bleed going on. Secondly, we're recording just what we need. So, with the Rhodes it's just a [Shure] 57, but it's like an old-school Unidyne, the older model. So with that, we're not getting much top-end and we're not getting much bottom-end because we don't need it.
"With the bass," he continues, "bass is like in another corner of the room, just to get some distance. And [it's mic'd] just using a condenser mic. A lot of times there's a blanket over the whole amp based on how much bleed is happening. We really don't like cymbals getting in the way of the bass. We want the bass as clean as possible. And then with the drums, it's usually just like two or three mics, and that's it. It's not one of these things we're having 10 mics on a drum set. It is very minimal and the drum set that we use is like a small cocktail kit. And then everything else just kind of has its own space."
Younge and Muhammad's recording and mixing choices are informed by the performances and mic'ing techniques. Each step along the way is designed to capture a dynamic performance and pristine sound. Younge explains how, for example, mic'ing plays a part in the eventual sound that makes it to tape.
"A lot of ribbon mics. A lot of dynamic, not a lot of condenser. Not much condensers going on, because we're not recording a lot of high frequency, we're recording more mids and lows. It's all very minimal. There's actually no room mics. So, it's not a room-mic thing—it's a close-mic thing, because the instruments are bleeding over each other anyway, but it's not really about the room, it's about the instrument. There's nothing that is directly plugged in, because it's about the chain. It's about the microphone capturing the air, the microphone going to a certain type of pre, and then those pres going to the tube compressors. All the compressors are tube compressors as well. So it's about that chain, and it's about capturing the people in the room to tape, recording to a 16-track tape, then mixing that 16-track tape to quarter-inch—and we're squashing it also. So, you're feeling that warmth, you're getting that grit, but it's the combination of all these layers."
For recording and mixing, Younge uses an arsenal of vintage pieces, but it is his Opamp Labs custom mixing console that serves as the studio's centerpiece. Much like the duo's approach to composition, arrangement and recording, mixing is intentional and uncomplicated.
"The mixing approach [for Jazz Is Dead] is not too far from how Ali and I already mix." Younge explains. "We like to carve out a lot of room. So, if somebody's playing a guitar, the guitar does not take up the entire [frequency] spectrum. A lot of the top-end is cut off, a lot of the bottom-end is cut off. At the same time, if I'm carving out the kick, there's no reason to hear the top-end of the kick. There's a lot of carving out to get exactly what we want, but at the same time, we're mic'ing and recording based on us knowing what we want."
The entire process helps ensure that Younge and Muhammad are able to capture every single detail of a composition. Recording to a 16-track Ampex MM1200 with everything mixed down to an Ampex ATR-350 quarter-inch machine, these analog pieces help the duo beautifully capture the dynamics and rich timbre of each instrument. Younge explains the role that tape saturation plays in shaping their signature sound:
"You can use the tape as a way to change the color itself. So, depending on who we're recording… like on the Azymuth album, we're hitting the drums pretty hot, because we want them crunchy– they're a darker, little more filthy, instrumental type band. [When] we're recording Roy Ayers' stuff, we want it to be a little cleaner, so we're not hitting the tape as hard. But it's not just recording and post[-production]. Mixing down to quarter-inch tape for the Azymuth stuff, we're hitting the tape a little harder so you might feel the crunch more."
Students and Masters
With each installment of the series mastered by Dave Cooley at Elysian Masters, Jazz Is Dead is not just a great-sounding set of releases; the series reminds us that when we fully dedicate ourselves to the craft of music-making, extraordinary things can happen. Many of our great musical heroes are still here, still armed with serious musical chops and bursting with enthusiasm. The greatest contribution that sampling as a cultural practice has made is that it has helped us maintain our connection to the music of the past. Jazz Is Dead takes the edict established by hip-hop and sampling a step further by updating these classic sounds for today. Younge explains that the sound of Jazz Is Dead is the sound of mutual respect and shared joy reaching across generations.
"When you're listening to the records. You're listening to generations of musicians smiling. You're hearing them happy, and you're hearing us happy because we're with our idols. They're giving us mad love, and we're learning from each other and it's capturing us learning from each other," Younge says. "So, when Ali was making some of the illest hip-hop records he didn't necessarily think they could be musically competent enough one day where he could pull out an instrument and be improvising with these guys. And now there's that exuberance that you're hearing on the record from him."
"Now, I was a fan of Ali, way before I knew him," he continues. "Yes, we're really close friends, yes we're partners, but I'm watching somebody I was a fan of do dope stuff. And then, I'm seeing him do dope stuff with somebody that inspired him that he never thought he'd probably be recording with. I'm seeing the master hanging out with the students, or the students teaching the master things, and the master teaching the students."
For more info on the entire Jazz Is Dead series, visit its website here.