Since 1976, Spector has been making some of the greatest basses around, helping create timeless basslines in the hands of players like The E Street Band's Garry Tallent and former Metallica bassist Jason Newsted. The NS body shape, named after its designer Ned Steinberger, has been there all along the way.
To celebrate 45 years of the NS bass, the Woodstock-based company has launched the first ever Woodstock Custom Collection.
Taking the NS design as their foundation, the 11 one-of-a-kind basses in the Woodstock Custom Collection are works of playable art, incorporating unique finishes, binding, tonewoods, and other custom features. Each one was individually designed by a Spector team member and built by the Spector USA Custom Shop luthiers.
These basses can only be found at select Spector dealers—Chuck Levin's Washington Music Center, Ish Guitars, and Fret Nation—but because these dealers sell on Reverb, you can find the full collection right here.
Check out all of the basses below and learn more about their unique features. Click on any image to visit the listing. Unless where otherwise noted, each bass has a 34" scale length.
Ian Allison introduces the Woodstock Custom Collection
---
NS-1 Burgundy Mist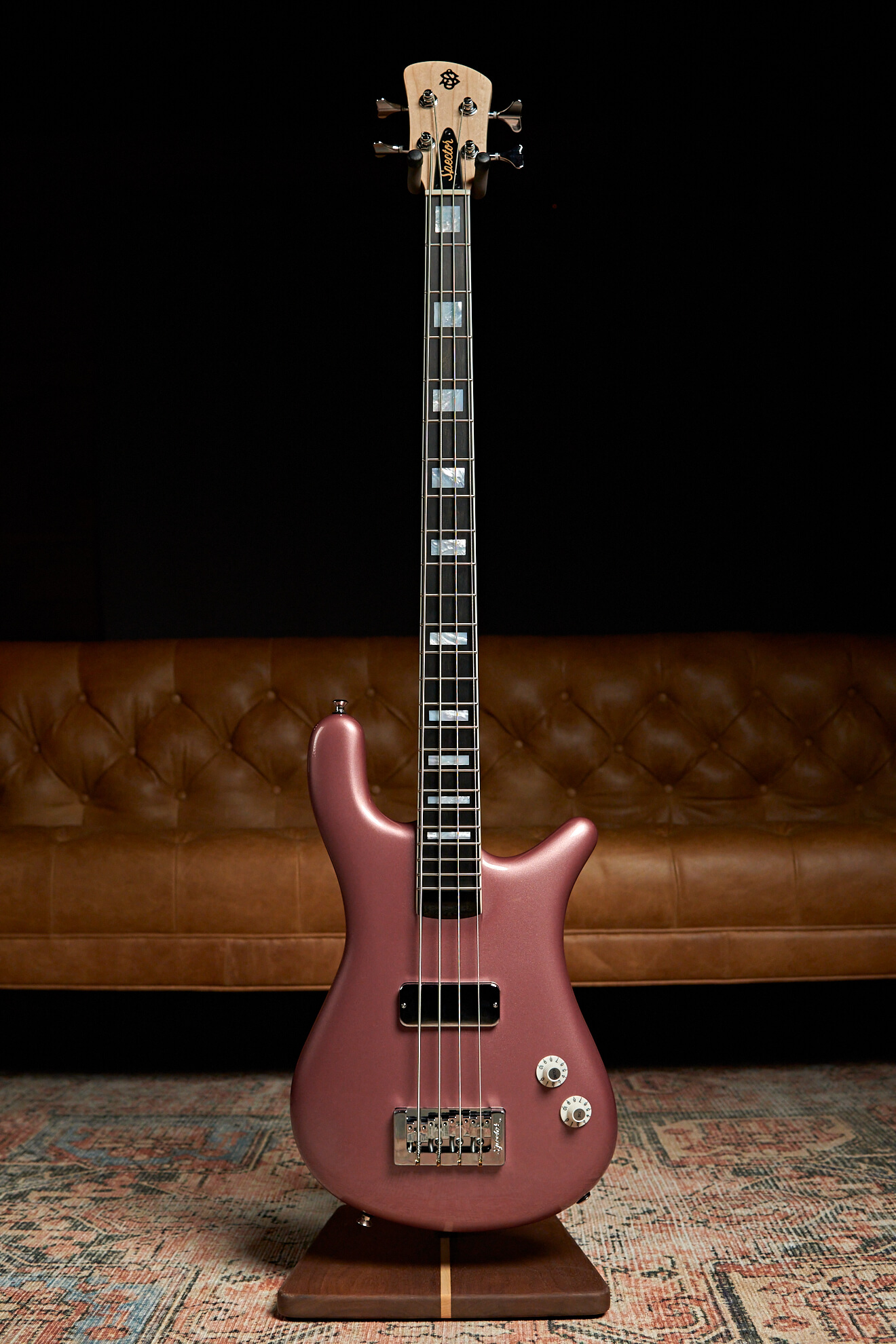 Designed by Spector's Adam Stoutenburgh, this NS-1's features include:
Solid Alder Body Wings
3-pc. Maple Neck
Ebony Fingerboard with Mother of Pearl Blocks & White Binding
Lollar Thunderbird Pickup
Passive Stellartone ToneStyle BassTen Tone Control
---
NS-1 Solid Walnut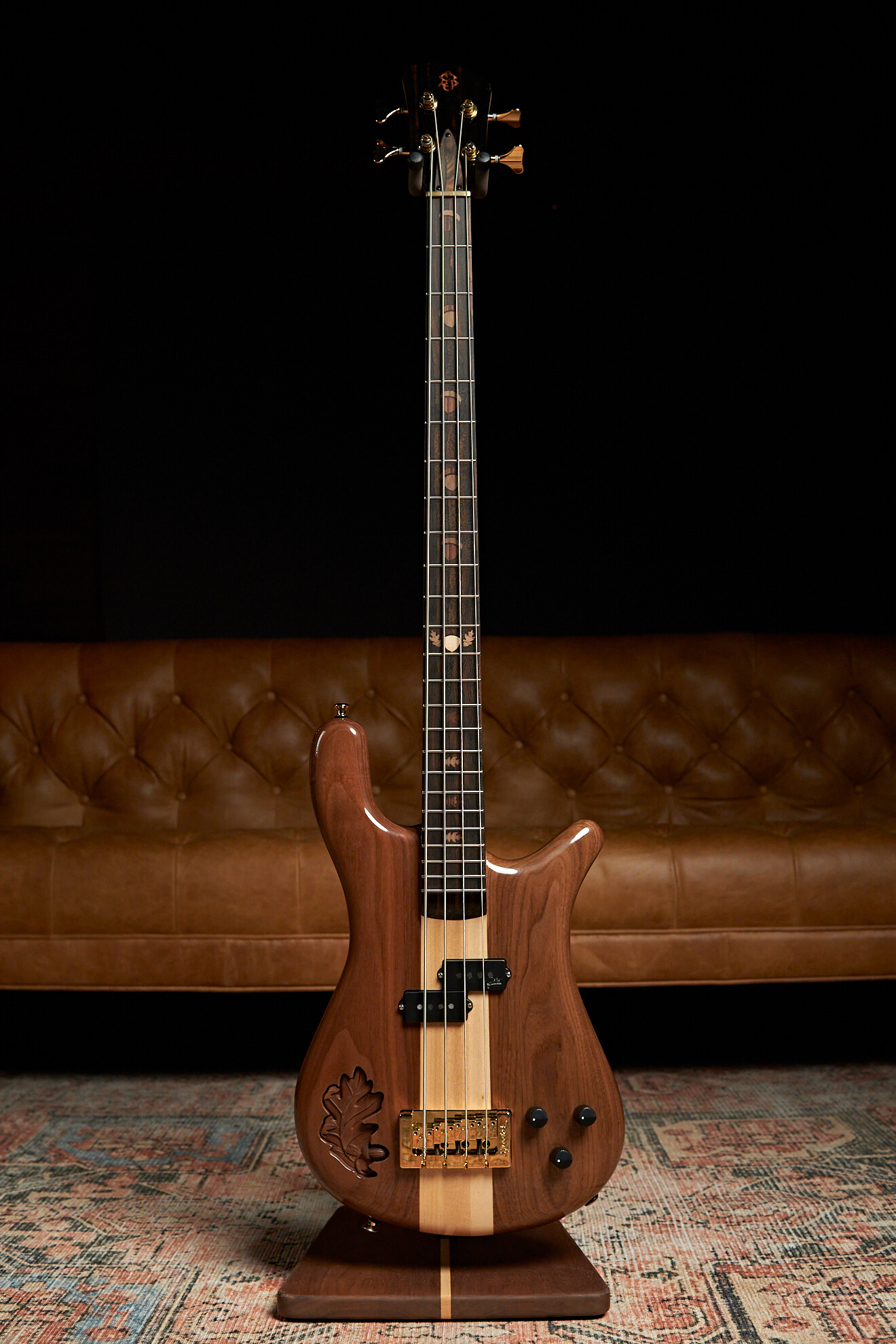 Designed by Chris Heitzman, this NS-1's features include:
Solid Black Walnut Body Wings with Custom Oak Leaf Relief Carve
Ziricote Fingerboard with Pau Ferro Acorn & Leaf Inlays
Ziricote Truss Rod Cover; Pau Ferro Headstock Inlay
Aguilar 4P-60 Pickup and OBP-1 Preamp
Gold Hardware
---
NS-2 Bolt-On Black & White Fade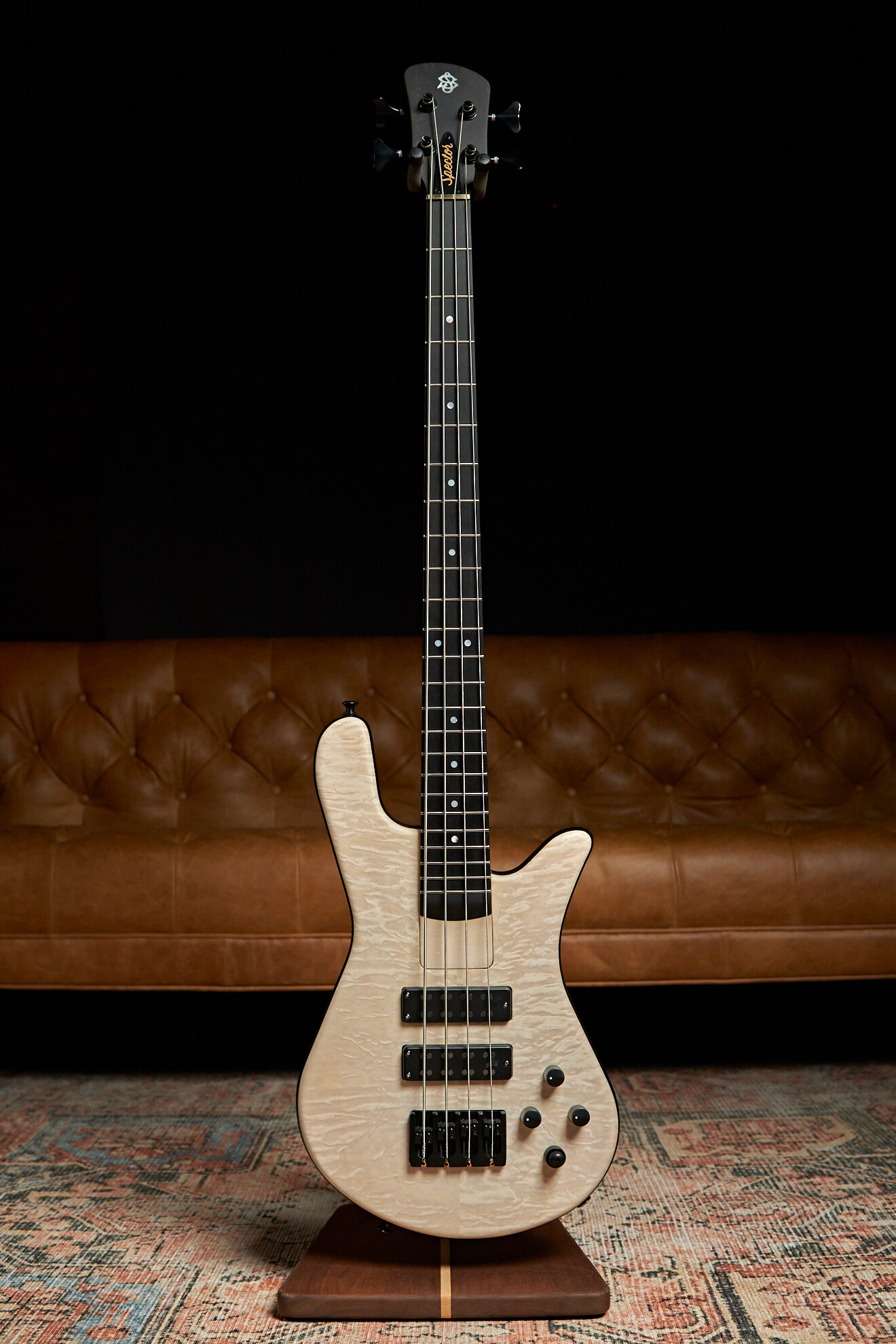 Designed by Colin Almquist, this NS-2's features include:
Mahogany Body with Quilted Maple Top
Two 3-pc. Maple Necks–One Lined Fretless, One Fretted
Ebony Fingerboards
Threaded Brass Inserts for Easy & Safe Neck Swapping
Aguilar Super Double Pickups with OBP-3 Preamp
---
NS-5XL Northern Lights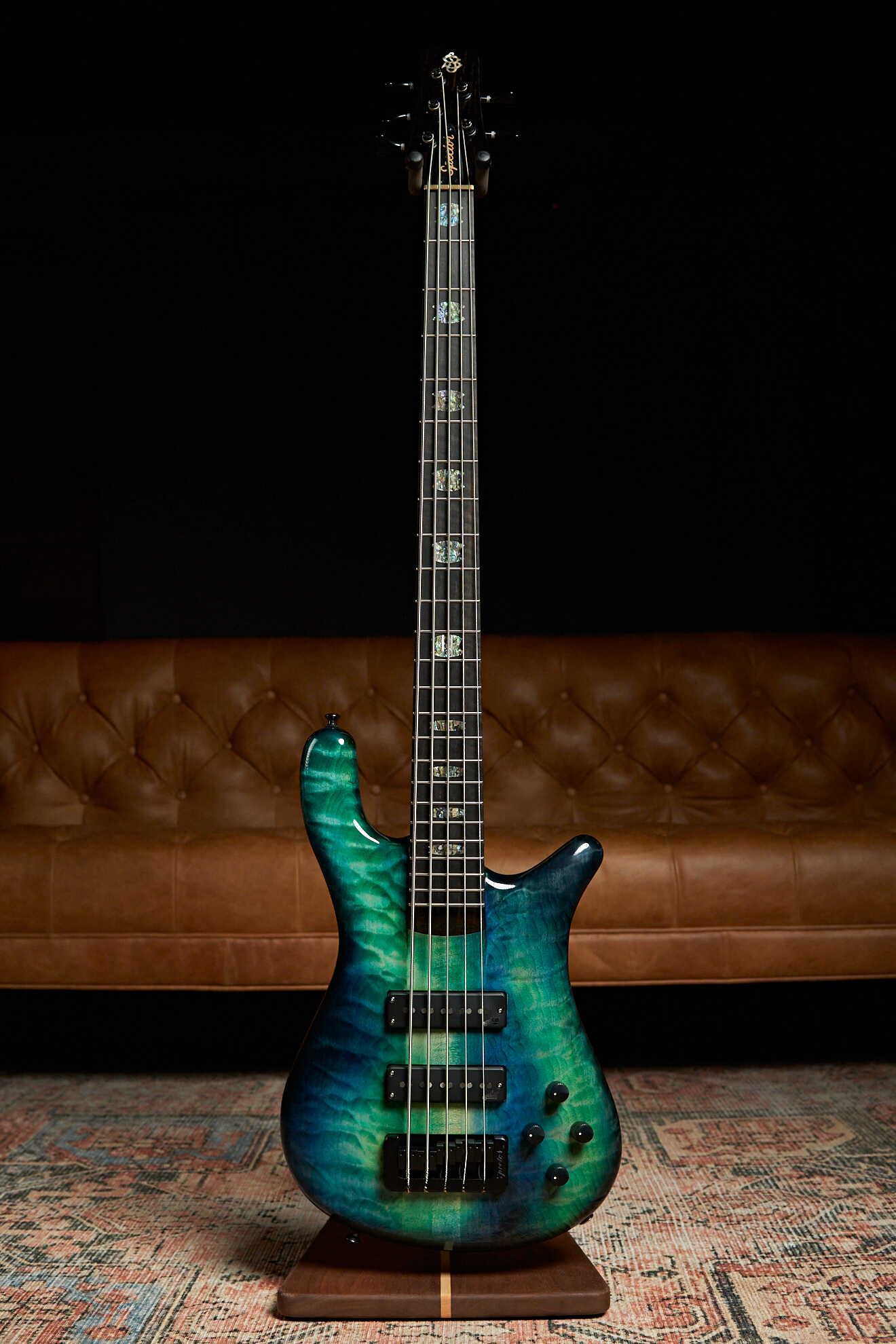 Designed by Jeff Shreiner, this NS-5XL's features include:
35" Scale Length
Red Alder Body Wings with Master-Grade Quilted Maple Top
3-pc. Maple Neck
Ebony Fingerboard with Abalone Crown Inlays
Aguilar Super Split Pickups with OBP-3 Preamp
---
NS-2 Solid Korina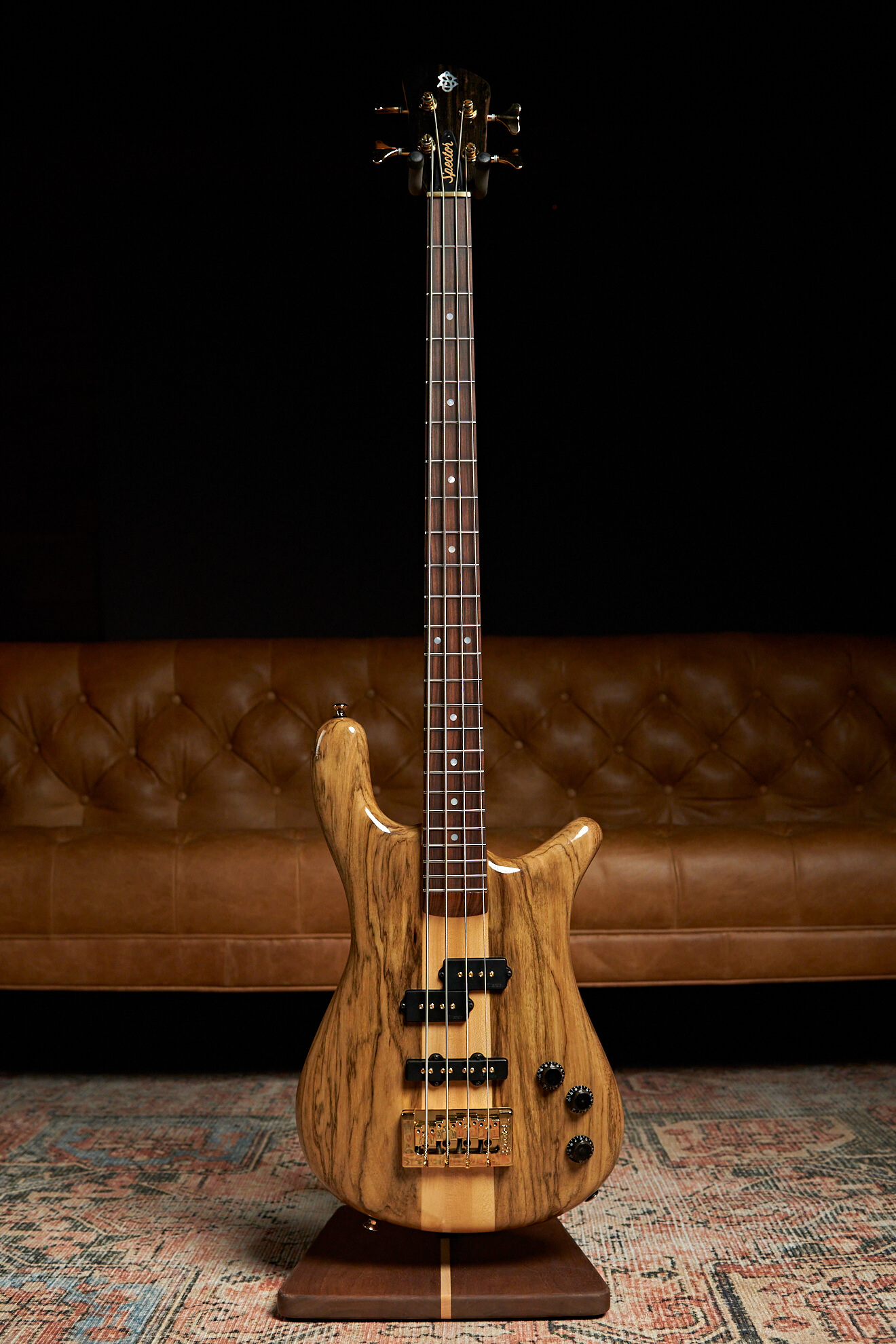 Designed by John Stippell, this NS-2's features include:
Solid Korina (Black Limba) Body Wings
3pc. Maple Neck w/ Semi-Gloss Finish
DiMarzio Model P / Model J Pickups
Aguilar OBP-1 Preamp with Adjustable Trimpots in Control Cavity
Push/Pull Switch on Volume Knob to Activate the OBP-1 Preamp
---
NS-2 Fretless Natural Gloss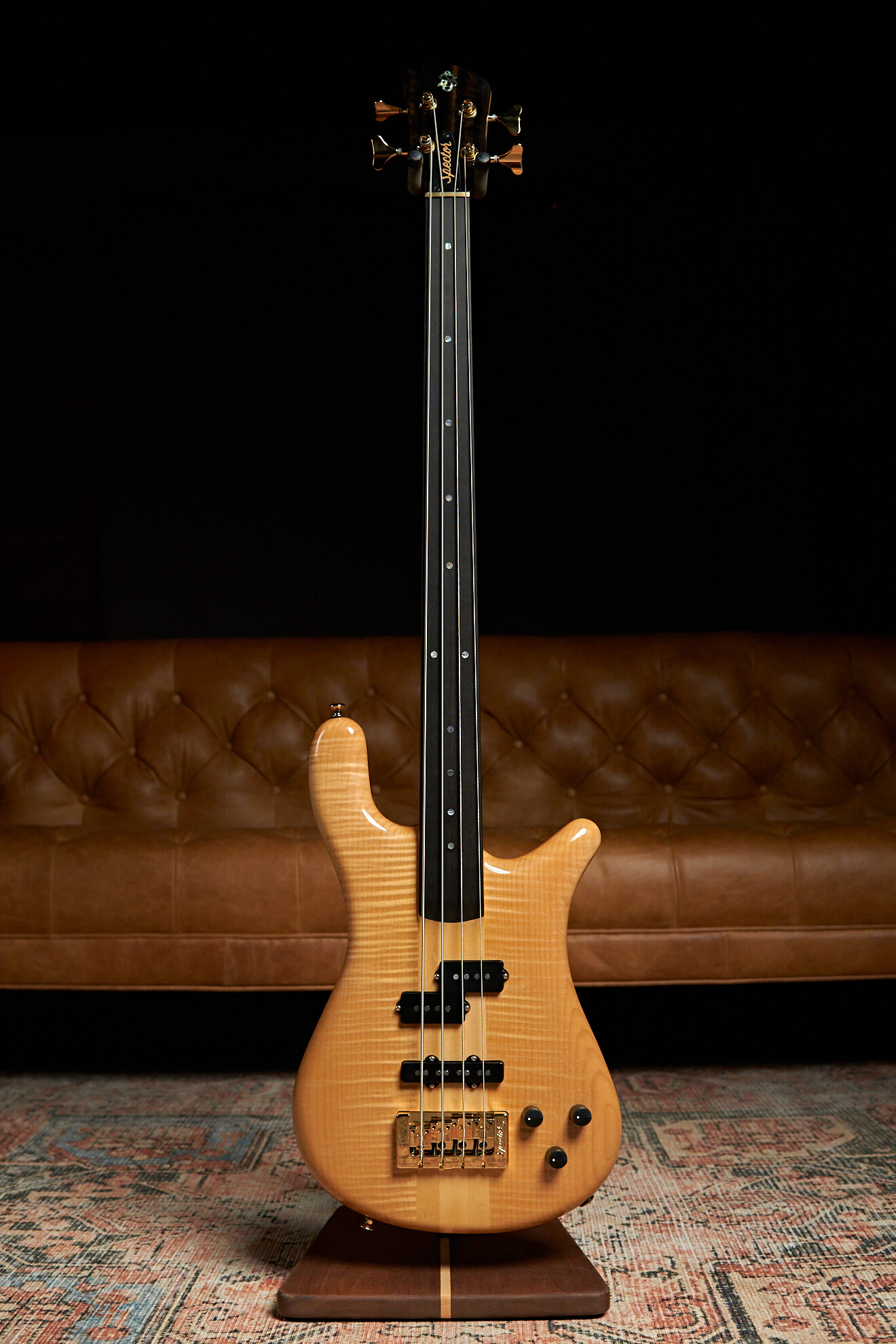 Designed by Jon Fried, this NS-2's features include:
Black Walnut Body Wings with Master-Grade Flame Maple Top
3-pc. Maple Neck
Fretless Ebony Fingerboard with Abalone Dot Inlays
Fralin P/J Pickups
Passive Volume, Tone, and Blend Controls
---
NS-5XL Myrtle Burl & Maple
Designed by Justin Smith, this NS-5XL's features include:
35" Scale Length
Figured Maple Wings with Black Myrtle Burl Top
3-pc. Maple Neck
Ziricote Fingerboard with Mother of Pearl Dot Inlays
EMG 40DC HZ Pickups and Spector HAZ 9V Preamp
Ziricote Headstock Veneer; Black Myrtle Burl Truss Rod Cover
---
NS-1 Cherry, Mahogany & Black Walnut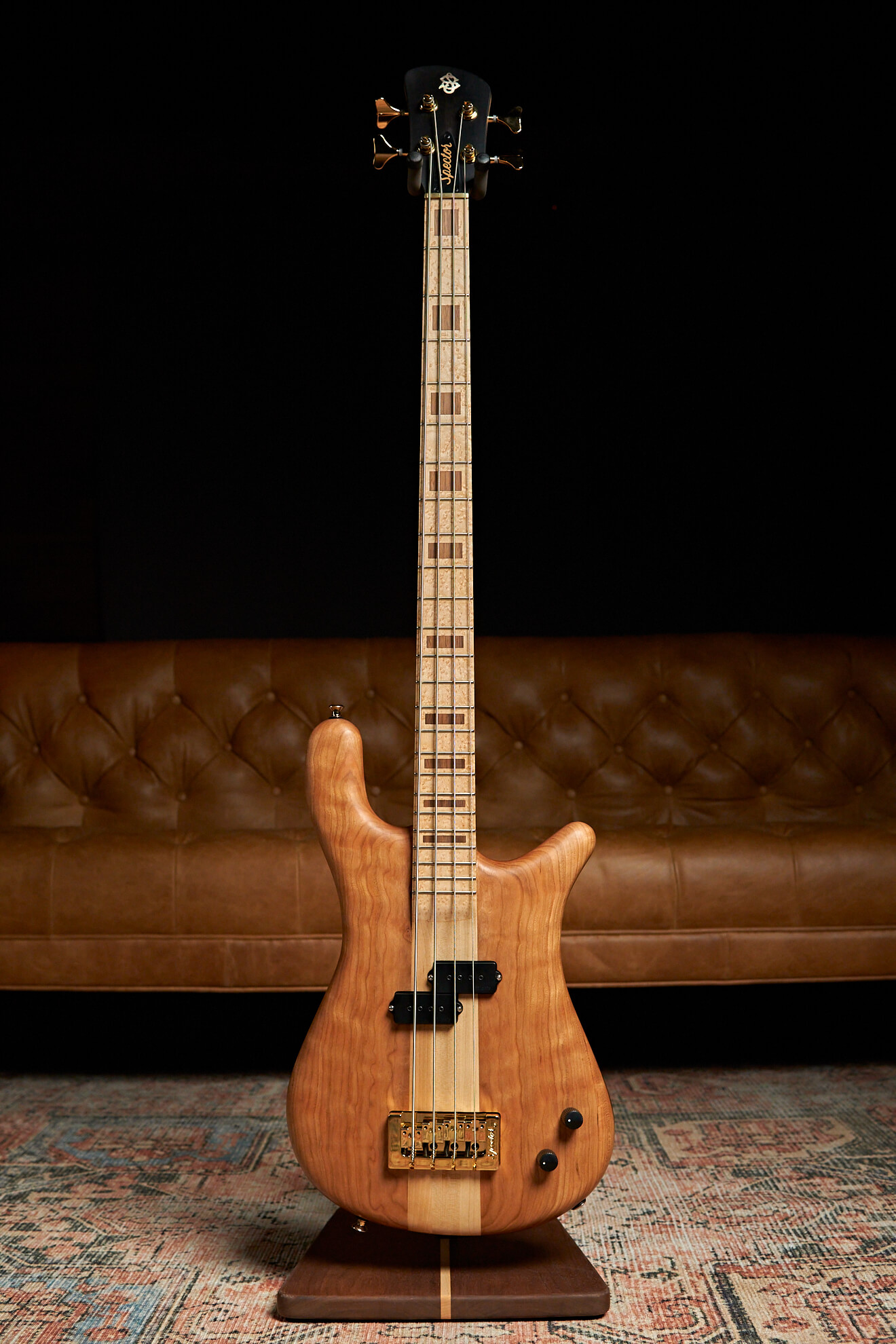 Designed by Pat Harrington, this NS-1's features include:
Figured Cherry Top; Mahogany Back; Black Walnut Core
3-pc. Maple Neck
Birdseye Maple Fingerboard with Black Walnut Block Inlays
DiMarzio Model P Pickup
Gold Hardware
---
NS-5XL Spalted Maple, Black Walnut & Pale Moon Ebony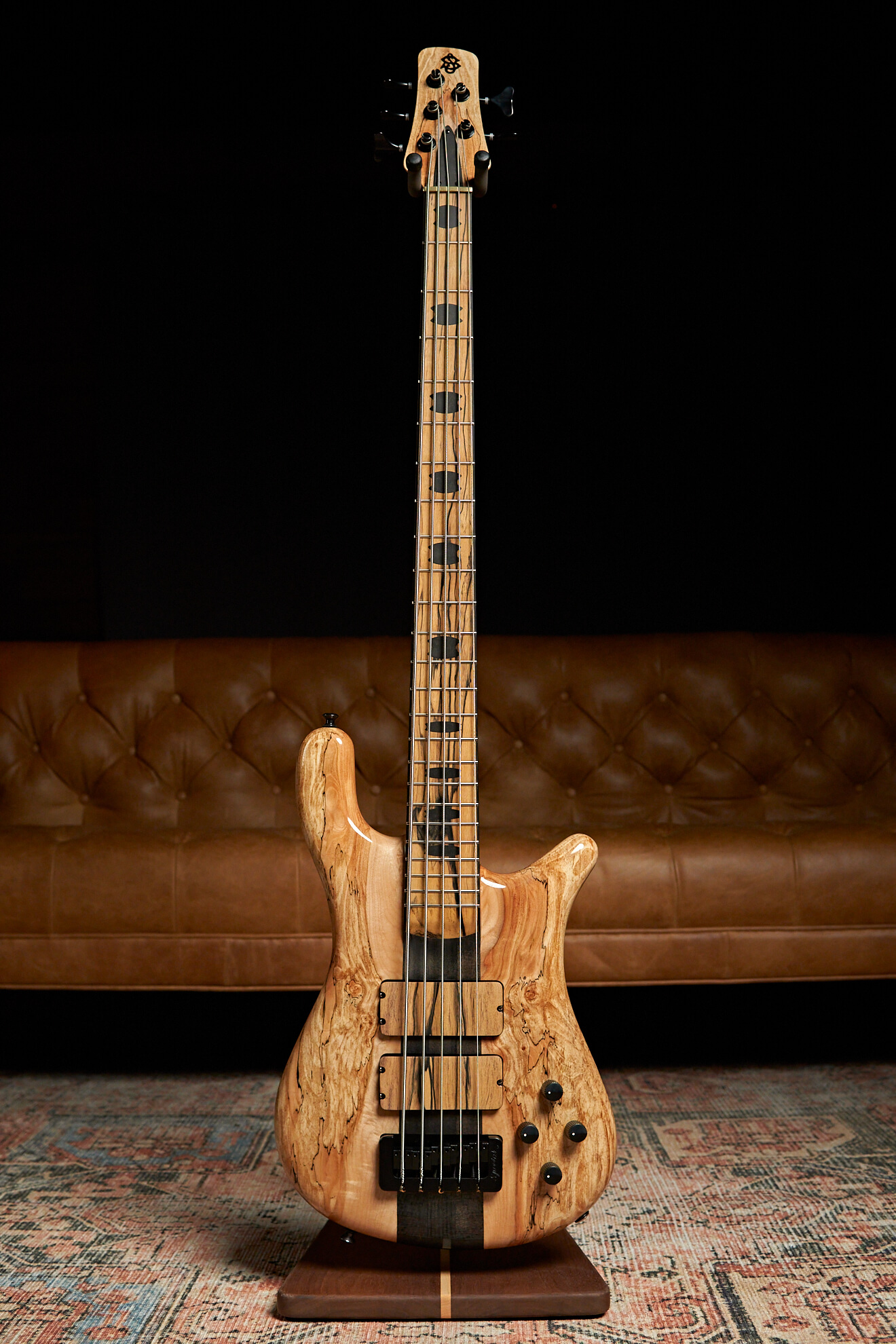 Designed by Rob Venneri, this NS-5XL's features include:
35" Scale Length
Black Walnut Body Wings with Spalted Maple Top
3-pc. Maple Neck
Book-matched Spalted Maple Headstock Veneer; Ebony Truss Rod Cover
Pale Moon Ebony Fingerboard; Ebony Crown Inlays; Ebony Binding
EMG 5MM Pickups with Pale Moon Ebony Veneer and Spector HAZ 9V Preamp
---
NS-4 Hyper Blue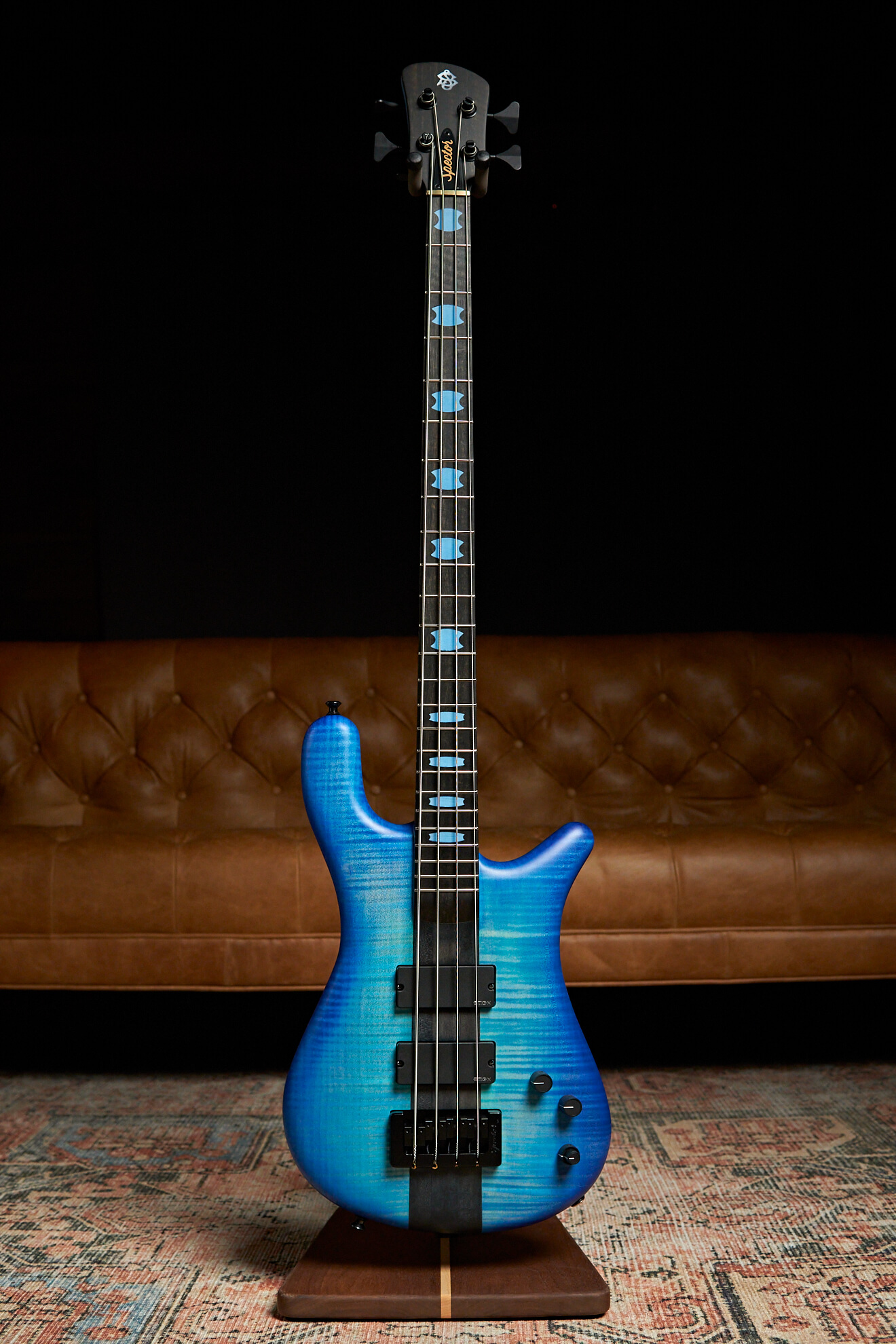 Designed by Taylor McLam, this NS-4's features include:
Solid Master Grade Flame Maple Wings
3-pc. Maple Neck
Ebony Fingerboard with Hyper Blue Crown Inlays
EMG 35DCX Pickups and Spector HAZ 18V Preamp
Hipshot Drop-D Tuner
---
NS-1 Metallic Gold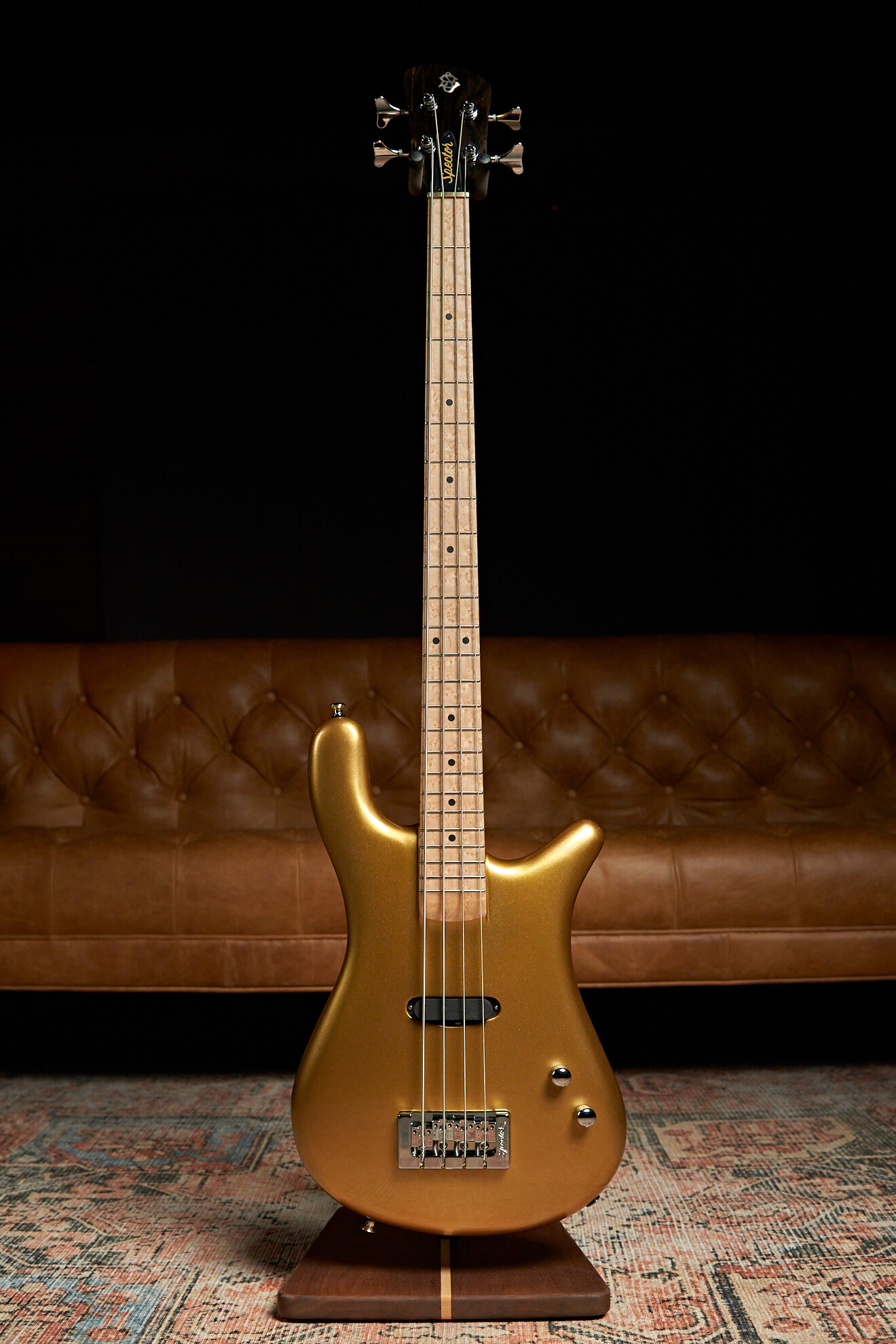 Designed by Wil DeYoung, this NS-1's features include:
Solid Swamp Ash Body Wings
3-pc. Maple Neck
Birdseye Maple Fingerboard with Black Dot Inlays
Aguilar 4P-51 Pickup
Chrome Hardware