Gibson Les Pauls have come in many distinct flavors, from their original Goldtop stylings through Juniors, Specials, Customs, Deluxes, and more. As one of the most remade and reissued guitars to ever exist, there are many versions of the vintage classic and just as many modern recreations.
Let's take a look at some prime examples of vintage Les Pauls, starting from the 1952 originals through today's.
Need a hand finding the right Les Paul for you? Visit our Les Paul Buying Guide.
---
The Les Paul that started it all. Upon its introduction, the new model—later nicknamed the Goldtop—sported a pair of single-coil P90 pickups, a trapeze tailpiece that some players and collectors describe as "clumsy," and a mahogany slab body with a caarved maple top. Les Paul himself endorsed a solid gold finish to make the guitar appear high-end and luxurious when compared to Fender's more utilitarian Telecaster, released the year before.
---
The 1953 Les Paul got a few changes in its second year of life. Most notably, the '52's wrap-under bridge and trapeze tailpiece became a single wrap-around bridge and tailpiece. This meant the strings would now reside on top of the bridge rather than underneath, allowing guitarists to palm-mute as they played. This change also allowed for a new neck angle.
For many years, collectors valued '53s over '52s because of these perceived playability upgrades. However, most recently, first-year Les Pauls have commanded higher prices on Reverb.
---
In late 1953, Gibson offered the first Les Paul Custom. With tuxedo-like cosmetics and gold hardware, it was even more high-end than the Goldtops. Nicknamed the Black Beauty, the ebony Les Paul Customs have all-mahogany bodies, with no separate maple top, and feature multi-ply binding, square inlays on an ebony fingerboard, and comparatively low frets.
This model was the first to use the new stopbar tailpiece and Tune-O-Matic bridge, an innovation closely associated with Ted McCarty, which was added to the Standard in 1955. Three-pickup models arrived in '57.
---
While the Junior packed just one P90, the Special sported two. It was also available originally—and now on the vintage market—in the "limed mahogany"/TV Yellow finish.
---
In 1957, the standard Les Paul, even though it was not yet referred to as the Les Paul Standard, got ever closer to the format of the LP we know and love. The addition of the Seth Lover-designed "Patent Applied For," or PAF, humbuckers elevated the Les Paul to a status of all-time icon. This innovation fostered a beefier new tone that would be embraced by rock musicians for decades to come.
---
Along with the regular Les Paul model, the Custom got an upgrade in '57. Instead of two PAFs, many Customs came packed with three humbuckers (though some examples maintained the traditional two pickup configuration).
---
Junior and Special Double Cutaways, 1958/'59
---
The Les Paul Junior (in mid-1958) and Special (in 1959) changed to a double-cutaway body shape, which was then replaced by the SG body shape in 1961. To keep prices down, they kept the combination wraparound bridge/tailpiece instead of the separate stopbar tailpiece and Tune-O-Matic bridge.
---
Les Paul Standard "Burst," 1958
---
In the fall of 1958, Gibson abandoned the original Goldtop finish in favor of a new Cherry Sunburst. These guitars were officially named, for the first time, the Les Paul Standard, but they have come to be known as the "Bursts." Les Paul Paul Bursts made between 1958 and late 1960 have two-piece, bookmarked, often flamed maple tops—and remain some of the most collectible guitars ever made. In fact, a fair number of other Les Pauls from previous years have since been converted into Burst-style LPs.
The 1960 model is known for having a slimmer neck, leading many modern Gibson models to either replicate the slim '60s neck profile or the fatter '50s neck profile. In the production models Gibson makes today, the company offers both '50s- and '60s-style Les Pauls, most of which are modeled after these two years' worth of instruments.
---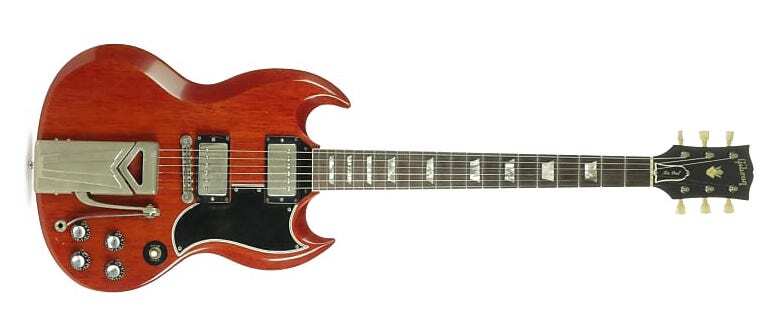 By the close of 1960, sales of Gibson's flagship solidbody, the Les Paul, were waning, so Gibson completely changed the guitar's shape. It would later be called the SG, but the Les Pauls made in 1961 and into 1963 had two sharp cutaways and beveled edges. They also featured the new Sideways Vibrola vibrato system.
---
Like the Les Paul Standard, the Les Paul Custom also made the leap to the SG body shape by 1961. Like the original Les Paul Custom, these guitars also used a triple set of humbucker pickups, which changed from PAF (Patent Applied For) humbuckers to Patent Number pickups in mid-1962. Godmother of rock 'n' roll, Sister Rosetta Tharpe, famously used a three-pickup, SG-shaped Les Paul Custom from this era.
---
After the Les Paul name was dropped and the SG name was introduced, no Les Pauls were produced until 1968, when interest in the original Les Pauls of the '50s was on the rise. You can think of these as the first Les Paul reissues. When Gibson first brought back the Les Paul Standard, the new model was most similar to the 1956 model, with a Goldtop finish and two P90 pickups instead of humbuckers, an Indian rosewood fingerboard instead of Brazilian Rosewood, and chrome hardware instead of nickel.
---
Gibson also brought back the Les Paul Custom in 1968. This model was also very similar to its '50s counterparts, but featured a maple top on the mahogany body instead of the '50s Customs' all-mahogany bodies. By 1969, the new Custom and Standard also introduced the three-ply "pancake body" and a three-piece laminated mahogany neck with a small bump (called a "volute") where the neck meets the headstock. Throughout the '70s, Les Paul Customs were available in 2- and 3-pickup configurations.
---
Starting in 1969, Gibson's main production Les Paul was dubbed the Les Paul Deluxe. The Les Paul Deluxe differed from the original Standard in its use of mini-humbuckers instead of PAFs, and its use of the four-ply "pancake" body style. Between 1972 and 1975, you could special order a Les Paul Deluxe with normal-sized humbuckers and the word "Standard" on the truss-rod cover. You can also find many Deluxes from this era converted into "Standards" by owners who routed new pickup cavities for aftermarket humbuckers.
---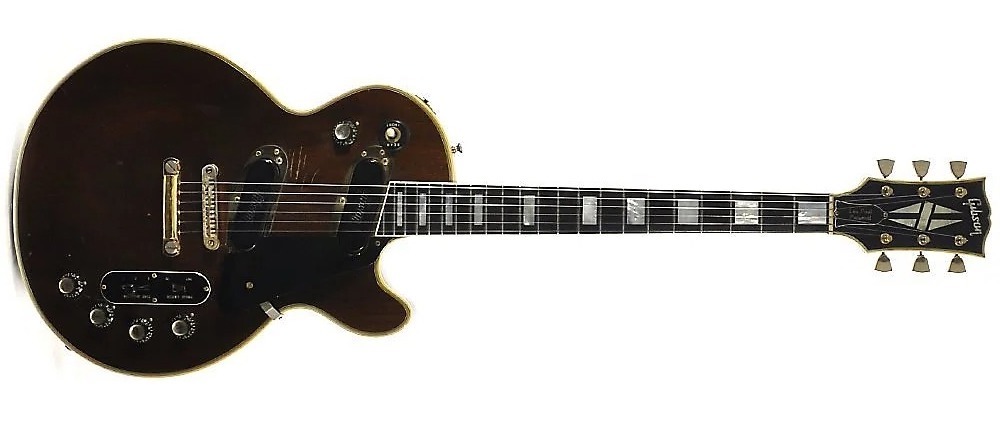 A true collaboration between Gibson and its namesake Les Paul, the Les Paul Personal and its budget-minded sibling, the Les Paul Professional, were departures from the regular LPs of the era. The Personal features a slightly wider body, low-impedance pickups, extra tone selection options, and an XLR microphone input built into the guitar body. In 1971, both models were replaced by the similar Les Paul Recording, which Les himself considered a favorite.
---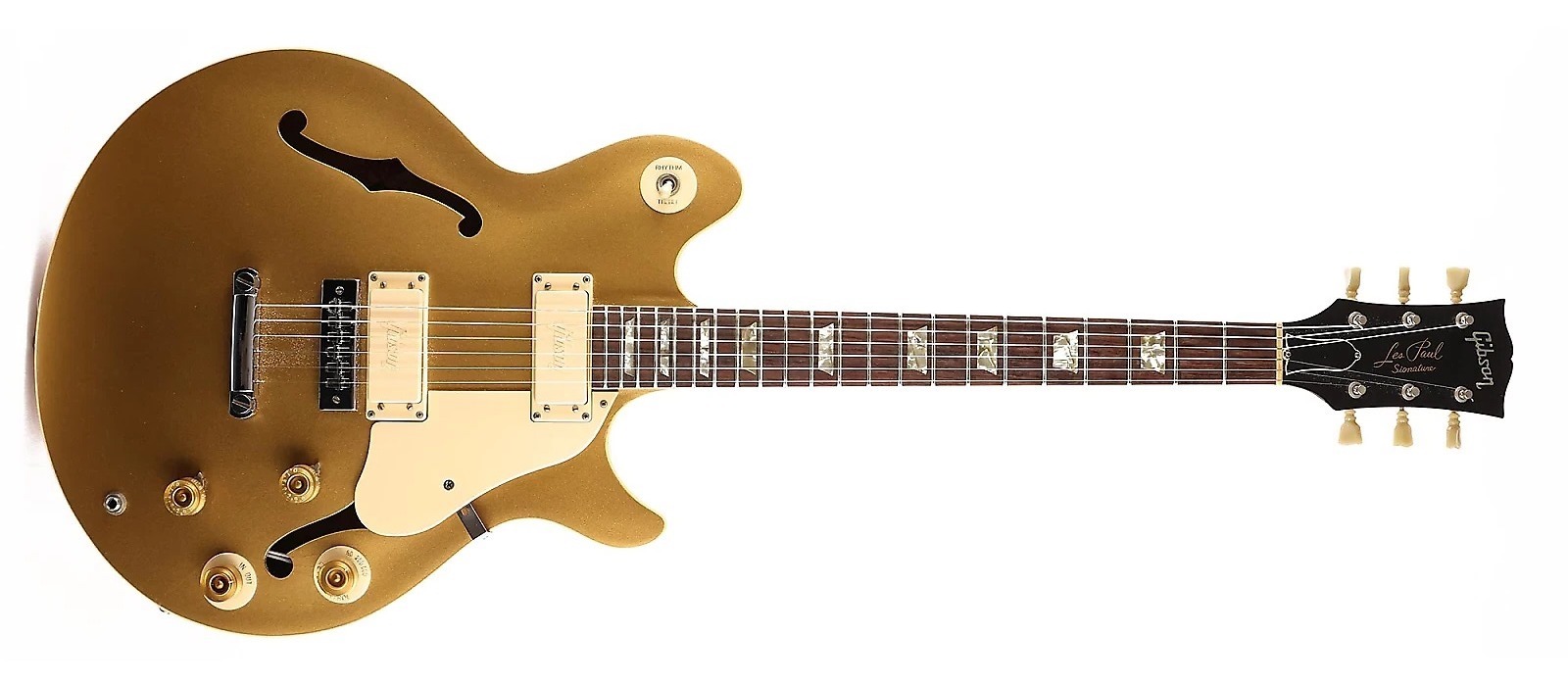 One of the most unique guitars to bear Les Paul's name, the Les Paul Signature was released in 1973. It's a semi-hollowbody instrument that—like the Personal, Professional, and Recording LPs—features low-impedance pickups.
---
"Norlin" Les Paul Standard 1974
---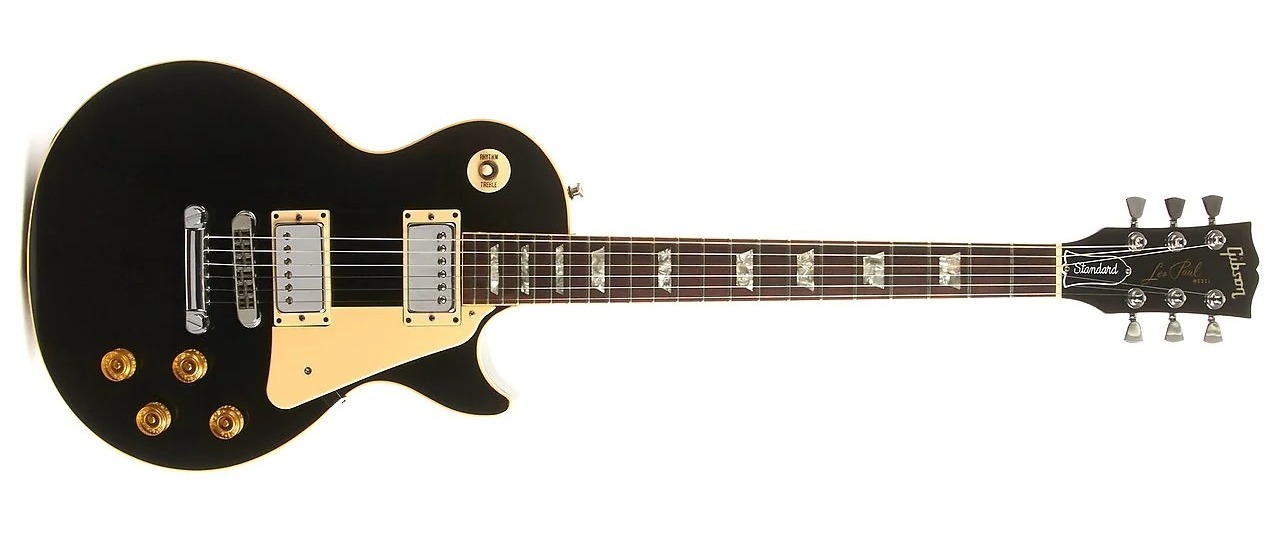 In the '70s through the mid-'80s, Gibson was owned by a parent company named Norlin, so you'll often see LPs from this era described as "Norlin-era." While the company focused on Deluxes and Customs in the early '70s, Les Paul Standards returned again in 1974.
---
Les Paul Custom "Silverburst", 1978
---
One of the standout variants of the Norlin era, the Silverburst Les Paul Custom, nicknamed after its unique finish—and famously played by Tool's Adam Jones—has become a very collectible guitar in its own right, available again now as an Adam Jones signature model.
---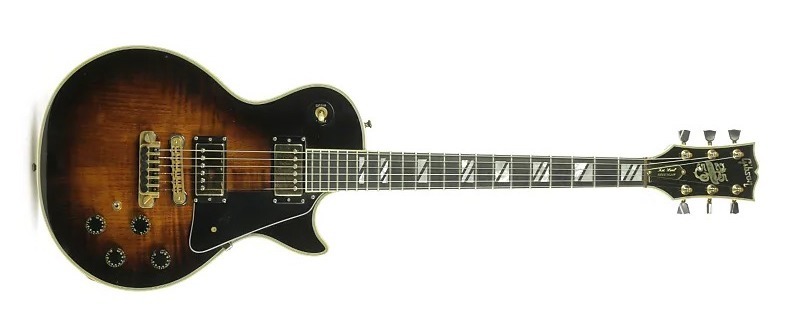 25 years into the Les Paul guitar's life, there were numerous "anniversary" models already available, including this specific model, which commemorated 25 years of the Les Paul guitar and 50 years of music by Les Paul, the guitarist. It also came with a commemorative belt buckle you can also find for sale on the vintage market.
---
Leo's Music Reissue Les Paul, 1982
---
The nostalgic longing for Les Paul Bursts began to blossom in the early '80s. Leo's Music was one of a few Gibson dealers that requested Burst-era specs on newly created Les Pauls, knowing that there was a budding market for historically accurate LPs, which would only continue to grow from there.
---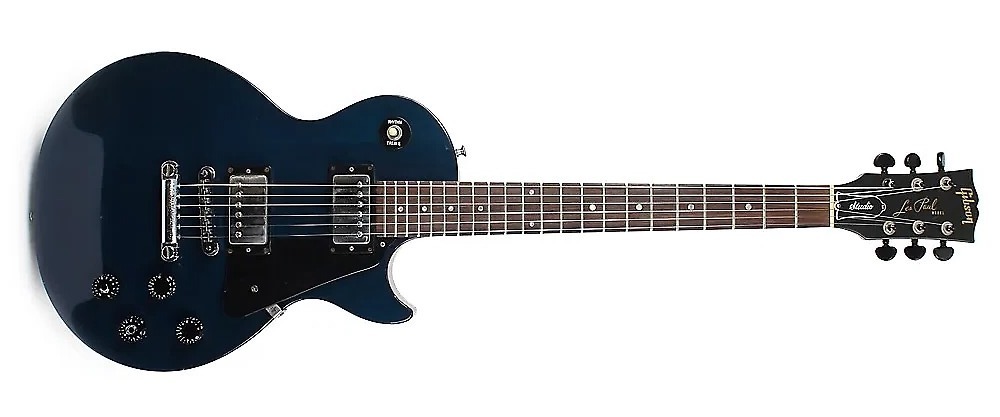 Introduced in 1983, the Les Paul Studio was meant to be a budget-friendly alternative to a regular Les Paul, keeping all of the essential elements while losing the high-end appointments. (It was preceded by the similar Les Paul XR models before it.)
The Studio became a mainstay and bestseller for Gibson, and was redesigned in the early '90s and then again in 1998. On the used market, '90s Les Paul Studios are still some of the best bang-for-your-buck Les Pauls available. Les Paul Studios were also available in Custom and Standard models in the mid- and late '80s.
---

By the '90s, nostalgia for the Les Pauls of old was in full swing. The Les Paul Classic was released as a historically accurate representation of the Les Paul Standard of the late '50s and early '60s. But it certainly wasn't alone, with the Custom Shop Historic Collection also launching in the latter half of the '90s.
The production-run Les Paul Standards and Customs in this decade were also built with classic appointments in mind, even if they didn't have "Classic" or "Historic" in their names.
---
Les Paul Standard Double Cutaway, 1998
---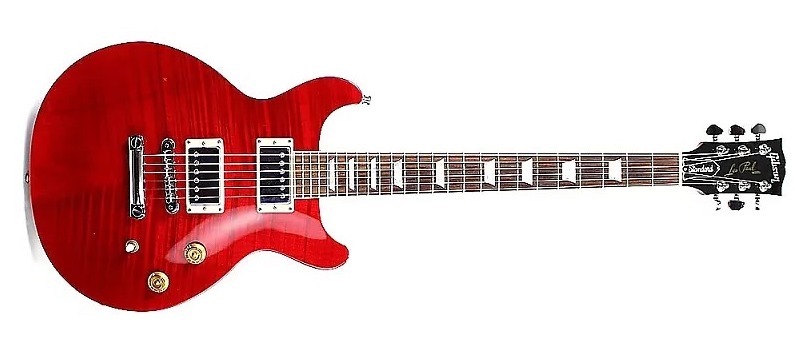 With a nod to the double-cut Specials and Juniors of the late '50s, the Les Paul Standard Double Cutaway brought was not a student model but a regular LP—with a maple top, 490R/498T humbuckers, and other standard features—that just happened to have some more room around the neck.
In 1999, it became the Les Paul Standard DC Lite. A few years later, it changed again to the Double Cutaway Plus, with the addition of a flamed maple top.
---
Zakk Wylde Custom Bullseye, 1999
---

First unveiled in 1999, this Zakk Wylde signature was one of the funkiest and most distinctive of any '90s Les Paul variant. Gibson offered this guitar for more than 15 years, ending this particular series in 2016.
---

In 2002, Gibson started offering options for the Les Paul Standard that have, become, well, kind of standard: You could get a Les Paul Standard with a '50s Neck Profile (if you preferred a slightly thicker neck) or a Standard with a '60s Neck Profile (if you preferred something a little slimmer).
The Standard Premium Plus also debuted at the same time, which featured more elaborate figured maple tops.
---

One of the highest of high-end Les Pauls money could buy, short of the Custom Shop models that hit the shelves in this era, the Les Paul Supremes had AAAA-grade maple tops, floating humbuckers, and extra-fancy inlays.
---
Les Paul Standard Faded, 2005
---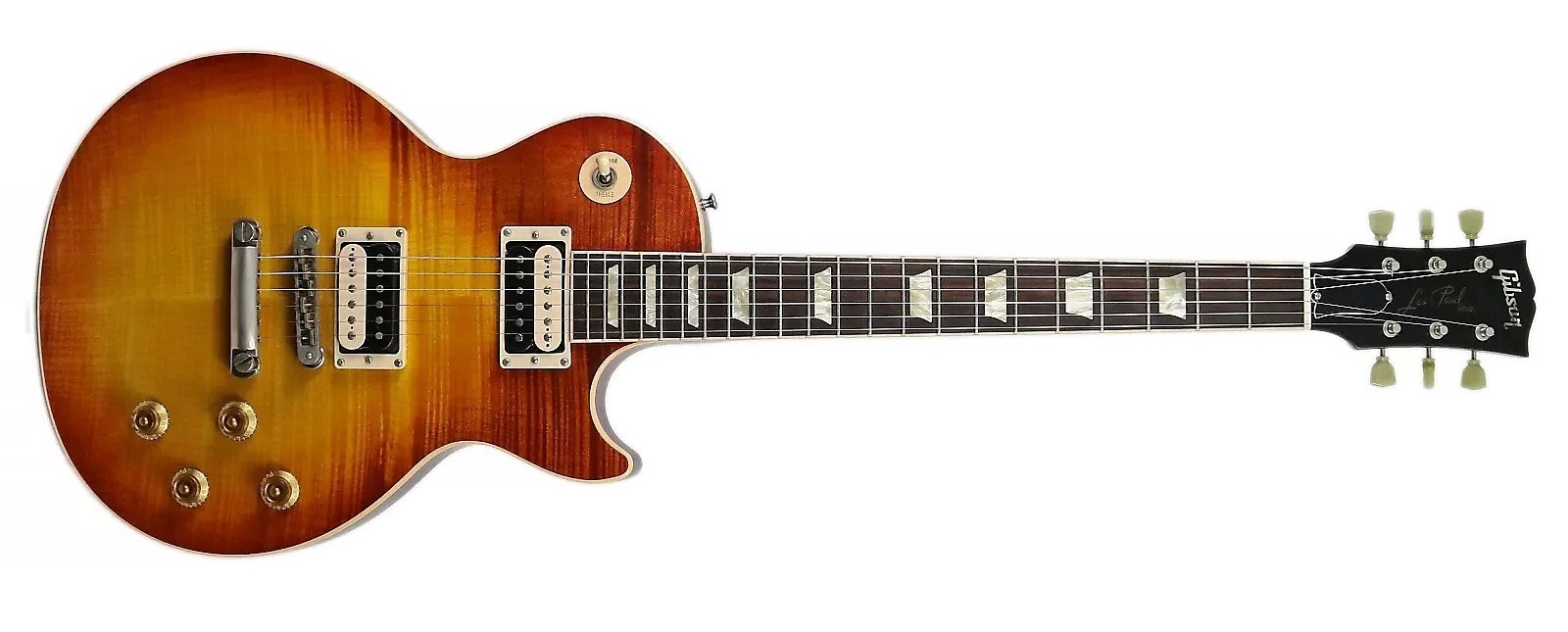 In the 2000s, Gibson created Faded versions of many of its guitars, which had simple satin finishes instead of the labor-intensive glossy finishes of regular Gibsons. Les Paul Standards, Studios, Double Cuts, and more all got the Faded treatment. And you can find deals on all of them on the used market.
---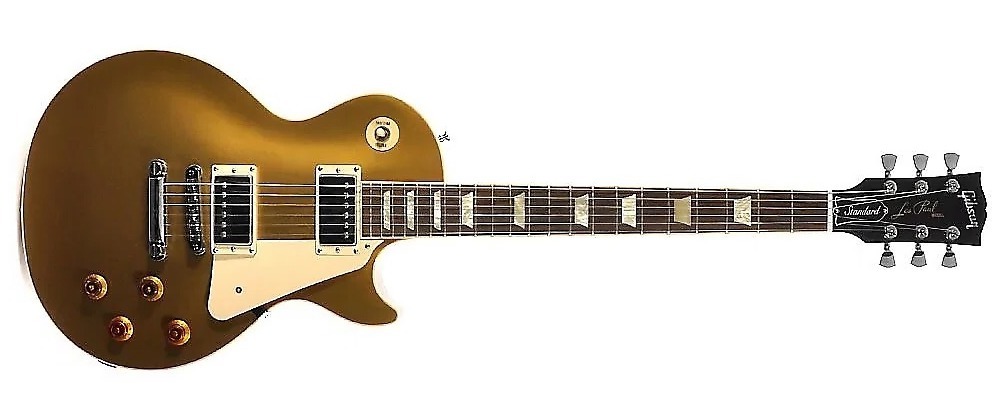 "Les Paul Standard 2008" or "Les Paul Standard 2008 Specs" has become a shorthand way to refer to the Standards Gibson built from 2008 to 2012. They featured a chambered body and some of the lightest LPs you can find.
---
Les Paul '50s Tribute, 2013
---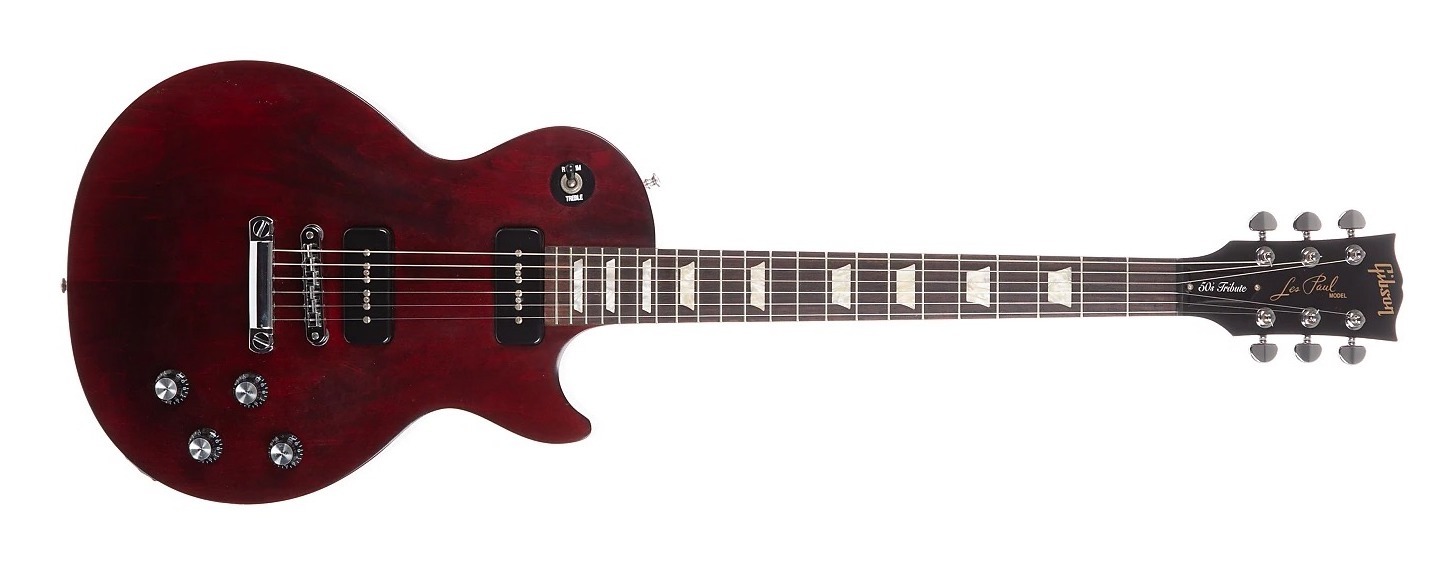 In 2013, Gibson launched the Tribute series across a range of Les Paul models. While taking cues from earlier LPs, the Tributes of this era were stripped-down affairs with a modern twist: You could "upgrade" them to have an early version of the robot tuners that became synonymous with Gibson's questionable business decisions during this time period.
These should not be confused with the Studio Tributes from around the same time or Les Paul Tributes the company makes today. The new ones are still budget-minded, but feature many niceties, a modern weight-relieved body, and no robot tuners.
---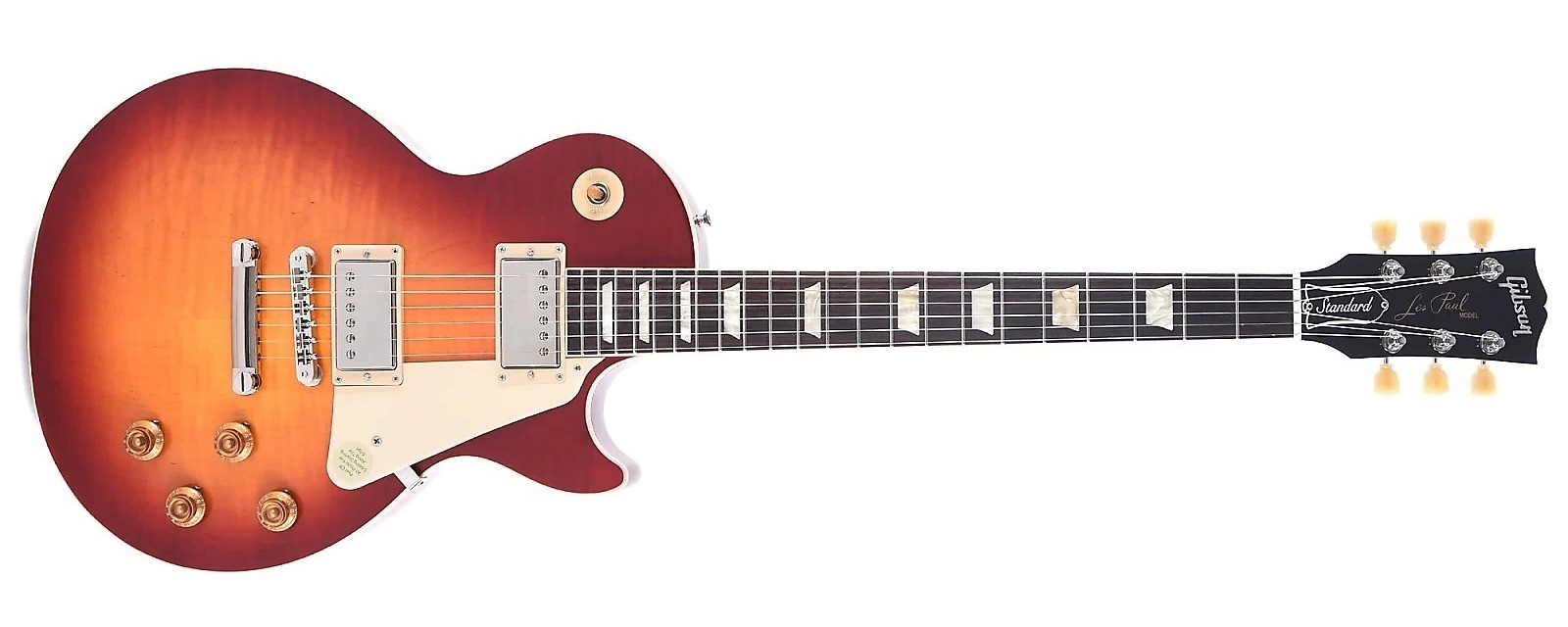 Under new leadership since 2019, Gibson now divides its current Les Paul models into the Original and Modern Collections. Today's Les Paul Standards are available with humbuckers as the Standard '50s and Standard '60s or with P-90s in the Standard '50s P-90.
And if that's not your style, there are many other options, from the Les Paul Modern to '70s Deluxe.
Buying Guide: Gibson Les Pauls
Find the right Les Paul for you
Learn More