Reverb Reports Most Successful Holiday Season for Sellers to Date
Reverb sellers saw continued year-over-year sales growth during Q4 as consumers turned to Reverb to buy musical instruments online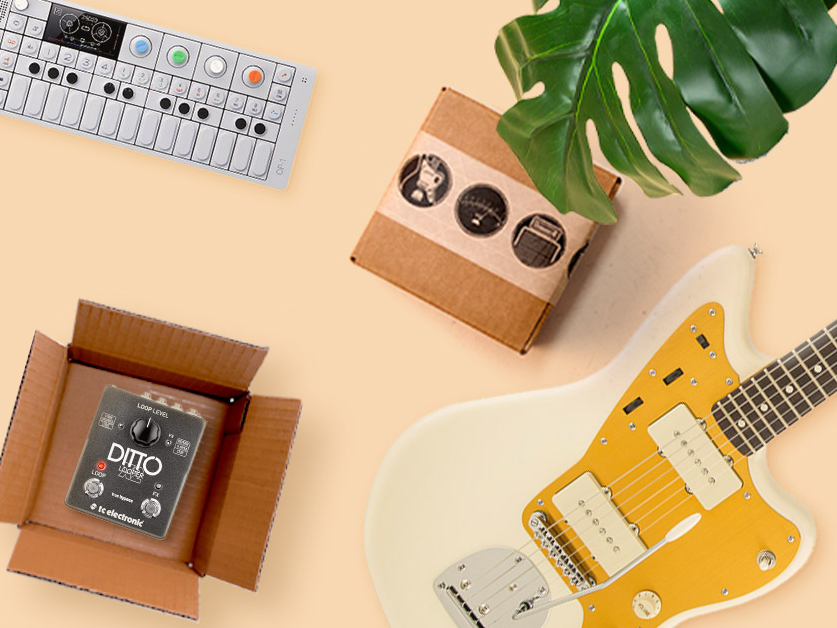 Friday, February 26, 2021 — Reverb, the largest online marketplace dedicated to buying and selling new, used, and vintage musical instruments, announced that its sellers experienced their biggest holiday to date on Reverb, with fourth quarter gross merchandise sales up more than 32% compared to the same period last year. From October-December, online sales accounted for more than half of all musical instrument sales according to The Music Trades. Many of those buyers connected with sellers on Reverb, which saw significant sales growth across guitars, microphones, audio interfaces and other recording equipment, synthesizers, and drum machines, among other categories, in 2020.
"After a year that was challenging for so many in our industry, it was inspiring to see our seller community end the year strong as more consumers shopped for musical instruments online than in stores," said Reverb CEO David Mandelbrot, who noted that searches for small keyboards and synthesizers on Reverb more than doubled when compared to the same time last year. "Over the past year, our team worked to introduce and improve seller tools, help dealers get more inventory online, create marketing campaigns that drive buyers to our sellers, and more. As a result, when buyers looked for musical instruments online over the holidays, they found our sellers and their inventory."
Ahead of the holiday shopping season, Reverb introduced two new features that have already helped sellers increase sales while providing a more seamless shipping experience for buyers and sellers:
"Free Shipping Thresholds" allow sellers to offer free shipping to buyers that spend at or above an amount set by the seller.
Reverb's new "Combine & Save" feature enables sellers to offer discounted or free shipping to buyers that purchase multiple qualifying items.
The Reverb team also worked with sellers throughout 2020 to make it easier to integrate their eCommerce platforms with their Reverb shops. Integrations allow sellers to manage listings, inventory, and orders on their website and in their Reverb shop from one central location. This enables sellers to increase their listings and grow their sales on Reverb.
"As more and more musicians started buying music gear online last year and it became clear that trend wasn't going to slow down, I prioritized working with my Reverb account manager to ensure that all of my inventory was listed online and that I was doing all that I could to connect with these buyers. I was able to easily increase my listings and manage all of my inventory from one location because my Reverb Shop is integrated with my eCommerce platform," said Heath Berkowitz at Boston Guitar. "Last year, I saw a significant increase in sales and that's thanks in no small part to the Reverb team, which is a crucial partner to independent music dealers like me."
While Reverb has long been known as a marketplace for used, unique, and vintage instruments, in 2020 buyers bought more new music gear from Reverb sellers than ever before. In addition to working closely with dealers to get more new gear listed online, Reverb partnered with brands to promote their new products to Reverb's community of musicians. Fender and Moog partnered with Reverb to promote the launch of the Fender American Professional II and the Moog Werkstatt, respectively, driving sales to their dealer networks on Reverb. Electronic Audio Experiments also worked with Reverb exclusively to release a limited run of its Limelight Dual Channel Overdrive created in partnership with band Touché Amoré.
"Reverb has been a fantastic partner for large scale product drops like the Limelight, which sold out within just hours of being released. For an extremely small operation like ours, Reverb's marketing support and massive audience of musicians are an invaluable asset," said John Snyder of Electronic Audio Experiments.
To learn more opportunities to partner with Reverb, contact [email protected] (dealers) or [email protected] (manufacturers.)
About Reverb
Reverb is the largest online marketplace dedicated to buying and selling new, used, and vintage musical instruments. Since launching in 2013, Reverb has grown into a vibrant community of buyers and sellers all over the world. By focusing on inspiring content, price transparency, musician-focused eCommerce tools, a music-savvy customer service team, and more, Reverb has created an online destination where the global music community can connect over the perfect piece of music gear. Sales on Reverb also help support the Reverb Gives program, which provides youth music programs all over the world with the instruments they need to make music. Reverb is a wholly-owned subsidiary of Etsy (NASDAQ: ETSY), which operates two-sided online marketplaces that connect millions of passionate and creative buyers and sellers around the world.