This article was originally published in Reverb's Your Guide to Gear: Trends & Stories From the Reverb Price Guide. That magazine, which we published earlier in April, covers price trends from across the music gear industry and shares the average going-rate for thousands of pieces of popular instruments. Click here to download your own copy for free.
Roland's samplers, rhythm machines, and grooveboxes have been integral components of genres like hip-hop, house, and techno for decades. These days, even casual music fans know how analog legends like the TR-808 were salvaged from pawn shop shelves to become foundational elements of modern music.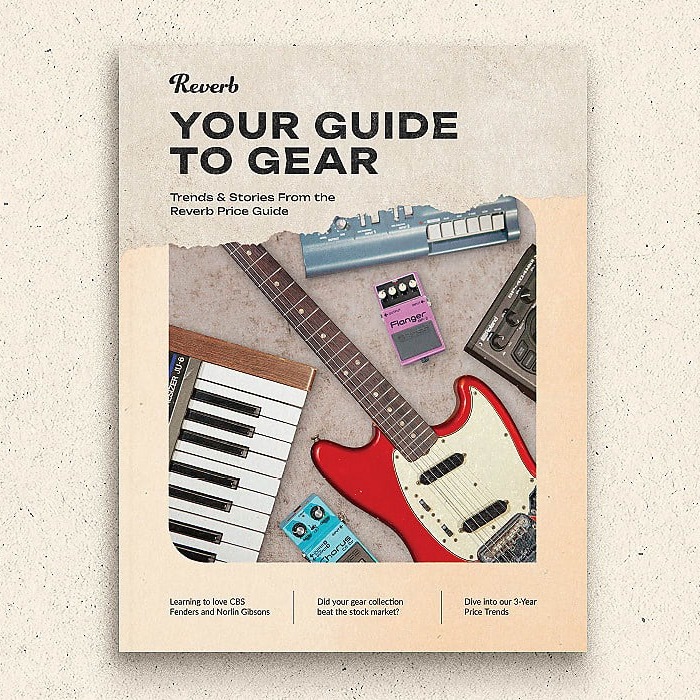 Your Guide to Gear:
Trends & Stories From the Reverb Price Guide
But the SP and Dr. series samplers and drum machines created by Roland and Boss were never really positioned for greatness. The machines were always affordable, meant to be more like musical aides or sketchpads than a flagship instrument. And with all of today's DAWs, sample packs, and software samplers, you could view it all as obsolete.
Instead, the SP and Dr. series models have appreciated in value in recent years, including standard models and those with custom-built modifications. In the hands, hearts, and minds of producers and beatmakers, the gear has taken on its own sense of folklore, while time has created more scarcity in the market for much of this '80s-, '90s-, and early '00s-built equipment.
If you had the luck of owning one all this time, you could now be reaping the rewards of a higher price. If you've only recently been inspired to get your hands on an older SP or Dr. series model, you may have to pay up for the privilege.
What has spurred the decades-long appreciation in Roland and Boss electronic music gear? Why have their samplers and rhythm machines become so sought-after, even though software is more advanced than ever? Let's break it down.
SPs & The Global Beat Scene
Boss SP-202 Dr. Sample 2-year Price Guide graph. (Check it out for yourself
here
.)
In their names, the first of the SPs would bring together the earlier Dr. series with the more advanced and soon-to-be-influential SP line: the Boss SP-202 Dr. Sample (released 1998) and SP-303 Dr. Sample (released 2001).
Phrase samplers with eight pads on the front and built-in effects, their original list prices were $299, far less than MPCs at the time. Portable, battery-powered, and easy to use for quick sampling and replay, they set a template for form and function. Producers could not only make beats quickly, but perform them.
The 303 is the more prized of the two today and has become increasingly sought after in recent years due to its significant association with iconic hip hop artists such as Madlib and MF DOOM. Both renowned musicians have expressed their admiration for this sampler in interviews over the years. Its price has seen a steady rise in the last seven years, growing to 77% and averaging $439 in 2022, more than its original retail price.
The 202, always a more limited and less celebrated affair, seems finally to be getting some love from SP fans. Its used price basically doubled since 2015, though its average price of $267 is still well below the 303's.
This shift to performance that SP samplers allowed led a generation of hip-hop producers—no longer content to just create beats for rappers—to become independent electronic music artists on their own terms. None more so than the SP-404.
Roland SP-404 Sampler 2-year Price Guide graph. (Check it out for yourself
here
.
Released in 2005 (after the workstation-sized SP-505 and -606 from 2002 and 2004), the SP-404 became the dominant sampler for instrumental hip-hop. Luminaries of the LA beat scene like Ras G, Samiyam, Dibiase, and more made the 404 a global phenomenon.
The 404, like other SPs, is a blank canvas in terms of sampling and performance capabilities. You have the flexibility to sequence patterns or even act as a DJ by loading full tracks onto its sample banks. Using the row of knobs at the top, you can filter, drop out, or pull up a long echo—and look like a proper performer while you do it.
A 404 Drop… in Prices
In 2021, the original run of SP-404s went for an average used price of $374 on Reverb. The newer SP-404SX averaged $405 while the SP-404A went for $410, despite never having the same high reputation among die-hard 404 fans.
In late 2021, the drop of the SP-404MKII—a full reimagining of what the 404 could be, without losing any of the original's secret sauce—would change prices on the whole lineup. Prices for original 404s dropped by -11% in 2022. Those for the SX variant dropped -7% and the A dropped -12%.
Roland SP-404MKII 2-year Price Guide graph. (Check it out for yourself
here
.)
Producers were stoked for the 404MKII as soon as they heard about it, though supply chain issues and shipping delays meant that many folks were stuck waiting many, many months for their pre-orders to be fulfilled.
Some of the lucky buyers who got their hands on it decided to flip them. With anxious buyers willing to meet sky-high asking prices, some MKIIs sold for as high as $1,100, twice as high as retail, while they averaged $620 in 2022. Thankfully, for would-be buyers now, the prices have fallen to reasonable levels, below the machine's retail price tag.
Despite this rollercoaster ride of price changes over recent years, Roland and Boss samplers remain highly coveted tools amongst modern producers who appreciate their versatility and easily accessible features such as multiple effects processors, pattern sequencers, external audio support, built-in MIDI control capabilities, sophisticated sampling abilities, and much more.
Someone Called the Dr.
Years before Roland changed the music world with its groundbreaking samplers, it was already transforming electronic drum programming with the TR-808 and -909. Due to their iconic status over time, these pieces have risen exponentially in value. (808s went for an average of $5,686 in 2022, 909s for $5,817.)
It might come as a surprise, but this trend has even impacted the aftermarket of Boss' range of cost-effective Dr. Rhythm drum machines. These innovative machines were designed to make music composition easier and more accessible for guitarists, providing a simple-to-program drum machine that could be effortlessly integrated into any pedal rig.
But they too have become increasingly desired, and their aftermarket prices are now steadily rising.
Boss DR-55 Dr. Rhythm 2-year Price Guide graph. (Check it out for yourself
here
.)
Take the DR-55 Dr. Rhythm—the first of the Dr. series originally released in 1979—this rare relic only has four analog drum sounds (kick, snare, rimshot, and hi-hat) and a simple programming interface, but it's seen an astounding 94% increase in average used price paid over the past seven years.
The DR-202 Dr. Groove—which placed some of Roland's coveted drum sounds with four hundred dance rhythms options—rose a whopping 167% in price over the same time period. This is even despite the fact that the techno, house, and drum 'n' bass beats inside are pre-programed. The doctor won't let you sequence your own.
Boss DR-202 Dr. Groove 2-year Price Guide graph. (Check it out for yourself
here
.)
The DR-110 Dr. Rhythm Graphic, released in 1983, gave users more opportunities to use their own creativity. It features a step-sequencing system and an LCD display, as well as rubber pads that allow you to play rhythms manually. But you can't trigger the drums from an external source or tweak their sounds—unless you modify it.
While the DR-110's own analog sounds are partly why its prices have risen 43% since 2015, it's also thanks to the popularity of the Alienized Circuits AL-110 mod, which turns the stock DR-110 into a more functional analog drum machine.
Though these drum machines are limited in their capabilities, they all share one common factor that's driving up their value; classic Roland analog drum sounds. This timeless audio gives them an edge over digital-only competitors and proves why vintage tech can still be so attractive to music makers of all types today.