As the 1980s gave way to the '90s, an unexpected musical development began to take place many miles away from the hip-hop epicenters of New York City and Los Angeles. Aspiring artists in Memphis, Tennessee—many of whom were in their teens at the beginning of their careers—began recording rap tapes in modest, independently owned studios or on 4-tracks in their own homes. With the ability to create freely outside of the confines of the major label system, these visionary DJs, rappers, and producers embraced limitations and created uniquely atmospheric sound collages unlike anything released in the decades since.
From drum patterns and sample sources to rap flows, independent and self-released Memphis rap tapes from the 1990s have had a profound influence on both underground music and hit records over the last three decades.
In the beginning, many releases were only available from mom-and-pop record stores or local shops like Mister Z's. Over time, bootlegging helped tapes by DJ Spanish Fly and others make their way to Mardi Gras and Atlanta's Freaknik. During the first decade-plus of the 2000s, the ever-increasing use of computers, time spent online, and file sharing brought about forums, message boards, and blogs that significantly increased appreciation and demand for '90s Memphis rap music.
These days, YouTube preservationists like abuking89, SouldjahFromTheNorth, Stvait, and underground rap collector give listeners around the globe easy access to the stuttering drums, heavy bass, and atmospheric synths of songs like 187 Family's "Drinking."
Interestingly, the lack of audiophile-approved quality on these tape rips—frequently identified as part of the definitive Memphis "sound"—may be more of a byproduct of bootlegging and several generations of dubbing than a reflection of the original recording.
Listen to a Memphis rap tapes playlist curated by this article's author, Gino Sorcinelli.
Essential Gear, Sample Sources, and Lyrical Reflections
Whatever the quality of the recording, Memphis producers were critical to building the sound of the scene. They created their best work by drawing on Stax Records samples, horror movie scores, live keyboard and synth sequences, 808s, and rolling basslines. No sample was too obscure or out of bounds—even the Unsolved Mysteries theme and Windows 4 startup sound were tapped as beat-building components.
To compose their instrumentals, producers employed a variety of tools like Boss DR-5 and DR-660 drum machines, Gemini DS-1224 and E-Mu SP-1200 samplers, and Roland W-30 and Korg X-3 keyboards. Many storied artists produced or co-produced and rapped on the bulk of their own work and simultaneously amassed a long list of production credits for other artists.
The lyrical content of '90s Memphis rap tapes held a mirror to and sometimes glorified the more sinister aspects of life in both the city and America as a whole, as both grappled with historically high violent crime rates at the beginning of the decade. Verses about murder, violent misogyny, pimping, armed robbery, drug dealing and heavy drug use, gang violence, and satanic worship were not uncommon.
The approach to these topics varied from artist to artist and plenty of releases contain raps that go well beyond these subjects. MCs also discussed police corruption, extreme poverty, systemic racism, mental health struggles and suicidal thoughts, and the general desire to rise above difficult circumstances.
Despite the grim reality that many Memphis pioneers faced at a young age and conveyed through their music, they somehow channeled the darkness into art and created a sound that people all over the world are emulating, sampling, and ripping off.
The Beginning: DJ Soni D, Kool K, and DJ Sound
It's challenging to pinpoint one definitive starting point for the vibrant scene of underground Memphis rap tapes, but there are some important precursors. Early recordings of production pioneer DJ Sound (then Soundmaster C) performing with M.C. Ice date back to 1986 and '87. Sound's solo DJ mixtapes also appear to go back as far as 1988.
In later years, Sound put out many DJ mixes that featured a slew of guest rappers spitting over his production as well as his raw-as-hell instrumental Karaoke Tape series. He also formed a talented collective of MCs from Frayser, North Memphis—known as the Frayser Click—which included a young Yo Gotti as Lil' Yo. Frayser Click also boasted the duo MC Money and Gangsta Gold, whose DJ Sound-produced '95 release Da Hard On Frayser (since reissued as Heart of Frayser) served as one of the first albums from women in the Memphis rap scene.
In addition to the first artifacts of Sound's career, the late Club No Name and radio mix show pioneer DJ Soni D released "I Need Money" with rapper Cool K in 1987, which provided the city with an early rap record pressed up on wax.
OTS, On Top Records & Major Label Success
The late 1980s also marked the emergence of Gangsta Pat, a talented rapper, multi-instrumentalist, and producer who is the son of Bar-Kays drummer Willie Hall. Pat first released the regional hit "I'm Tha Gangsta" and the b-side "Shootin' On Narcs" on Reginald Boyland's On The Strength (OTS) Records.
OTS served as an important early Memphis label that helped several artists earn their first break and it remains active today. The label's studio was a gathering place for many important players in the scene and operated out of Orange Mound—a historic place and America's first neighborhood built by and specifically for African Americans.
"I'm Tha Gangsta"
The buzz around "I'm The Gangsta" led to OTS working with Miami-based On Top Records and the eventual release of Pat's self-produced 1990 debut #1 Suspect. That record earned Pat a contract and re-release from Atlantic Records, which gave him the distinction as the first Memphis MC to sign with a major. His subsequent discography after a brief stint with Atlantic is extensive, and his 1995 underground classic Deadly Verses currently fetches over $200 on Discogs for original cassette copies.
On Top Records brought several OTS acts greater national attention—including Radical T's '91 debut Radical But Critical. That record contains the first features from celebrated Memphis rappers 8Ball and Al Kapone, as well as an early appearance from the highly influential and frequently sampled Orange Mound pioneer DJ Zirk on turntables and the album cover.
Comin Out Hard: 8Ball & MJG's Early Work and Enduring Legacy
The historic Orange Mound duo 8Ball & MJG also dropped their '91 EP Listen To The Lyrics on OTS after first connecting at Ridgeway Middle School in the mid-1980s. The EP led to a slot on Tony Draper's then-unknown Houston-based Suave House label, which they helped turn into an independent powerhouse. Once signed, they recorded their full-length 1993 debut Comin' Out Hard in a two-bedroom apartment studio.
"Intro"
Samples of Comin' Out Hard can be found all over Memphis underground rap tapes, from Gimisum Family member Carmike's expert use of a slowed-down 8Ball vocal on "Ridin' Thru The Hood" to the exceedingly dark "Time To Rob" by Tommy Wright III. This frequent reimagining of 8Ball & MJG's first LP was an indicator of the profound influence they would have in Memphis, all over the US, and beyond.
Despite their Texas relocation, the duo's connection to the city remained strong over the years—from appearances on DJ Squeeky's classic x-rated Volume 4 posse cut "Lookin' 4 Da Chewin" in 1993 to Three 6 Mafia's double platinum Tennessee posse cut "Stay Fly" 12 years later. 8Ball & MJG continue to show Orange Mound love today through their efforts to reduce violence in the neighborhood and the greater Memphis area.
DJ Spanish Fly's Discovery of "Drag Rap" aka "Triggaman"
The Showboys Dragnet-inspired 1986 single "Drag Rap" proved to be another key moment for Memphis rap. As group members Orville "Bugs Can Can" Hall and Phil "Triggaman" Price recorded their single 1100 miles to the northeast in a Manhattan studio, the LinnDrum machine crashed and soloed the Roland TR-808 drum beat. This unexpected equipment malfunction created an essential building block for Memphis producers.
"Drag Rap'' wasn't a hit when Profile Records first released it, but that didn't stop the song from finding its way to pioneering DJ, MC, and producer Spanish Fly, who hailed from the South Memphis neighborhood of Clementine. After picking up a copy of the 12-inch, he used the 808 segment to get the crowd hype at live shows and sampled it repeatedly on cuts like "Shoottriggaman" and "Trigga Man."
"Trigga Man" also employs a slowed-down, repetitive vocal sample hook reminiscent of a DJ Screw-inspired chopped and screwed chorus—one of several notable production accents of the city's rap scene.
The "Triggaman" Sampling Frenzy
Fly's frequent use of The Showboys kick-started a sampling craze that rivals that of many storied breakbeats, with "Drag Rap" (commonly referred to as the "Triggaman" break) eventually traveling all over Memphis before moving to New Orleans and becoming a staple in bounce music as well. Close to 200 tracks by artists like 2 Chainz, Big K.R.I.T., Megan Thee Stallion, and Lil' Wayne have sampled and interpolated the song in the 35 years since it came out.
Unfortunately, The Showboys' level of compensation for their historic recording has been inconsistent. They are currently suing Profile Records' publishing company Protoons for at least $1 million in revenue they feel the company owes them in unpaid sums from "Drag Rap" clearance lawsuits.
"Ike's Mood I" & The Gangsta Walk
Spanish Fly's selection of Isaac Hayes' "Ike's Mood I" became another signature sample source after he put the track's piano keys to use on "Getting Away with the Medicine" and "Gangsta Walk."
According to Memphis radio/turntable veteran DJ Spydermann, The Gangsta Walk a.k.a. Gangsta Walking comes from a dance created by the Bovan crime family called The Bovan Walk. It first grew in popularity through Fly's residencies at Club Expo and Club No Name with Ray The Jay as MC. Before Fly created a song to describe the dance, Gangsta Walking often broke out when he played "Drag Rap"/"Triggaman." Today, The Gangsta Walk is a signature dance associated with '90s-era Memphis that is revered in the city and all around the world.
"GANGSTA WALK"
Describing the influences that helped birth The Gangsta Walk, its variations and related styles like Buckin and Jookin', and all of the songs associated with the dance is impossible given the confines of this piece, but Pretty Tony's 1990 cassette single "Get Buck" is an essential part of the story. A self-released hit from the infancy of the underground tape era, "Get Buck" became a favorite chant to do while people gangster walked. The track inspired MC Hammer's "get buck" chant in his platinum single "2 Legit 2 Quit," as well as his use of the dance on The Arsenio Hall Show in front of a national TV audience.
Fellow Memphis originator South Memphis King further boosted the visibility of gangster walking with "Da Gangster Walk" from his 1991 album The Real Side of Me, as did the '91 track "Gangster Walkin" by Kidd Money & Scratch Machine (KMSM). G-Style took the dance's popularity to yet another level with the music video for their 1993 single "Gangsta," which was recently featured on Netflix's Hip Hop Evolution series.
Runnin-N-Gunnin': Tommy Wright III, Street Smart Records & 10 Wanted Men
As The Gangsta Walk took off, Street Smart Records founder, rapper, and producer Tommy Wright III recorded and released his debut Memphis Massacre in 1992. Only 15 and living in the South Memphis neighborhood of Riverside at the time, he knocked out all eight songs in a single day and sold tapes straight out of his backpack to his high school peers.
The following decade saw four largely self-produced solo projects from Wright III, including Ashes 2 Ashes, Dust 2 Dust (1994) and Runnin-N-Gunnin (1995). He also rapped and produced for the projects Wanted: Dead or Alive (1995) and 10 Toes Down (1997) with his supergroup 10 Wanted Men.
Tommy Wright III - Runnin-N-Gunnin [Full Tape]
In spite of their name, 10 Wanted Men featured two pioneering women of rap: Chastity Daniels (better-known now as La' Chat) and the late Princess Loko. According to Wright III, he recorded Loko's ultra-intense verses on "Comin' For '94" on a 4-track at her family's kitchen table when she was only 14 or 15. The group's lineup also included the late MCs C-9 Da Fastest and Lil Ramsey, Killa-C, Marrio Marshall, Project Pimp, T-Dog, and La' Chat's brother Womack The Omen.
In addition to the previously mentioned projects, Wright III produced a slew of full-length solo and group releases for his label. A very innovative producer, he made the limitations of the Boss DR-5 and 660 drum machines work to his advantage by multi-pitching the 808 cowbell on "Meet Yo Maker" (co-produced by X-Rated Al) and using the 660's SynthBass patch for the bassline on "Runnin-N-Gunnin'" featuring 2-Faced—two techniques described in a detailed Loaded Samples analysis of his work.
Unfortunately, despite his production and business skills, Wright III's dissatisfaction with his distribution deal through Select-O-Hits led to a long and expensive court battle. As a result, he lost the Street Smart Records studio building and a good deal of his equipment. Over time, however, he regained his backstock and the majority of his master recordings, which have since found new life thanks to online uploads ("Meet Yo Maker" currently has 3.45 million views on YouTube) and sales handled by Tommy himself.
Lyrical Driveby: The Introduction & Continued Evolution of Al Kapone
1992 also saw the release of South Memphis MC/producer Al Kapone's SMK-produced cassette maxi-single "Lyrical Driveby." The single—which features a nice flip of Foster Sylvers frequently-sampled "Misdemeanor"—exploded in popularity throughout the city thanks to support from people like DJ Squeeky.
Kapone further showcased his versatility on his SMK-produced Outlaw Records debut Street Knowledge: Chapters 1-12 (1992) by mixing raps about some of the harsh realities of South Memphis with more positive songs. Unfortunately, he believed Memphis rap fans only wanted "gangsta walk get buck songs about the gangsta hood life" and felt they dismissed his earnest attempt at nuance.
This led to a much darker sophomore effort in 1994 with Pure Ghetto Anger. Kapone discussed this shift in style at length in 1999 Murder Dog interivew—a piece that also provides his insights on the collapse of the Memphis music industry following the assasination of Martin Luther King Jr. and the impact this lack of business infrastructure had on the city's rap industry.
Kapone moved to the Select-O-Hits imprint Basix Music right after his second LP hit shelves and co-produced his '94 release Sinista Funk with engineer/producer Brian Smith, marking the completion of two full-length albums in one calendar year. He later broke into the mainstream with his contributions to the 2005 Academy Award-winning film Hustle & Flow and co-writing credits on E-40's "U and Dat" and Lil' Jon's "Snap Yo Fingers."
One Mean Stain: The Introduction and Evolution of Shawty Pimp
MC/producer Shawty Pimp made his official debut as a high school sophomore alongside MC Spade on the Mack D.L.E.-produced Tommy Wright III cut "Pushin' Powder" right as Al Kapone was starting to buzz. D.L.E. introduced Shawty Pimp to the aforementioned Boss DR-660 drum machine and his parents purchased him one for Christmas in 1993. He quickly moved from simple drum patterns to the enticing minimalism of cuts like "Pass Me That Blunt" and "Havin' Thangs" featuring MC Spade from his 1994 debut Heavy Ass N***** (H.A.N.).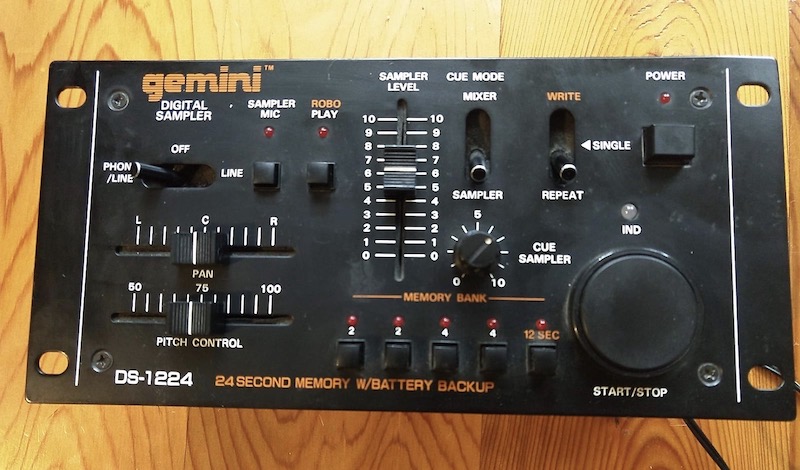 Gemini DS-1224
Once he acquired a Gemini DS-1224—a sampler Just Blaze credited with helping him evolve his sampling style prior to Jay-Z's The Blueprint—Shawty Pimp started making lush, loop-based tracks like "One Mean Stain." Many of the beats on his '90s releases are actually played out live, directly off of the DS-1224. "I used to have to hit that button every time to loop it," he says. "If you listen to some of the songs you can hear the samples get off sometimes."
He frequently cranked out tapes featuring his raps and production in just a few days, including numerous solo releases and collaborations with DJ Ace, Da Hype Click, MC Spade, Children of the Corn member Red Dog, and Teflon—the older brother of the "Old Town Road" remix co-writer and emerging solo artist Jozzy. After a prolific run, he briefly rebranded himself as Malik for Tha Substance (1996) and Universal Acknowledgements (sometimes incorrectly listed as Solo Tape) with Tarik aka Lil' West of Da Hype Click (1997). These projects feature both a shift in production and more reflective and introspective lyrics.
ONE MEAN STAIN (feat. Reddog)
Today, Shawty Pimp remains in full control of his master recordings, with vintage projects like Red Dog collaboration Comin' Real Wit It (1995) seeing a recent reissue. Whatever the subject matter or production style, he prides himself on making cohesive front to back projects instead of individual songs—something he believes the independent cassette tape format of the '90s leant itself to. "I liked singles, but I love the body of work," he says. "I love to put together projects." The 2017 LP Izm (also listed under his alias M-19) is his most recent full-length release.
Devil Shit: The Four-Album Run of Grimm & Children of the Corn
Shawty Pimp was also instrumental in sparking the career of MC/producer Grimm (formerly Lil' Grimm), who is best-known for his work with Children of the Corn—a group made up of Grimm and Mac B, Chi Chi, Red Dog, Mac E, Eli, Kavious, Mali, Fly Mon, Sweet Talk, and siblings Marco Tha Don and late 901 Thugz member Ms. Kra-z.
After Grimm co-produced Teflon's 1994 Westwood Click album with Shawty Pimp and another producer named Eric, his mother helped him obtain a setup for his senior year of high school. Plugging in the gear yielded instantaneous results. "Man, I promise you, the first day I got my DR-5 and my [Gemini DS-8] sampler, I made 'Deep Into the Woods' and 'Devil Shit' that night," he says.
Children of the Corn - "Deep Into the Woods"
"Deep Into the Woods" appeared on Children of the Corn's 1995 debut The Single while "Devil Shit" made its way to their sophomore effort The Havoc—which was released under the moniker Graveyard Productions. Both '95 albums are both known for their dark subject matter and shiver-inducing production. After upgrading to the Gemini DS-1224 for The Havoc, Grimm took his sampling to another level on the '96 release The Last Chapter. Sadly, the same year also marked the passing of his beloved father—who he credits with passing down a deep knowledge of music and a love of the Isley Brothers.
Grimm then co-produced a compilation of leftover Children of the Corn tracks for the group's finale Blackhouse Underground Mix (1997) with A. Warren. Looking back now, he believes Blackhouse and previous projects unite various group members who may have otherwise found themselves in conflict with each other or external forces. "They all came to my house, like DJ Screw," he says. "And everybody vibed."
Children of the Corn - "Suffer"
Although Children of the Corn disbanded after a brief but prolific run, Grimm remains active today, co-producing for several high-profile artists behind the scenes. His work is also frequently repurposed by acts like $uicideboy$, who have sampled songs like "Devil Shit," "Suffer" (also sampled by DJ Smokey and Soudiere), and "Wicked Ways." He has since taken legal action for the uncredited use of his tracks and settled out of court with the $uicideboy$.
Soulful Samples and 16th Hi-Hats: The Sound of DJ Squeeky
One of the most important figures in bringing the Memphis' sound worldwide emerged a short time before Grimm co-produced his first tracks for Teflon. Trailblazing producer DJ Squeeky first broke onto the scene in 1993, with solo DJ mixes, tapes like the DJ BK collaboration Summer Mix Vol. 1 and Project Playaz member Criminal Manne's debut It's The Criminal Manne. From there, he continued to produce for a variety of artists and release mixtapes that showcased a host of Memphis MCs rapping over his impressive beats.
With his extremely influential and often-imitated 16th hi-hats technique, a 4-track, Boss DR-660, Roland keyboard, and eventually an E-Mu SP-1200, Squeeky turned classic soul records into dark, bass-heavy, hard-hitting street anthems like the Project Playaz-assisted "Don't Turn Around." His tapes were highly sought-after throughout the city, and they influenced many artists of the same era as well as future generations.
DJ Squeeky - Don't Turn Around (Feat.Project Playaz)
Squeeky quickly became one of the early high-profile producers in Memphis by moving 10,000 copies of his '97 debut studio album On A Mission in a single week with no major label support. These days, he continues to produce tracks for a variety of artists like Young Dolph while his work is sampled by Drake, A$AP Rocky, Megan Thee Stallion, and many others.
The Formation of Three 6 Mafia
As Squeeky first found his footing in the early '90s, so did a then-unknown Three 6 Mafia. The late Lord Infamous (who is widely credited for influencing untold rappers with his distinct triplet flow), his half brother DJ Paul (then Mista DJ Paul), and Juicy J first made noise with Paul's DJ mixes, Infamous and Paul's freshman year of high school release Serial Killaz, and Juicy J's early solo tapes.
Then came additional Infamous, Paul, and Juicy solo tapes, various collaborative efforts between the three of them, and the formation of Prophet Entertainment. They initially referred to themselves as The Backyard Posse, but Lord Infamous signified an official Three 6 beginning of sorts by rapping the words "Triple Six Mafia" during their formative years—a refrain that DJ Paul loved sampling.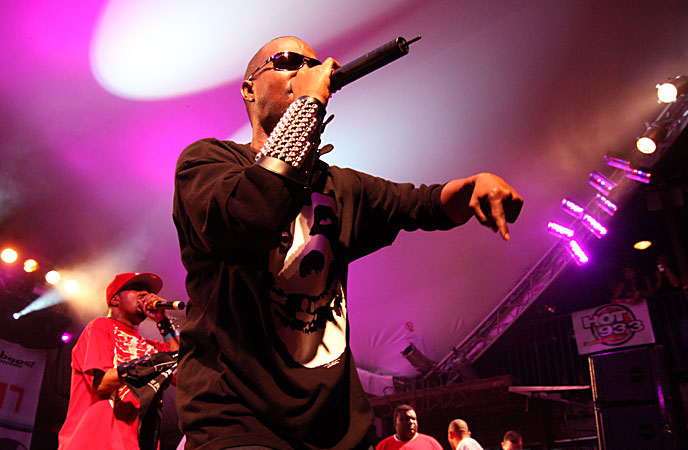 Juicy J (front) and DJ Paul (back). Photo from
Wikipedia
.
The group later expanded to include Crunchy Black, Gangsta Boo, and the late Koopsta Knicca, with Gangsta Boo making her debut on DJ Paul's Volume 16: 4 Da Summer Of '94 by recording her verse for the timeless weed anthem "Cheefa Da Reefa" in a tiny closet. There have since been many successful affiliates like Juicy's brother Project Pat, La Chat (formerly of 10 Wanted Men), and Lil Wyte, and various associated Three 6 side projects, but this six-person lineup is considered the original.
Mystic Stylez: From Self-Released Tapes to Platinum Plaques
Three 6 Mafia's official '95 debut Mystic Stylez served as the musical midpoint for their early tapes and their more polished work in later years. Recorded and mixed on an extremely modest $4500 budget, it heavily featured one-time associates and seminal Memphis rappers Playa Fly and Kingpin Skinny Pimp, provided a radio breakthrough in "Da Summa," and marked the beginning of the transition from tapes to CDs in Memphis that would take over by the end of the '90s.
With DJ Paul on the Roland W-30 keyboard and Juicy J on the Akai MPC60, the two artistics provided a production master class by blending scores from Brainscan (1994), Wes Craven's New Nightmare (1994), The Young and the Restless, Warlock: The Armageddon (1993), and Witchboard 2: The Devil's Doorway (1993) with soulful elements from Marvin Gaye, Michael Jackson, Rick James, and others. The E-Mu SP-1200 added additional texture to the album's hypnotic sound with its 12-bit sample rate.
After the creation of their Hypnotize Minds label in 1997, the group's third album Chapter 2: World Domination (1998) went gold before they achieved platinum status in 2000 with When The Smoke Clears: Sixty 6, Sixty 1—both landmark moments for Memphis rap.
Three 6 Mafia also experienced a significant amount of additional critical and commercial success, including an Academy Award for Best Original Song in 2005 for the Hustle & Flow theme "It's Hard Out Here for a Pimp." By 2006, however, everyone except for Juicy J and DJ Paul quit the group and there was dissatisfaction from several former affiliates and members regarding financial compensation.
Hustle and Flow - It's Hard Out Here for a Pimp
2013 saw a reunion of sorts with Da Mafia 6ix, which contained all original Three 6 members minus Juicy J. Sadly, Lord Infamous passed away from a heart attack in 2013, Gangsta Boo left the group in 2014, and Koopsta Knicca passed away following a stroke and brain aneurysm in 2015. Three 6 gave fans new cause to celebrate when Juicy J announced a group reunion in 2019 and Crunchy Black and Gangsta Boo performed at the first show with Juicy and Paul. Unfortunately, COVID-19 cut their touring plans short—but it seems possible that more might come from their recent reconciliation.
Today, the group's endless discography of albums, solo releases, and offshoot projects remain incredibly influential in a way that is difficult to fully quantify. Their collective catalog is sampled often, while guest verses from the surviving members and production from Juicy and Paul remain in high demand.
Shared Sample Sources, Tension, and Lawsuits
Despite a shared appreciation for similar sample sources like "Drag Rap," the relationship between Squeeky and Three 6 Mafia has been rather terse over the years. A longstanding point of frustration seems to be Three 6 Mafia's sampling of Squeeky's material.
In March of 2020 DJ Squeeky and Gaylon Love sued G-Eazy and Juicy J for unlicensed sampling of Squeeky's "Lookin' 4 Da Chewin" featuring Kingpin Skinny Pimp, 8 Ball & MJG, and DJ Zirk on the "No Limit" remix. The lawsuit is intriguing, because both DJ Paul and Juicy J have sampled this track several times over the years without legal repercussions.
DJ Squeeky - Looking For Da Chewin
Squeeky and Gangsta Boo appear to be on good terms, as he produced the cuts "Buss It" and "Frenemies" for the 2014 Witch album Boo recorded with La' Chat. However, Juicy J, DJ Paul, and Squeeky have not embraced any opportunities to make music together yet.
More Ongoing Lawsuits
The issues of compensation and proper credit in Memphis rap have long been thorny ones. 2020 seemed to mark a strong moment of discord, as there were several lawsuits happening alongside the one against G-Eazy and Juicy J. Aforementioned On The Strength Records owner Reginald Boyland sued DJ Paul and Trippie Redd for not clearing a sample of 8Ball & MJG's "Pimps in the House" for the Paul and Twhy Xclusive co-produced Trippie Redd cut "Death" featuring DaBaby. He also reached an earlier settlement in 2015 with Three 6 Mafia over their uncleared sample of "Pimps' for their '97 song "Hit a Motherfucka."
Juicy J and Paul found themselves facing further legal action in March of 2020 when Lil Ced, Joe the CEO, Carnomas LaToya Manning (representing the estate of the late Three 6 member Koopsta Knicca), MC Mack, Kingpin Skinny Pimp, T-Rock, Slicc, and DJ Zirk sued Juicy J and DJ Paul for "over 150 independent acts of copyright infringement from more than 100 individual sound recordings."
Three 6 Mafia - "Hit A Muthaf*cka"
Juicy J and DJ Paul also filed their own $6.4 million dollar lawsuit against the New Orleans rap group $uicideboy$ for their frequent use of uncleared samples from the Three 6 catalog. According to Paul, he asked group members Ruby da Cherry and $crim to come to financial terms for their use of Three 6 Mafia material after they turned down an offer to tour with Lord Infamous' sons' group Seed of 6ix. When the $uicideboy$ failed to respond to his request in a timely manner, he changed his approach and took legal action.
The $uicideboy$, who generated over one billion streams on Spotify in 2020, have also sampled many other '90s Memphis rap tapes from a wide variety of artists.
Memphis Rap Sampling Ethics
Sampling ethics in these suits and the general history of Memphis rap are complicated. The prolific and innovative use of samples is part of what makes these '90s underground tapes so special, but there's no way the originators from decades ago cleared every sample they used—including samples of rap records like "Everlasting Bass" and "Drag Rap." It was only a matter of time before these recordings, which frequently sample other recordings, became a sample source.
Rodney O & Joe cooley-Everlasting Bass
The ever-increasing number of artists today who sample '90s Memphis rap tapes for modern hits with lucrative streaming and/or a viral TikTok video potential adds another layer of complexity. WhoSampled currently lists over 500 recordings that have repurposed the catalog of Three 6 Mafia alone—not including their solo work and songs produced by Juicy J and DJ Paul—and that number is probably much higher.
Sales of physical units dictated the success for Three 6 and their peers during the '90s, so it's difficult to make an exact comparison to the situation the group finds them in with The $uicideboy$—who rely on streaming in a much different media landscape than the one that exited two to three decades ago. But it seems like a successful union between these '90s tapes and younger artists who sample them is possible.
Black 17 Media co-founder Tyler Blatchley, who spearheads digital distro for some of DJ Paul's work, noticed Russian producer Kaito Shoma's distorted, DJ Paul and Skinny Pimp-sampling cut "Scary Garry" taking off on TikTok at the end of 2020. He showed Paul, Paul agreed to clear the sample and facilitate an easy transition to monetized steaming, and the song instantly became Paul and Skinny Pimp's most streamed cut by a wide margin. It's currently closing in on 25,000,000 plays on Spotify.
Scary Gary
This particular case seems to be a positive one for all parties. Paul wants to record new music with Shoma and sees this as an opportunity to perform in Russia and introduce his music to new listeners. Skinny Pimp, who was sampled again on LXST CXNTURY's "ODIUM" (23 million Spotify streams) and has another new song titled "OLD GENESIS" out with PHONK WALKER (750,000 Spotify streams) is also excited about the possibility of a resurgence in his work and hopes to cut many new songs with younger artists who want to sample him.
Cultural Appropriation?
Ever since these '90s-era cassettes started to bubble on the blogosphere during the first decade of the 2000s, there have been valid concerns about cultural appropriation of the original recording artists. On one hand, the internet helped spread music that spoke to the experience of Black artists living in Memphis far and wide. On the other hand, it made it easy for listeners geographically distant and far removed from these artist's experience to fetishize the "vibe" of their music without fully engaging with the meaning of their words and their actual lived experiences.
The ever-increasing ease of digital sampling and viral video creation makes these issues difficult to fully parcel out because of the mix of positives and negatives that can arise for each individual example of sampling, as seen with the aforementioned cases of DJ Paul and Kingpin Skinny Pimp.
Some Memphis tape-sampling genres were pioneered by Black artists—a la SpaceGhostPurrp and the emergence of phonk in the early 2010s. Phonk has since traveled to Europe and around the globe. The genre's particular popularity in Russia has even led to the term "drift phonk" because of the popularity of street racing and the way the music fits car visuals.
SpaceGhostPurrp - "Pheel Tha Phonk 1990"
Herein lies the complexity of sample-based music. People sample what inspires them, and there's certainly a very lengthy list of rap releases that have tapped Russian records as a sample source. It isn't inherently bad that people from Europe want to sample Memphis tapes from the '90s, but the massive historic appropriation of Black music coupled with the lack of compensation and credit that usually comes with this appropriation raises valid concerns.
When the original Black recording artists from Memphis—several of whom don't even have their catalogs available on streaming at the moment—remain largely unknown while white artists sample them and sometimes amass millions and billions of streams, one has to wonder if history is repeating itself. From acid house and techno to jazz and rock 'n' roll, there's a long and troubling history of white artists receiving the bulk of the credit for the innovation and creation of many genres, while Black pioneers are often erased and left out of the story. Has this already happened with '90s Memphis rap tapes, or is it possible to avoid this pitfall?
It's an encouraging sign that collaboration between Memphis pioneers and artists like "Scary Garry" producer Shoma are a possibility—but that particular instance may be the exception instead of the rule. Hopefully more artists who seek to sample the Memphis sound will reach out to the original artists for real time collaboration if they have the financial means to do so.
Signs of Hope
Thankfully, some of the same technological forces that boosted the visibility of Memphis rap tapes are also helping artists document the history of their music and tell stories about it in their own words.
In 2019, DJ Zirk and Z-Dogg launched "The Icon Academy" video podcast on YouTube, which features in-depth interviews with a wide variety of artists like Lil Noid, DJ Sound, and DJ Squeeky. Savvy artists like rapper/producer Blackout, Gangsta Boo, Gangsta Pat, and many others have started their own vibrant YouTube channels to document their work and music. They often upload much of their back catalog, which increases the chances of streams benefitting their own pockets instead of someone else's. Others like Tommy Wright III use YouTube and social media to promote physical sales in lieu of streaming.
The Legend Lady J - Chronic Dope (1996)
And although a significant number of the most popular YouTube uploads of Memphis tapes are still from fans and not the artists themselves, these uploads continue to expose the music to new audiences and impressive view counts—even if they were lesser known at the time of their release.
The Legend Lady J's DJ Zae-produced-"Chronic Dope"—which sounds ready made for a club resurgence and a TV or movie feature—is closing in on a cool 100,000 views on YouTube. Her '94 debut Glock N My Hand—one of the very first full-length Memphis rap tapes released by a woman—was recently reviewed on the popular website Passion of the Weiss. Hopefully, more recent music uploaded on her YouTube channel will get some of the same attention.
The Future
The influence of these independent and self-released tapes from Tennessee's second-biggest city is remarkable. They continue to shape the sound of recorded music in many different genres several decades later.
It would be great to see an increased effort to officially reissue the vast number of tapes floating around on YouTube in a way that is financially beneficial to the original artists. With social media and technology making it easier for people to connect with these originators, hopefully young rappers and producers who feel inspired by these tapes will take the opportunity to reach out to the people who recorded them for new collaborations.
And lastly, if you feel inspired to seek out more Memphis rappers and producers, please do so. This article—despite its length—only scrapes the surface.
---
About the author: Gino Sorcinelli is the writer, creator, and editor of Micro-Chop, a Substack newsletter that dissects beatmaking, DJing, music production, rapping, and sampling. His articles have appeared on Ableton, HipHopDX, Okayplayer, Passion of the Weiss, Red Bull Music Academy, and Roland.