Ah, Spring. When so many of the products announced at Winter NAMM finally arrive on shelves.
Of course, this year's been a bit different. January's NAMM show went virtual via Believe In Music Week, some manufacturers held back announcements, and supply chains continued to be slow compared to normal times.
But like wildflowers, there's still fresh gear popping up everywhere. And in fact, there have been so many new releases that we thought we'd stop and smell a few of the rosiest.
Korg MS-20 FS
In what seems like a completely different world, Korg actually announced a limited run of full-sized MS-20 Monophonic Analog Synthesizers back at Winter NAMM 2020. The units were originally supposed to start shipping in mid-2020, but unsurprisingly ended up delayed. Now, they're finally here.
The new MS-20 FS units are available in a selection of four powder-coat finishes: green, white, blue, and black. They promise to completely reproduce the analog circuitry of the vintage models.
They feature both early model- and late-model filters, external signal processing, an excellent patching system, and both MIDI in and a USB port for flexible connectivity.
Pick up one of these recreations of a classic semi-modular system here. You can also shop for vintage MS-20 originals or check out the Korg MS-20 Minis as well.
60th Anniversary Gibson SGs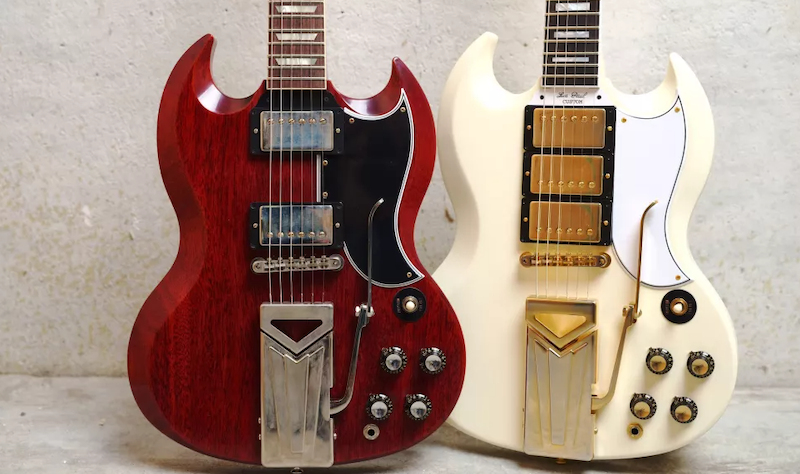 60th Anniversary SGs. Photo by Gibson.
Gibson first announced this new pair of 60th Anniversary '61 Les Paul SGs back in January 2021, but now these beauties are officially shipping.
1961 was the first year that Gibson debuted the SG body shape, and in fact, the model still carried to Les Paul name. These modern recreations are faithful to those first guitars and feature mahogany bodies married to '61-shape mahogany necks, featuring 22 medium-jumbo frets and 12-inch fingerboard radius. Both guitars are also fitted with a Sideways Vibrola and ABR-1 Tune-O-Matic bridge.
The Standard model features an Indian rosewood fretboard with cream binding and is outfitted with two Custombucker pickups, while the Custom model features an ebony fretboard with white binding and three Custombucker pickups. The Custom is already a hot commodity, and sells quickly when sellers post on Reverb. So if you're interested, act fast when you find one.
Shop the 60th Anniversary '61 Les Paul SG Standard and the 60th Anniversary Les Paul SG Custom.
Keeley Celisse Monterey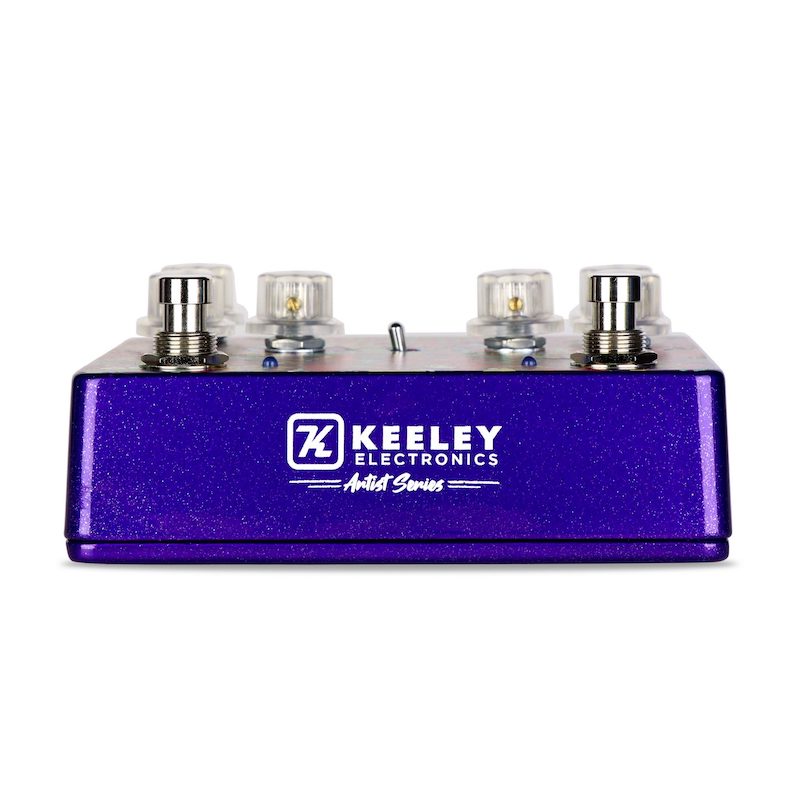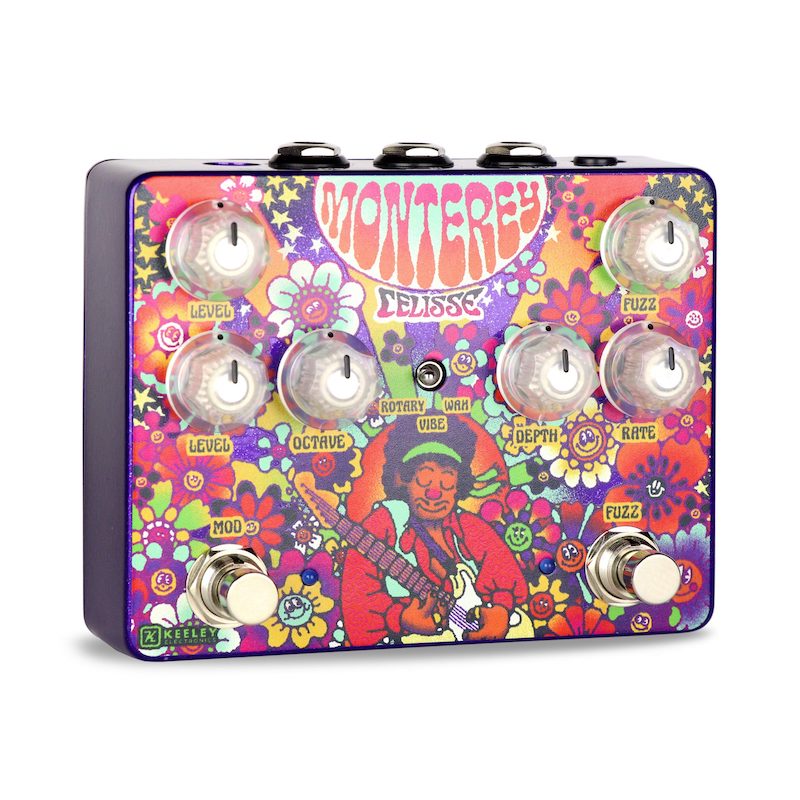 As we reported earlier this month, Keeley has announced a new special-edition fuzz pedal in collaboration with musician Celisse Henderson, the Celisse Monterey, that will be joining the brand's Artist Series Edition line this year.
The pedal is packed with what Keeley calls "neo-vintage effects," including vintage fuzz, a rotary speaker, vibe, harmonic and auto wah, octave up/down, and expression control. Its two channels (a fuzz channel and modulation channel) can be configured to give you five unique sounds. This special-edition pedal also comes in a beautifully designed enclosure from illustrator Lia Sued C.
Polyend Medusa 4.0
Medusa's video shows off the new firmware's digital FM presets
Now, the Polyend Medusa isn't a new instrument and in fact will soon be discontinued, but the 4.0 firmware update released in April is so useful that it merits mention here.
The collaborative synth between Polyend and Dreadbox has just one last version left in production, the Black Limited Edition Hybrid Synthesizer, but any model, new or used, can be loaded with the new firmware, which adds so much to the Medusa that it's virtually a new instrument.
Peter Kirn at CDM dove deep in his article into why he was so enthused by the update:
"Medusa 4.0 firmware update adds a grimy, retro-flavored FM synth (3 operators, 12-bit) that can be chippy-feeling with [Polyend's] Tracker or just another play and sound design tool. And it includes more musical performance features, making it play nicely with other control sources or as part of a larger rig. ...

"It's all so good, in fact, that you have to wonder what may be coming from Polyend next. This is a heck of a swan song for an instrument they've just announced they're taking out of production. (Maintenance and tech support continue, they say—it's just about manufacturing more.)"
In addition to the Medusa update, Polyend has also recently released limited Artist Edition Polyend Tracker sampler/sequencer workstations, with electronic aritsts Pete Cannon, Bogdan Raczynski, and Legowelt. Find them on Reverb here.
Fender '68 Vibro Champ and Pro Reverb
'68 Custom Vibro Champ
'68 Custom Pro Reverb
As is usually the case, Fender started the year off with the announcement of a wide-ranging new lineup: from the American Ultra Luxe Series to the $99 Mustang Micro personal amp.
The Mustang Micro's already a bestseller, but two other amps that caught fans' attention are a pair of Silverface-era reissues: the '68 Custom Vibro Champ and the '68 Custom Pro Reverb. Both are now available.
The '68 Vibro Champ is a 1x10" 5-watter, which takes the tremolo circuit of the original and adds DSP reverb. The result is a home-studio-friendly amp with the classic tonal combination: soft overdrive, trem, and reverb. All for just $750.
The '68 Custom Pro Reverb is heftier all the way around. With a 12" speaker and 40 watts of power, the Pro Reverb can get plenty loud for band practice or performances, while leaving headroom for pedals. But Fender has reduced the weight of the cabinet compared to the original, to create a significantly more lightweight and portable amp. It's retailing now for $1,300.
UAFX Pedals
Hear the trio of UAFX pedals in action.
If you do any amount of recording or mixing, you're likely aware of Universal Audio's UAD plugins. The company's brilliant digital emulations of classic audio gear and effects are go-to tools for countless engineers and producers.
The one downside is that you need UA hardware (either an interface like an Apollo Twin or a Satellite DSP Accelerator) in order to use the plugins.
The UAFX Pedal series now brings some of those renowned emulations into a compact form that can be used by any guitarist, bassist, synthesist, or home recordist. The first three in the series are:
The Starlight Echo Station, which offers delays modeled after the Echoplex EP-3, EHX Deluxe Memory Man, UAD Precision, and more
The Golden Reverberator, which offers reverbs modeled after a '65 Fender Reverb amp, an EMT 140 plate, a Lexicon 224, and more
The Astra Modulation Machine, which offers effects modeled after the Boss CE-1, MXR Flanger/Doubler, a '65 Fender Reverb amp, and more
While each of the pedals is available now, you'll find that many dealers are offering pre-orders, simply because the physical units sell as soon as they arrive in shops. So if you're interested in one of the pedals, either jump when you see one for sale or put in a pre-order now so you don't keep waiting.
Eventide UltraTap
Hear the trio of UAFX pedals in action.
While Andy Martin gives us an expert guitar demo above, the Eventide UltraTap is another effects unit that can prove just as useful for synthesists, producers, or other music-makers.
In setting out to bring their own popular digital algorithms into standalone pedals, Eventide has recently released the Blackhole Reverb, MicroPitch, and now the UltraTap in easy-to-use stompboxes.
The UltraTap is a powerful delay that mimics the effect multi-head analog tape, but that extends far beyond the physical limitations of vintage units. As Andy says in the video, "Rhythmic or glitchy delays, reverb swells, tremolo with various waveforms, and ambient sounds that blur the line between reverb and delay using the Slurm control are just a few places to start" with the UltraTap.
Having first been announced in early March, the Eventide UltraTap is available now.
Mutable Instruments Beads
Mutable Instruments Beads
Announced and released in February, Mutable Instruments' Beads is the successor to the ever-popular Clouds "texture synthesizer." Like that module, Beads is a granular processor, but Mutable Instruments promises that that's basically where the similarities end.
According to the company, "Beads' vastly improved specifications allow a higher audio quality, a longer buffer, the use of better interpolation and anti-aliasing algorithms, and key DSP blocks to run at a faster rate. Granular processing can now go to new territories, such as formants, wavetables, hard-sync-like sounds, or crispy noise."
As just one example of these possibilities, you can adjust the audio quality to one of four settings, letting you "affect the clock of the audio converters, the amplitude limiting and saturation of the signal path, the tone of the reverb, and additional media-emulation effects."
It's a new sonic world above the clouds. A quick hit upon its initial release, Beads modules are selling out quickly whenever they hit the site. So grab one quickly if you spot one or pre-order for the next batch, which is expected to hit in May.