Happy Earth Day, everybody! Today is a day to remind us how imperative it is to consider our footprints and try to minimize our impact on this big planet in every way we can. Buying used gear on Reverb is already an exercise in reusing and recycling, but today, we wanted to take it a step further and highlight some eco-conscious gear that's made with recycled and sustainable materials.
Both U.S.-based and international shops are represented here, showcasing some of the most interesting and unique gear currently on Reverb. But this is nowhere near a complete list of sustainability offerings. so be sure the browse the nearly endless marketplace to find even more.
Zerberus Guitars
Zerberus Guitars is a shop based in Germany that's committed to sustainability in the construction of their guitars. Though they've previously built guitars with traditional guitar woods, like quilted maple and mahogany, the shop has pivoted to a more sustainable alternative: bamboo lumber.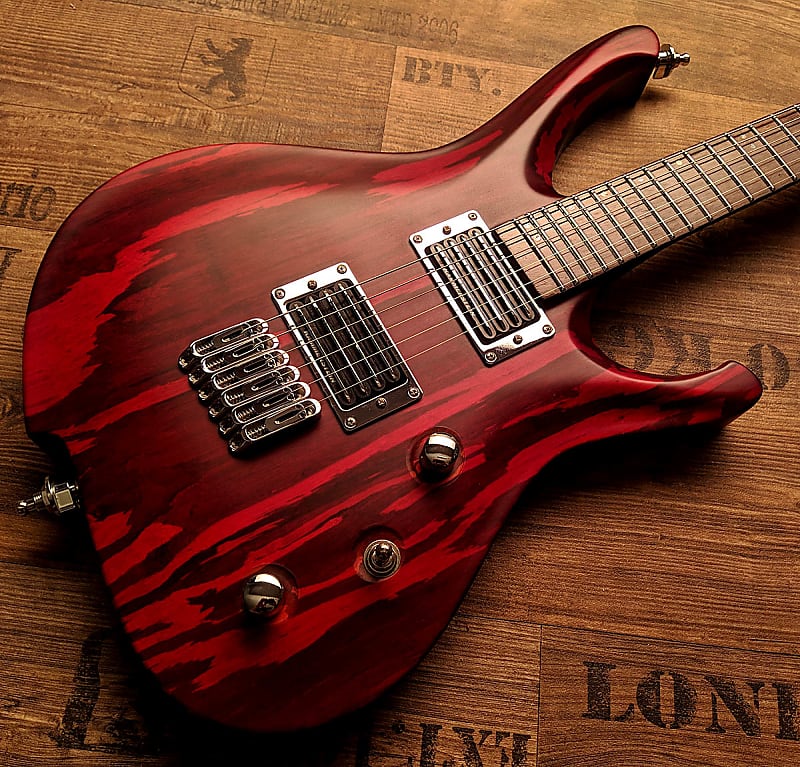 "Bamboo simply is such an amazing, sustainable, and environmentally friendly material, and it's awesome for electric guitars," reads a Zerberus Guitars listing. "If you cut down a tree, you kill the organism. ... The Rosewood trees that are being cut down for making fretboards are often more than 500 years old. Bamboo is different—it's actually not a tree, it's some sort of giant grass!"
The listing goes into more detail about the sustainability of bamboo—like how it features an incredibly fast growth rate, with some bamboo plants growing more than three feet in a single day—and, of course, how it excellent it sounds as a guitar material.
Check out the Zerberus Guitars shop to see more.
---
C.B. Gitty Cigar Box Guitars and Gear
C.B. Gitty Crafter Supply was founded in 2008 and has since become a great place to find parts and projects for homemade instruments.
For those of us who love to build, tinker, and learn new things, this is for us. While you can buy fully built homemade instruments (cigar box guitars and ukueles, cookie tin banjos, didley bows, and more) for instant gratification, you can also pick up a kit that lets you build your own instrument from close-to-scratch.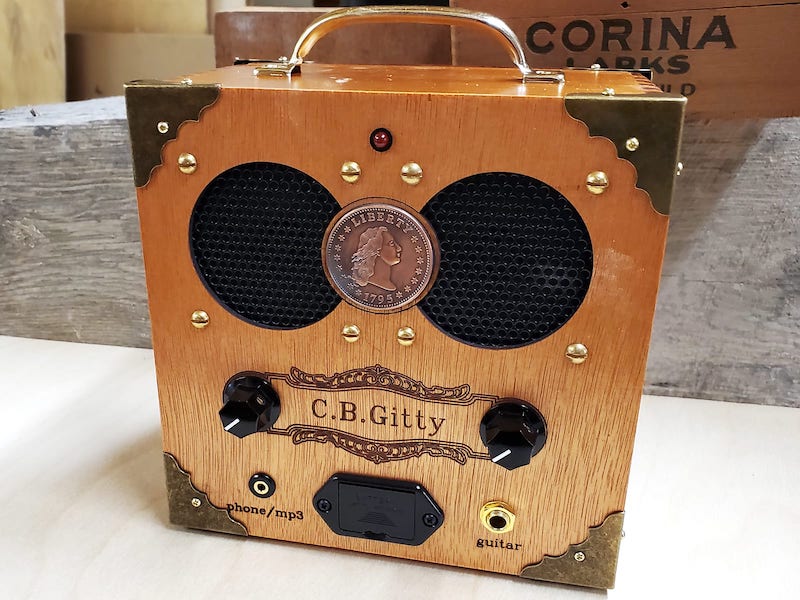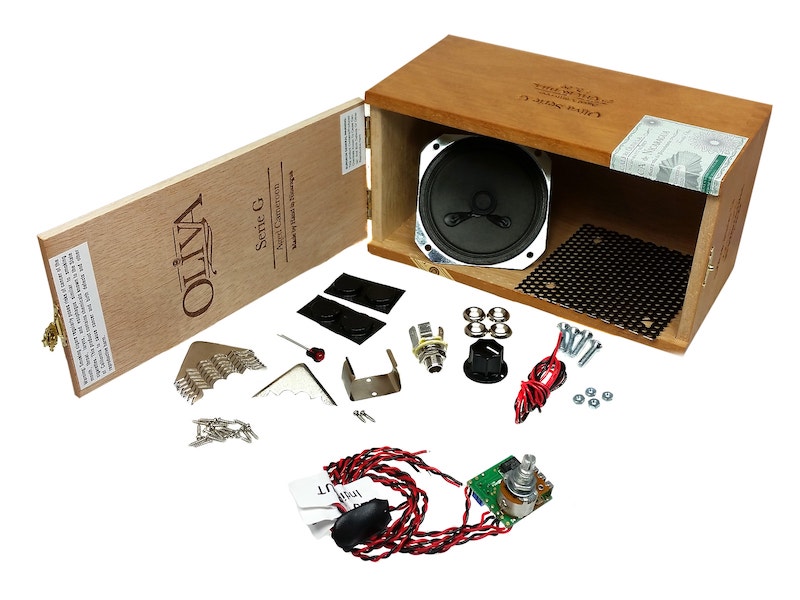 C.B. Gitty offers lots of projects for builders, including a solder-free distortion/overdrive pedal. There are also a slew of cigar box-style instruments: guitars, ukuleles, and even a cigar box amp kit. See the C.B. Gitty Cigar Box shop for more.
If you're looking for more cigar box guitars, the French shop Cigar Box Music, has some really beautiful offerings worth checking out.
---
OneManBandDrumCo.'s Suitcase Drums
OneManBandDrumCo. is based out of the Smokies of North Carolina and makes very cool drums out of vintage suitcases. The company uses high-quality drum materials (never generics nor kid drums) and cuts each drum to the right depth for its specific suitcase's size and material in order to maximize the sound output.
They offer a variety of different styles of these suitcase drums—like two-headed kick drum with a bass and snare drum, for example, as well as a single drum with a complementary tambourine. Not only do these drums look excellent just having around, but they would make great accompaniment for a guitarist, busker, or any kind of one-man-band. Whatever your use-case, you can find the right suitcase.
---
Strack Guitars
Strack Guitars are beautiful and unique instruments sustainably made by a builder who has over two decades of experience—10 of which were spent with Lakland Guitars. All of the guitars in the Strack shop are crafted using beautiful cuts of reclaimed wood salvaged from building demolitions in Chicago.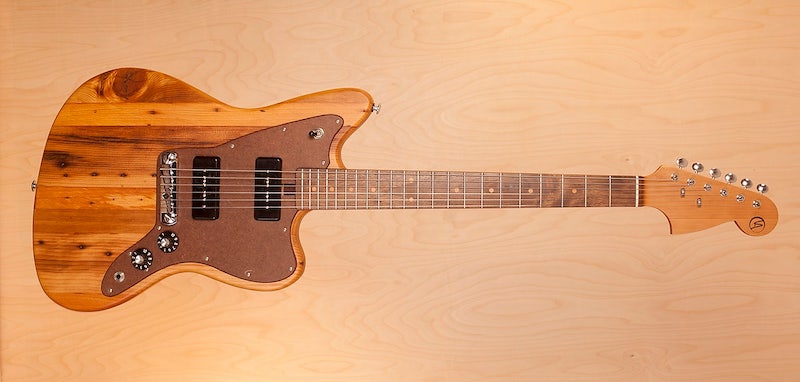 The Strack Guitars shop features tons of different body shapes to suit all kinds of players' tastes. You can find classic shapes based on jazzmasters, telecasters, and Les Pauls, as well as unique offsets and custom ukuleles.
Each guitar is one-of-a-kind and is handmade to order (in about 8-10 weeks), so buyers can work with the builder on specific requests as well. Be sure to check out the Strack Guitars shop for more.
---
HHG Drums Recycle Series
For the eco-friendly drummers among us, we have the HHG Drums Recycle Series. This series of snares is made from scraps of wood leftover from all of the drum builds the company creates over a calendar year. Check them out in the HHG Drums shop, and read what HHG Drums has to say about how this snare series came into being below.
"The way I make shells tends to yield small and unusually shaped pieces of wood that aren't super useful, but are too big for my inner-wood-hoarder to get rid of. As the year progresses my scrap shelf slowly fills with these interesting but less-than useful remnants.
"At some point, in the name of maintaining a somewhat orderly shop, I decided to make use of these scraps in one project—rather than letting my neighbor use them as kindling in his outdoor fire pit like I had done in the past. I thought there would be no more fitting an application for these pieces of lumber than to be made into drums, a bit of a redemption if you will. They didn't quite make it into whatever shell they were discarded from, but now they get a chance to shine."
---
Poon's Guitar Effects
Based in France, Poon's Guitar Effects is making some really cool and colorful pedals using recycled skateboard decks. This definitely calls to mind brands like Prisma Guitars, which recycled skateboard decks into full guitars, so now it seems we've found the perfect effects complement.
The pedals are all themselves super unique, and you can find most any type of effect you're looking for in Poon's shop. Check out the full Poon's Guitar Effects shop to see all of the colorful and exciting effects they currently have on offer.
Sustainable effects heads should also check out the The Ranch by Collision Devices—an eco-friendly dynamic tremolo/boost pedal made with sustainable materials.
---
Baguley Guitars
Aluminum is one of the most sustainable materials that we have available to us for a variety of applications. It's lightweight, highly recyclable, and the energy required to produce it has dropped more than a quarter since 1995. As luck would have it, aluminum can also be used to make some pretty slick guitar necks.
This is where Baguley Guitars comes in, a shop based out of Wilhelmshaven, Germany that specializes in aluminum guitar necks. The company makes both guitar and bass necks of all sizes and styles and also sells fully built guitars (usually featuring wooden bodies married to the lightweight aluminum necks).
Whether you're getting into a project build, hoping to upgrade a current guitar, or looking for a fully built, lightweight, and sustainably made guitar, Baguley Guitars will surely have what's right for you. Check out the full shop's offerings to see more.
---