What's new in the world of gear? You can always be in the loop by keeping up to date with this page.
Bookmark this page and check back often. Or, visit Top Sellers & Recent Releases to find the best-selling new gear.
Korg's Easy DIY Nu:Tekt Pedals Expand
Photo courtesy of Korg.
Korg has introduced a pair of solder-free DIY pedal kits under the name Nu:Tekt, both of which are powered by the manufacturer's patent-pending Nutube technology which delivers the promise of "the feel of a tube amp even when recording or playing through a transistor amp". While the HD-S Harmonic Distortion brings together three different harmonic distortion circuits, the TR-S Power Tube Reactor delivers tube-style compression that supposedly operates "exactly as a triode vacuum tube". Both kits should take approximately 45 minutes to build.
Get the new: Korg Nu:Tekt series.
Shop all: Korg.
Learn more: Do It Yourself: The History and Present State of DIY Synth Kits.
Strymon Releases New Cloudburst Ambient Reverb
First look at Strymon's new Cloudburst Ambient Reverb.
Known for bestselling effects like the Big Sky Reverb and Iridium Amp/IR Cab Simulator, Strymon is back with another brand-new pedal for 2023. The new Cloudburst Ambient Reverb takes inspiration from the Big Sky's Cloud algorithm and gives players full stereo TRS I/O, TRS MIDI and USB-C, and full MIDI control with 300 presets. The orchestrally inspired sounds you create organically follow your playing, so your sounds will shift and change as you move along the neck and/or switch pickups. With a smaller footprint and less expensive price tag than the rest of Strymon's pedal line, this could be an excellent entry-point to what the brand can offer.
Get the new: Strymon Cloudburst Ambient Reverb.
Shop all: Strymon Gear.
Learn more: The Strymon Zelzah Is a 4-Phaser-In-One Marvel.
Epiphone Releases New Newport Basses
Photo courtesy of Epiphone.
Epiphone have returned with a modern spin on their Newport Bass. Originally introduced in 1961, the 30.5" scale double-cutaway comes equipped with a Medium C profile for easy fret access. While the Sidewinder neck pickup adds depth to the original model, the TB PRO in the bridge takes the high-end to bright new heights. Alongside the Newports, Epiphone also introduced the El Capitan J-200 Studio Bass, an acoustic instrument that takes stylistic cues from their legendary SJ-200 flattop.
Get the new: Epiphone Newport Bass.
Shop all: Epiphone.
Learn more: The Magic of the EB-0—Gibson's First Solid-Body Bass.
Pittsburgh Modular's Taiga Is a Paraphonic Powerhouse
Hear a soundtrack fully created by this powerhouse synth.
If you like synths, you'll love the Taiga. The exciting new semi-modular system is a complete analog synth from Pittsburgh Modular that can generate mono- and paraphonic basses, leads, pads, and warm drones out of the box, without any patch cables. But with the built-in patchbay and MIDI-to-CV converter, it can sync up with the rest of your rig, no matter what you like to use.
In addition to the VCA oscillator core, additive synthesis waveshapers, 2-pole, 12dB state-variable filter, dual ADSR envelopes, LFOs, and more, you can top off your sound with its analog bucket-brigade delay circuit.
Get the new: Pittsburgh Modular Taiga.
Shop all: Pittsburgh Modular.
Learn more: Walrus Audio's The Melee Wall of Noise Lives Up to Its Name.
Korg Drumlogue Gets Updated Firmware
Get a quick overview of the Drumlogue's new features.
Announced last year, the Drumlogue analog-digital hybrid drum machine is now shipping—and, with the just-released 1.1 firmware, it offers exciting new features and bug fixes. With the update, you can now use any MIDI controller or keyboard to record MIDI data directly into the Drumlogue and, thanks to new latch functions, access mute and shift modes while performing. The bug fixes include some that were affecting pitch bends and some pressure messages.
Get the new: Korg Drumlogue Hybrid Drum Machine.
Shop all: Korg.
Learn more: Our First Look at the Drumlogue.
Keeley Electronics Launches Parallax Spatial Generator
Check out Keeley's new Parallax Spatial Generator in this official launch video.
The newest pedal from Keeley Electronics has been described as their "greatest hits", and upon checking out the specifications, it's not difficult to see why. The Parallax Spatial Generator combines features from two other Keeley products—the spacious delay of the Caverns and the shoegaze-ready reverb found on the Realizer—for a one-stomp solution for ambient exploration. It's voiced to mimic magnetic tape delays and is complete with time, blend, repeat, and rate controls for omnipresent oscillation potential. Where reverb is concerned, users can toggle between three options: the Yamaha FX500-inspired Soft Focus, a reverse reverb based on Yamaha's SPX90, and a hall reverb with a shiny octave-up shimmer. It's available for $219 in a limited edition of 500 units.
Get the new: Keeley Parallax Spatial Generator.
Shop all: Keeley.
Learn more: Fender's American Vintage Series Returns, With Never-Before-Reissued Models.
Universal Audio's Sphere Mics Are Now Shipping
Listen to this demonstration of the Sphere DLX.
Audio production powerhouse Universal Audio has announced that their two Sphere condenser mics, the DLX and LX, are now shipping worldwide. Both microphones enable users to change the mic type and polar pattern even after a take is tracked, and they feature spot-on replications of classic models from Neumann, Telefunken, AKG, and more. As UA founder and CEO Bill Putnam Jr. puts it, "With the addition of new UA Sphere models to our mic line, we can inspire even more creators with legendary sound."
Get the new: UA Sphere DLX, UA Sphere DLX.
Shop all: Universal Audio.
Learn more: Universal Audio's Volt Series Targets Focusrite's Dominance.
Marshall Unveils Limited-Edition "Target 62" SV20C Amps
Image courtesy of Marshall.
One of Marshall's currently-coveted combo amps, the SV20C, has received a brand new paint job: these two Plexi-inspired limited edition "Target 62" models are now available via Marshall's Design Store. The original Studio Vintage SV20C is a 20-watt take on the 1959 Super Lead, among the early amplifiers that made the British manufacturers famous. With such a compact size, they require less drive to push the tubes (a trio of ECC83 preamps and a pair of EL34 power amps) over the edge. These 60s-informed, bullseye-bedecked models are available in Blue and White Levant options, and like the original, come equipped with a three-band EQ, a presence control, and two Loudness parameters.
Get the new: Marshall "Target 62" SV20C.
Shop all: Marshall.
Learn more: Plexi for Less: Great Budget Alternatives to the Classic Marshall Sound.
Spektro Audio Announces NGEN Algorithmic MIDI Sequencer
Check out this NGEN demo by Spektro Audio.
Spektro Audio, a company based in Brazil, has just released the NGEN, a 16-track algorithmic MIDI sequencer. The NGEN offers 16 tracks of MIDI sequencing with two CV and Gate outputs so you can sequence modular rigs. It combines 22 algorithms to generate drum rhythms, bass lines, melodies, chord progressions, and arpeggios. It's small enough to fit in the palm of your hand—roughly the size of a guitar pedal—and comes with four control knobs with a display alongside four control buttons for quick access to its various functions. There are also plenty of shortcuts, MIDI CC, and a performance mode where you can map macro controls for more intuitive navigation through its deep architecture. It even includes various MIDI FX such as note delays, glitches and chords, which makes it an ideal choice for producers looking for new ways to generate complex musical sequences. The NGEN is priced at $599 and only available for pre-order as of now.
Get the new: Spektro Audio NGEN.
Learn more: 5 Classic Hardware Sequencers Still Worth Using.
Erica Synths taking over Hexinverter Électronique
Four Patches with the Mutant Brain and Erica Synths.
Eurorack brand Erica Synths has recently announced their takeover of Hexinverter Électronique Modules starting with the popular Mutant Brain MIDI to CV Converter module. The Mutant Brain is a handy module as it takes a single MIDI input and gives you four CV outputs and 12 gate outputs that can be programmed per channel, allowing for deep MIDI CC to CV implementation. The team at Hexinverter Électronique has been hit hard by recent times, but thankfully Erica Synths are here to take up the reins and bring more Mutant Brains along with other Hexinverter modules under their brand. The Erica Synths Mutant Brain will be priced at $219 and available now.
Get the new: Erica Synths Mutant Brain.
Shop all: Erica Synths.
Learn more: EMS For Less: The Synth Market's Best Affordable Alternatives.
New Firmware for Polyend Play
Polyend Play Firmware 1.2
The newest firmware 1.2 on the Polyend Play unlocks parameters from the Global FXs section, which were previously limited in their use and accessibility. Now, users have complete control over all built-in effects with adjustable parameters on all the effects including the reverb (damping, size, diffusion, pre-delay), delay (rate, feedback & ping-pong settings), equalizer controls, and Space/Limiter options. All of which allow for more precise control over the final mix. Now available as a free download for our current customers. If you've yet to experience this amazing sample-based groovebox, we highly recommend checking it out.
Get the new: Polyend Play.
Shop all: Polyend.
Learn more: How I learned to Love the Polyend Play.
Fender Releases Gold Foil Guitars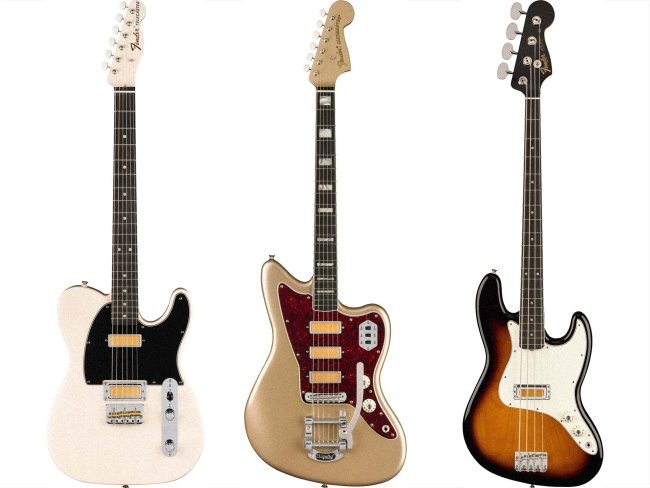 These are Fender's new line of Gold Foil guitars: a Telecaster, a Jazzmaster, and a Jazz Bass.
Fender has released a line of instruments worth their weight in gold: the Gold Foil Telecaster, Jazzmaster and Jazz Bass are all equipped with vintage gold foil pickups and a few other standout specs. The Tele comes in two versions—White Blonde and Candy Apple Burst—both include mini-humbuckers with mahogany under the paint job and an option of matching or black headstocks. The Jazzmaster—Shoreline Gold or Candy Apple Burst—resembles a Jaguar with its three PU switches, but they control a set of three Gold Foil Mini Humbuckers, as well as featuring 21 narrow-tall frets and a Bigsby vibrato. Finally, you can choose between a Two Tone Sunburst or Sonic Blue for the alder-bodied Gold Foil Jazz Bass—both include an ebony fretboard with 20 frets and a gold foil single coil. All these instruments are a limited edition run and made in Mexico.
Get the new: Fender Gold Foil.
Shop all: Fender.
Learn more: Fender's American Vintage Series Returns, With Never-Before-Reissued Models.
Fender's Limited Edition H.E.R. Strat Gets New Blue Marlin Finish
Exploring the Limited H.E.R. Stratocaster
The original Fender H.E.R. Stratocaster is distinctive in its own right, finished in a special iridescent chrome that's reminiscent of one of H.E.R.'s favorite nail colors with a matching headstock and anodized aluminum pickguard. But if chrome isn't your thing, you can now get this signature model in a special Blue Marlin finish. Also iridescent, this striking second colorway shifts with the light like the original model but with a pop of brilliant blue color.
Get the new: Fender Limited Edition H.E.R. Stratocaster, Blue Marlin.
Shop all: Fender.
Learn more: The Making of H.E.R.'s Volume 1 | Finer Notes.
Waldorf Announces Quantum MK2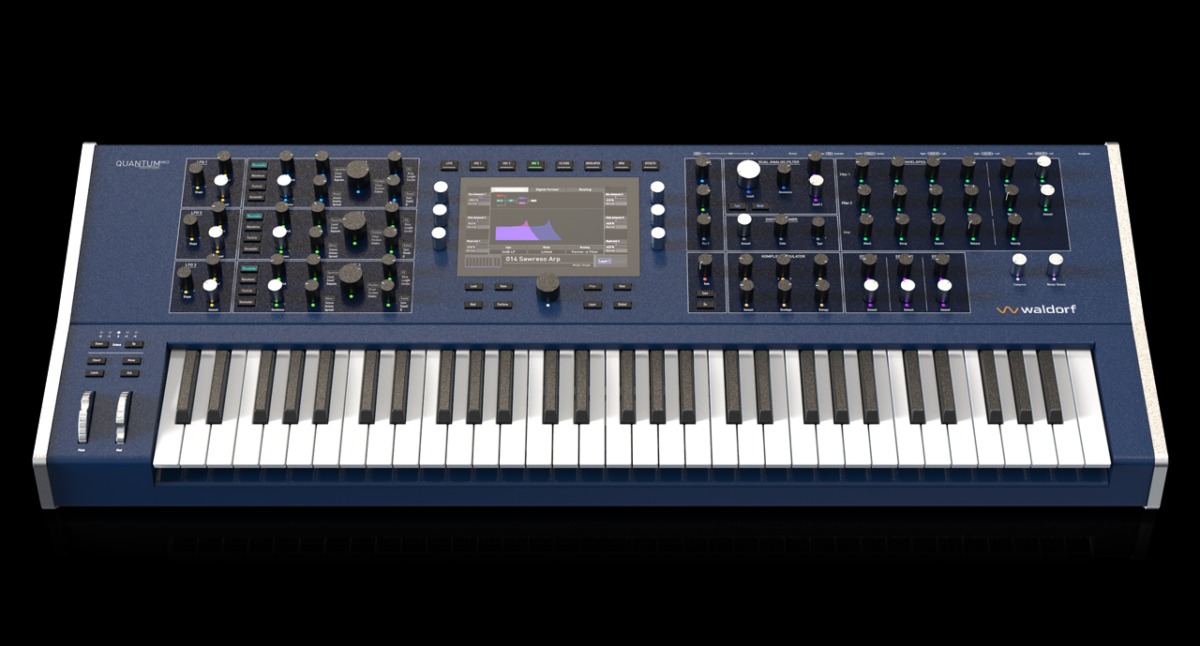 Waldorf Quantum MK2
The newly released Waldorf Quantum MK2 is an impressive upgrade of the original hybrid synth. Notable features include 16 voices, a Fatar TP/8SK keyboard with 61 semi-weighted keys, polyphonic aftertouch and increased sample storage from 4 GB to 59 GB for maximum utilization of its granular and multi-sampling engines. Also included is a range of presets from popular synthesists including Richard Devine, Howard Scarr, Reinhold Heil, BT and Matt Johnson. Waldorf anticipates shipping the MK2 at the end of this month, pre-orders available now on Reverb for $4,799.
Get the new: Waldorf Quantum MK2.
Shop all: Waldorf.
Learn more: The Earliest Synths to Come Out of Japan.
Audient releases New EVO SP8 Preamp
Audient EVO SP8 Smart Preamp
Audient has come to the call of bedroom producers needing more channels with what they're claiming to be the world's smartest mic preamp, the SP8 which is an eight channel preamp built to expand any audio interface via ADAT. Each channel is equipped with their Smartgain technology that automatically dial in appropriate levels without having to worry about channel noise or distortion. At a price of $499, it's arguably one of the best value eight-channel A/D converters on the market. Other preamps might have more features but typically cost significantly more money to purchase. The EVO SP8 seeks to give users experience top-tier features at an affordable price tag.
Get the new: EVO SP8 Preamp.
Shop all: Audient.
Learn more: The Rise of Outboard Preamps.
Ibanez Releases New Pentatone Preamp Pedal
Hear the Ibanez Pentatone Preamp Pedal
Ibanez has just released their Pentatone Preamp Pedal and it's a great choice for anyone in need of creative distortion. The Pentatone boasts three toggle switches, 12 rotary controls, and a five-band EQ. It's the perfect companion if you're looking for a Tube Screamer-style preamp pedal but don't want the same kind of overdrive. The LED lighting on the graphic EQ allows you to see exactly what tone you're going for and tweak each band as desired. Plus, there's a bright switch so you can add extra top end clarity when necessary.
As one would expect from Ibanez, this preamp pedal offers great value at a $249 price tag. They've also announced their new lineup of guitars releasing later this year, and it's worth checking out their selection when deciding on your ultimate rig setup. You can preorder the Pentatone now on Reverb.
Get the new: Ibanez Pentatone Preamp Pedal.
Shop all: Browse all Ibanez.
Learn more: Ibanez Readies its 2023 Lineup.
Teenage Engineering's OP-1 Field Now Has a Vocoder
Check out the OP-1 Field's vocoder in action in this official launch video from Teenage Engineering.
Less than a year after the portable synth workstation's introduction, Teenage Engineering has introduced a vocoder with another update of their OP-1 Field. This comes a few month's after another recent update adding velocity sensitivity to the keyboard. Users can simply download and install the firmware, select their input source, and run it through a bank of 20 filters with controllable bandwidth and formant shift.
Get the new: Teenage Engineering OP-1 Field..
Shop all: Browse all Teenage Engineering.
Learn more: Making Tracks On the Go With Handheld Electronic Gear.
Boss Introduces Three New Katana Amps
BOSS has introduced three new members to their Katana family of amplifiers. The Katana-50 MkII EX serves as the expanded version of their 50-watt modeling combo amp, complete with enhanced performance features. The Katana-Artist MkII Head takes the full sound of the combo of the same name and transforms it into a heavy 100-watt head, which can be paired with Katana Cabinet 212 Waza 2x12 cabinet for the ultimate in rock tones.
Get the new: Boss Katana-50 MkII EX., Boss Katana-Artist MkII Head, Boss Katana Cabinet 212 Waza 2x12.
Shop all: Browse all BOSS.
Learn more: Boss Announces Katana MkII Combo Amps and Head.
Mattoverse's FloraVolt Runs on Fruits and Veggies
How exactly does the FloraVolt work?
If you're looking for a dirt pedal that's a little more organic, Mattoverse's new FloraVolt may just be what you need. The FloraVolt uses fruit and veggies as a kind of battery, giving your tone an all-natural boost. To get it running, all you have to do is mash some fresh produce onto the two power prongs. Apples, bananas, potatoes, and citrus fruits are recommended for optimal results but virtually any type of fruit or vegetable should work.
Get the new: Mattoverse Electronics FloraVolt.
Shop all: Browse Mattoverse's Reverb shop.
Learn more: Andy Martin's Top 5 Pedals of 2022.
Expressive E's Osmose Is Set for Release
Artists meet the Osmose.
The Osmose is the newest advance in MPE technology and perhaps the most exciting of its kind to date. Made by Expressive E—the company behind the innovative Touché expression controllers—the Osmose is a 49-key gesture-sensitive keyboard that lets players manipulate their sound with a variety of press, bend, and shake motions. With a 24-voice, Haken Audio-designed synth engine, it combines digital, additive, FM, virtual analog, and physical modeling, and comes preloaded with more than 500 presets to get you started.
Get the new: Follow the Expressive E Osmose.
Shop all: Expressive E.
Learn more: MPE: The Future of MIDI and Electronic Musicianship.
Catalinbread Introduces the New Formula 51 Overdrive
Hear the new Catalinbread Formula 51 in action.
Catalinbread has unveiled a brand-new addition to its Formula effects pedal series, the Tweed Champ-inspired Formula 51 overdrive. The new pedal joins Catalinbread's two existing pedals in the line—the '50s Tweed Bassman-inspired Formula 5F6 and Tweed Deluxe-inspired Formula 55—which are both also getting a new redesigned look. The Formula 51 is packed with a preamp, discrete power amp simulator, and output transformer to deliver the full touch-sensitive Tweed experience in combination with its intuitive control set. Starting at $179.99, the Formula 51 is available now.
Get the new: Catalinbread Formula 51.
Shop all: Catalinbread gear.
Learn more: The Best-Selling Effects Pedals & Amps of 2022.
The CopperSound Telegraph V2 Has Arrived
CopperSound Pedals Telegraph V2 Autostutter / Killswitch
Massachusetts-based CopperSound Pedals is back with a redux of its Telegraph auto-stutter and killswitch system. While it retains the design features of the original, this upgrade now allows players to control the effect with their feet as well as their hands for top-tier tactility. Packed with three different modes—Kill, Activate, and Burst— the Telegraph V2 makes for an ideal, stuttery addition to your rig, whether you're chopping up your guitar or splicing up a track-in-progress.
Get the new: CopperSound Pedals Telegraph V2 Autostutter / Killswitch.
Shop all: Browse all CopperSound.

Akai Releases New Akai APC Mini & Akai APC Key 25 MK2
Those looking for a low-profile controller with a lot to offer will love the latest two releases from Akai. The new APC Mini is a compact controller that makes it easy to clip launch and control your Ableton Live sets. Get eight channel faders with eight assignable buttons and one master fader, plus eight scene launch buttons—enough for full control of your clips and levels.
If you're searching for a unique controller that provides both hands-on clip control and an expressive keybed, then the APC MiniKey is your perfect solution. Intended for Ableton Live users who want to gain complete control over playing virtual instruments and controlling plugins. Sporting 25 velocity-sensitive slim keys with onboard octave and sustain buttons to give more creative playability. Akai also included a 5x8 clip-launching grid along with eight assignable knobs.
Both of these low-profile controllers are light and built for durability, perfect for mobile performers and producers needing something that can stand up to life on the go. Also three quality production packages are included with every purchase: Ableton Live Lite Professional Hybrid 3 from AIR Music Tech, and Toolroom Artist Launch Packs. Both of these controllers are available now on Reverb, and $99 each, can be the perfect last minute stocking stuffer for that beat maker in your life.
Shop all:
Browse all Akai MIDI Keyboards and Controllers
.
Learn more:
Video: 5 Ways to Start Making Beats
.
Roland Announces Limited Edition 50th Anniversary JC-120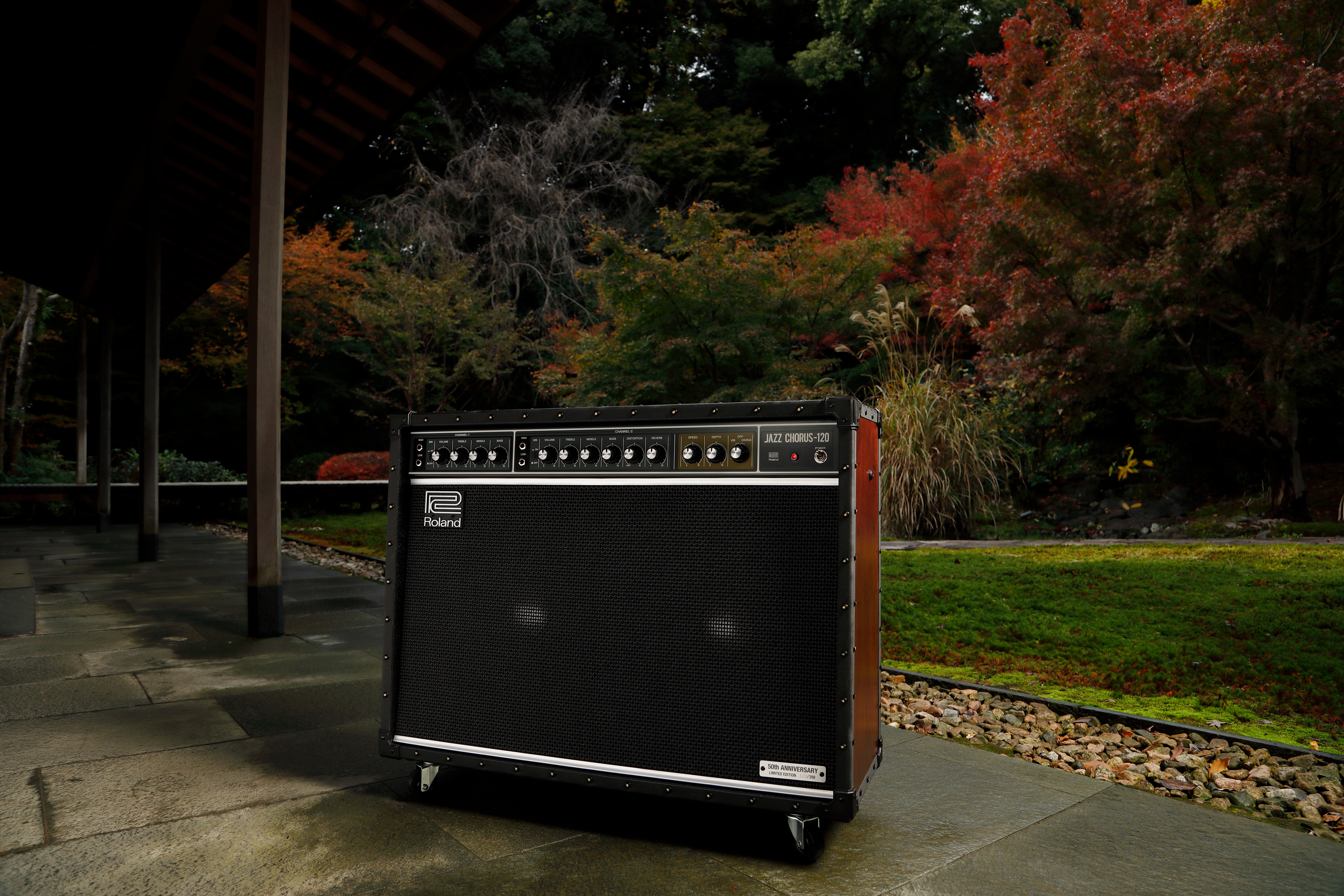 In celebration of Roland's 50th anniversary this year, the brand is releasing a very special limited-edition of one of its most famous and longest-running offerings: the JC-120 Jazz Chorus. It's famed for both its outstanding clean tones and the special onboard chorus effect that became so popular Boss spun it into its own standalone effect pedal, the now-famous CE-1 Chorus Ensemble.
Limited to just 350 units total, the Limited Edition 50th Anniversary JC-120 Jazz Chorus is faithful to the original, but housed in a cabinet featuring a beautiful natural cherry wood veneer with a deep burgundy open-pore finish, inspired by Japan's famous cherry blossoms.
Get the new: JC-120 50th Anniversary Edition.
Shop all: All JC-120s on Reverb.
Learn more: Andy's Vintage Picks: The Boss CE-1 Chorus Ensemble.
JHS Reveals Limited Run Germanium Transistor Pedal
The official JHS demo of their Germanium Boost pedal.
JHS Pedals have designed a limited-edition pedal "sourced from a private stash" of rare germanium transistors. Informed by the classic Dallas Rangemaster, the single-knob JHS Germanium Boost is built to elevate your amp's treble into overdrive worthy of classic rock radio. It also features a footswitch and a toggle selecting between classic and contemporary voicings. The 700-unit run sold out within the hour it was launched, but it should only be a matter of time before listings pop up here on Reverb.
Get the new: JHS Germanium Boost.
Shop all: Browse all JHS.
Learn more: The JHS Legends Series vs. Original Vintage Fuzzes.
Crazy Tube Circuits Announce Unobtainium Drive Pedal
Check out this official demo of the Unobtanium, courtesy of Crazy Tube Circuits.
The team at Crazy Tube Circuits have brought the "amp-in-the-box" overdrive pedal to another level with the release of their Unobtanium. With this two-faced pedal, they've done the impossible and delivered a six-figure sound: packed in are two all-analog Dumble-style voicings, as well as Klon-inspired drive with a faithful reproduction of the original circuit.
Get the new: Crazy Tube Circuits Unobtanium.
Shop all: Browse all JHS.
Learn more: The Klon for Less: Best Affordable Centaur Clones.
Ibanez Unveils Two More Polyphia Signature Models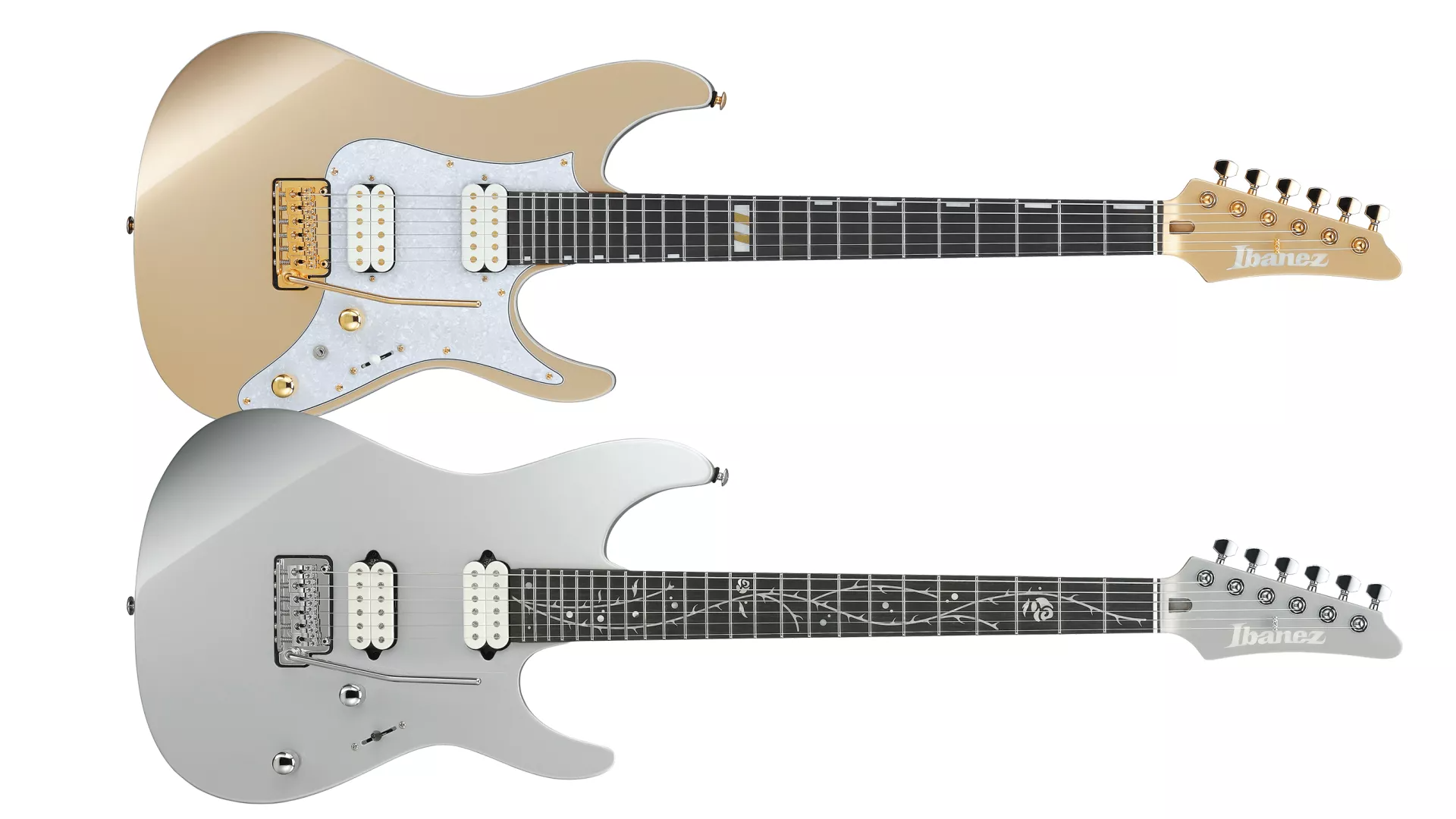 Ibanez KRYS10 and TOD10.
This year has shaped up to be a big one for Polyphia signature models, with Ibanez announcing two brand-new electric guitar models that will be joining the product lineup. The nylon-stringed Ibanez Tim Henson Signature TOD10N released earlier this year quickly became a top-5 best-selling guitar of 2022, so fans will surely be excited to about the newly announced Ibanez Scott LePage Signature KRYS10 and Tim Henson Signature TOD10 models.
LePage's signature model features an ash body to the new Henson signature's basswood body, and both guitars feature AZ oval C roasted maple necks with ebony fingerboards and unique inlays. Both guitars are also outfitted with two Fishman Fluence modern signature humbucking pickups, respective to each model. Both models are also priced at $1,499 USD and will be available for preorder soon. Follow below to be alerted when they're listed on Reverb.
Get the new: Ibanez Scott LePage Signature KRYS10, Ibanez Tim Henson Signature TOD10.
Shop all: Browse all Ibanez gear.
Learn more: The Best-Selling Guitars of 2022.
Wampler Releases Collective Series Distortion and Drive Pedals
Wampler's Collective Series Triumph Overdrive and Phenom Distortion are available now.
The pedal powerhouse led by Brian Wampler has unveiled a pair of pedals as part of their Collective Series, their new line of budget-friendly and high-octane stompboxes. Both the Triumph Overdrive and the Phenom Distortion are equipped with their own three-band EQs and two-position voicing switches for limitless tonal versatility—while the gritty Triumph toggles between Smooth and Punch, the robust Phenom offers both "Classic" and "Bright" modes.
Get the new: Wampler Triumph, Wampler Phenom.
Shop all: Wampler.
Learn more: Wampler Pedals: Interview with Brian Wampler.
Solid State Logic Introduces SSL 12 Interface
The SSL 12.
The Solid State Logic sound is now more portable than ever with the introduction of their SSL 12 USB bus-powered audio-interface. Picking up where the SSL2 and SSL 2+ models left off, this is a steal for all the quality features it manages to pack in: four mic-pres with 4K circuits, two instrument inputs, MIDI I/O, two headphones out, ADAT expansion, and next-generation converters for elevated performance. It also allows users to record the output of a media player or create custom sub-mixes, and includes the SSL Production Pack filled with all sorts of software instruments and plug-ins.
Get the new: SSL 12.
Shop all: Browse all Solid State Logic gear.
Learn more: SSL Announces Its First Personal-Studio Audio Interfaces | NAMM 2020.
Mythos Drops a Limited-Run Hephaestus
With the legendary Jordan Bosstone fuzz circuit as its foundation, the Hephaestus has an extra trick that transforms the effect into something else entirely. The Warning knob on its face controls the amount of voltage that is feeding the circuit. Lower voltage settings introduce a wonderful, unique sub octave effect from the same fuzz circuit. Mythos writes that the sub octave synth effect is "unlike anything we've ever tried from a simple analog device." Released as a limited edition for Black Friday, the Hephaestus is available now exclusively on Reverb.
Get the new: Mythos Hephaestus.