Fender has started to unveil its 2022 lineup, which features some very cool new guitars and effects: a re-do of MIJ reissues, 60th anniversary Jags, and a brand-new pedal series perfect for beginners—and that's even before we get to all the new Squiers.
Read on to see all the latest news from Fender.
JV Modified Series Recalls "Vintage" MIJ Reissues
---
---
Back in the '80s, Fender Japan made great reissues of classic Fenders. Now that those MIJ models are themselves "vintage," Fender is recreating them in a small series. The JV Modified '60s Custom Telecaster, '50s Telecasters, '60s Stratocaster, and '50s Stratocaster have classic good looks—with the Firemist Gold Teles being especially eye-catching—and a soft "V" neck, an older shape that will feel a bit different than the modern "C" shape Fender often uses today.
Get the new: Shop JV Modified Series.
Shop all: Browse all Fenders.
Learn more: A Timeline of Fender Telecasters.
60th Anniversary Jaguars
---
---
Fender has announced two limited-edition Jaguars in honor of the model's recent 60th anniversary. The 60th Anniversary Jaguar sports classic specs for the model and features an alder body finished with a unique nitrocellulose lacquer. The new Ultra Luxe Jaguar model includes an updated take on the guitar's wiring with a pair of wide-range Double-Tap humbuckers and a longer scale length.
Get the new: Shop 60th Anniversary Jaguars.
Shop all: Browse all Fender gear.
Learn more: The Story Of The Fender Jaguar.
Fender Unveils Budget-Friendly "Hammertone" Pedal Line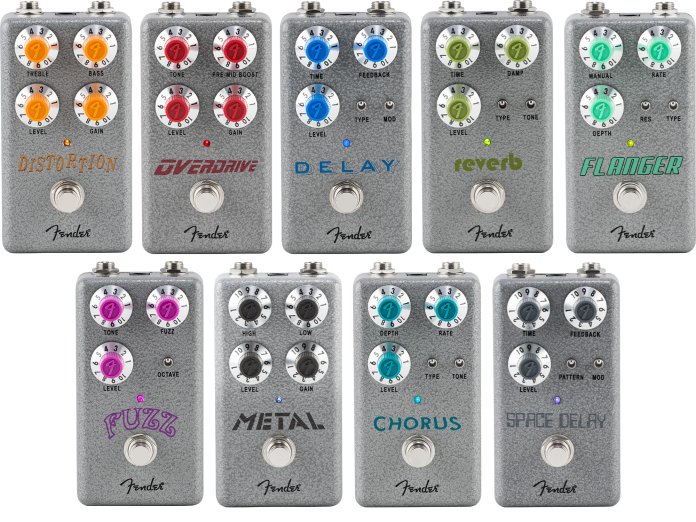 Fender's Hammertone Pedals
Fender has unveiled a new pedal line called the Hammertone range, which consists of a whopping nine new effects. What's more is that each of these pedals retails for under $100 USD, making them significantly more affordable than Fender's previous pedal efforts and very competitive with the rest of the market in general. The pedals on offer include: an analog distortion and analog overdrive; a silicon-diode-based fuzz with switchable octave; a digital reverb with hall, room, and modulation algorithms; a simple but feature-rich flanger and chorus; a metal pedal aimed at high-gain enthusiasts; and a space delay aimed at the ambient player. All of these pedals are available for preorder now.
Get the new: Shop Fender Hammertone Pedals.
Shop all: Browse All Fender Pedals.
Learn more: The Best-Selling Pedals of 2021.
Fender Launches New Squier 40th Anniversary Models
---
---
Fender is celebrating 40 years of Squier with the release of 10 affordable anniversary classics. The collection consists of a Stratocaster, Telecaster, Jazzmaster, Precision Bass, and Jazz Bass in both a Gold and Vintage Edition. Each of the instruments in this new lineup will list at $599.99.
Get the new: Shop Squier 40th Anniversary Models.
Shop all: Browse all Squiers.
Learn more: Fender vs. Squier: The Differences That Matter.
Squier Announces the Classic Vibe Baritone Telecaster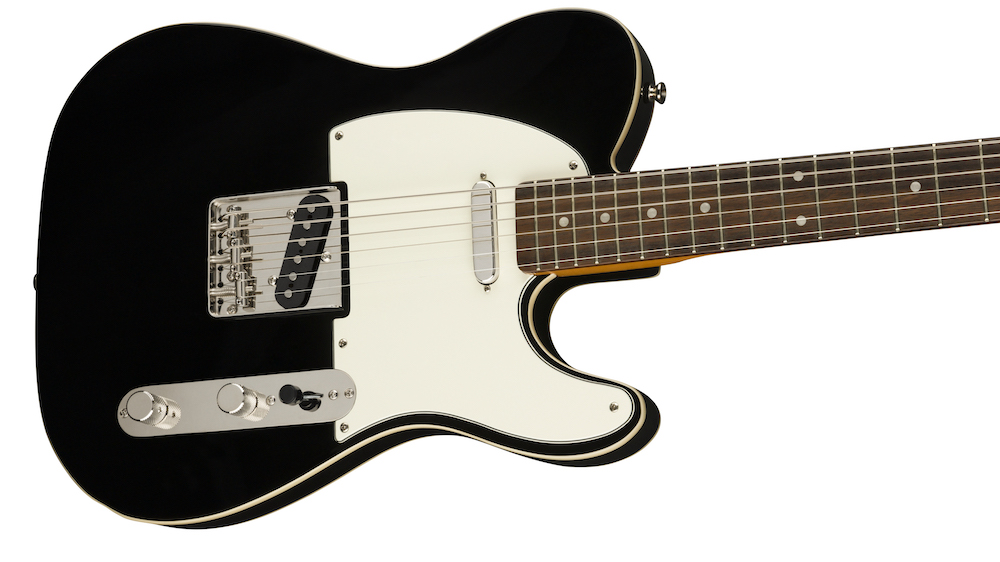 In addition to Fender's new 40th anniversary lineup, Squier has crafted a brand new baritone Telecaster. The new Classic Vibe Baritone Telecaster features a traditional Tele three-saddle hardtail bridge, single coil pickups, and a 27-inch scale length, allowing guitarists to easily down tune their instrument. The new Baritone Telecaster (not to be confused with the P90-equipped Baritone Tele previously released) will be available at an affordable $499.99.
Get the new: Shop the Squier Classic Vibe Baritone Telecaster.
Shop all: Browse all Squier gear.
Learn more: A Brief History of Squire: Origins of Fender MIJ, Budget Superstrats & More.