Brandy Zdan is no stranger to making music. The Canadian rocker has been making records since she was just a teen—both writing and performing her own music, as well as producing records for other artists in later years. Zdan's latest record however, Falcon, will be the first time that she does it all herself.
A new mother, Zdan wrote and recorded this entire record herself in a tiny make-shift studio setup in her laundry room during her new daughter's nap times. We had a chance to chat with Brandy about that process and hear more about how she prepared, the challenges she faced during recording, and what we can expect in the future.
Falcon is set to release on October 29. You can preorder the record here and check out the interview below to hear the first single, "Protector."
Congratulations on the record, Falcon, to start. Upon listening to it, it's really clear that it's a very personal album for you. Can you talk a little bit about what inspired it and how you got into the process of writing it?
Yeah, it is definitely a personal record. I feel like I'm kind of laying it all out there. The mindset for this one was definitely very much "go vulnerable, or go home."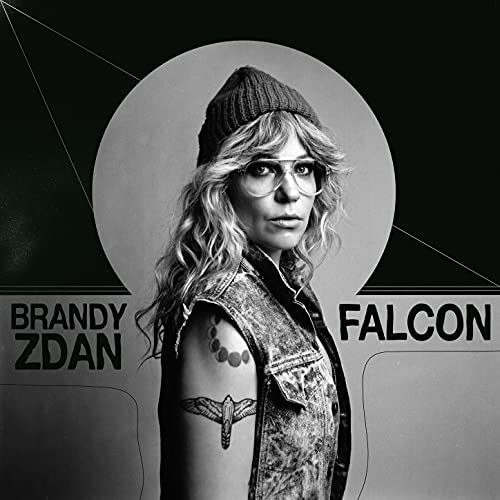 Falcon.
I think that I started writing these songs when I was pregnant and then I finished the record in the first while of being a new mom. And, of course, vulnerability is a forefront of that adventure, so I was already kind of blown wide open.
With the time that I was really in the heavy part of the process of recording it, in the middle of the pandemic, I was kind of feeling like I had nothing to lose as well.
I didn't care about any of the false drivers that can exist when making art, you know, whether it's business or just trying to do something people like—those things were all just dissolved and gone. So I was at a really pure place, a really raw place, and I think that's what made this record happen. I hope that comes across.
Considering the liberation of being in such a pure place and also not being so concerned with doing the "right" thing, but rather doing what feels right to you, was it really important to you that you recorded and engineered this record yourself, or was that more a matter of circumstance?
This goes hand in hand with the vulnerability of the songs and even some of the messages within the record—I honestly feel like I was more scared to engineer this than to talk about miscarriage. [Laughs] I've been making records since I was a teenager, but I've always wanted to be an engineer. It's always been kind of a mysterious thing because engineers like to keep that mystery, [Laughs], depending on who you're working with.
I've been producing records for other artists for a couple of years, which was the first big step for me, where I just said "Yeah!" I knew I had the skills, I just had to take the leap and get into it. But I think that it was scarier for me [with this record] to be having people hear these sounds that I recorded and I believed in, right? I had to really trust my ears.
And yes, it was also out of necessity to do this myself, but it was overdue in my life as an artist and a musician. It's led me into even deeper dives since then. I'm still doing some more in-depth engineering courses.
Oh, really? That sounds really cool.
Yeah, it was and wasn't. [Laughs] I mean, I wanted to go and work with a big rock producer and do a big rock record, but I think it's also important to know where you're at as an artist. Being able to recognize, like, here are the circumstances I have right now. What can I make out of this that's gonna be really beautiful, that maybe I didn't even think I could do?
Really, honestly, I didn't think I could pull this off. I was recording in a tiny laundry room with minimal gear in two-hour chunks when my baby was sleeping. I also had some night classes for engineering that I was taking at the time just to make sure that I was getting things right. I knew I was already, I just decided to trust my instinct and my ears and just went for it, but I didn't know if it was gonna work.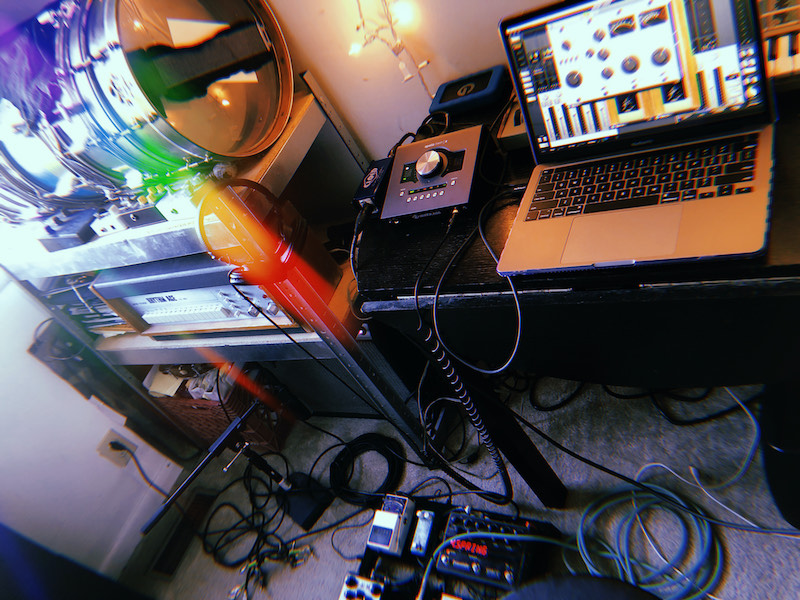 The laundry room studio.
The day that I took it into a professional studio to overdub drums was the day I realized that it did really work, because it was translating, and I think that was the happiest day of the process. It was really validating to hear that my ears had been working and that the trusting was right and that I did do what I intended.
Engineers always say this, but it is true: If it sounds good—my voice or my guitar amp, for instance—in the room, you're gonna be alright. I mean, I used a Sennheiser e609 to record all of the guitar amps and that is a cheap microphone, but it is fantastic.
When it comes to recording in the laundry room, did that effect or limit what kind of gear you were using? Just thinking about space constraints, I'm very curious about how you were able to make that setup work because it's so compact.
Yeah, it was a challenge for sure. I was recording into an Apollo [interface], and I just kind of set myself up in a way where I could make it work—a lot of rigging things up creatively.
I didn't have a second mic stand, for example, to use for mic'ing my acoustic guitar, but I knew I wanted to do it that day and had the time to get it done, so I just taped the mic up to the side of my desk. And it worked! It sounds great! [Laughs] It's super close up, you can hear all the sounds and the cracks—in that one track, "Mama," it's so up-front. I put the vocal mic up as close as I could and was just hunched over trying to capture it while listening through the headphones.
I did use a large amp at times because I wanted to get some bigger amp sounds. Most of the time I was using a Princeton, so I didn't have such a huge gear footprint. I had the Apollo interface, Pro Tools, an SM7B, and the Sennheiser. I didn't even put anything else on the guitar, I just love how that sounded—a little more silky than a 57. I don't have a lot of money to buy expensive microphones at this time, but as we all know some of the most famous vocal records of all time have been tracked with an SM7B.
I also had to use dynamic microphones because of the room I was in. Nothing's treated, there were some things absorbing sound and noise, but if I was going to use a condenser, you would've heard everything. So I was really working with what I had and the space I had.
That's such a great story, taping the mic up, because it's the kind of thing you'd never guess. The record sounds like it was made in a studio. To that end, did you have any major challenges that stick out with regard to the production of this record?
The one challenge that I had was pretty simple, and it was something that was resolved really quickly. When I had my rig set up and was starting to dabble and see what would happen in my space with my gear, I had yet to start this class—Audio Engineering and Production Level 1 at the Women's Audio Mission out of California. I'm taking production level two right now, and it's a weekly class that's luckily all online because of the pandemic, and I owe so much to them. That's how I learned, and it's such a great resource. They're empowering women to increase that five percent that we make up in the industry.
Vintage King's Inside Look At The Women's Audio Mission
But my issue had been that I didn't know how to properly gain stage things and was recording everything too hot. As soon as I had someone just simply talk me through what I needed to do and how I needed to be listening and what everything needed to be looking like on the faders and the levels, that was really when everything changed. And when I realized that I only wanted to use the Fairchild compressor plugin on everything—those two things changed everything.
In terms of the production, in the situation I was in, what made things sound bigger is so much guitar-doubling and stereo guitars, stereo rhythm electric guitars. And then even if it was just a simple part of a melody hook on the guitar, I'm pretty much doubling everything and then panning it extremely. I think that gives the impression of a bigger, wider space. All of the records I've made over the years, I've been a sponge and it was this time that I could use all of those little bits and things.
While the record definitely feels like a consistent experience, none of the songs themselves are individually predictable. Different songs shake things up, like "Protector," which you said was a nod to the late JJ Cale. Can you talk about what inspired that and similar choices on this record? Did you know how you wanted them to sound as you were writing them, or did you figure it out along the way?
For the bulk of them, I did know how I wanted them to sound. And because of the fact that so many of these are so heavily guitar- and vocal-layered, that's what made me think that I could do it on my own at my house.
To be honest, specifically with "Protector," that was sort of a last-minute thing! My publishing company needed a 10-song record, but it was only going to be eight or nine originally (I added that cover too). I knew that I had "Protector," but I thought it was going to be a very different kind of production.
I was saving that one for some other material I have in my back pocket that I was going to go into a studio to make some big rock sounds, I thought that would be the production for that song. But I needed another track, so I thought "How do I do this in a way where it's really interesting to me?" That's also a question I have to ask myself about production a lot, because I can get very bored. So this ended up just working in a really fun way, I way I did not expect. That was a lovely last-minute sort of track.
BRANDY ZDAN - PROTECTOR (OFFICIAL VIDEO)
I think a lot of business-y people have a tendency to think that changing things up is a negative thing, that it's too hodge-podge. But I really think that there is a cohesiveness throughout everything I do, no matter if it's a big punk rock song or if I'm singing a super vulnerable ballad. That's what everyone does, that's what the greatest musicians do. There's diversity in their catalog—nobody is ever going to do that same thing for every record.
Also—and maybe it's age, maybe it's motherhood, maybe it's that I've been doing this for so long—I don't have this feeling of desperation, that everything depends on this one record feeling, anymore. And there's a lot of freedom within that where I'm just going to do whatever I want to do, and the next one's gonna be something else, too.
Do you plan on engineering more of your own records?
I can fully say that I won't be doing my next one. I think I'll probably have my hands on the board as I collaborate with a producer and engineer, but I get really excited about the worlds that other people create, and I'm going to figure out whose world I want to be in in terms of sound and do that. What I want to do is have my hands on the board when I'm producing other artists, coming up soon. That's more of a goal for myself, but I know that the collaboration will be there with whoever I work with.
But yeah, I do have songs that command a certain kind of producer for this next project. And, you know, that could all fall away and I could end up doing this next one myself too, and I'm glad to know that I can. But I always learn so much from working with someone directly and collaboratively, so I want to continue that. I don't want to be an artist who always produces themselves—I wasn't even ready to do that, I just was forced to. [Laughs]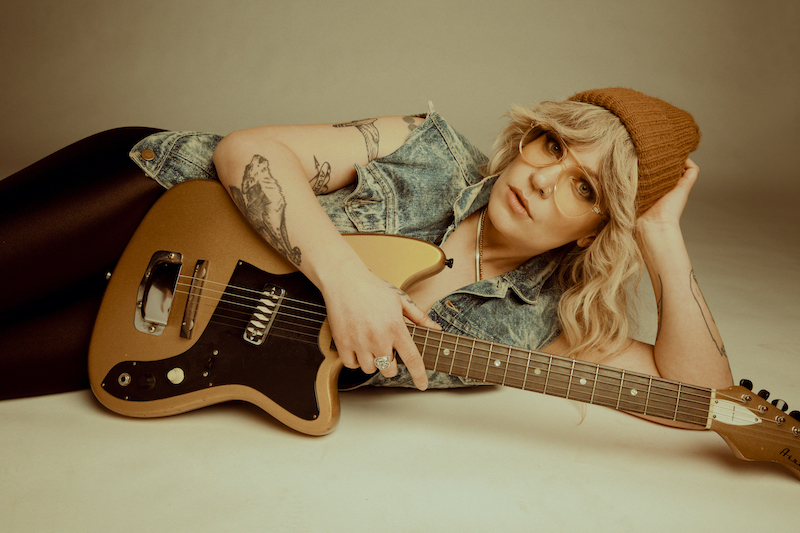 Brandy Zdan.
My goal is to have my own distinct sound in the future, to become someone who people recognize and are like "Oh yeah, Brandy Zdan has that certain sound and you'll get that kind of thing when you go work with her." I would love for that to happen, and I think it definitely will.
I've spoken with a lot of musicians throughout the pandemic who have been put in similar positions of having to and record produce themselves before they necessarily may have wanted to, but you're the first person I've spoken to who is actively taking night classes on engineering and is really putting in that kind of work to get it right. It's very impressive and inspiring.
Thank you, that's what I want. I want to be an example for younger musicians, especially women, who may think that all of these things are not accessible to them. But they are! And they can do all of it. And you can do all of it and also be a mom!
Exactly! You're a brand-new mother, you're taking engineering classes at an empowering organization, you just made this excellent record entirely yourself in a laundry room during your baby's nap times, and it sounds incredible. It's really inspiring, especially for young women.
In so many different ways, this is all about breaking down really tired narratives. Even with the themes of the record and the way in which I did it, being an engineering and producer woman, it's just breaking it all down. I do hope people can find inspiration in the story.