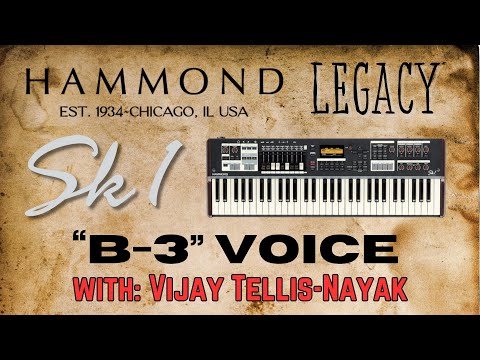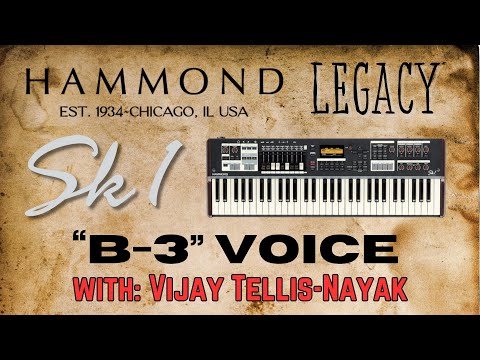 Hammond Sk1 Portable Organ, 61-Key
About This Listing
Get the sounds of a Hammond B-3 in this portable 15 lb Hammond Sk1 keyboard. The Hammond Sk1 61 model is the smallest and lightest Genuine Hammond Organ ever made, and it's even more astounding when you consider the palette of Hi-Def Extravoices that are onboard. For the gigging musician, there is really no other choice but this comprehensive keyboard. How many times have you finished a satisfying show and faced moving your equipment with dread in your eyes; as your guitarist puts his ax in the case, picks up his amp and he's out the door? Now you can pack up and hit the road in a jiffy, too, with NO compromise in available sounds. If you've been "making do" with an imitation Hammond, or the "Jazz Organ" preset on your synth, because you had no room for a B-3 and Leslie, you can now bring the soul back to your show, even if the venue has a postage stamp for a stage.
Hammond Sk1 61-Key Portable Organ Features
Sound Generator Organ Section:
- 2 - VASE III as Digital Tone-wheels, Transistor Organ and Pipe Organ
- 61 polyphony (for manual, except Pipe Organ)
- 8 polyphony (for pedal, except Pipe Organ)
- 63 polyphony (maximum, on Pipe Organ)
Extra Voice Section:
VASE III, 63 polyphony (maximum)
Keyboards:
C1 to C6 61-key (SK1)
Harmonic Drawbars:
- Drawbars: 9 Pitches, assignable for Upper, Pedal, Lower Voicing
- Manuals: 6 choices (B-Type1, B-Type2, Mellow, Vx, Farf, Pipe), valiable key-click
- Pedal: 4 choices (Normal, Muted, Synth1, Synth2), 5 choices key-click
Touch Response Percussion:
- Buttons: Second Harmonic, Third Harmonic, Fast Decay, Volume Soft
- Adjustable: Touch, Velocity, Decay (Fast, Slow), Level (Normal, Soft)
Extra Voice:
- Instruments: 6 Groups (A. Piano, E. Piano, Keyboard, Wind, Other, Library)
- Upgradable via Library
- Control: Allocate Upper/Lower, Solo, Group
- Effects: Vibrato and Chorus, Digital Scanner, Buttons: 1, 2, Chorus, Upper On, Lower On
Overdrive
: Digital, 4 programs, Control: On, Amount
Multi-Effects:
8 programs for Organ/Extra Voice individually, Control: On, Amount
Equalizer:
For Organ: Bass, Mid (sweep), Treble, Tone, For Extra Voice: Bass, Mid (sweep), Treble
Internal Leslie:
Advanced Digital, 2 Rotors, Buttons: Bypass, Stop, Fast
Reverb:
Digital, 11 programs, Control: On, Depth
Master Equalizer:
Control: Bass, Mid Gain, Mid Frequency, Treble
Keymap:
- Buttons: Manual Bass, Split (SK1 only), Lower to Pedal (SK2 only) Octave Up, Octave Down, Lower, Transpose
- Adjustable: Coupler Highest note, Split Point
Patches:
- Capacity: 100 User Patches, 100 Preset Patches, Manual
- Favorites: 10 buttons
- Patch Load Options: Drawbar Registration, Drawbar Parameters, Extra Voice, Internal Zone, External Zone, Organ Effects, Exv Effects, Reverb
Controllers:
- Volumes: Master Volume, Music Volume, Extra Voice Volume
- Switch: Power On/Off
Music Player:
- File Format: WAV (44.1kHz, 16bit, Stereo), MP3 (44.1kHz, 128kbps, Stereo)
- Control: Song, Play/Pause
- Storage: USB Flash Drive
- Display: 20 - Characters, 2 - Lines, 8 Control Buttons and Value knobMIDI
- Templates: 9 Templates(SK1), 5 Templates(SK2)
- External Zones: 3 Zones, assignable any keyboards
Connections:
- MIDI: In, Out
- Audio: Line Out L, R, Headphones
- Leslie: 8 - pin, 1 and 3 channels available
- Other: Footswitch, Damper Pedal, Exp. Pedal, DC IN (12V)
Buy now, pay later – from 0% APR
As low as $88/month with Affirm monthly payments.
View Full Listing