Cross-pollination. It's a term often used in the flower and plant world, but it can be used just as much, if not more, in the music world.
There was once a day when musical genres rarely, if ever, mixed. Those days are long gone. Take rock 'n' roll, for example. When it started back in the mid-'50s, rock 'n' roll was a cross-pollination of many diverse musical styles: blues, swing, rhythm and blues, country—even gospel. And around the same time, cross-pollination in the musical instrument manufacturing world took place at the Gretsch factory in Brooklyn, New York.
Even though the block-long Gretsch Building was a huge 10-story structure, the Fred Gretsch Manufacturing Company only needed to occupy one-and-a-half floors in the 1950s. The rest of the building was rented out to other businesses, creating a regular cash flow for the successful Gretsch family real estate business.
It was on the seventh floor, where Gretsch guitars and drums were manufactured, that Jimmie Webster, Gretsch's chief guitar designer and brand ambassador, saw an ingenious way to distance the look and glitz of Gretsch guitars from their conservative-looking competition.
Drumming Up a New Look for Their Guitar Business
After watching Fender and Gibson grab an early lead in the new solidbody electric guitar war, Gretsch answered in the fall of 1953 with the introduction of the Duo Jet. "Duo" for its two single-coil DeArmond Dynasonic pickups and "Jet" to reflect the latest in space-age technology.
With its heavily chambered mahogany body and glued-on top, the 13.5-inch single-cutaway Duo Jet looked like a solidbody but was more of a semi-solidbody guitar in reality.
Legend has it that Webster, walking through the drum department at the Gretsch factory one afternoon, saw a worker gluing sparkly drum material onto a wooden drum shell and asked if the same could be done to a solid body guitar top. They tried it, it looked cool, and the early Duo Jets featured a piece of glossy Jet Black Nitron drum finish glued onto its slightly arched top.
But not all Jets in that debut batch of 100 made in late 1953 were black. At least one left the factory with a silver sparkle finish.
Meet the Earliest Documented Silver Jet
During the writing of this article, Gretsch guitar authority Ed Ball shared the news with me that the earliest documented Silver Jet—the first known example from 1953—had surfaced. Ball was kind enough to put me in touch with its owner, Nathan Fasold, of Black Book Guitars in Portland, Oregon.
Fasold shared that he was contacted by the granddaughter of the owner a few years ago and was floored by its condition and originality. As you can tell from the photographs, it is quite a time capsule. This is the first time Fasold has shared the photographs of his ultra-rare Silver Jet, which is not for sale but is part of the Black Book Collection and archives.
---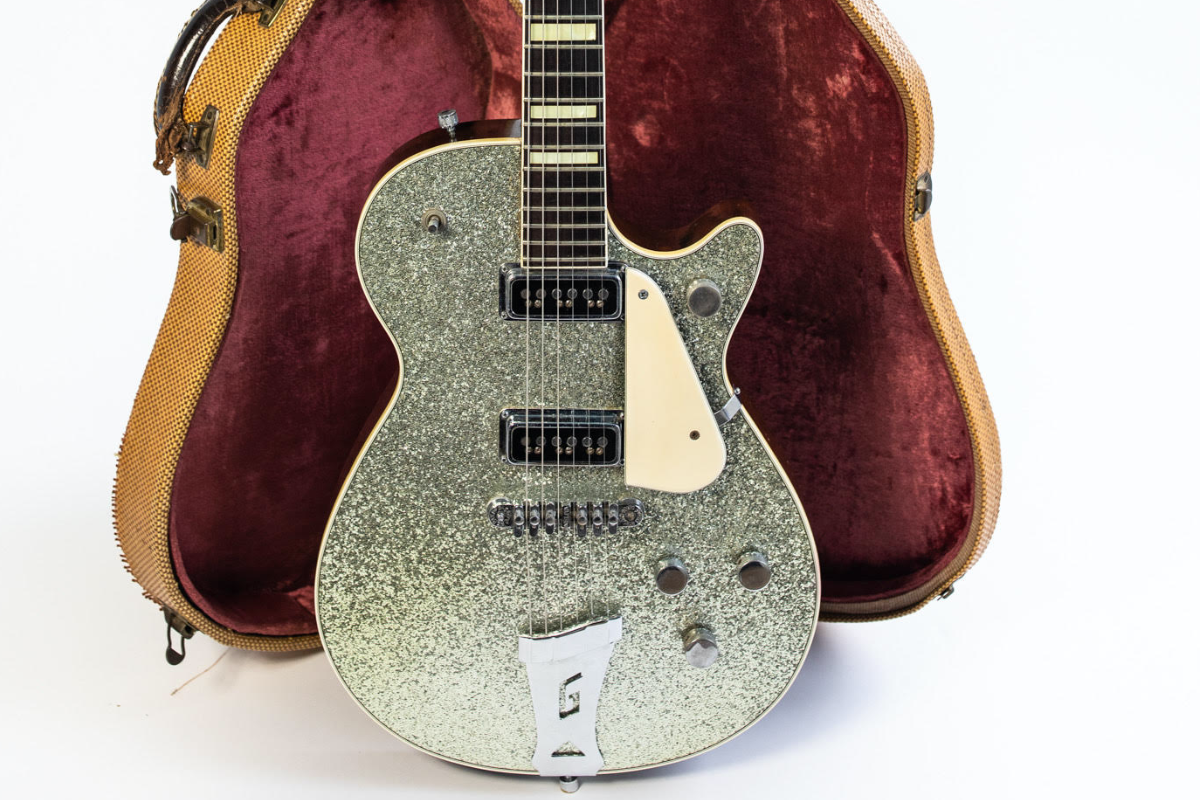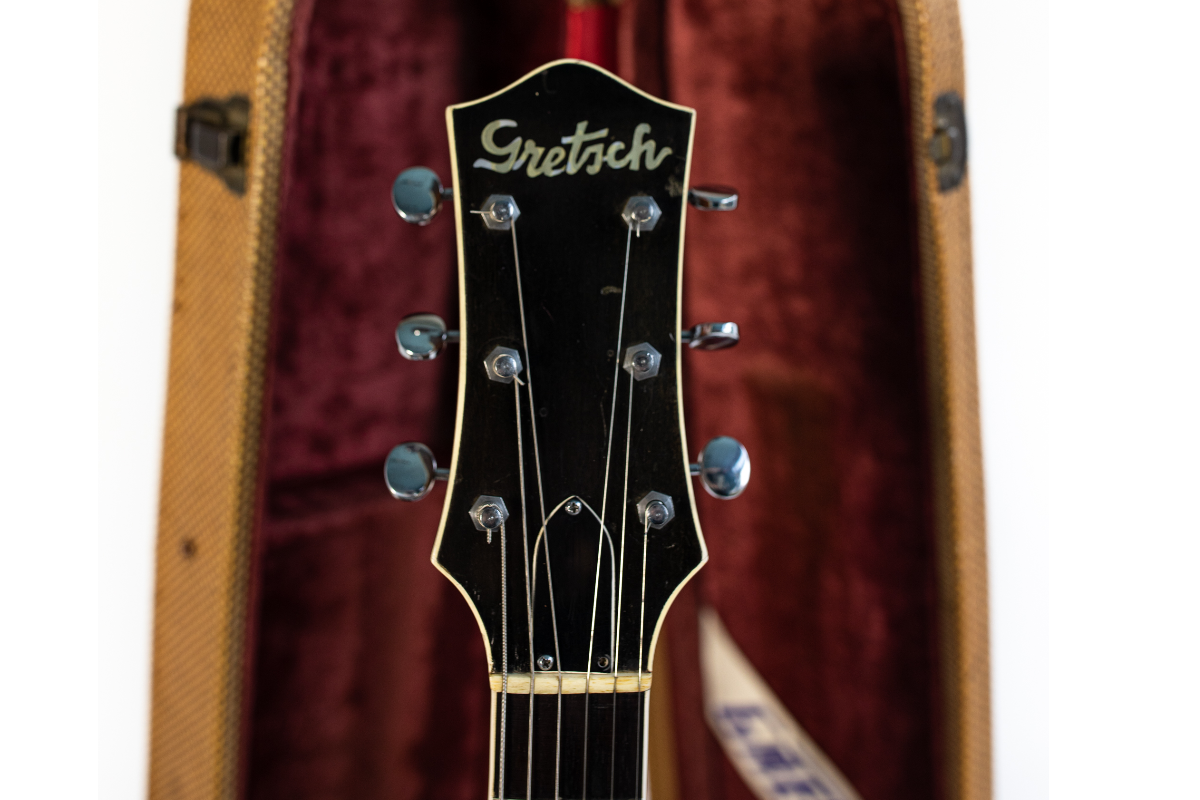 ---
Like other '53 Jets, Fasold's Silver Jet has the Gretsch "script logo" on the headstock, a fixed Melita bridge, a plain white wedge-style pickguard, and a missing block inlay on the first fret. The paper label, located inside the electronics access cavity, confirms that its serial number is from the debut '53 batch.
It has also been stamped as a 6128 Duo Jet model instead of a Silver Jet's 6129 model number. This was common in those early batches as it appears Gretsch hadn't gotten around to ordering the 6129 rubber stamp yet.
Unparalleled Spotlight Sparkle
A 1954 price sheet listed the Silver Jet for $230. A year later, the price had increased to $255 and the 1955 Gretsch catalog described their glistening guitar as having "unparalleled spotlight sparkle" and a flashing sparkle top. Truth in advertising for sure.
Although Gretsch offered additional drum sparkle color options—including green, red, blue, and gold—Webster decided to only offer the silver sparkle option on the new Jet.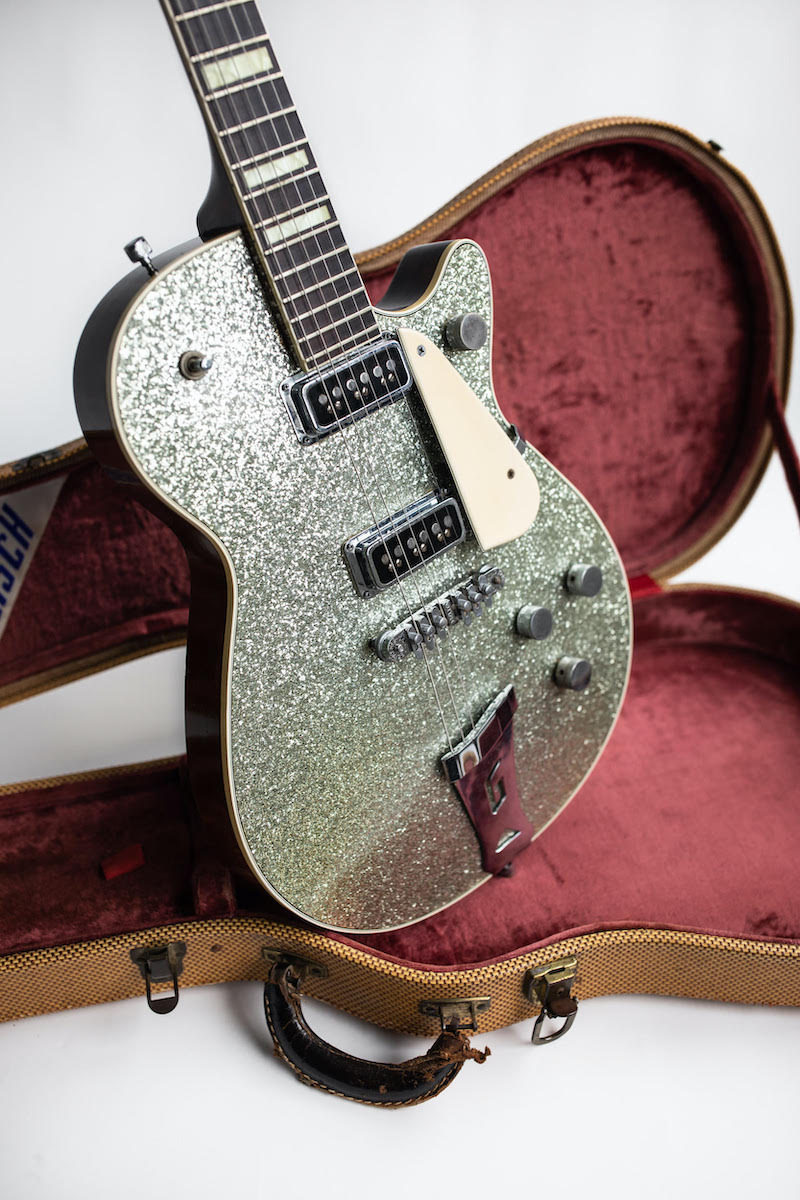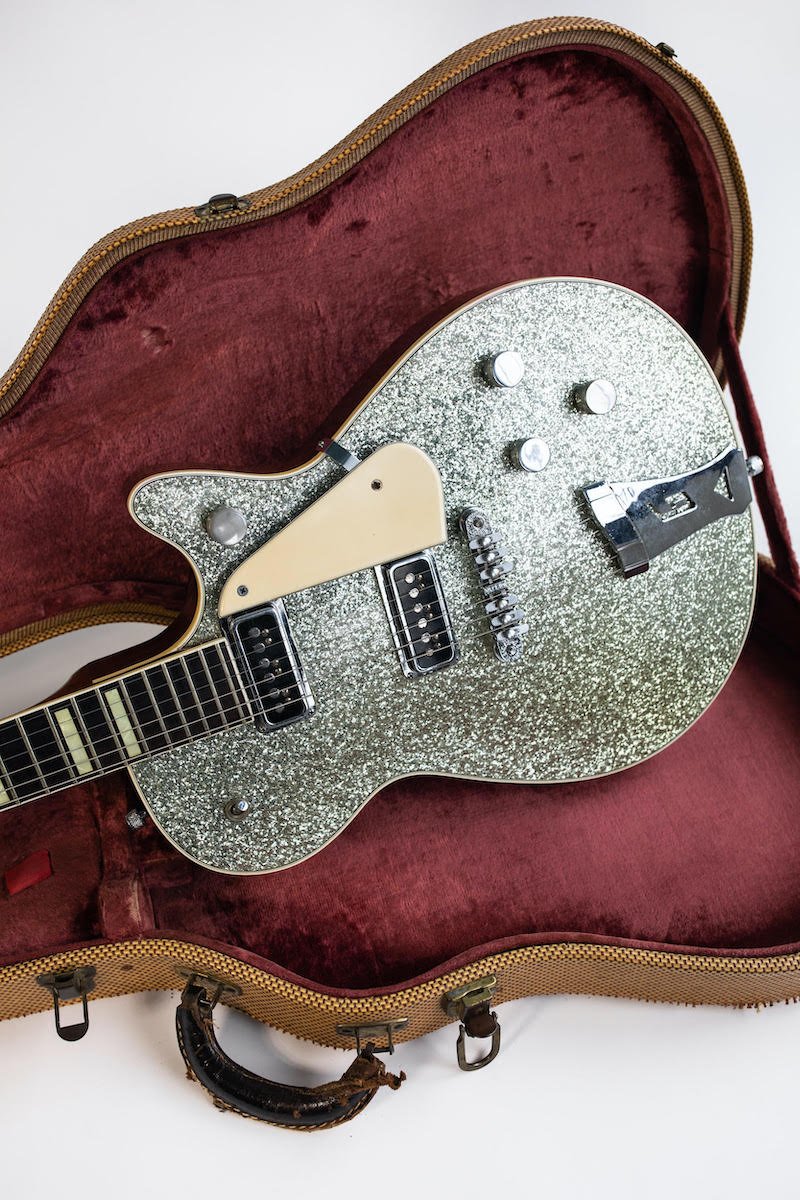 When I asked Joe Carducci, retired Gretsch Product Marketing Specialist, if he knew why silver sparkle was the only color option offered on the early Jets, he said, "I'm not sure and we'll probably never know the answer. My theory is that of all the sparkle colors available, silver best represented the times. The 1950s were all about chrome and the Space Age."
Bucking the Hum, Double Cutaways, and "No Sparkle for You!"
In 1958, the second generation of Silver Jets followed Gretsch's switch from single-coil Dynasonics to humbucking Filter'Tron pickups.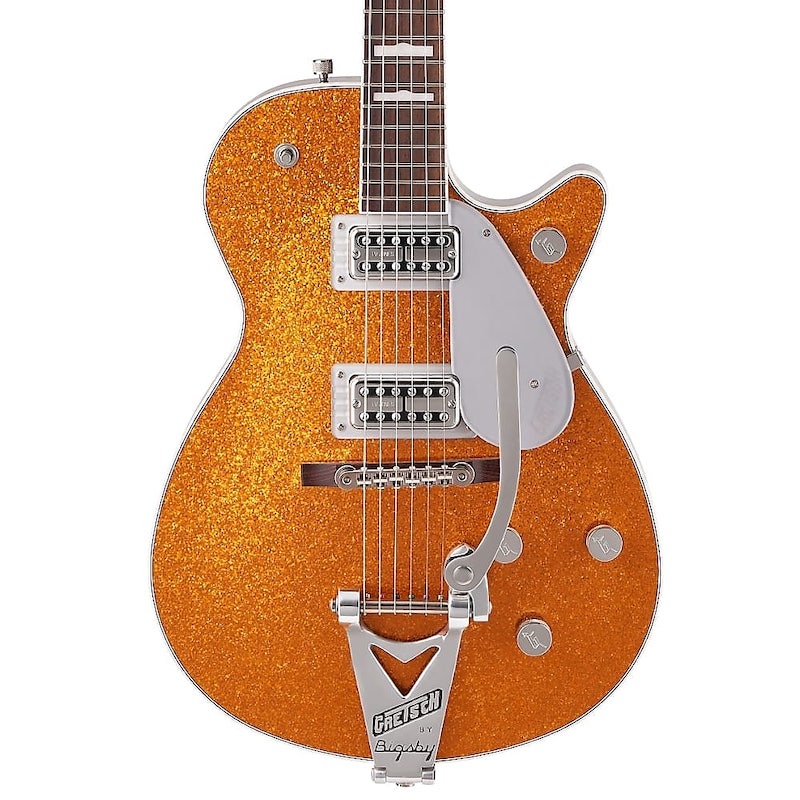 Gretsch G6129T-89, Gold Sparkle
Also new were the Space Control Bridge, a three-position tone-selector switch, and Neo-Classic thumbnail position markers on the ebony fingerboard.
Following Gibson's double-cutaway styling lead, Gretsch's Jet lineup changed from a single-cutaway to double-cutaways in 1961.
A year later, Jets featured a Burns Vibrato Unit and also introduced more sparkly drum finish color options including Gold, Champagne, Tangerine, and Burgundy. Few of these new colors were produced and are very rare today.
By 1964 with sales slumping, the Silver Jet disappeared from the Jet lineup. It would be another 25 years before it would return, but it was worth the wait.
1989: Gretsch Sparkles Once Again
For most of the 1980s, no Gretsch guitars were produced. With little buyer interest in hollow-bodies and sales tanking, the Baldwin Company (who had purchased Gretsch in 1967) ceased guitar production in the early '80s.
When Fred W. Gretsch—the great-grandson of Gretsch founder, Friedrich Gretsch, and his wife and business partner, Dinah—bought the family business from Baldwin in 1984, their first priority was resuscitating the existing Gretsch drum business. Starting basically from scratch, it would take five years before a new generation of glistening (and sparkly) Gretsch guitars would be available.
In the fall of 1989, nine new Gretsch electrics from their golden era of the '50s and '60s were unveiled, including the 25-year return of the G6129 Silver Jet. Priced at $1,400, this new version wasn't an exact replica of a late-'50s Silver Jet (it had a wider Baldwin-era headstock with horseshoe inlay and an Adjusto-Matic bridge for example), but it was close enough for Gretsch fans.
Players have described the Filter'Tron pickups from this era and being less twangy with more of a grittier growl. And the mahogany bodies were less chambered, making them heavier than the original '50s version and Jets being manufactured today. In other words, they had their own distinctive sound and vibe.
Refining the Winning Recipe
The next big chapter in the Silver Jet saga—as well as Gretsch guitars in general—occurred in 2002 when Gretsch announced it was forming an alliance with FMIC, who would be responsible for the manufacturing and worldwide distribution of Gretsch guitars. Fender wanted to take the current lineup of Gretsch guitars to the next level and had the resources to do it.
Mike Lewis, currently VP of Product Development at Fender's Custom Shop, became the Product Manager of Gretsch guitars in 2002. Lewis shared that he started the refinement process by playing both current Gretsch guitars and vintage Gretsches at his band's gigs and listening for the differences. He also followed Gretsch online forums to read what players were saying about the current Gretsch lineup.
---
Vintage & Modern Jets
---
"We had the resources to discover the recipe," said Lewis. "The way they were made, the type of materials, pickups, construction methods, the thickness of the tops, and the thickness of the backs and sides. Over the course of six months or so of taking on the Gretsch product line, I think we changed virtually every spec on every model just to try to dial it in. And I think we did a pretty good job. They were all met with good reviews and people seemed to like them."
There's no denying that Lewis and the Fender team were successful in discovering the right recipe. The Silver Jets produced since 2003 more accurately capture the mojo, look, feel, and tone of the classic Jets of the 1950s.
Iconic Silver Jet Guitar Heroes: Billy Zoom and Chris Cornell
Although the more traditional-looking black and chrome Duo Jet had gotten the most Jet family notoriety in the 1950s and '60s (thanks to Hank Garland, Cliff Gallup, and George Harrison), that changed in the late-'70s when Billy Zoom strapped on a sparkly '55 Silver Jet and made the world take notice of his LA-based punk band, X. (To honor the sparkly Jet's first superstar, the Gretsch Custom Shop issued a limited-run Billy Zoom Tribute Silver Jet based on his iconic vintage '55 guitar in 2008.)
Billy Zoom Tribute Silver Jet™
Sparkly Jets were also an integral part of the raucous Seattle grunge sound, thanks to the late Chris Cornell of Soundgarden. By the 1990s, Gretsch had expanded their color options to include Gold Sparkle, and Cornell can be seen playing one in the band's famous "Black Hole Sun" video in 1994.
Still Sparkling Today and Playing Like It's 1989
Silver Jets and many color variations of "Sparkle Jets" have been offered for more than 30 consecutive years since being relaunched in 1989. Currently, Gretsch offers a Bigsby-equipped Players Edition Jet available with a Silver Sparkle or Red Sparkle top.
In 2021, Gretsch paid homage to Chris Cornell and the unique sound of their 1989 Jets that rocked the grunge movement by introducing a new Vintage Select Sparkle Jet Series. Available in Silver or Gold Sparkle, these faithful 1989 recreations feature a correct less-chambered mahogany body, TV Jones pickups, an Adjusto-Matic bridge, and even the correct larger late-'80s headstock with horseshoe inlay.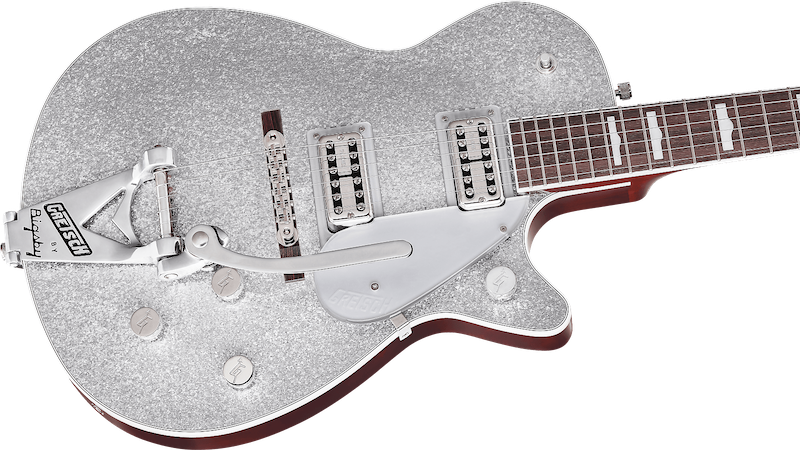 2021 Vintage Select Sparkle Jet
For more than 65 years, players have been drawn to Gretsch guitars because of their great looks as well as "That Great Gretsch Sound." No other guitar manufacturer would've dared, or even dreamed of offering a drum sparkle finish on a guitar back in 1954. As Joe Carducci shared, "Well, a Silver Jet is not for everybody. It makes a really bold statement. It can be very pretentious. But in the same breath, it's also glorious."
You've got to tip your hat to the creative, bold imagination of Jimmie Webster, as well as to his boss, Fred Gretsch, Jr. They wanted their new electric guitars to stand out and get noticed in music stores, onstage, on TV, and in movies. And to sound as great as they looked. With the Gretsch Silver Jet and Sparkle Jet series, they succeeded on all fronts.