The late, great Dave Smith was a true pioneer in synthesizers. His final creation, the Trigon-6 analog polyphonic synthesizer, is here, and it's a work of art.
The Trigon-6 delivers a Moog-style "3-oscillators-through-a ladder-filter" punch that made the beginning of the synth era so amazing. It's a rare style from Sequential, setting the Trigon-6 apart from the other two 6 series models, the OB-6 and Prophet-6. With improved with digital controls and Sequential's modern touches, this synth delivers an unmistakable sound that bridges genres and styles.
---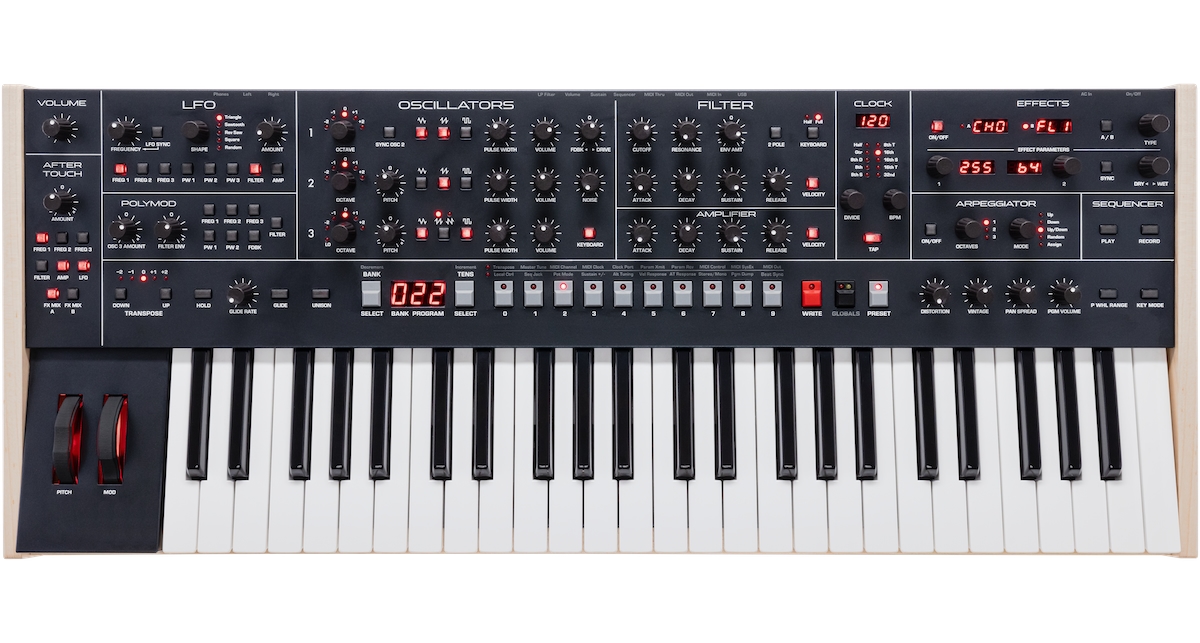 ---
Trigon-6's sound is fundamentally shaped by three voltage-controlled oscillators with triangle, saw, and pulse waves; as well as an upgraded version of Sequential's ladder filter. Additionally, the resonant filter design has a switchable 2/4 pole that allows for easy transition between tones—from gritty to velvety textures—with just a turn of a knob.
Trigon-6 has all of Sequential's essential sound-sculpting features, including very snappy envelopes, a syncable LFO with multiple waveforms and destinations, a polyphonic step sequencer, and an arpeggiator. The knob-per-function front panel makes these controls easy to access, a major plus. And as an added fun fact to know: Tycho's Scott Hansen did the graphic design work on the front panel.
To make it even better, 500 factory and user presets are ready for any project you might have, providing classic basses, leads, pads, and more. Also included in the mix is Sequential's iconic Poly Mod, which gives you additional features for sound design that stands out from the rest.
The full features, according to Sequential, include:
Three discrete VCOs per voice
Simultaneously selectable wave shapes: triangle, sawtooth, reverse sawtooth, and variable-width pulse
Pulse width per oscillator
Keyboard tracking on/off (oscillator 3)
Hard sync: oscillator 1 syncs to oscillator 2
Oscillator feedback and drive controls for increased signal saturation
White Noise source
Switchable two/four-pole, discrete, resonant, low-pass, ladder filter per voice
Filter can be driven into self-oscillation with the Resonance control
Bi-polar filter envelope amount
Velocity modulation of envelope amount
Keyboard tracking: off, half, full
Four-stage (ADSR) Filter and Amplifier envelope generators with velocity modulation of envelopes
Five LFO wave shapes: sine, sawtooth, reverse sawtooth, square, and random (sample and hold) LFO sync
Mod destinations: oscillator 1 frequency, oscillator 2 frequency, oscillator 3 frequency, oscillator 1 pulse width, oscillator 2 pulse width, oscillator 3 pulse width, filter cutoff, amp (VCA)
Vintage Knob recreates vintage synth characteristics by adding voice-to-voice variations in component behavior
Arpeggiator and 64-step Sequencer
Aftertouch Destinations: oscillator 1 frequency, oscillator 2 frequency, oscillator 3 frequency, LFO amount, amplifier envelope amount, filter envelope amount, FX mix A, FX mix B
Stereo Analog Distortion and a Dual 24-bit, 48 kHz digital effects, including reverb (room, hall, plate, spring), delay (full bandwidth digital delay and emulated bucket brigade), chorus, flanger, phase shifter, and ring modulator
500 user and 500 factory programs in 10 banks of 100 programs each
Direct program access, including single-button access to the current set of 10 programs
William Kirk, our much-loved host and musician, is back in the studio demonstrating all of these amazing features and more with the Trigon-6. This analog synthesizer is the perfect blend of sound, playability, and features. Order your Trigon-6, which retails for $3,499, on Reverb now.
"This article is part of a paid partnership with Sequential. From time to time, Reverb partners with trusted brands and manufacturers to highlight some of our favorite products we think our community will love."