The price of admission to the Universal Audio universe just got cheaper.
Universal Audio's Apollo interfaces have become standard tools for professional producers, but they also have a pro-level price tag to match. With the new Volt series, UA offers affordable, plug-and-play interfaces to rival Focusrite's Scarlett series and other inexpensive options.
The Volt series interfaces connect via USB to both Mac or Windows computers, along with Apple products like iPhones and iPads. There are five different interfaces to start, two standard Volts and three Volt 76 models. All of them bring UA's history of audio design and its commitment to high-quality sound to budget-friendly interfaces.
The Volt 1 ($139 USD) and Volt 2 ($189) are the least expensive, built with solo performers, producers, at-home collaborators, streamers, and podcasters in mind.
The Volt 1 is a 1-in/2-out unit, while the Volt 2 is 2-in/2-out. They include all the standard features we've come to associate with audio interfaces, like switchable 48V phantom power, dedicated headphone out, and an LED indicator to monitor clipping. Universal Audio puts its special touch on them thanks to the "Vintage" button, which emulates the company's classic 610 tube preamp and brings some tube-like saturation to your incoming signal.
---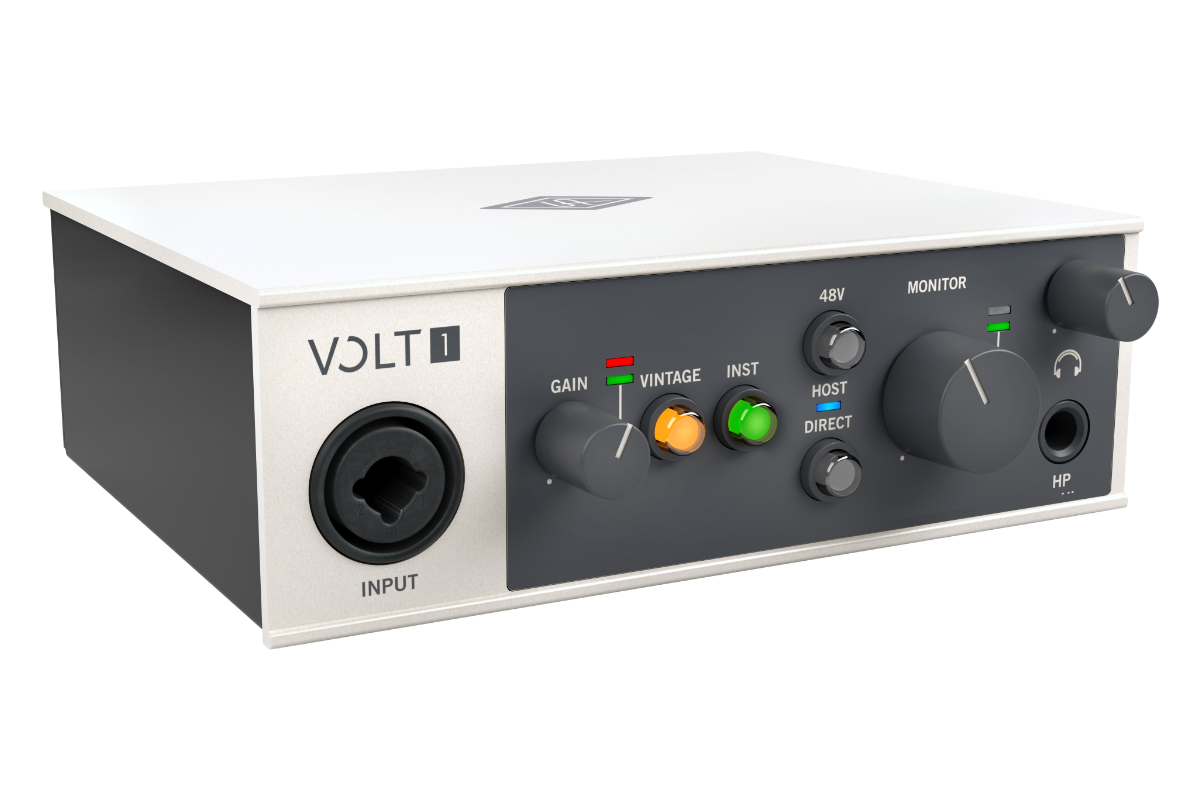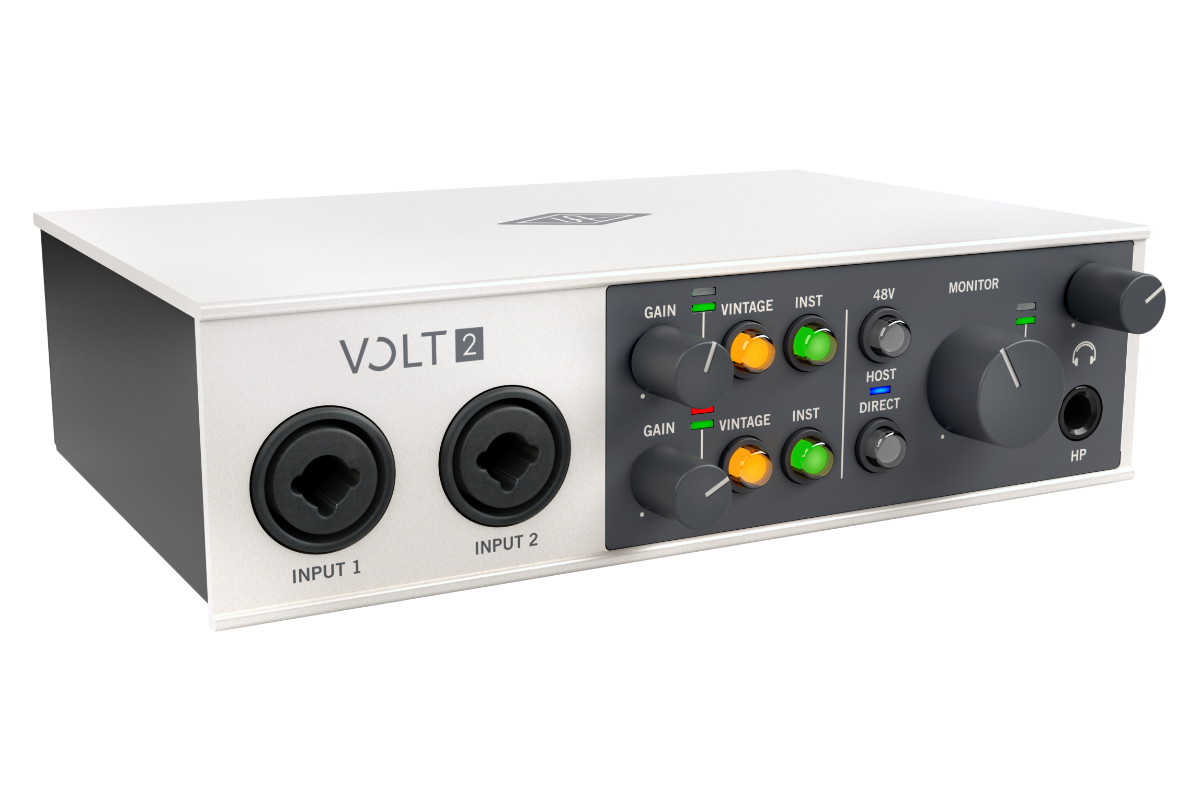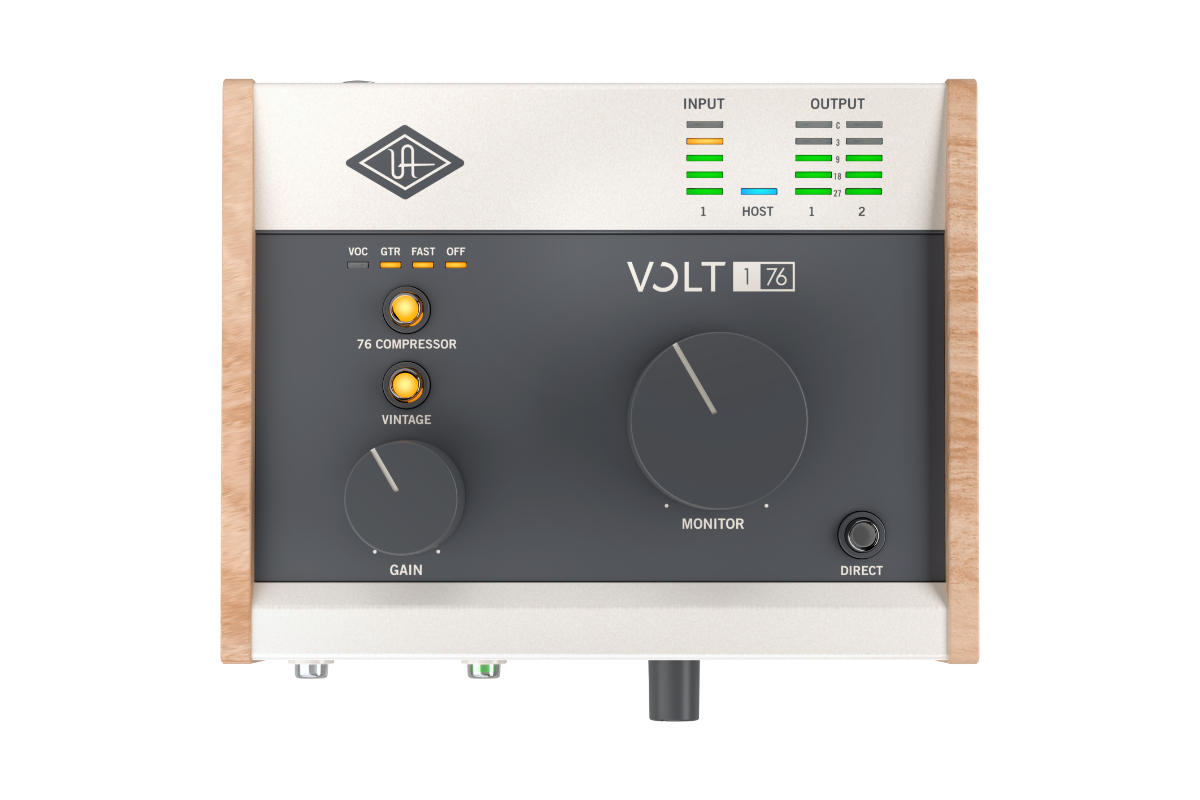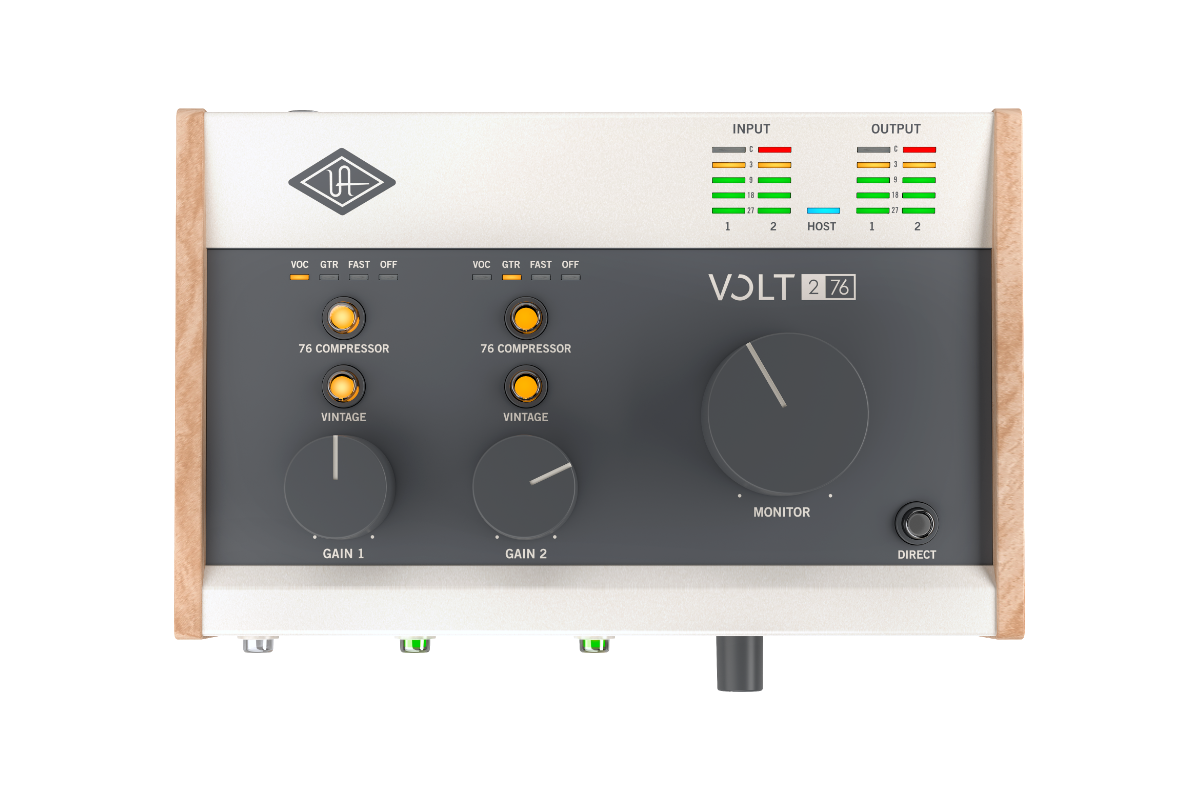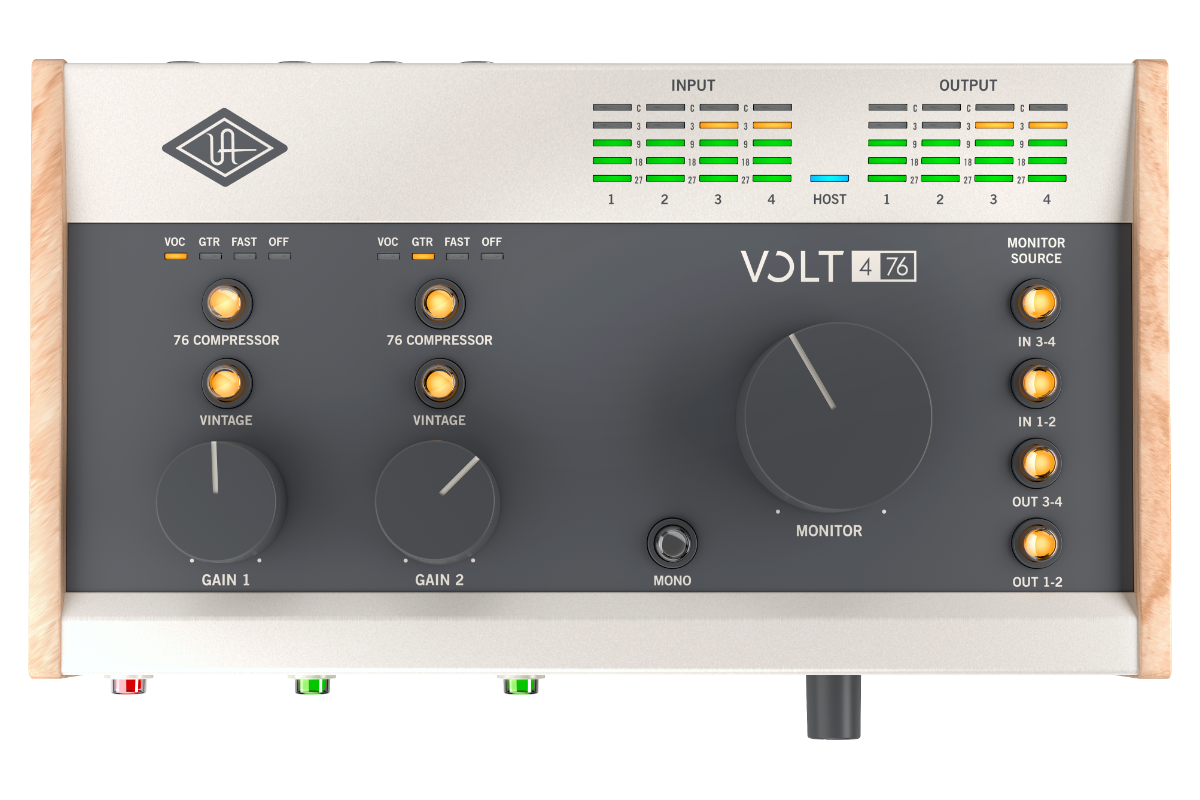 ---
The Volt 176 ($249), Volt 276 ($299), and Volt 476 ($369) get their names from their built-in 1176-style compressors. So in addition to having the option of the Vintage 610 preamp, you can use a true analog compressor while recording to add punch, clarity, or extra bite. The 76 Compressor has three presets easily accessible on the top panel: "VOC," "GTR," or "FAST," with the fast setting being especially useful for drums, drum machines, or other instruments with quick transients.
The Volt 176 is 1-in/1-out, Volt 276 is 2-in/2-out, and the Volt 476 is a 4-in/4-out unit. With the exception of the 476, every interface in the Volt series is bus-powered, meaning the same USB cord that connects to your computer will power the interface.
---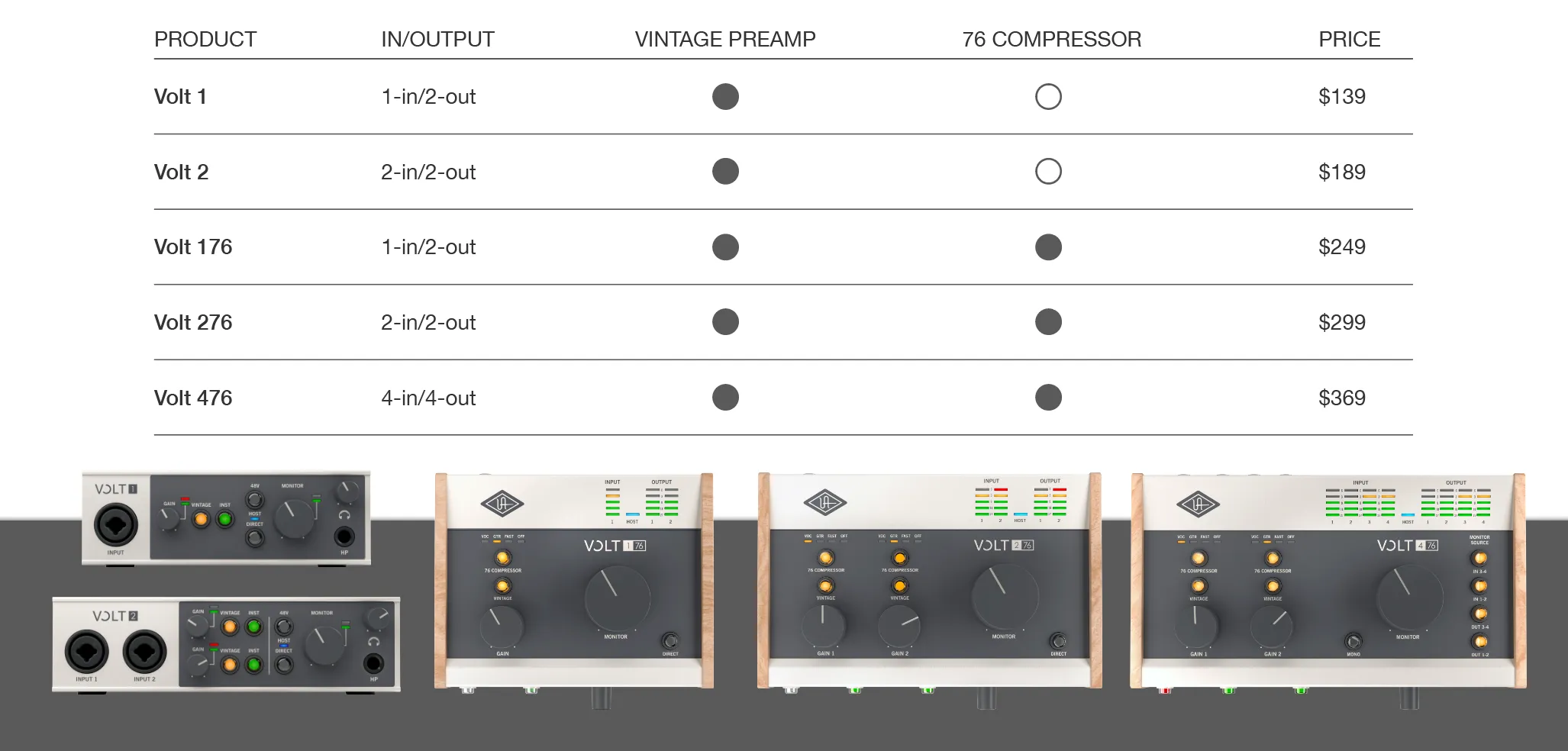 A quick price and features breakdown of the Volt series, from Universal Audio.
---
The Volt interfaces also all come with a plugin suite, featuring software from Ableton, Melodyne, Marshall, Ampeg, and more. However, it's important to note that—unlike UA's Apollo series—the Volt interfaces do not include any internal processors. So if you want to use additional UAD plugins as inserts while you record, you will need to buy a UA Satellite unit.
Features shared across the Volt series include:
Class-leading 24-bit/192 kHz audio conversion for Mac, PC, iPad, and iPhone
Vintage Mic Preamp mode lets you record voice or guitar with the rich, full sound of a classic UA tube preamp
Essential suite of audio and music software including Ableton, Melodyne, UJAM's Virtual Drummer, Marshall, Ampeg, and more
Studio-quality headphone amplifier for loud, clear monitoring
USB bus powered to reduce cable clutter (except for Volt 476, which includes a 5VDC power supply)
48V phantom power for condenser microphones
Direct Monitoring for latency-free recording
Stylish, rugged construction built to withstand years of use
1-in/1-out MIDI connections
USB-C to USB-A cable included
Focusrite's Scarlett series is the undisputed champion of popular, affordable interfaces. With Universal Audio stepping into the market (which also follows Arturia's MiniFuse interfaces announced last week), there are some new contenders in town.
Volt interfaces are available for pre-order on Reverb now, as are two Studio Packs: a Volt 2 Studio Pack and Volt 276 Studio Pack, which bundle the interfaces with a Volt-branded mic and set of headphones.