The Weeknd performs at 2012 Coachella. Photo by
Frazer Harrison
/Getty Images
Before we saw the face, we lived with the sound. On November 13, 2012, The Weeknd released Trilogy, a triple-disc compilation album composed of the three spellbinding mixtapes he released for free online the year prior. For most of 2011, most of the people who spent months immersed in his dark R&B masterpiece House of Balloons (released on March 21, 2011), had never seen his face.
The Weeknd represented our darkest carnal desires in music before we knew the man at the source. A July 24, 2011 concert in Toronto was his first public concert, and his April 15, 2012 performance at Coachella Music Festival was his first U.S. performance. The Weeknd became a star solely because of his music. And Carlo "Illangelo" Montagnese was one of the primary contributors to molding the myth of The Weeknd.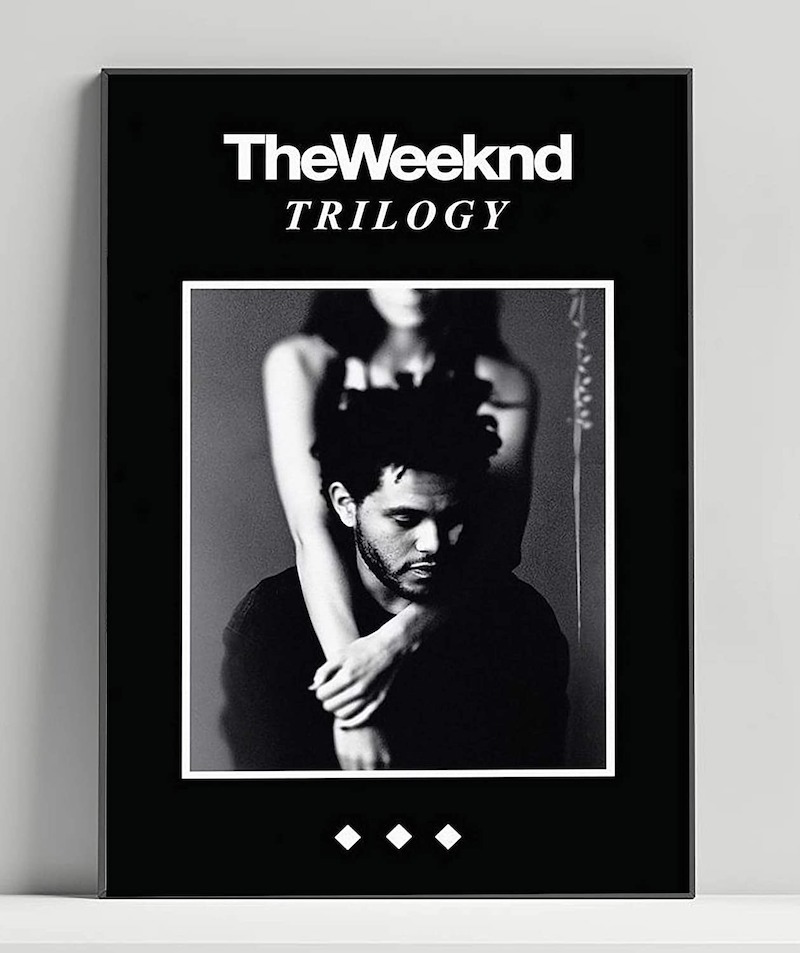 As the primary mixer of all three of the mixtapes, as well as the Trilogy compilation, only a handful of people had as much to do with shaping the sound that started a decade-long musical evolution than Illangelo. They made some of the festival-level anthems inside of mouse-infested studios, with no blueprint for the future they were designing.
"It was very DIY. We were creating our opportunities. There was really no other way to do it," Carlo "Illangelo" Montagnese said, speaking with Reverb on the 10th anniversary of the iconic run of mixtapes. Throughout the rest of the interview, Illangelo details finding sonic harmony among a myriad of equipment, The Weeknd's humble recording beginnings, and why they dared to cover Michael Jackson.
When Illangelo first linked with The Weeknd in December 2010 for House of Balloons (the first project of the Trilogy), both were barely in their 20s. Abel—who had yet to assume The Weeknd moniker—was a few months from his 21st birthday, and Illangelo had turned 23 a few months prior.
Illangelo remembers connecting with the future Grammy Award winner in a tiny room in Toronto with exposed drywall and a mouse running around—an environment you wouldn't expect to be conducive to the creation of music that would reshape the entire industry for the next decade. But, after exchanging music and hearing The Weeknd's patented dark falsetto that has made dreamscapes out of nightmares, Illangelo recognized he was a diamond in the rough whose shine was only dulled by lack of exposure to the world.
In that first session, the pair recorded an early version of House of Balloons standout track "Glass Table Girls"—an upbeat ode to being trapped in a good time before switching to a static-laden deeper dive into The Weeknd's hedonism.
The Weeknd - House Of Balloons / Glass Table Girls
The grandeur of the final product belies its humble beginnings. "There was no time to get the perfect anything. It's not like we had a budget, we didn't have anything. It was just whatever we had is what we used. So, we used a lot of different mics," Illangelo said. Those mics included the classic Neumann U 87 and the Shure SM7B microphone, with the Metric Halo 2882 and Apogee Duet as the frequent audio interfaces before they ended up working with the SM7B going into the Apogee.
Illangelo, The Weeknd, and producer Martin "Doc" McKinney were the core architects of the Trilogy mixtapes and had to bounce around different recording studios in Toronto, including Doc's private studio as well as Dream House Studios where Illangelo had his own personal room. These constant changes led to each song being what Illangelo remembers as "a collage of different equipment," which made it challenging to mix them into one unified sound for a body of work.
But, you don't become a Grammy Award-winning, multi-platinum producer/engineer without turning setbacks into new routes to the future. Early on, Illangelo realized he needed to keep "any colorization of any hardware effect to a minimum" by EQing each part of a session in order to blend it together and make it smooth. He would group all of the vocals in a folder and meticulously mix each individual audio track in order to maintain sonic consistency throughout the songs and the overall projects. The Wavez Vocal Rider plugin was a huge help because it'd balance out everything as a sort of "instant, automated balancer of all incoming audio signals."
Unfortunately, the hardware at the time took a while to catch up to the futuristic sound they were crafting. "Before, everything would take long because I couldn't have that many plugins loaded up on the computer, and I would be very plugin-focused. I didn't want to use much of any hardware gear because the plugins were more consistent, especially with as much as we were traveling."
As much as the Trilogy's sardonic R&B stylings would catalyze a shift in the sound of the next decade of music, it was formed from deep reverence of the past. Illangelo would read books from legendary engineer Bruce Swedien, who mixed multiple Michael Jackson classics including "Billie Jean," "Rock Wit You," and "You Rock My World." He took inspiration from the books and Swedien's interviews and applied those concepts to his work with The Weeknd. Audio peaks hit no higher than -3 db but would be usually -12 db with no compression on the way in. The vocals were raw in order to preserve The Weeknd's natural vocal dynamism.
"This was for consistency and because Abel was so dynamic. All of my favorite records growing up from Michael Jackson and Stevie Wonder stressed the importance of the dynamics of the voice. So, I was essentially doing my best job to get it to where my ears were programmed with all of this great music."
The Weeknd - D.D.
It would be Echoes of Silence, the third and final mixtape of the Trilogy, that would produce the most endearing tribute to their influences. Recorded in roughly six weeks, Illangelo describes it as the only project of the three which was largely recorded and created with just him and The Weeknd. It was also the project which featured The Weeknd's ambitious ode to his idol Michael Jackson, "D.D." It's a modern flip of Jackson's "Dirty Diana" song.
Covering any Michael Jackson song, let alone one of his most definitive records, is an act of either sacrilege, hubris, or a daring mixture of both. "I don't think anyone ever dared to do a remix or a cover, but we were kids. We didn't care. We meant nothing but the highest respect to Michael. It was a remix showing our love," Illangelo professed. "Even with all of the effects in the vocals, I wanted to make them proud. It was very meticulous making sure every single sound was unique and special."
Daring to venture into the lesser-known in order to achieve rare results also carried over into the plugins and effects used. Before OHM Force became an industry staple among producers and engineers, Illangelo was tinkering with its great delays and distortions. Ominsphere plugins were a huge part of the Trilogy. For his production work on songs like "D.D.," "Outside," "Same Old Song," and "Gone," Illangelo preferred Cubase over any other DAW due to how precisely and meticulously he could get his mixes to match what he heard in his head.
Illangelo discusses producing and mixing 2020's "After Hours."
"A lot of the secret sauce was putting in the time of going through every moment of any vocal performance, from fading in and out the breaths to manually making sure the vocal selection could be louder or softer. Anything that needed to be locked in, Cubase is an incredible DAW to do that fine-tuning."
After all three mixtapes were released by the end of 2011, firmly cementing The Weeknd as the new king of dark R&B, Illangelo spent all of 2012 mixing the records again for the November 2012 release of Trilogy. While Illangelo praises the work mastering engineer Mark Santangeleo did the mastering on Trilogy, he knows fans were more keen to the distorted mastering he did on the original records over the more polished end result of Trilogy. Regardless, all of the mixtapes that went into Trilogy were examples of shared vision coming to life by using the equipment and experience the world afforded them at the time.
"There is a lot of great work that can be done when you're working in a team where everyone trusts each other. Abel was telling his story and his life. My job was to capture that in the best way possible."
---
Finer Notes is a series that looks into the equipment, techniques, and untold stories that went into shaping classic albums, where engineers and producers discuss how they used the equipment of the time to make a body of work that's timeless.
About the author: Keith Nelson Jr is a seasoned music journalist who followed his innate passion for knowledge to interview some of the most influential figures in the music industry. He's a journalist who connects the dot to see the bigger picture.