The Gibson EB-0 (usually said as EB-O) was Gibson's first super successful solid-body bass, taking over after the unpopular EB-1, and was introduced in 1959. While not technically still in production today, it's not too far removed from the current Gibson Les Paul Junior Tribute DC Bass and the SG Standard Bass. Until recently, Epiphone also made its own version of the EB-0.
The EB-0 and its close relative, the EB-3, are often subject to some confusion, possibly due to the change in design, and their similarity to certain guitar shapes, so we'll look to set things straight here.
Whilst the Gibson EB-0 saw many different variations over the years, its distinguishing features include: a single humbucking pickup placed close to the neck, tone and volume knobs, a mahogany body and neck, and a rosewood fingerboard. The EB-0 also has a short scale—30.5 inches (Gibson also introduced a long scale version in 1970, the EB-0L).
The late '50s/early '60s was an exciting time for music with lots of musicians forming bands—most of these bands needed a bass player, so many guitarists of the time transitioned from guitar to bass out of necessity (Paul McCartney being a prime example). The 30.5-inch scale seen on basses like the EB-0 feels a little more familiar to guitarists, so proved popular.
Origins of the EB-0: 1959–'61
When it was first introduced in 1959, the EB-0 had the same body shape as the Gibson Les Paul Doublecut Junior and had banjo-style tuners placed on the back of the headstock. In 1961, Gibson changed the body shape to be more like that of an SG, and that's the model that we're more used to seeing.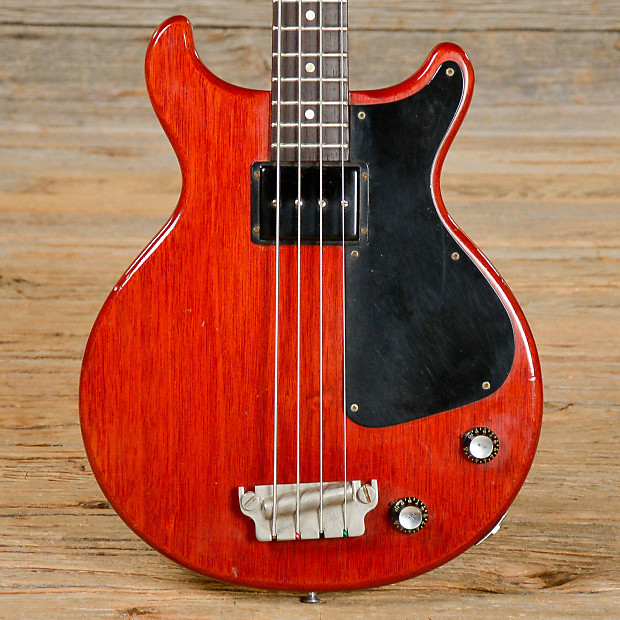 The double-cutaway EB-0 models of '59-'61 are quite rare, with only approximately 500 being made in total. This change in body shape in '61 coincides with Gibson's general shift away from the singlecut Les Paul toward what we'd now consider to be an SG. It's worth noting that whilst the bass resembled popular Gibson guitars, the EB-0 was never referred to as a Les Paul or SG bass.
Like with many Gibsons from the late-'50s/early-'60s, those DC Junior-style basses have some serious mojo about them.
The combination of the neck profile—chunky, but not too thick—and a short scale makes them an absolute dream to play (speaking primarily as a guitar player), and those Sidewinder pickups are bursting with character. Granted, they're not for every application, but in the context of a three-piece rock band for example, there's nothing else that I'd choose over an EB-0.
Tone
The sound of these basses tends to be pretty dark and thick; it's not as defined as other basses out there. So much so, in fact, that the EB pickups were sometimes referred to as "mudbuckers."
They're very bassy, without a great deal of middle and top-end, so if you're after clarity and brightness, this probably isn't the bass for you.However, by keeping your strings relatively fresh and dialling your amp in, you'll find that you've got just the right amount of definition to your tone.
1959 Gibson EB-0 Bass Playthrough
The EB-0 works really well for the '60s British Invasion-style of music, providing a nice, thumpy, and rounded low-end for jangly guitars to sit really well on top of. I also love an EB-0 bass through an overdriven tube amp—this gives you the ultimate, huge rock bass tone.
If you want to go even further, stick one through a fuzz pedal—it's not going to please everyone, but for some players, the sound is going to be exactly what they're after. Gibson even made a version of these basses in 1965 with a Fuzztone circuit built in, the Gibson EB-0F. Throughout all of its early iterations, when compared to the Fender bass models at the time, the EB-0 provided something completely different.
The EB-3
The Gibson EB-3 was brought into production in 1961, along with the introduction of the SG-style body. It's pretty much the same as an EB-0, with the addition of a mini humbucker in the bridge position (along with the accompanying volume and tone knobs), plus a rotary tone knob (similar to a Varitone).
The EB-3 proved to be more popular, most likely due to its versatility, and was the bass of choice for loads of classic rock players. Through the '60s and '70s and all the way up to today, the EB-3—and, more recently, the SG Standard Bass—continued the legacy that the EB-0 started.
Notable Players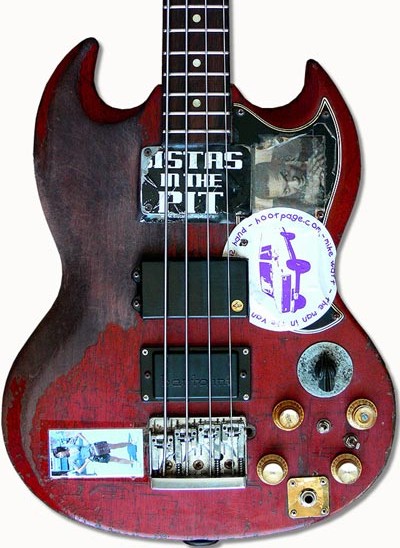 Mike Watt's Pre-1961 EB-3
Whilst more players opted for the EB-3, players such as Dennis Dunaway (Alice Cooper's original bassist) played an EB-0. Glen Matlock also used one in the early days of the Sex Pistols, though more recently, Johnny Marr of The Smiths has been seen playing Glen's old EB-0.
Jethro Tull bassist Glenn Cornick occasionally used one alongside his EB-3—as did Jack Bruce of Cream. Bernie Calvert of The Hollies also had a 1959 Gibson EB-0, though he didn't use it live.
EB-3 players include Andy Fraser of Free, Bob Paisley with Ozzy Osbourne, and Mike Watt. Also, Billy Sheehan took the pickup out of an EB-0 and put it in his prize P-Bass (lovingly referred to as "The Wife")—this pickup combination is very similar to what can be seen on his current signature Yamaha Attitude basses.
The Current Versions
As previously mentioned, Epiphone made a great version of the EB-0 up until very recently. It had the short scale, single humbucker, SG-esque body shape, and came in at a really good price. There are still quite a few floating around the used market, so that's definitely worth checking out if you want a more budget-friendly version.
The Gibson Les Paul DC Tribute is a really cool, modern take on those '59-'61 models. It features the more rounded double-cut body shape and a single humbucker—it's not quite as close to the neck as the originals, so isn't quite as thick in terms of tone, but it's still nice and thumpy.
It's also got a coil split option, so you can get single coil-style tones too, making it pretty versatile. Then there's the Gibson SG Standard Bass, which is probably closer in spec to an EB-3.
Wrapping Up
The Gibson EB-0, when it was released in 1959, provided the market with something completely different. It was Gibson's first solid-body bass guitar and gave players a different type of sound, especially when compared to something like a P-Bass. It's also worth noting that the Fender Jazz was released the year after, in 1960, which was even further away from the EB-0 in terms of tone.
The EB-0 isn't super bright, it doesn't sound particularly defined, but it is unique. It sounds huge and provides an incredibly thick low-end, plus the short scale makes it quite easy to play—particularly for those transitioning from guitar to bass. It's the perfect choice for bassists that need to fill a wide sonic space, and it gives one of the best driven bass sounds out there.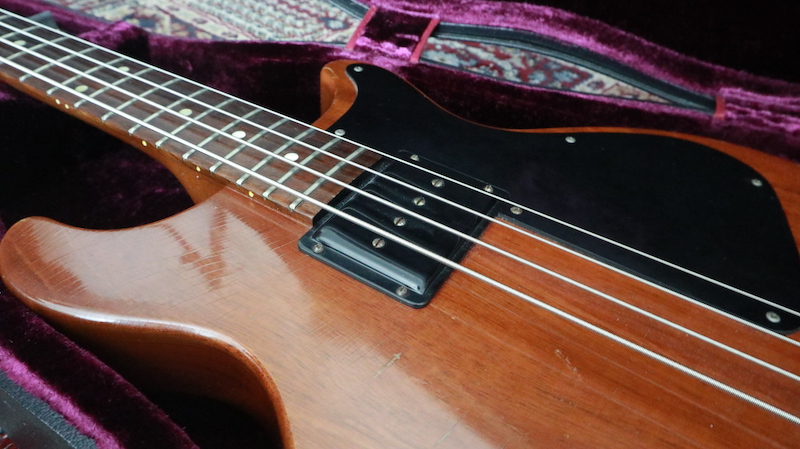 Those early '59-'61 models also capture that mysterious Burst-era magic. It's difficult to put your finger on, but out of the hundreds of basses I've played, a '59 EB-0 is absolutely the best bass guitar I've been fortunate enough to lay my hands on.