Editor's note: Reverb seller Boston Guitar has just listed a collection of guitars from David Leach, a retired record company executive who helped the careers of Bon Jovi, Def Leppard, and many other artists, many of whom gifted him guitars over the years. Boston Guitar owner Heath Berkowitz tells us about Leach's collection in his own words.
The record business sure isn't what it used to be. As streaming services have taken over, robbing songwriters of fair royalties, there is less incentive for talented musicians to bother even trying to deal with record companies. Radio no longer has the power it once did. MTV is no longer a vehicle for music promotion. These days you can almost do what a record company can do, from your phone.
But the '80s and '90s were a different story! In the record industry, these two decades are considered the peak of the golden era of music promotion. A time when record company executives could make or break major artists, many times in a matter of weeks. Veteran executives leveraged their industry relationships almost daily to get their artists in your ears and in your faces.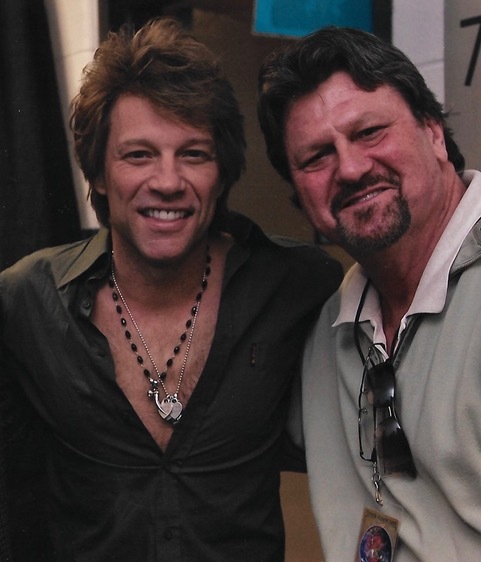 David Leach with Jon Bon Jovi.
One of these industry veterans is our good friend, David Leach.
David cut his teeth in the record business in the late '70s in the retail division of Polygram Records, eventually moving into promotion and rising to Polygram's general manager chair by the end of his 23-year stint with the label. As vice president of promotion, David played a key role in breaking numerous artists though the '80s, '90s, and into the '2000s. At Polygram and Mercury, David spearheaded campaigns for some of the biggest names in music: Bon Jovi, Def Leppard, Kiss, John Mellencamp, Shania Twain, The Scorpions, Robert Cray, and many more. Then, at Island Records, he worked with the legendary Willie Nelson, as well as Melissa Etheridge and Martin Page, to name a few.
Little did Leach know, during his storied years at Polygram's helm, that he would return to the Universal Music Group in 2006, working with Sting and then leading the promotion department for the re-launch of the Decca Label Group, one of Polygram's most respected brands that had been retired in the US before Leach's start in the music business.
David is highly respected in the record business by many artists and his peers. His work represents almost a billion records sold. Many in the business who worked under and alongside David in those golden years cite him as both a mentor and a friend. David's work and passion led him to strong lifelong friendships with many executives and artists. When the record business was at its strongest, David Leach was in the trenches making it all happen.
David has now retired and has returned to his home state of Massachusetts. Over the span of his storied career he has acquired an impressive collection of musical memorabilia including musical instruments, autographs, gold and platinum records, and various other awards and acknowledgments. David would like to see that the musical instruments in particular get into the hands of people who can enjoy them, appreciate their history, and hopefully even play them.
These instruments were given to David over the years by the artists and their management to thank him for his efforts and his part in their success. He does not play guitar, so these items are virtually unplayed.
Each item has a unique story from David. Click on any image to visit the individual listing and learn more about it. All items include a certificate of authenticity signed by both David and a representative of Boston Guitar.
Browse the full David Leach Collection at Boston Guitar.
---
1997 Hamer USA Rick Nielsen Korina Futura
Signed by Cheap Trick
---
---
1988 Kramer "RS" Richie Sambora Signature
Gifted From Richie Sambora
---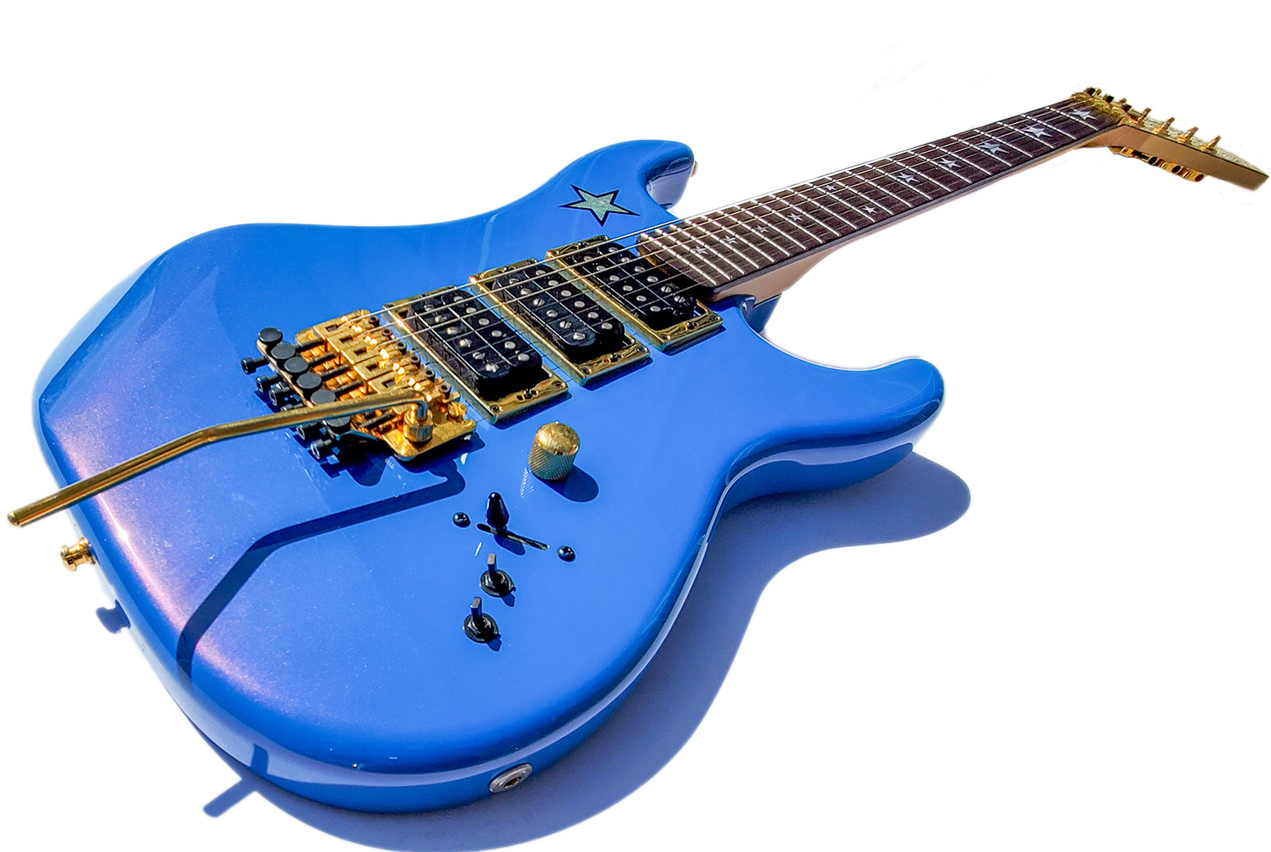 ---
Ibanez Iceman
Signed by Kiss
---
---
Ibanez AEB10BE-BK-14-01
Signed by Brian Wilson
---
---
Kramer ZX30H
Signed by Bon Jovi
---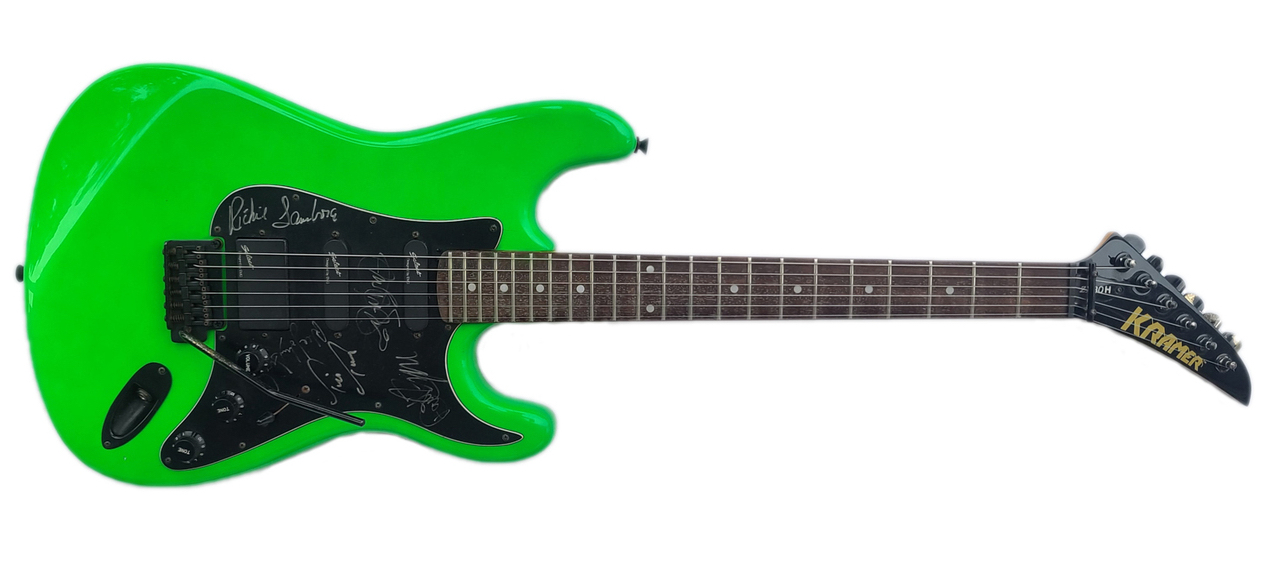 ---
1990 Gibson Rudolph Scheckner Flying V
Signed by The Scorpions
---
---
Fender Classical
Signed by Willie Nelson
---
---
Charvel Charlette
Autographed by Def Leppard
---
---
Unbranded Lute
Autographed by Sting
---