All photos by Cody Fletcher, courtesy of Southern Grooves.
In the middle of the 20th century, the wonderful mix of soul, country, blues, R&B, and rock 'n' roll that shot out of Memphis studios like Sun and Stax electrified the world.
Producer, engineer, and studio owner Matt Ross-Spang—who probably knows as much about this Memphis Sound as anyone still living can know—is giving it new life in the 21st century.
Though still only in his 30s, Matt (whose credits include Jason Isbell, Margo Price, St. Paul & The Broken Bones, and many more) is steeped in the musical language and recording know-how of his hometown.
Matt got his start at Sun, revived Sam Phillips Recording Service, took many a sojourn to regional peers like FAME in Muscle Shoals and RCA Studio A in Nashville, and has now opened a brand new studio in Memphis where he's bringing it all back home: Southern Grooves.
The rooms there and all the glorious gear they contain pull together decades of lessons, dreams, and purpose.
While it was launched at the height of the pandemic, the studio is throwing its official grand opening party on September 28.
Ahead of the event, we talked to Matt about how he built Southern Grooves, and got excited for all the great music that's sure to come out of it.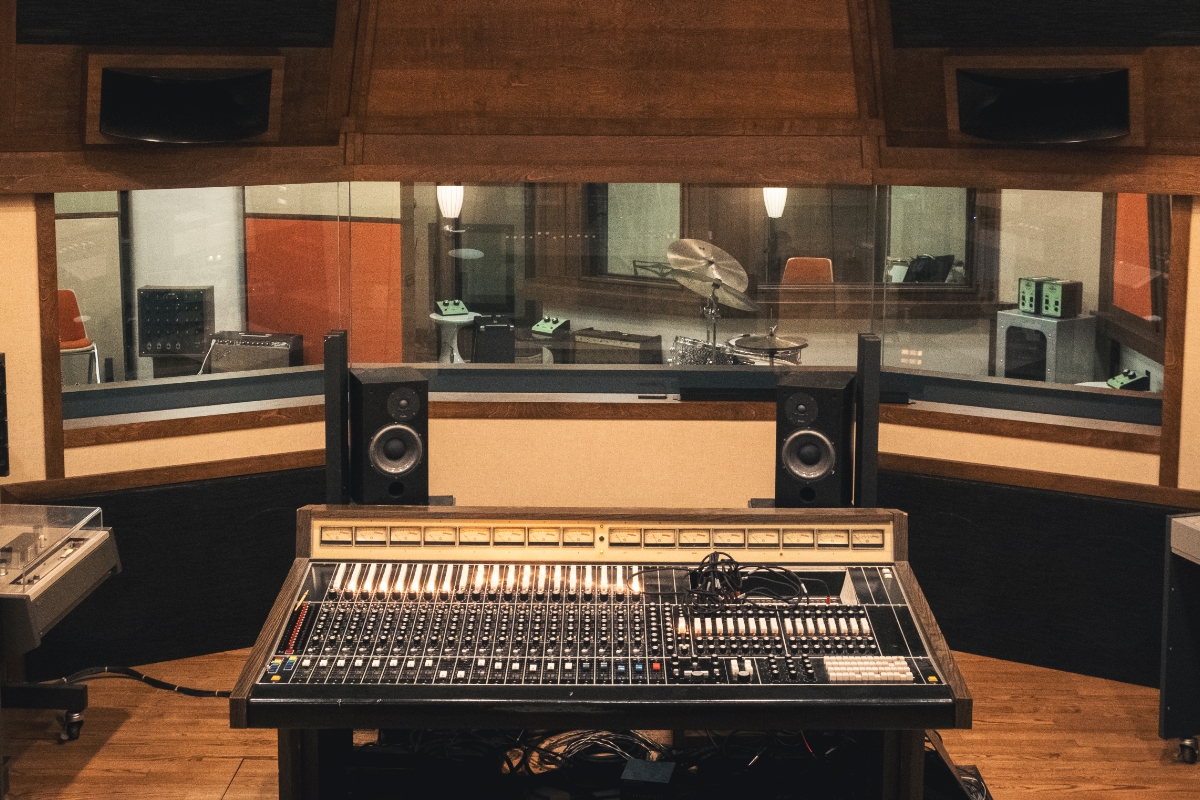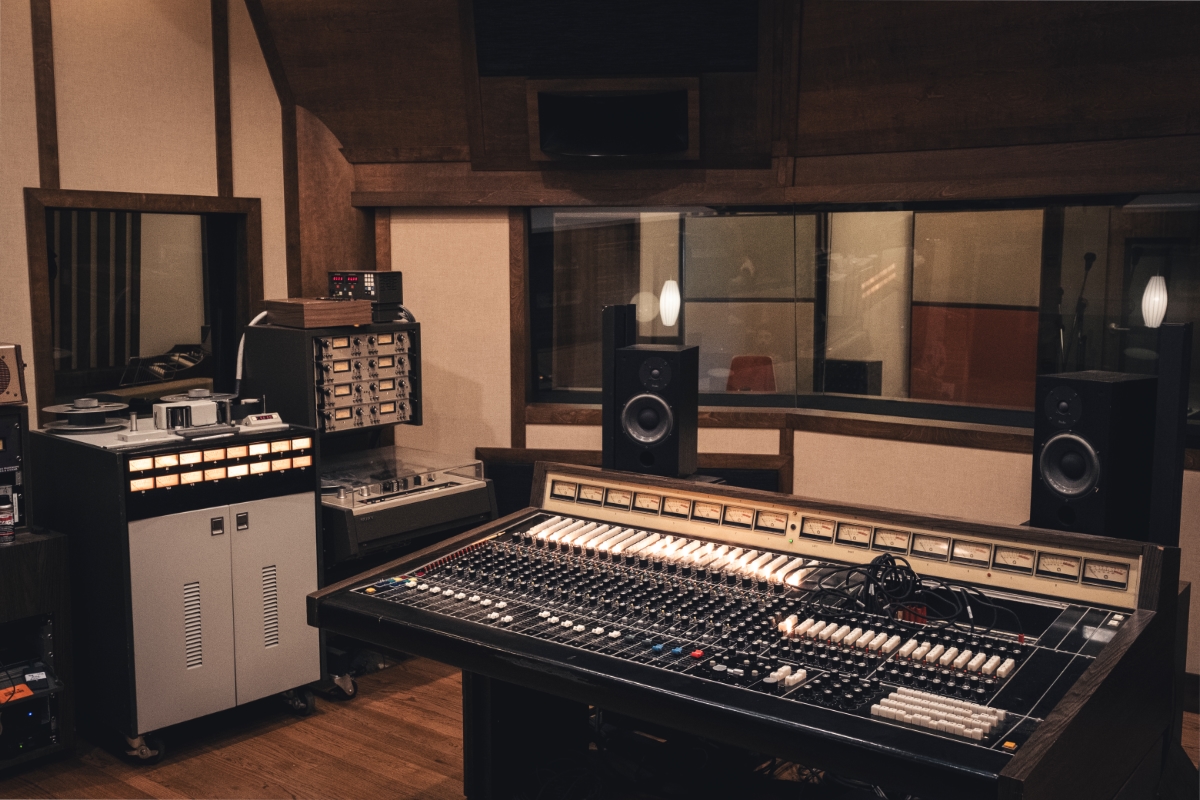 Southern Grooves' Spectra Sonics console and control room. All photos by Cody Fletcher, courtesy of Southern Grooves.
One of two consoles Matt owns, this Spectra Sonics desk is the heart of Southern Grooves' control room. (His other, the original board from Memphis' Ardent Studios, is currently getting rehabbed.)
"I was still at Sun Studio when I bought this, but there wasn't room for it at Sun, so I actually kept it in my house," Matt says, before later moving it into Sam Phillips' B Room once he relocated there.
Built in 1969 by Welton Jetton—the founder of Auditronics who custom-built the historic boards at Stax and Ardent studios from Spectra Sonics parts—it now has pride of place at Southern Grooves.
Matt is only the console's second owner. He purchased it from another studio owner by the name of Warren Parker, who had driven from Canada to Memphis in '69 to buy the board right from Jetton. "It's definitely one of my favorite pieces," Matt says.
But what makes the Spectra Sonics console special? Like all great gear, it elevates the music that goes into it and adheres to one of Matt's recording philosophies: that to get the best sound, less is more.
"This early Spectra Sonics stuff has some of the shortest signal paths in audio," Matt says. Meaning there's less stuff to contaminate the sound. Unlike a more modern console, which can have hundreds of components, this vintage Spectra Sonics has just a few, high-quality parts between its inputs and outputs. "It's built like a tank, there's not a whole lot in the path, and what you hear going into it is what you hear coming out of it," Matt says.
However, when you do push the gain, its early solid-state circuitry helps the sound come alive, adding its own pleasant saturation to the incoming signal. And to top it off, you can get aggressive with the channels' three-band EQs too.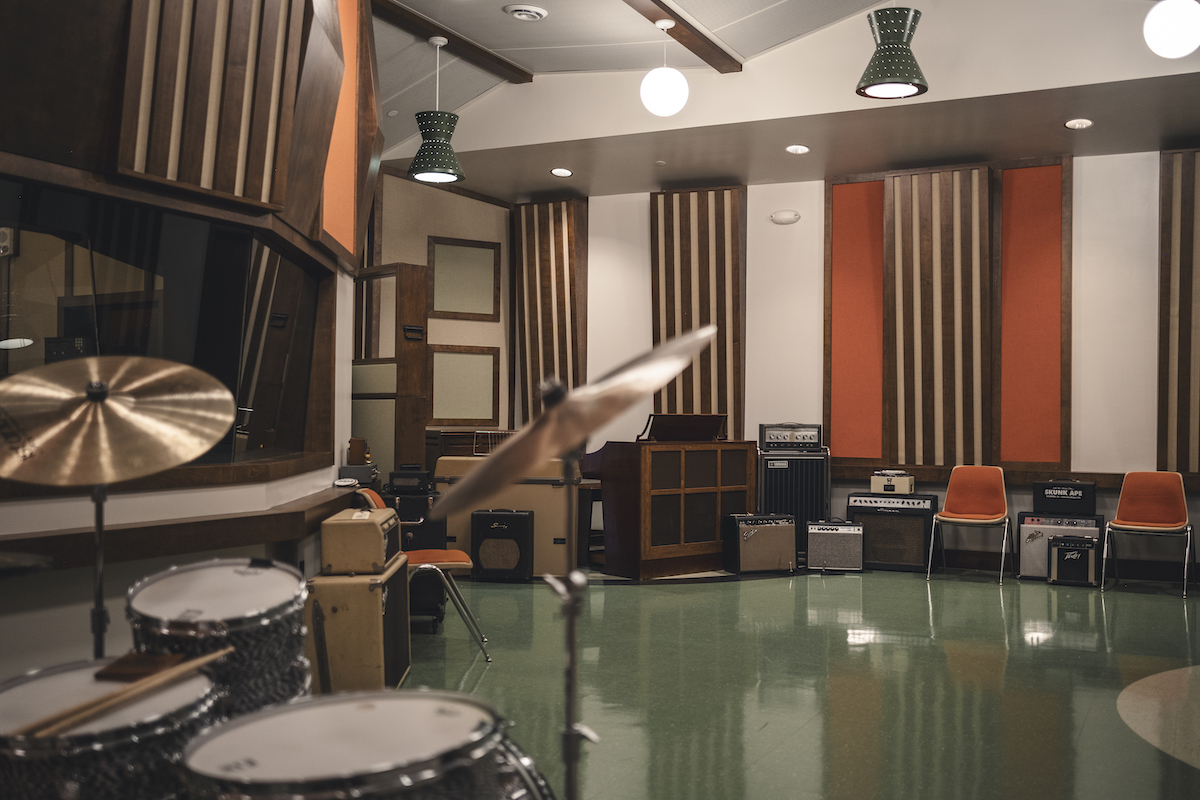 The main live room at Southern Grooves.
"I always want to hear, for the most part, music in a space," Matt says. "I love [for example] having the vocal mic picking up the drums or the piano, and the piano picking up the bass... All these things are what give recordings depth and life and make it sound like it was done somewhere, as opposed to just being done in a booth."
So at Southern Grooves, the space is paramount.
Having worked often in so many destination studios throughout his career, Matt knew what he wanted to get out of the building's rough floor plan, which, in a former life, had been a Sears distribution center, with cavernous expanses and three-foot-wide cylindrical columns holding up the building.
To create a first-rate studio within it—an isolated box within a box, angled walls and ceilings, the built-in sound treatment, a useful flow around those large columns—Matt had professional help from acousticians Steve Durr, Matt Schlachter, and Ken Capton.
The mid-century modern aesthetic that gives the space its flair was already a passion of Matt's. (The incredible dark green pendant lights were a yard-sale find he asked a friend to save for him for years, knowing they'd be fixtures in his dream studio someday.)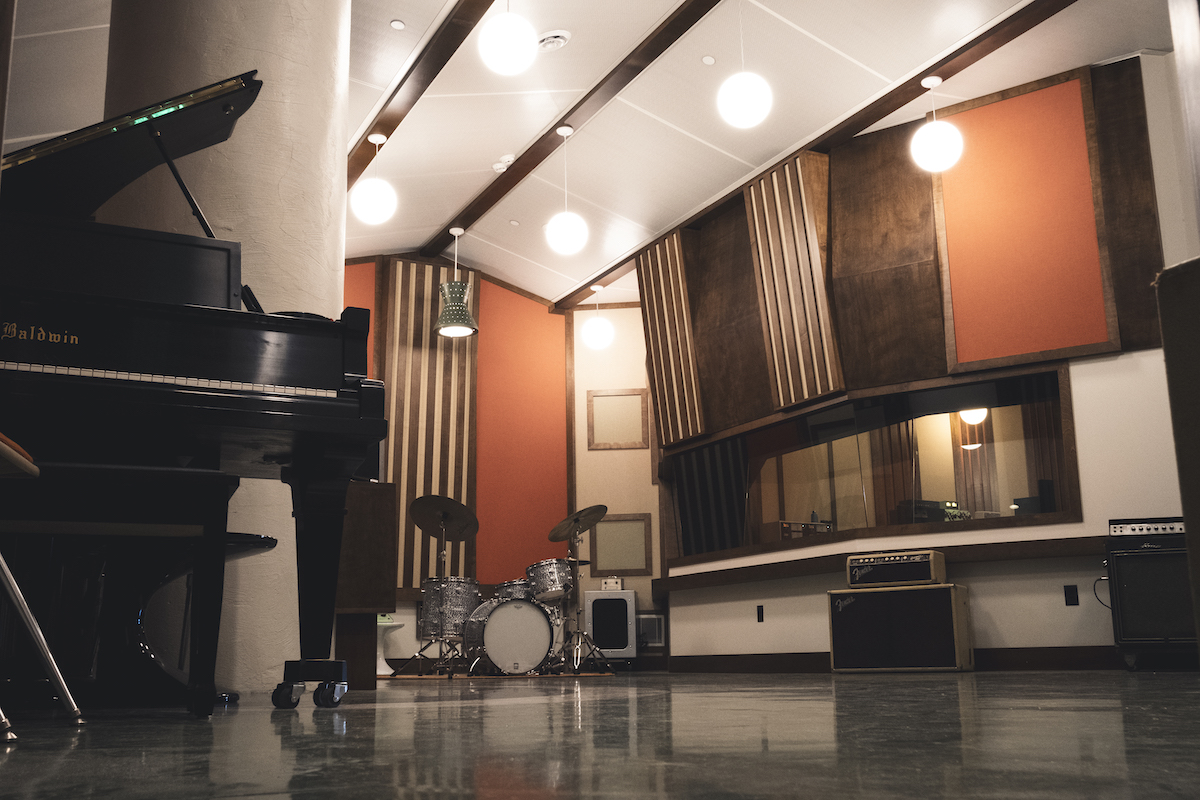 Another angle of the live room, with a large column visible. "At first I was kind of annoyed that I had to deal with these columns, but they really add an amazing acoustic quality to the room," Matt says. "A wonderful randomization."
But the decadent floor plan and colorful trappings aren't just for vibes. The way the space is set up allows for sightlines among large groups of musicians and enough separation that no one instrument will overpower another. It's all part of Matt's plan to capture the types of performances that make great songs.
"The rooms like Sun Studio or Motown or RCA, Muscle Shoals—all those rooms were acoustically designed to have everyone in the room together and to be able to hear each other without headphones," Matt says.
Constructing such spaces is almost "a lost art of studio-making," Matt says, which is why he made such an effort to construct his live room within that tradition.
Here, drums can be cordoned off, vocals can be isolated, and there's actually a unique, custom headphone system available—any decision that helps a song is still on the table—but the studio allows for a full band to feed off each other's frequencies, with or without these more modern conveniences.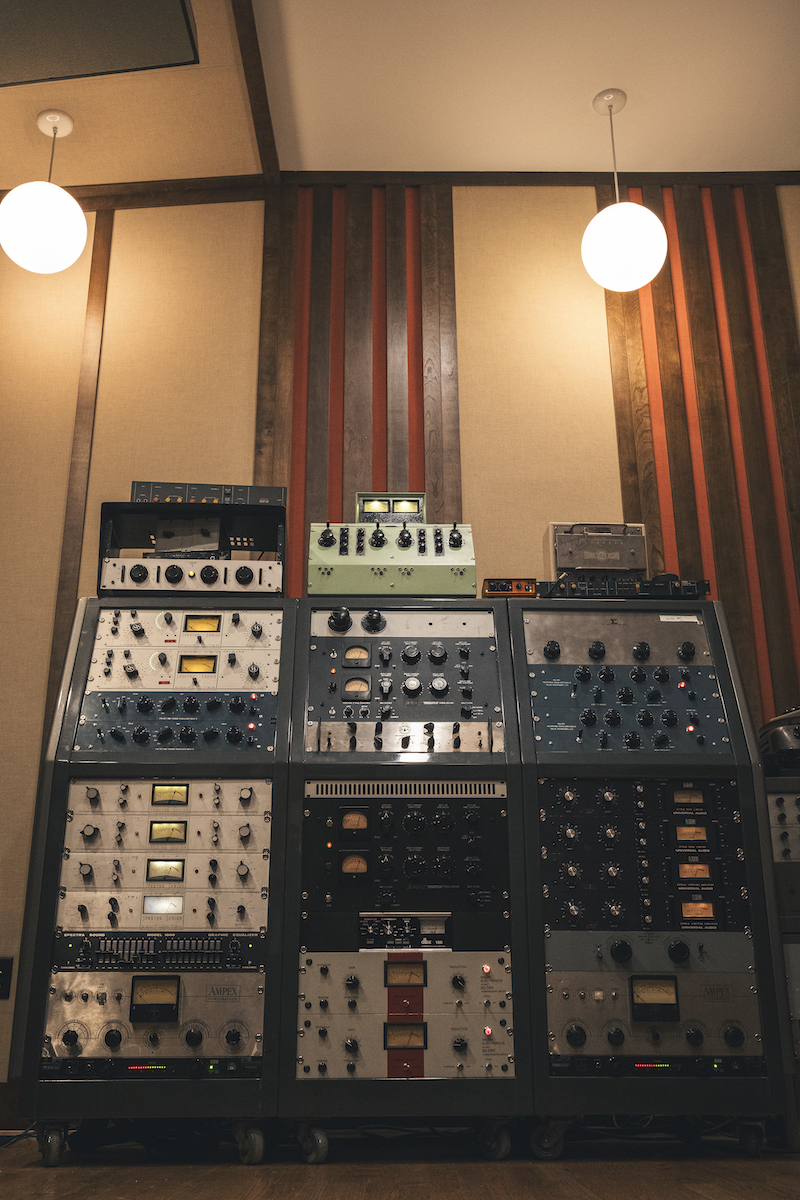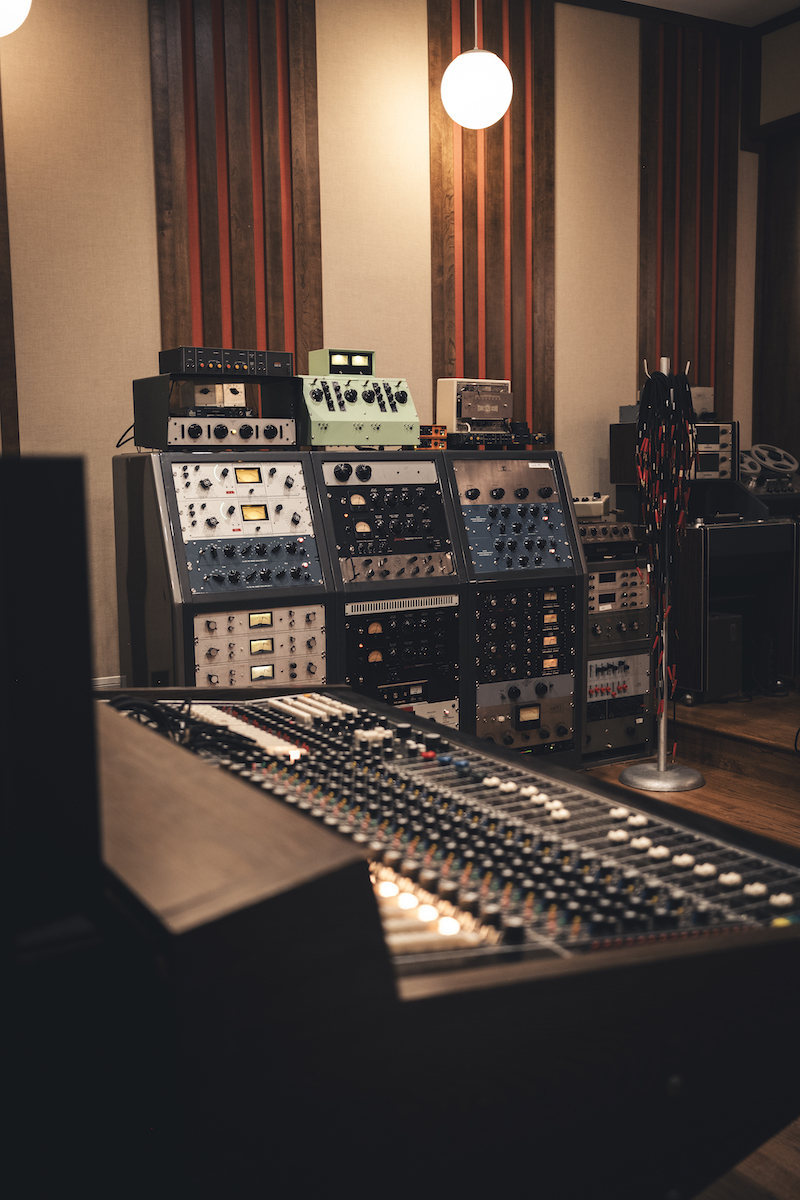 Two views of Southern Grooves' outboard gear.
In the pictures above, you can see a pistachio green piece of gear reminiscent of the famous green Universal Audio 610 tube console first built for Wally Heider, and later owned and used by Neil Young (to record Harvest and more). The similarity is no coincidence—"that's the green I was inspired by," Matt says.
Greg Pace, "a great tech and man" who runs Funk Werkes, built the sidecar and summing mixer for Matt around four UA 100D preamp channels, "kind of like the fathers of the 610 modules." Two of Matt's 100Ds came from Sam Phillips, and the other two came from FAME.
(Greg's other builds for the studio—the custom cue mix system and DIs—are all the same color. "All his art in my studio, in a way, you can tell from the pistachio green," Matt says.)
At Southern Grooves and travel sessions, Matt winds up using that tube-powered sidecar again and again, for all kinds of purposes, whether as input channels while tracking or as a mix bus. "I take it around to pretty much every session, wherever I go," he says.
While that's a mainstay, there's a lot of other outboard gear to play with, including (but certainly not limited to):
A Fostex 3180 spring reverb: "Honestly, one of the greatest spring reverbs ever made, and you can get them on Reverb for only a couple hundred bucks."
Four channels of Flickinger mic pres that came from a console in Nashville.
Two Spectra Sonics V610s, "a newer version they have of their 610 comp-limiter that they kind of made for mastering."
Four Pultec-style reissue EQs from Pulse.
Four original 610 compressors from Spectra-Sonics. "A lot of people, because of the way they are laid out and look, they treat them like an 1176 and they go, Man, this thing just distorts like crazy. But if you know how to use them, they can be super transparent … or you can abuse them in a great way."
An Ampex 351 tube pre, which he got out of a trashed tape machine. "Those are the real-life [Soundtoys] Decapitators."
One Langevin hi-lo filter, which came from Muscle Shoals Sound. "You can see pictures of the Rolling Stones cutting 'Wild Horses' [at Muscle Shoals] and that very unit is just past [engineer] Jimmy Johnson's head, and he never filled out the right side. It's just one hi-lo in there."
POM Audio-modded Fairchilds, which have original Fairchild transformers inside but get rid of all the tubes not in the original audio path.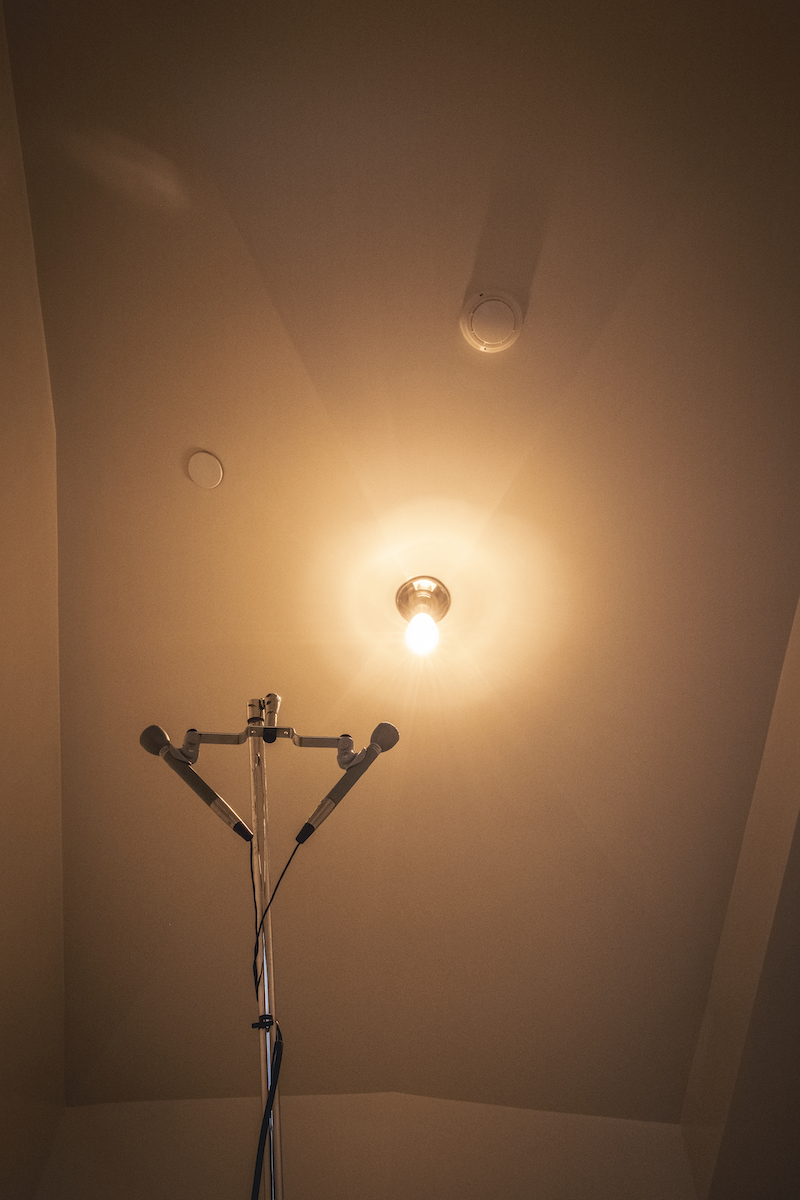 The outside (l) and inside (r) of Southern Grooves' echo chamber.
To most people, echo chambers may not seem like much to look at. But if you have an appreciation for how they shaped the sound of classic pop music (before outboard reverbs, then plugins, and even rising real estate costs made them a thing of the past), you'll know just how exciting a relatively empty room with perfectly reflective surfaces can be.
Having used, extensively, the chambers found in places like Sam Phillips, FAME, Ardent, and Nashville's Sound Emporium, Matt had Durr custom-design his own echo chamber at Southern Grooves.
"You know you have a good chamber when you open the door you hear a [mimics an echoey sound] puk-kah… puk-kah just from opening the door." Even after they landed on the shape and the super-sanded level 5 finish to the walls, the chamber wasn't quite right. They added a couple coats of enamel paint and thought, "Oh man, we've got a chamber now."
---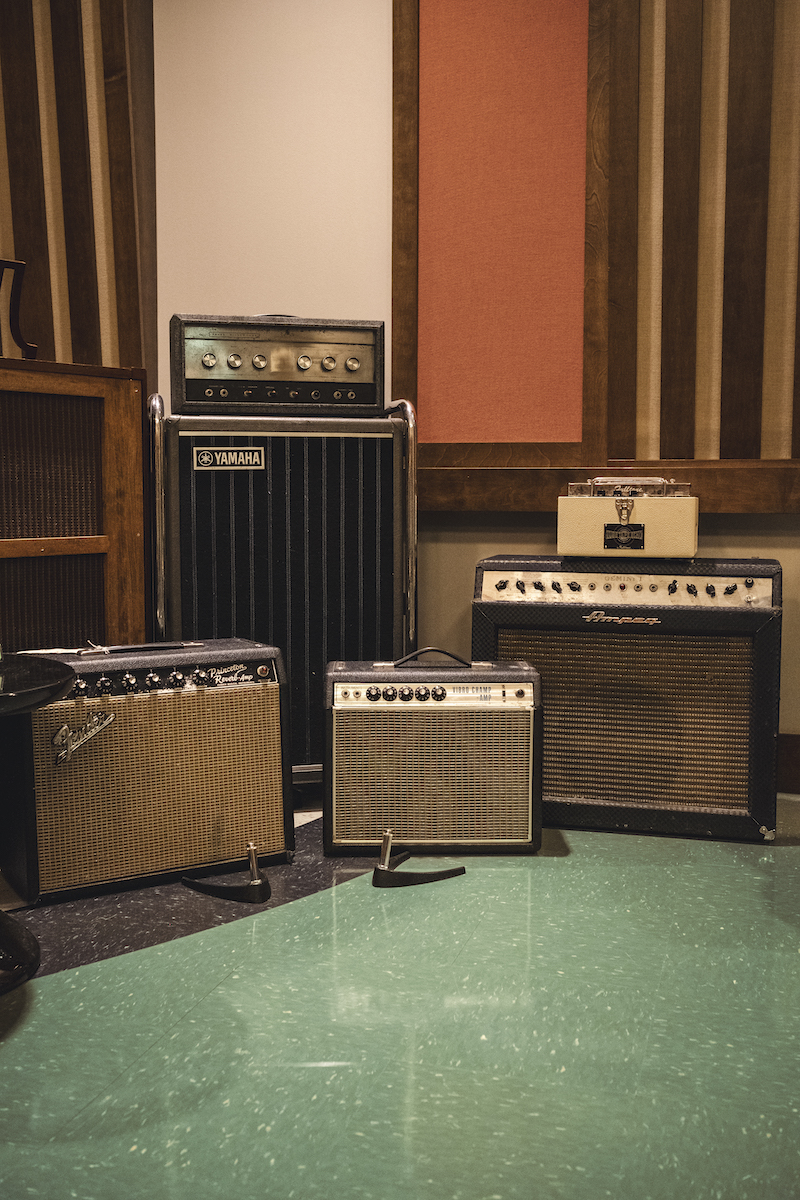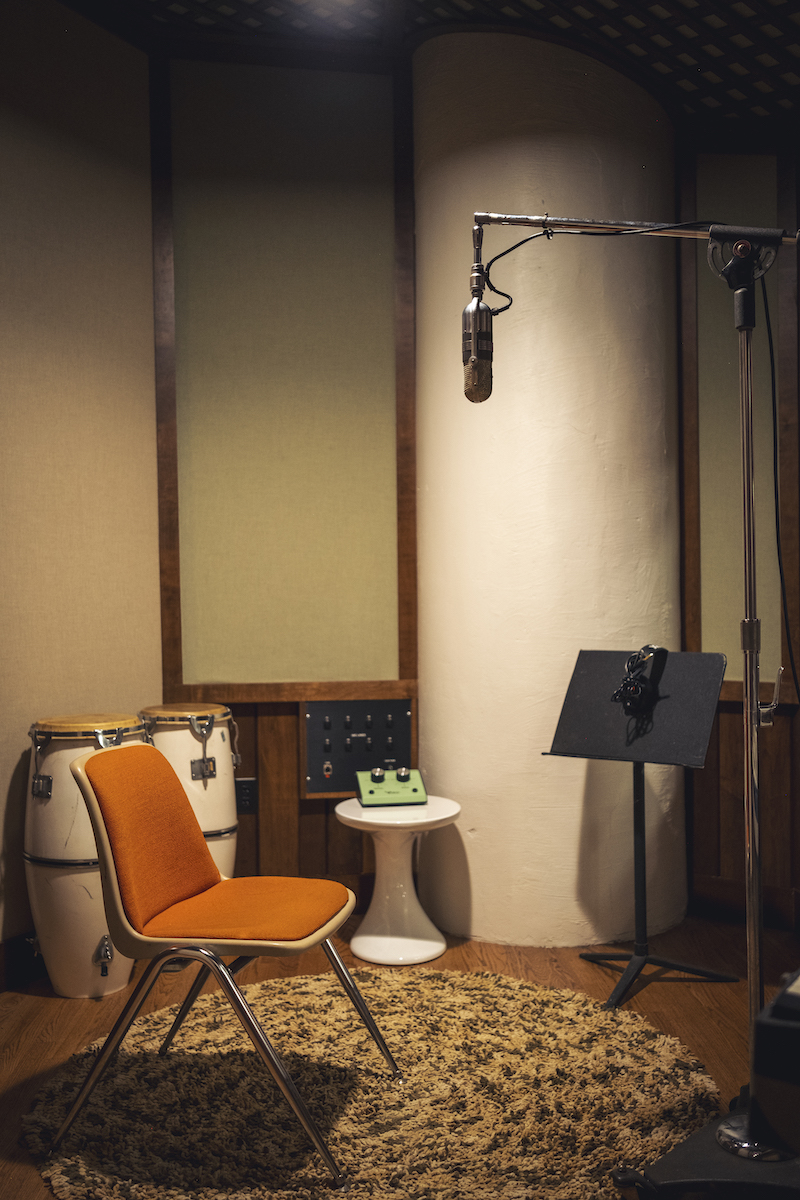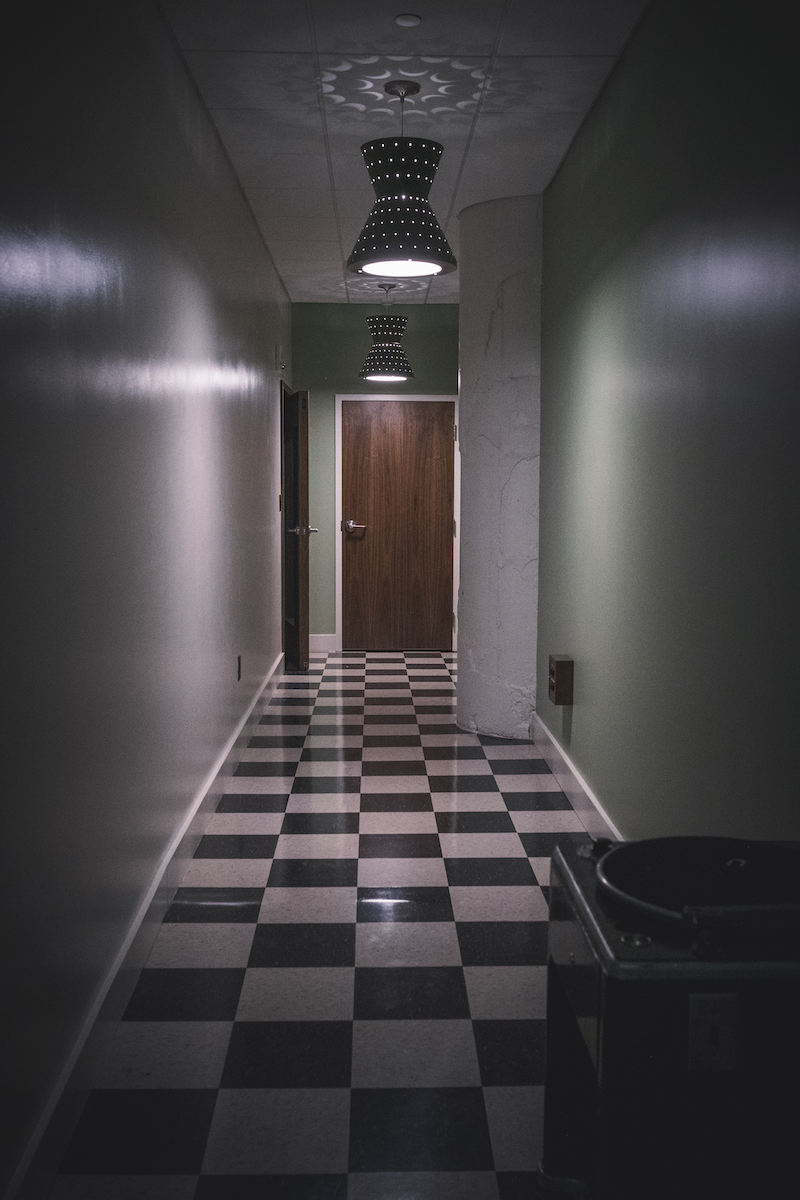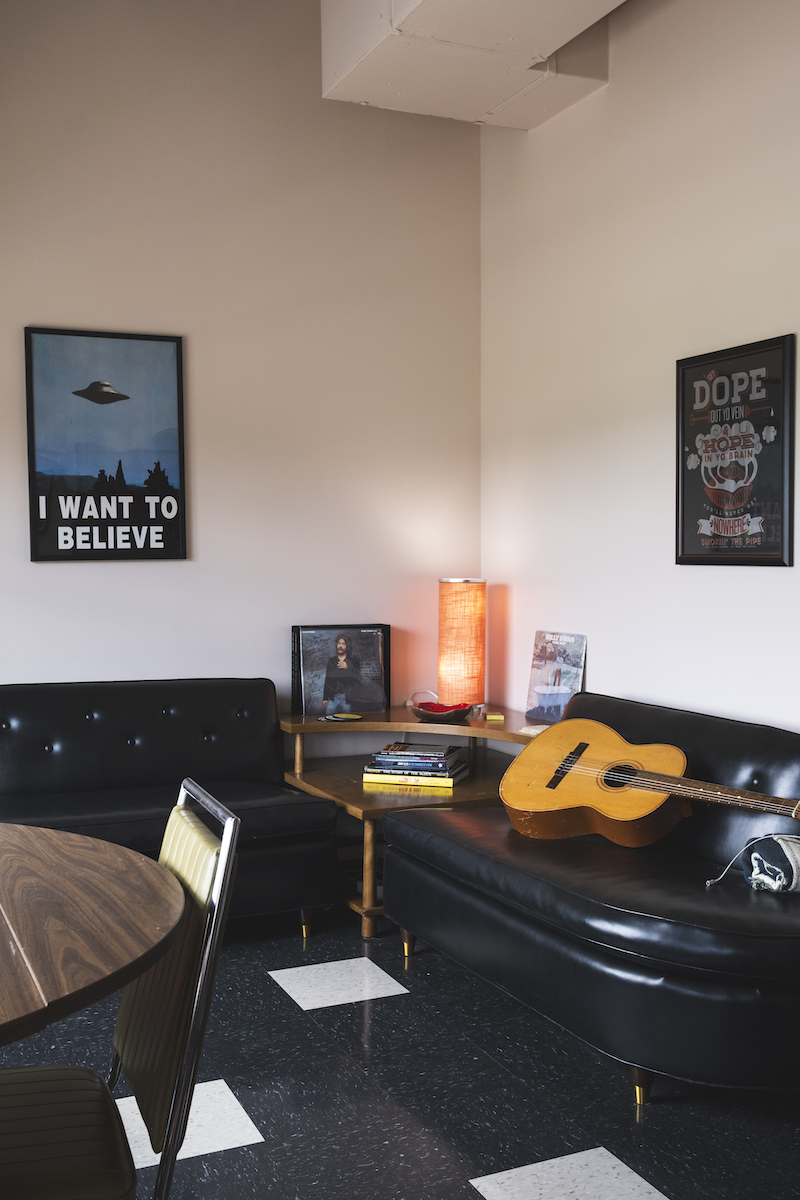 ---
With such a solid foundation, Southern Grooves is primed to make plenty of historic music of its own. Scroll through the gallery above to see more views of the studio.