Owners of Reason 11 and subscribers to Reason+ already know the news, but for everyone else, maybe some explanation is in order.
Reason 12—the long-awaited and long-teased update to Reason Studios' plugin and DAW—is here, with the brand-new Mimic Creative Sampler, high-res graphics, and a re-tooled Combinator that offers easier-than-ever patching or VST combinations.
Reverb users can test out all these new features and more right now: Download a 90-day free trial of Reason+ for free, whether you prefer to use it as a plugin or a DAW. Just follow that link and use the promo code: reverb-reasonplus-90.
Now, the uninitiated may ask, "Reason's a plugin and a DAW?" Yes, that's right. With the updated and expanded Reason 12, users can continue to use it as a DAW, but it can also be used as a plugin within other major DAWs like Logic, Ableton Live, or Pro Tools if that's your preference.
---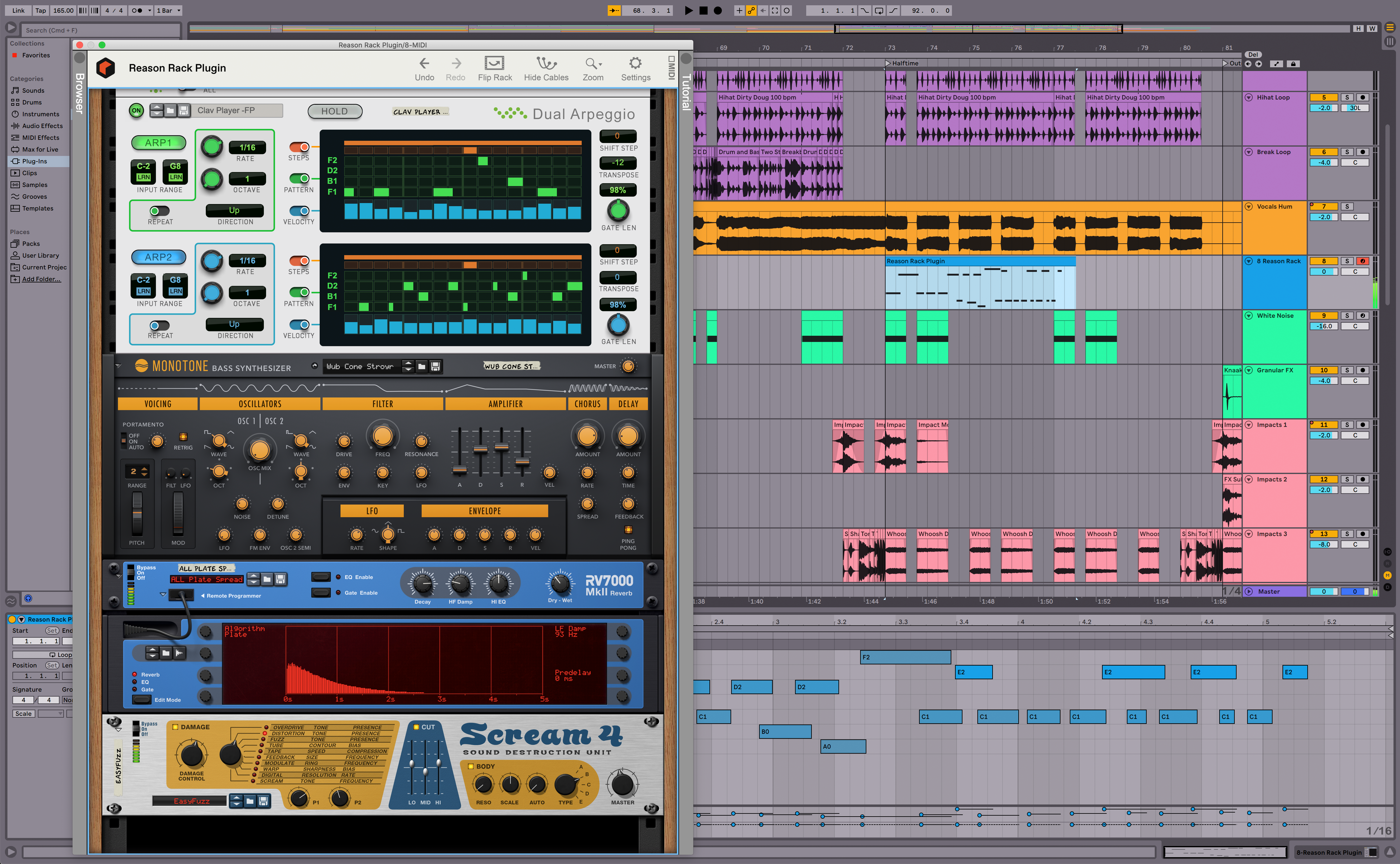 Use the code
reverb-reasonplus-90
to get 90 days free of Reason+.
---
This change first began with Reason 11 in 2019, which first allowed users to open up Reason Rack and create their own Reason patches within other DAWs, though its implementation to all formats (like Logic's AU or Pro Tools' AAX) took some extra months. Reason 12 works with every major DAW right out of the gate.
Reason+—the company's subscription service—offers the same up-to-date version of Reason 12 in the form of the standalone DAW or Reason Rack Plugin for VST/AU/AAX, and comes with new sound packs delivered every week. Reason+ also offers 19 more instruments, effects and Players than Reason 12 (13 instruments, 2 effects, 4 players). Reason 12, like other full versions before it, is still available for a one-time fee of $399. (Existing owners can upgrade from any previous Reason version for the price of $129.)
Reverb users can get a 90-day trial of Reason+ right now, for free, which usually costs $19.99 per month. Just follow this link to download the new-and-improved Reason+ now and use the promo code: reverb-reasonplus-90.
Reason 12's New Features
Reason Studios' intro video for Reason 12
The brightest new feature of Reason 12 will be its high-res graphics, which will now look crisp on everything from large, 4K monitors to a laptop screen. The program scales automatically to fit any width, height, or resolution. But maybe more importantly, you can zoom into any window to see every patch point, knob, or slider in exacting detail.
But the biggest feature is probably the Mimic Creative Sampler, which takes pieces of previously available tools like Grain and ReCycle and reimagines them in a complex yet intuitive sampler. For beatmakers, producers, and sound designers, the Mimic is set to be an incredible instrument.
After dragging in an audio file to start, you have four different modes to choose from: Pitch, Slice, Multi Slot, and Multi Pitch. Each allows you to create playable instruments or drum kits out of sampled audio, within your preferred workflow. Whether you want to automatically detect transients or slice on your own starts and stops, the user interface is easy to navigate.
Getting Started with Mimic Creative Sampler in Reason+
From there, the real fun begins: with five advanced time-stretching methods, pitch-shifting options, filter, envelope, and effects.
Another updated device is the Reason Combinator. This is a long-standing tool within Reason that allows you to combine instruments, effects, and modular devices—and recall them quickly, with all patches and settings intact. With Reason 12, the Combinator gets an Editor tool that allows you to create your own custom front panels with knobs, buttons, faders, and graphics of your choice, so that you have greater control over your most important parameters. You also now have the ability to have multiple Combinators accessed within Combinators, making even more advanced and complex self-built instruments possible.
Lastly, Reason 12's new update includes an improved browser, which, while not as flashy as other upgrades, does allow for quicker recalls of settings, presets, samples, folders, and more, so that your production workflow can get even faster.
All of these features and additional devices are available in Reason+. Interested in trying it out? Get your 90-day free trial of Reason+ for free right now. Just follow that link and use the promo code: reverb-reasonplus-90.
"This article is part of a paid partnership with Reason Studios. From time to time, Reverb partners with trusted brands and manufacturers to highlight some of our favorite products we think our community will love."