Back in February 2020, Lisa Machac launched Omni Sound Project in Austin, Texas, with the intention of creating a local organization. The Women's Audio Mission alum had already wrangled instructors and set up events in Austin recording studios, with a plan to teach essential audio skills to female and gender non-conforming musicians, engineers, and producers.
Soon, the global pandemic put a stop to in-real-life instruction. But rather than end its programming, Omni Sound Project opened its now-virtual doors even wider, and in just one year's time, it's grown into a burgeoning global community of audio professionals, students, and enthusiasts all learning and working together.
Looking back at that start, Machac says, "One of our main focuses is providing safe, encouraging spaces for marginalized genders, so that was very much an in-person focus, to have these spaces where you could go and be in a professional studio. I remember being asked by people if I was ever going to offer the classes online and I was like, 'No, I really want to protect the intimacy of the situation,' and, then…"
Before the pandemic, there was only time for about four of the 25-or-so planned events to take place. But soon Machac shifted course. Instead of meeting with small groups of Austinites face-to-face, Omni's instructors brought their expertise to online courses and workshops. Machac put out further calls on social media, inviting all kinds of audio professionals to pitch a class and teach Omni's network.
"Musicians, producers, engineers, sound designers: develop an online class and I will host it for you. You have skills and there are women in the world who want to learn them," Machac's Instagram post read on March 13, 2020.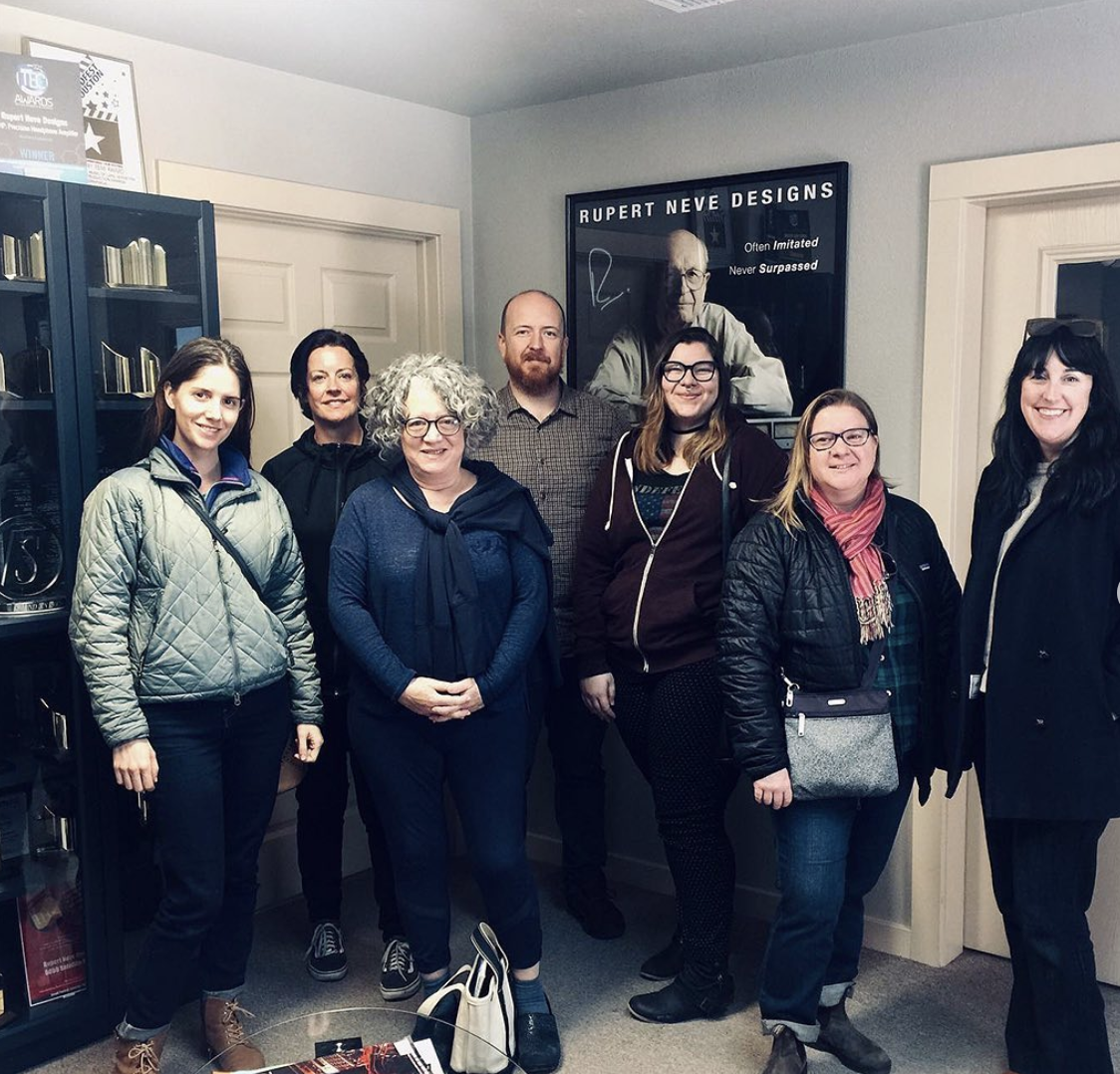 A photo from February 2020, at one of Omni's first (and only) IRL events.
The idea took off, and soon Omni had online events with folks like mastering engineer Piper Payne, Tape Op's Larry Crane, and artist I Am Snow Angel (aka, Julie Kathryn), in addition to its own deep roster of teachers. (Omni's 2021 core faculty—with expertise ranging from mix engineering to video game sound design—includes Cinnamon Denise, Annlie Huang, Kia Shavon, and Lindsey Kappa.)
"Slowly, we started getting attention nationally and internationally and all of a sudden it was like, 'Oh, well, now we can never do this in-person again,'" Machac laughs. "So now our challenge is: How do you create that space online?"
Part of the way Omni achieves this is through participatory events like its Four-Track Challenges, where Omni members have a few days to complete a prompt (like scoring a moment of a film) and then the opportunity to share and hear others' work.
"We give them all these ideas and parameters, and the participants make, like, a one-minute-long song," she says, "and then they bring their creations to something we call 'Hear and Tell' … where everybody gets to share what they created, what their thought process was. And it's not a competition—there's no prizes, there's no winner, there's no adjudication of any kind—it's like, let's just check out what each other did and ask questions and learn."
Another way Omni maintains an inviting atmosphere is through its wide range of educational programming. The different types of classes and workshops are meant to appeal to all kinds of music-makers. There are workshops for beginners, workshops and intensives for people with a little more experience, one-on-one private lessons from highly skilled mentors (like Foley sound lessons with Susan Fitz-Simon), and hour-long intro classes for any and everybody on topics like recording with microphones or using plugins.
"For the beginner classes, we still target the super-beginner. We want anybody to come to that: your cousin, your mom, anybody who has never even heard of audio engineering can come to one of those classes and know what's going on," Machac says.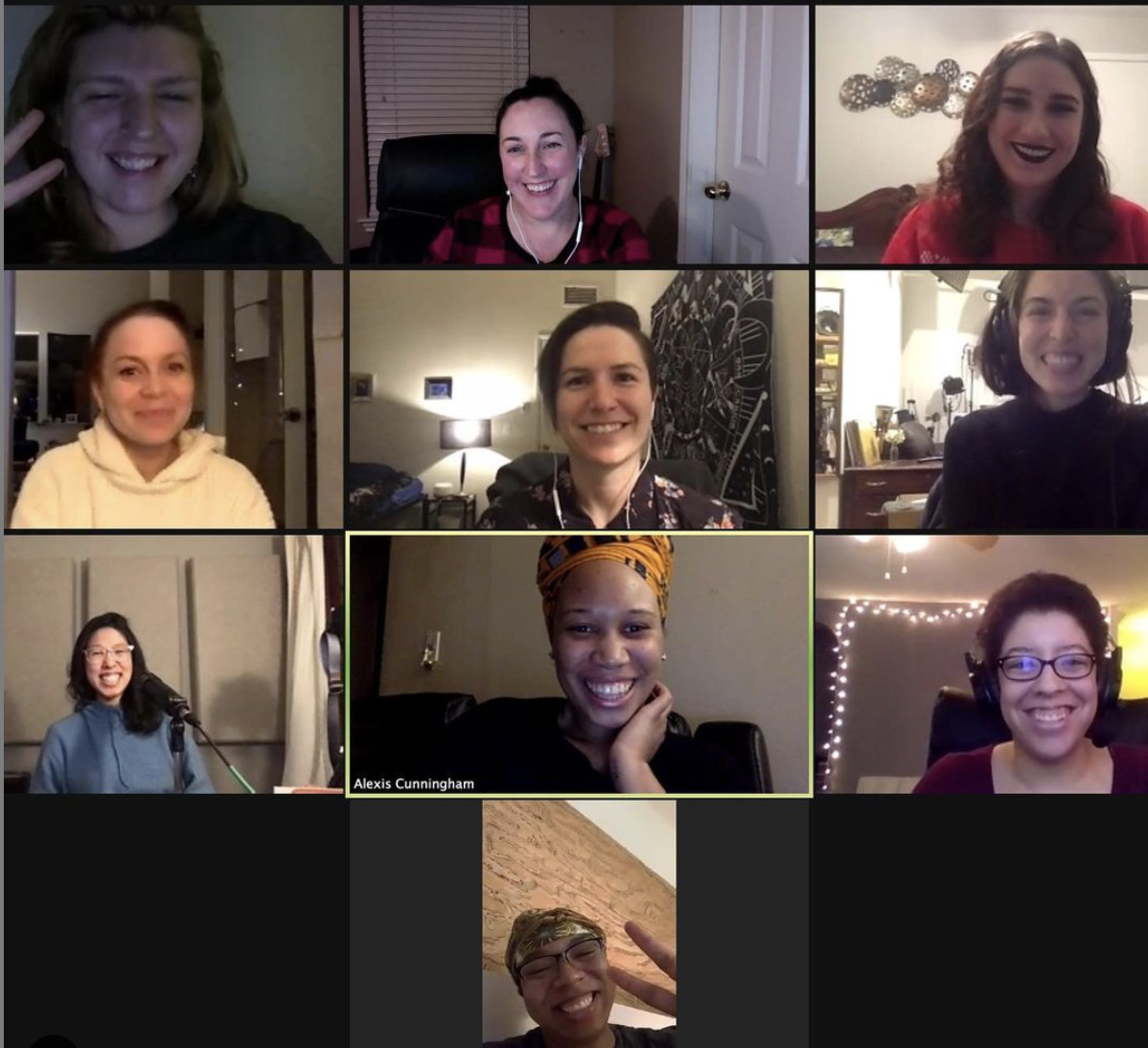 A screenshot of Omni's teachers on Zoom.
While there are certainly benefits to IRL instruction, especially when covering hands-on recording techniques, Machac says there have been specific benefits to virtual classes too. "With mixing and editing, working in a DAW, it's actually advantageous to be on Zoom, because you can see everything happening in real-time, close up," she says.
In addition to teacher-led classes, Omni hosts interviews with women in audio every week on Instagram for its Wednesday Night Chats, where a special guest with a particular expertise shares their knowledge. Recent chats have featured Grammy-winning engineer Denise Barbarita and Spitfire Audio's Miriam Wiener.
"I do that as an exercise against the statistic of 'there's only 5% of people in audio are women,' but that's not totally true: It's only 5% of the people that are getting hired for the big jobs," she says. "So I really wanted to make sure that we were breaking that myth by showcasing how many people are actually out there working."
The guiding philosophy of Omni Sound Project is right there in the name. "Omni," the same root word behind an omnidirectional microphone, means "of all things," and Machac efforts through every event to create an encouraging and inclusive environment.
Seeing herself as more of an events planner than an activist, Omni's mission is not necessarily one of direct advocacy, but one of opening doors and keeping them unlocked. "I see our role as literally just the confidence boost to even know that you belong in the room, so that you can fight for yourself or advocate for yourself or know that you're supposed to be there. That kind of goes for anybody, not just marginalized genders."
For anyone looking to get involved, there are many ways to participate. Women, gender non-conforming, and trans people can become members for free at omnisoundproject.com, where they can then join the group's Discord server, sign up for the weekly email newsletter, and get notified of all the upcoming classes, events, and other opportunities. Musicians, sound designers, and engineers of any gender can stay connected with Omni's network on Instagram.