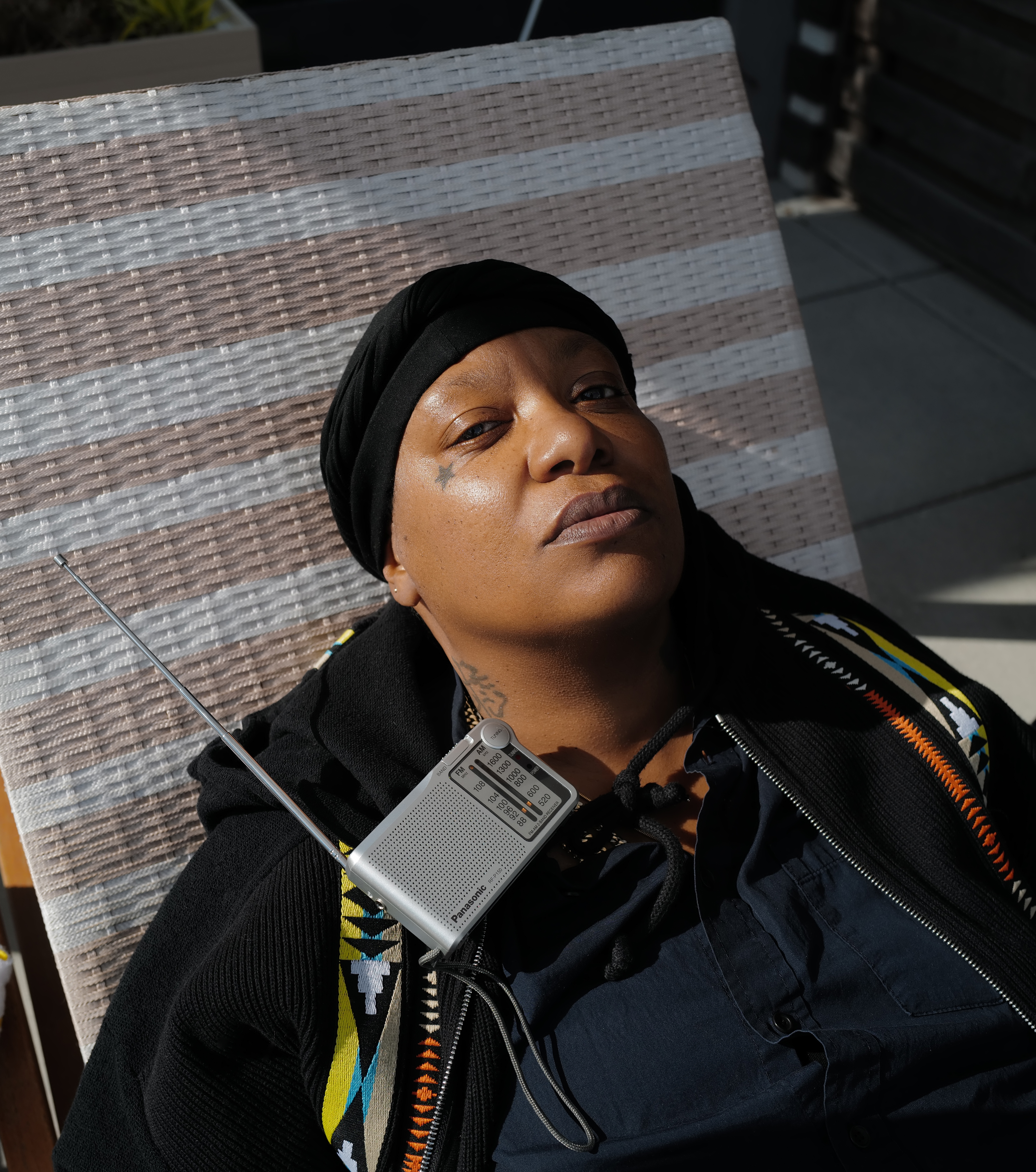 Meshell Ndegeocello.
Photo by Charlie Gross.
Meshell Ndegeocello logs onto Zoom at the top of the hour with her camera turned off. Where a talking head might have appeared is her display name typed out in all caps: "JUST A SOUL ON A PLANET". Having spent the week prior revisiting her peerless discography to prepare for our talk, I could have seen this coming and wouldn't have had it any other way.
After all, the genre-fluid singer-songwriter and bassist has often referred to her process as that rare moment where she feels "raceless and genderless". It checks out that the artist who prefers disappearing into the music would approach the means of describing it on the same terms.
After sharpening her skills in various go-go bands in Washington D.C. in the late 1980s, Ndegeocello relocated to NYC and eventually emerged as a solo artist with her debut album Plantation Lullabies. Released thirty years ago this fall, the album was among the first released on the Madonna-owned Maverick label and led her to be credited by critics as one of the forebears of the neo-soul movement to follow.
As her three-decade discography has deepened and diversified, her command over harmony and highlighting the human experience has consistently gone against the grain of sonic stereotypes (no minor matter for a Black bisexual woman). She's earned a rightful reputation as a "musician's musician" ever since: simply drop her name in a room full of prolific young players, and more often than not the response will be one of deep reverence and respect.
This summer, Ndegeocello released her first album in five years, The Omnichord Real Book, which marks her first release on the epoch-making jazz institution Blue Note Records. Clocking in at over an hour and featuring a star-studded cast of improvisers, the immersive double LP is partly named after the series of jazz standard lead sheets that her late saxophonist father introduced her to as a budding bass player. At once a direct reflection on the passing of her parents and a celebration of collaboration and collective interplay, it instantly plays out like a convergence of her past selves while marking the arrival of a new chapter of her storied, singular songcraft.
Despite our faceless exchange, Ndegeocello's responses to my questions were no less generous or open-hearted. Production process of the new album apart, we covered a lot of retrospective ground over the course of our conversation: making music without being stilted by screens, the progression of a queer sonic practice on the periphery of the mainstream, the dodging of dogmas that come with major-label marketing, and developing a signature bass for Reverend.
The Omnichord Real Book is out now on Blue Note Records.
---
Meshell Ndegeocello and her band perform "Clear Water" from her 2023 album The Omnichord Real Book.
---
I want to start by breaking down the title of this beautiful behemoth of a new record. The Omnichord, of course, is the electronic instrument that was first manufactured by Suzuki in the 1980s. It was initially designed as a sort of synthesized autoharp with an internal drum machine and a chord generator, but in your hands, it granted you with a new means to compose without having to stare at a screen. Tell me about how this instrument landed in your lap and how it brings new life into your writing process.
It was a gift from my guitarist, Chris Bruce, who's like my brother. For scoring projects, we would work in a studio that had one. When we all felt disconnected, I would leave the control room and just play the Omnichord—it was like my friend. That was in 2018, and the next year, he gave me one for my birthday. I kind of let it sit and collect dust, but then, COVID happened. During lockdown, I ended up staying upstate and a lot of scoring work came my way, an immense amount of work. I had about three or four shows going on at once and I would spend six to eight hours on a screen working. I love music—I could sit around and play guitar or bass all the time—but by the end of the day, I just yearned for something different. So I picked the Omnichord up and just started experimenting. It allowed me to have this drum machine sort of like the Rhythm King on those Sly Stone records.
Also, it was so rudimentary—it really made me think about melodies or the way harmonies moved back and forth in a much simpler way. It also gave my eyes a rest: because of the work I do, I've lost about 5% of my vision, so I just enjoyed not having to look at anything and reengaging my ears.
You make it sound like a reset button.
A reset for my mind. It was the foundation. Music is kinesthetic. People forget that.
That leads us to the other half of the title: The Real Book refers to the collection of jazz standard lead sheets that have been published in various editions since the 1970s. Despite being subject to controversy for violating copyright and excluding female composers, its reputation amongst jazz musicians is still obviously ubiquitous. Going through your late father's things after his passing, you stumbled upon the first copy he gave you when you were starting to take the bass seriously. How did that rediscovery compare to your initial encounter?
It was more of a sentimental memory-induced time machine, to be honest. Just by sitting there and holding it, I flew back in time to living in D.C. I think the gig was at the Andrews Air Force Base. After playing that gig with my father, his bass player didn't show up, and he was sort of in a panic. And he was like, "I really need you." He had a few pages dogeared, and showed me that I just have to stick with the changes.
That's when I realized that any other tone is something that can be a unifier. The book can give five musicians who probably didn't have a lot of time to rehearse some connective tissues and things to be creative with. It gives you the melody and the harmony, sometimes the tempo—that information is enough for a good combo to make music out of. It was a great map.
Do you remember the first bass that you learned on?
Of course, it was a Mustang. My brother plays the guitar, and he was in a lot of bands in DC, like cover bands and go-go bands. And his friend left his bass over, and it was just life changing for me, the scale of it…
We love short scales.
Yeah, it keeps you solid, keeps your sound fat—sometimes the intonation is weird, but it's great otherwise. After that, I bought Fender Jazz, a black and white Fender Jazz that I called "Dick Tracy" that got stolen. That was a changing point for me where I no longer had an attachment to just one instrument—easy come, easy go.
The name you gave that bass instantly makes me think of the movie with Madonna. It almost feels like a premonition.
Oh, wow…
(laughs)
Exactly. You are the first person to put that together, Nick.
---
A closer look at the making of Meshell Ndegeocello's 2023 album The Omnichord Real Book.
---
The Omnichord Real Book marks a debut release on Blue Note, a label that you dreamt about being signed to as a child. I know that quite a few of your collaborators on this album have released work on that label before—Ambrose Akinmusire and Jason Moran among them—but I want to hear more about your relationship to those particular records from the classic catalog as a young listener. Is there anything within those recordings that you tried to channel on this new one?
Great question… I'll have to think about the channeling. (pauses) My father was somewhat of a jazz gestapo. He did not like modern music and he struggled with that. I grew up with records by Illinois Jacquet, Stanley Turrentine, Clifford Brown… he had a couple of Cecil Taylor records too, but he didn't like them…
Naturally.
Yeah. But did I channel anything? In terms of the label, I don't really think that way. It's not a reflection of who was on the label or its past for me personally. For me it was where Robert Glasper got to be himself, for example—I was a big fan of the records of his that were instrumental. I knew it was a place where I could go and have a creative dialogue with (label president) Don Was. I'm on a label run by a musician and that is a saving grace. I cannot stress that enough. That is a game-changing way of working.
For real.
Being on Madonna's label (the now-defunct Maverick Records)—that was different. It was a boutique label where it had her name, but it was just run by executives. This is the first time where I have actual dialogues about what I'm making, what I was thinking, and with someone who's a bassist and understands where I'm coming from. That's the shining star for me, I'm just happy to be somewhere where I feel appreciated. I know I'm a commodity and I'm just a number—and maybe I'm delusional—but definitely not made to feel that way.
Going back to the older records that stuck out to me… I was a really big Andrew Hill fan. And Wanye Shorter, of course, will always and continue to be a guiding light, as a human being and a musician.
Earlier you talked about the label giving an artist a platform to fully explore themselves, and you mentioned Glasper. When it comes to the classics, what I immediately think of under that light is Cecil Taylor's Conquistador record.
Oh, yes…
That record came out at a point where he already had a few heaters under his belt, but under the aegis of that particular label, the essence of his style isn't lost. It didn't seem to matter how out you were as a player. It's cool to hear you say that's still part of the ethos in the present day.
Yeah, I appreciate that. I mean, now you got me thinking. Spiritually and just in terms of an unfolding—Bobby Hutcherson's Now! was one that I would play often as a child. Do you know that one?
Not that one specifically.
See, I'm looking up the personnel and now I know why that record stuck out to me… it has Eugene McDaniels in it, one of our great American songwriters—he wrote "Compared to What", and "Feel like Makin' Love" for Roberta Flack. That's a record that really moved me and is in the blueprint of my musical mind.
I'm going to seek this out.
Yeah, you're going to want to check it out.
While we're on the subject of your new label home, I want to highlight something that you said in a recent conversation with The Creative Independent: that if the opportunity to assign to Blue Note presented itself earlier in your career, you would've "crapped all over it". I'd love for you to elaborate on that. Three decades deep into your discography, why might the timing of this new chapter feel more apropos? Is it just a question of being older and wiser?
I try not to use the word "older"—I've just moved through space and time—but no, it's not only that. I knew nothing. I was a bit naive. I made this new record with my own money. My manager is a genius and knows me extremely well. The reason I think if I would've taken money from labels like I did in the past and thought this was some sort of relationship with mutual creative understanding. That's what I mean. I would've just shat all over it because I would've been still caught up in that idea of, "Oh, I have to please you. Do you like me?"
By the time I made Comfort Woman, I was like, "Nope. I'm going to make what I hear." I'm going to create the things I feel because that's what I like from an artist. I don't want to hear what the record company told you to make. There was a time in the '70s where the David Geffens of the world were tasked with developing an artist's repertoire…
Stoking the starmaker machinery behind the popular song…
Right. But now, I don't trust it. After the '80s, it just sort of became a commodified experience. So that's what I mean. I would've shat on it because I would've been divided within myself, and I'm not divided in myself anymore. I want to be a conscientious, courteous human being. But I think right now, I'm really okay that I'm an artist. I know what I want to hear and I'm always trying to be open to what I can experience and learn from other musicians. Because also, that's what the recording is for me. I am older and I'm also not a dinosaur. I can see the meteor coming. You know?
I've seen other artists and what they go through with themselves when they don't let go of some idea. I would go see Josh Johnson, Jeff Parker, Jay Bellerose—one of the greatest drummers in the world—and Anna Butterss on bass.
Together?
Oh, yeah—once a week in L.A. I was living there and working on a film and I'd go see them. Jeff Parker is a living, walking, real book of his own compositions and everyone else's. He could somehow turn it into this event of self-expression and clarity like tone paintings of some sort. Those are my friends, people I would just go hang out with. And it was life-changing for me.
Abe Rounds, the drummer, I met him while he was going to Berklee. He was a student—I just felt there was just no way this person should be a student. As soon as he was done, I was like, "Please, let's figure out how to make something." 12 years in and he has changed my life, just exposing me to music that is from the '50s and '60s. He's like an old man in a young man's body. We just really enjoy listening to music together.
Then there's Hannah Ben—I'm really hoping people listen to her contribution on this recording, and go seek out her music. She is a premier neoclassical composer for both choirs and orchestral pieces. The Hotplates are a vocal trio that really remind me, the power of the human voice.
Anyway, that's what I'm concentrating on now. I don't want to crap my life away. I want to continue, surround myself, and learn new things, and fail at new things. Recently an older person told me, "At least you made a name for yourself." I interpreted that as meaning you could just rest on your laurels. I don't think that's the path I want to take.
---
---
Your debut album Plantation Lullabies turns 30 in the fall. It was one of the first albums by another artist on Madonna's newly launched Maverick label. Research reveals that you made most of the beats on that record with an MPC60 and an SP12. Tell me more about your early encounters with samplers and the resulting production process of that first solo album.
At 19, I had a child and I had to make some decisions for myself. I tried to get a job, and I thought I was going to either join the military, or who knows, but all I knew was music. In DC, I was playing five out of seven nights a week, and I was doing okay. And so something was like, "I think I can make it in music, but I'm going to go to New York." I packed up my child and I plopped myself there. That's when I got introduced to hip-hop in a different way—in DC, go-go sort of trumped hip hop and it wasn't my thing really. I mean, I'd go see a lot of Bad Brains shows, I was really into Fugazi…
Good time to be in DC.
Yeah, you know what I'm saying. It was a different headspace. But I got to New York, and the energy changed me. My friend had an MPC60 and just showed me the basic workings of it, and that box was my friend. It had very limited sample time, so I'd have to dump stuff out, and get a floppy disk drive to connect. But I just really got into beat making first. I also had a Korg T3 workstation with the sequencer, so I would connect those two together and just go at it. That's how I wrote a lot of the stuff.
From 19 to 22, I'd just be up in Harlem with my machines. I had a job at a bookstore—I'd go to work, and I'd come back, and I'd sit and make beats. There's really no magic to it. I just became enthralled. I tell my students that if you don't like to spend time with yourself alone, you won't get very far as a musician. It was just a lot of time alone trying to figure out the machine and trying to hear what you're feeling in your mind.
Did you find that working with the Omnichord brought you back to that same place?
Yeah, it's much more tactile. There's something about the mechanics of the computer—I'll literally stop writing because after 20 minutes I'm still trying to figure out why something's not working. That's why I avoid screens, even with you now. With MPC and the SP12, I was using my hands to make the experience. On the T3, the screen was literally a half an inch and it's just parameters. It's different in that you're still focused on a different way. The Omnichord harkened back to a beginner's mind. I've been happy to step away from the computer. It's inspired me to get back into hardware. I want to talk to a few gear people, so I can figure out which digital tape machine to get—a machine that literally just tracks.
---
"If That's Your Boyfriend (He Wasn't Last Night)", from Meshell Ndegeocello's 1993 album Plantation Lullabies.
---
I'm glad you mentioned digital tech because that actually ties into my next question: Plantation Lullabies, and its follow-up, Peace Beyond Passion, saw you team up with Scritti Politti's MIDI genius, David Gamson.
Woo! Yeah.
I mean, Cupid & Psyche '85, that's a desert island record. But those two records you made together obviously intersected with new strides in digital music technology. I'd be curious to hear more about your collaborative relationship.
David Gamson… it's funny how I started working with him. On Plantation Lullabies, the first person I worked with was Bob Power on "Dred Loc" and "I'm Diggin You (Like an Old Soul Record)". I was learning a lot—he had a production style, was taking the tracks I had already made, and cleaning them up. We would work on arrangements and sort of add to those, right? But then, I went out to LA for some meetings, and went to Warner where I met Benny Medina. I had a choice between Paisley Park, Madonna's label, or Warner Brothers. So he was like, "Go with her because you'll get more attention and you'll still have the Warner umbrella and machinery." He introduced me to David, who was a staff producer at Warner at the time. We started talking, and it clicked.
That was the beginning of a life-changing experience for me. We worked in his house. He was a beta tester for Pro Tools when it was still new technology. We even did some stuff on Cubase. He was working. Right now, he only works on PC-generated machinery—he makes his own computers. He uses no Mac technology. He had a 24-track tape machine in his closet and I did a lot of that stuff in his house on Masseline Street in LA. He was the first person that made me think of The Beatles in a different way. He introduced me to Steely Dan and Henry Cow…
He showed you Henry Cow! Insane.
I mean, this is the person that was like, "Come on. We're going to go deeper." He's the one who persuaded me to switch to flatwounds. David Gamson is my mentor to this day—along with Bob Power—because they taught me about the production, sonics, how important they are, the power of arrangement. We would sit and listen to Quincy Jones records and dissect them, like, "Listen: he adds a shaker here, and then, it goes away." You know? He is part cyborg. I just loved him dearly. He was one with the machine.
He would have drummers come in—on Peace Beyond Passion, it was Gene Lake—and he would do what I call skin grafting. He would just take those drum parts and really detail, erase, and omit anything that he felt shifted the groove in any way. He would never take it down to a 2 bar, 4 bar pattern. He would just go through the entire drum track and just literally clean it up. But also, his drum programming was the first sample-based in terms of loops. I was doing loops but in a more hip-hop way, short and condensed cycle. But he was one of the greatest drum programmers I've ever worked with. I can't help but sing his praises. He's a genius. We're going to work together again on a project for Blue Note soon.
I'm so happy to hear that. He's a legend.
---
"Wasted Time", from Meshell Ndegeocello's 1999 album Bitter.
---
I want to ask you about Bitter, which recently earned some long-overdue flowers in a retrospective Pitchfork review. Speaking as a producer, this record to me is one of the most astonishing in your catalog. The performances and the treatments are just so tactful. Not only is it one of the most true-to-life breakup albums in the history of that form, especially in a queer context, but it was also pivotal in that you broke the genre conventions and constraints of racial musical marketing that you initially came up in. The personnel alone…
I'm going to stop you there because I started that record with David Gamson.
Oh, what?
Let's go there: we handed in a couple of tunes, and the record company hated it, and they fired him in the meeting, and literally looked at a Billboard magazine and they were like, "Who could you work with?" It was really rough. It really hurt David and I because we thought we were a team. I honestly think I would've continued to make records with David for the rest of my life, that's how it felt. But it all fell apart. It literally all fucking fell apart for me. That was the straw that broke the camel's back.
After I healed myself, I was completely drug-free and just in a different place in my life, and I had to pick up the pieces. I had a very small budget. Let's circle back: Craig Street is actually one of the first people I ever met when I got to New York. He was running the Black Rock Coalition, but he was plastering the walls where I was staying, and I was just working on some demos. He was like, "That's you?" And I was like, "Yeah." I was like, "I'm a musician." He was like, "Cool. Do you know Jimi Hendrix?" And I was like, "Not really." And so, he got me started listening to Jimi Hendrix. Eventually, the Jimi Hendrix Foundation gave me an honorarium to go re-record some of his songs, and that just sent me on a path. Craig and I have been friends for over 37 years.
Was the cover of "May This Be Love" the catalyst for that particular collaboration?
I did all those demos of Hendrix songs as a kid—I don't even know where they are. I did seven of them. Time went away and I didn't see Craig for a while for years, but when I moved to LA and the record fell apart, I had to call someone I could trust. They wanted someone famous, so I was like, "Okay, let's see how they feel about Craig Street." I had met Wendy & Lisa on the second record, and we had a really good rapport. That was also where I first met Chris Bruce and we've been working together ever since.
When I handed in Bitter, the label told me, "Why don't you make Black music?" They hated it and told me they couldn't sell it. That's what I mean when I said I would've shit on myself. I was just floating around in self-despair and a lack of confidence. They did not promote it at all and I had people return it. Somehow, until this day, it's my best-selling record.
And so, I made that record, but I did the vocals with David. So I made it with Craig. And I sung a couple of things with Craig. But Fool of Me, I sung with David. Like I said, I'm tearing up, so sorry to be sappy. Yeah, it was really hurtful. And then, I handed in Bitter. And the record company told me, why don't I make Black music? And they hated it. They hated Bitter, and told me they couldn't sell it. That's what I mean, I would've shit on myself. I was just floating around in self despair and a lack of confidence. So Bitter came out. They did not promote it at all. I had people return the record—but to this day, it's my best-selling album.
I wanted to ask you about "Wasted Time"...
That ending? We ran out of tape. We literally ran out of tape. All of that is on 24-track, so we played as a band. Those are usually first and second takes. I had the most internal experience making that record, I must say. It's literally our naked selves on that record.
You can hear it.
So, I've got a question for you actually—if that's OK.
Go for it.
Earlier, you mentioned queerness informing songcraft. Do you hear that as a listener?
Absolutely, without question.
I just wanted someone to affirm that. I hear it on those Cecil records.
I mean, look… he's practically fucking Fred Astaire when he plays piano.
True.
I believe the one time that he ever really acknowledged his queer identity in his life was when the critic Stanley Crouch tried to out him. He responded by saying, "I avoid the traps of easy definition."
Woo… (laughs)
That right there is the root of what queer sonic practice should be in my eyes.
That's so good. I'm going to use that.
---
Meshell Ndegeocello's cover of "Who Is He And What Is He To You" by Bill Withers, from her 1996 album Peace Beyond Passion.
---
Let's go back to cover songs: a quick glance at your discography proves you're no stranger to the art form. Your early records saw you engage with highlights of the Black musical canon—Bill Withers, Jimi Hendrix, George Clinton, Marvin Gaye. In the past decade, you've also dedicated albums to new spins on old R&B cuts and paying homage to Nina Simone, herself a master of interpreting other people's work. To borrow from the title of your preceding album, do you view cover versions as a form of sonic ventriloquism?
Of course. But honestly, it comes from my time in DC. In go-go bands there's a lot of covering, reconfiguring a song, making it your own. I think I also have to do that because I'm a particular type of singer. I mean, on the first album I was mostly rapping and it wasn't until David was like, "Just keep singing." David was the one that convinced me not to give up on that. So that's where it comes from. As a record, though, Ventriloquism acknowledges sadness to be honest. I think it's in those times that you find a song that just speaks to you, and it becomes your song. I get to disappear into the great writing of those compositions, and find myself, and deal with my loneliness in those songs, to be honest.
As time passes, do you find that what certain songs mean changes for you?
Constantly. We performed Plantation Lullabies in its entirety about four weeks ago.
How did that feel?
Exactly, how did it feel… It didn't feel great because I'm not that person. So, we reinterpreted it so it wouldn't be so emotionally awkward. Time changes. The album that I really like playing that I don't think people understood at the time, was Comet, Come to Me. I also love playing Ventriloquism because we find new selves within those compositions all the time as a band. Sometimes we're exhausted, and those are the songs we know we can count on. They play themselves. And it allows us to rest our self-expression mind and just totally find comfort in the composition. I really enjoy that.
---
Meshell Ndegeocello takes a bass solo at Montreux Jazz Festival in 1997.
---
Considering this is a Reverb interview, it would be remiss on our end if we let this interview pass without a little bit of bass talk.
Sure, sure.
You already mentioned the Mustang and the Jazz Bass. But in the past decade, you teamed up with Reverend to release your own instrument. When it comes to working with a manufacturer, what sort of specifications do you look for in an instrument? Maybe you can talk about how the Fellowship came about…
I must admit… I have a 1963 Fender Jazz Bass that is my confidant, my friend, but I can't take it out of the house because it's so fragile. And so, I was really desperate to find a bass that I loved. I was in Venice and I went by a music store, and I saw the Reverend J model. I played it and literally bought it on the spot. I love the body size, the shape of it. All I had to do was switch it to flatwounds. That's the only different thing I do. I am a recording bassist. I'm not looking for one instrument. They all have a personality. The other Reverend I have is the Linh Lee Signature bass, which is like a Rickenbacker. It's a semi-hollow short scale and I love it for certain sessions.
For the Fellowship, I wanted to design something that was, it had one knob, just volume and tone. And sort of had a P-bass set up, so I could have a real dubby, fat sort of sound. When I use pedals, it spoke like the Fellowship. I want to tell everybody it really speaks well with Moogerfoogers or any sort of envelope filter. And so, that was my goal with that. But then, I have the P-bass. I have certain gigs, and people really want that sort of funk-oriented vibe. And I have several other basses. My other new friend is a short-scale Wilcox. That's so clean in the low-end, not muddy.
I'm basically just looking for something that plays and records well and travels well. The Reverends travel well. I've had people drop it, and it still holds its intonation. And I love the company. They treat me really well. They're the only people I would say I want to be endorsed by. They also understand that I play other basses, but our relationship is fantastic. And it's a quality American instrument. I just want to say that: made in America.
An all-American bass. That'll be on record.
Thank you, Nick.
This has been such a pleasure. I have one last broad-stroke question.
Anything, anything.
Throughout your career, you've said that music provides you with that rare moment in which you feel raceless, genderless, untethered—relatively—to identity. At the same time, you've tackled topics as loaded and thick as queerness, attachment, injustice, revolutionary politics with more nuance than most. Feel free to counter this, but I think that this particular dialectic is essential to your work…
(laughs)
…and I'd like to lean into it. Let me phrase this carefully: do you think that the universal and neutral nature of music is what provides you with the setting through which you can explore these sort of weighty subjects head on, and I suppose invoking Cecil, avoid the traps of easy definition?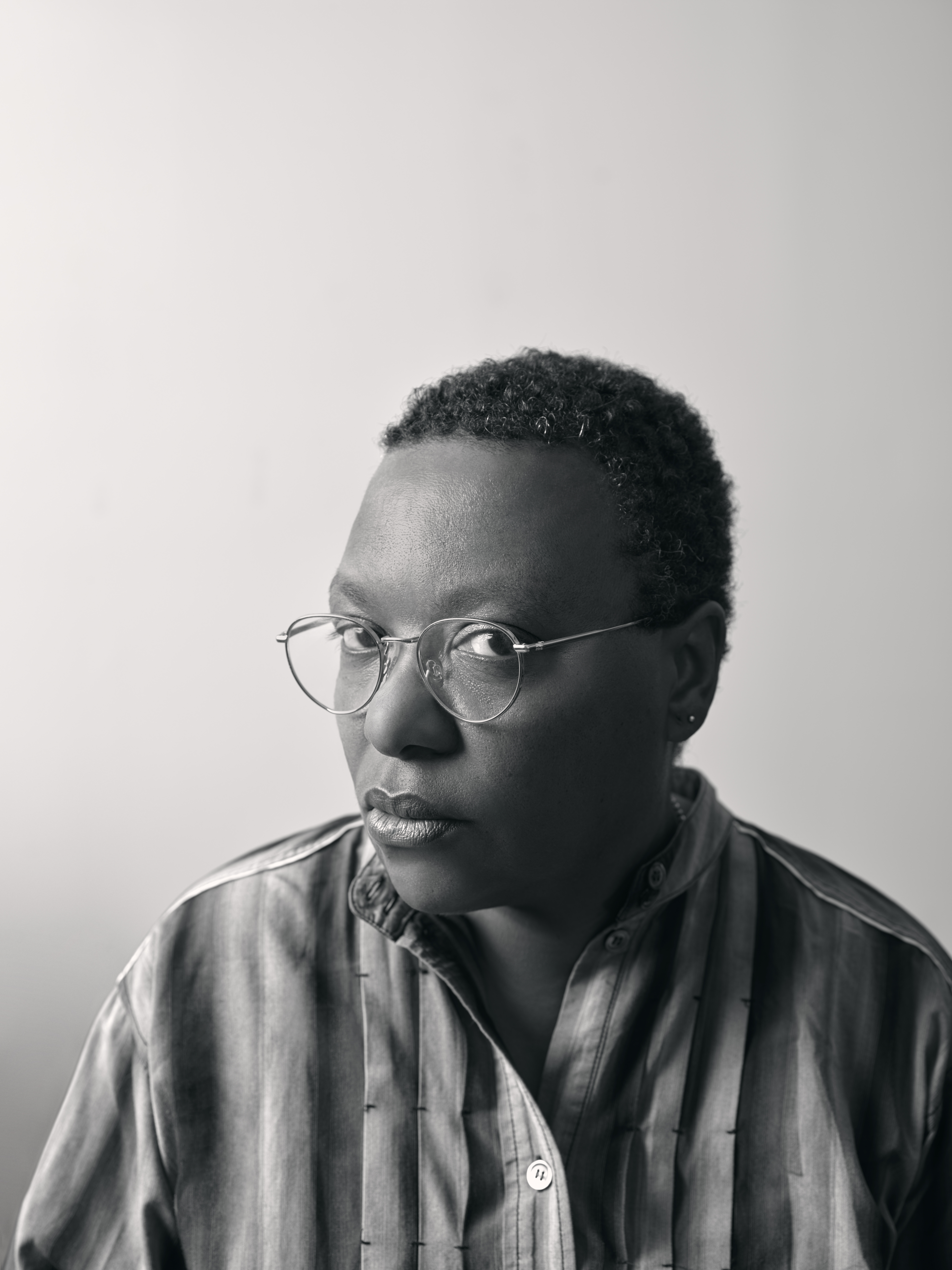 Meshell Ndegeocello.
Photo by Charlie Gross.
Another great question. I was going to say it's only within the last week where I've been having to deal with some issues with other people about some political things, that I realize that, again—I'm not a dinosaur. This all comes and goes, very fascinating, cannot stress that enough. All we really have between us is kindness, camaraderie. Music has been such a life-changing thing for me. I travel, I've interacted, and been with cultures that I would not necessarily come in contact with. Just different modes of being. But mostly, people are all the same. We want to be respected, have kindness, and have some sort of self-expression, and have meaning to our life.
When I realized that all those other things really just fell to the wayside for me… it's like a garment someone else put on me. I'm really enjoying controlling the content of my mind. Just because you call me something doesn't mean that's what I am, and just because I play this type of music one day, doesn't mean that's all that I am. I guess it's like a spiritual revelation. I wish there was another word for that. An ecology.
Again, I'm just trying to be the person, be the change I want to experience. And that's where my mind is right now. And music—it's a fellowship. That's why my bass is named that. It allows me and you to come together and have a commonality. You can take five people who don't know each other, and put that fake book in front of them, and I guarantee you they're going to do something even if they don't even speak the same language.