A phaser based on an all-time Mu-Tron classic, for a fraction of the cost. A do-it-yourself kit that will teach you the skills to build not just this pedal, but many others.
That's the promise of StewMac's Lightcycle Phasor II, a brand new optical phase shifter kit with StewMac's best-in-class instructions.
---
---
If you know gear, you very likely know StewMac. The leading name in music gear tools, parts, electronics, templates, and guitar, amp, and pedal kits, they've been a trusted source for gear builders since 1968.
The Lightcycle Phasor II is just the latest in their pedal kit lineup. Recreating the circuit of the Mu-Tron Phasor II, it offers that classic phaser's sound in a simple layout.
What sets StewMac's kits apart from others is the sheer amount of help they provide along the way. While others may share a schematic alone, and trust you to take it from there, StewMac offers full-color, step-by-step details in a comprehensive guide. And what's more, if you truly get lost, you can email them for help.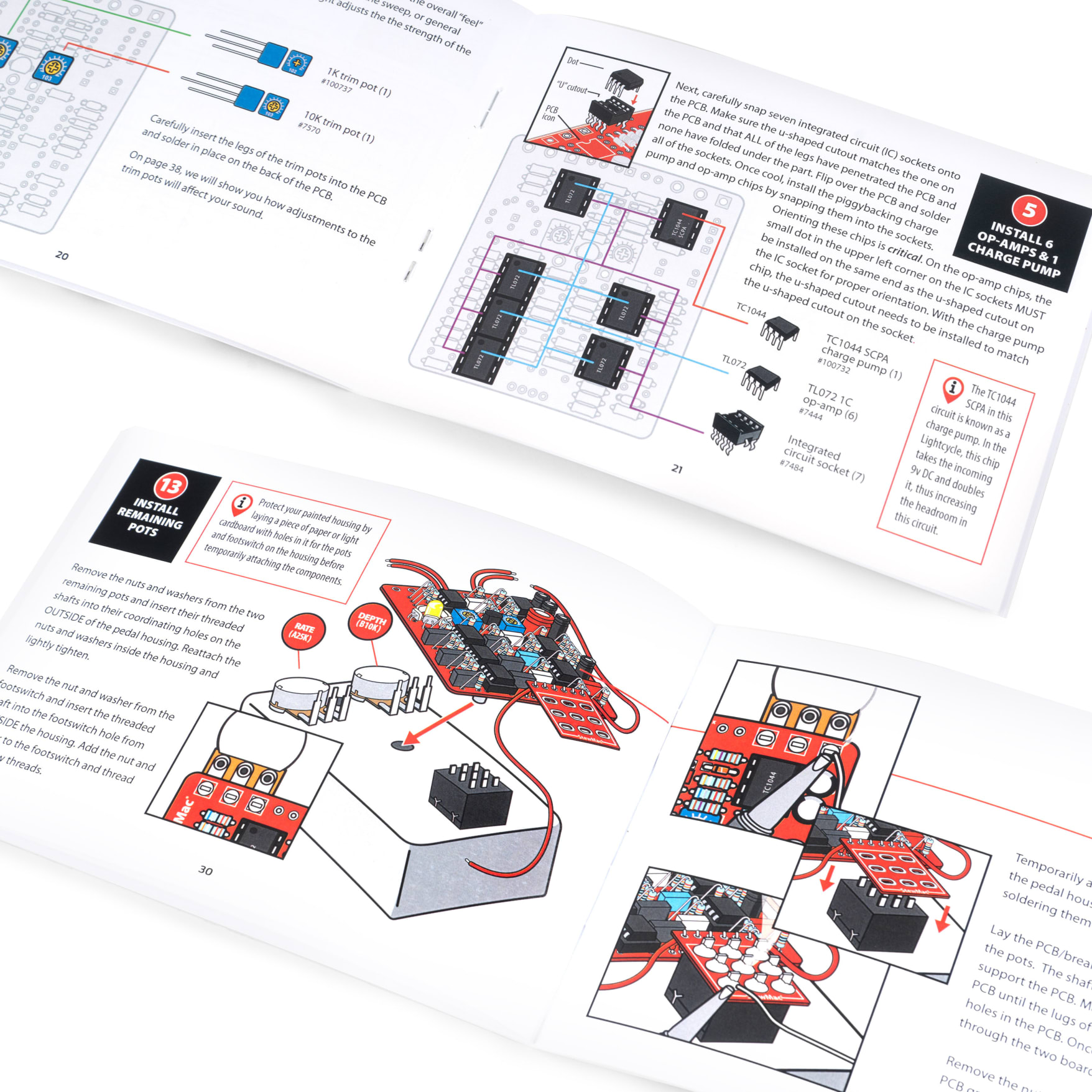 Example pages from the Lightcycle Phasor II instruction manual.
So, even if you don't know a resistor from a capacitor, this Lightcycle Phasor II kit—or previously released StewMac pedal kits like the Klon-inspired Ghost Drive—can show you the way. By the time you get from input to output, you'll be able to build just about any other analog effect.
As you're looking at the colorful pedal above alongside the bare or white enclosure of the kit, you may be asking yourself how you're going to paint the Lightcycle. StewMac, in true fashion, has thought of that too: The kit includes decals that you can paint by hand yourself and then attach to the body—giving the pedal's face your own unique design.
Inspired for your next project?
Get your Lightcycle Phasor II kit in a bare or white enclosure—or find other great pedal kits and more—in StewMac's official Reverb shop.