[Photo by
Raph_PH
. Licensed under Creative Commons Attribution 2.0. Modified to black-and-white.]
Editor's note: This post is part of a series of unpublished interviews from the personal research archive of noted guitar writer Tony Bacon. These interviews will be appearing on Reverb in the coming months.
For previous installments, take a look at Tony's interviews with Les Paul, Tom Petty, and Chet Atkins, as well as a deeper look into the recording of Sgt. Pepper's.
I interviewed Duane Eddy in 1995 when I was researching my first book about Gretsch.
We met at his home near Nashville, and I spent a pleasant day with Duane and his wife Deed. We talked about his career, his guitars—not only his famous Gretsch 6120, but also the signature Guild models and his Danelectro six-string basses—and, of course, that all-important word: twang.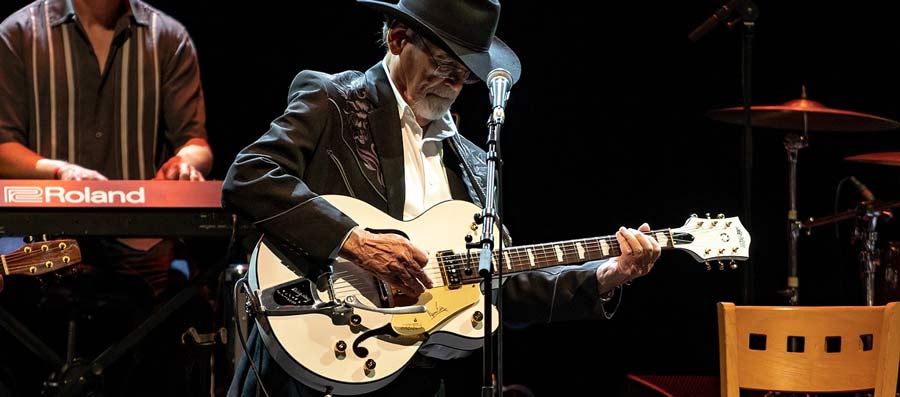 Photo by
Raph_PH
. Licensed under Creative Commons Attribution 2.0
---
What was your first good electric, Duane?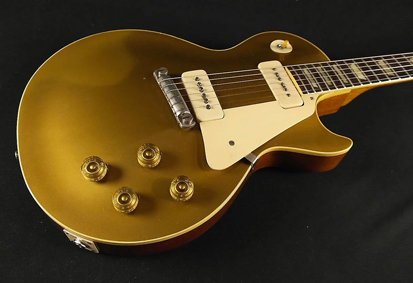 Gibson
1953 Les Paul Gold Top
Shop Now on Reverb
Originally I had a Gibson Les Paul, back in 1953. Didn't have a vibrato on it, or whammy bar, whatever they call them these days.
What were you doing at that time?
Playing in country bands in Arizona where I'd grown up and gone to school, working in clubs, which I started doing when I was 15. I'd always done it, but I hadn't always thought of doing it as a career or anything. It just was a part of my life. I'd done a couple of shows at school, singing and playing, things like that. Did my first radio show at about 10 years old, playing a lap steel. I'd taken about four lessons on that. This guy wanted to show off some of his students on the local radio show, so we all went along.
Can you remember the song?
It was "Missouri Waltz."
So, you were playing the Les Paul in bands, presumably in high school?
Yeah, just as I was finishing up high school, last couple of years, did school dances and things like that. A friend of mine, we sang together and went to Phoenix and did a local talent show type thing, where they'd have the local acts come out and do a few songs before the professionals came out. We did that for a while. Then I just became a guitar player in a band in Phoenix, did local TV every week, backup bands.
How established was electric guitar at that time?
For us it was very established, it was the mainstay of country music, had been for many years at that time. I don't ever remember not hearing electric guitar. It was around in the '40s, though of course it wasn't featured much in pop music or big-band music, but it became featured in country music very early on, and I suppose it did in blues as well, but I wasn't into blues then—didn't hear much of it out there in the desert [laughs].
I was focused on country, anyway. When I turned on the radio, that's what I'd hear. It was very natural to play an electric guitar then, and we'd heard of Chet Atkins, Merle Travis, and of course Les Paul, who was having hits. Nobody could play like Les's records because we didn't have the tape machines.
Why did you choose that solidbody Les Paul?
It was an electric guitar that was on sale at the hardware store in the little town I lived in.
The choice was limited?
Yeah. I had an amp that some local guy made out of orange-box pinewood, with a chicken-wire grille cloth. And it worked.
Did you get on with the Les Paul instantly?
Yeah, it was OK. It had a thick neck—Gibsons always had sort of baseball bat necks, very round, like they split the big end of a baseball bat and made a neck out of it. But it was all I knew, so I liked it, it was electric, and I played it. But it didn't have the vibrato on it.
How did you come to hear about the Gretsch 6120, which you got next?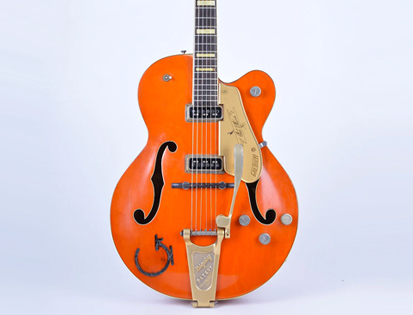 1956 Gretsch
6120
Shop Now on Reverb
Oh, I'd probably seen them around. I didn't go out and actively seek a Gretsch per se, I just went into the music store in Phoenix, Ziggie's, with a friend of mine. It's still there. Ziggie's dead—he died a few years ago—but his grandmother runs it I think now.
We went in there and looked around. It was a 1956 guitar, and this was February or March of 1957—I know that because I found the receipt. I think it was $17 a month. But anyway, I was thinking about what Merle Travis played—a Guild, I think, or a Gibson? I've forgotten. But I wanted that bar!
What made you want that bar, that vibrato, so much?
Well, because Chet Atkins had it and Merle Travis had it. I could play the fingerpicking thing a little bit, and I wanted to do the vibrato part. So I went in the store and looked around. There was a White Falcon hanging on the wall, which was beautiful, but it was a lot of money, nearly $700. I said, "What have you got that's nice but not so expensive? "And Ziggie pulled out two or three guitars. The first one I opened was that [Duane points to his 6120 in an open case on the floor], and that was the first time I saw the red Gretsch.
So I settled on that. Took one last look at the White Falcon, but the neck wasn't as nice on it as the red Gretsch. It looked great and it was different, being white. Only thing I didn't care for was the gold trim—I thought it looked a little chintzy, you know? I always thought they could have done that better. But they're still beautiful. Anyway, this red Gretsch, first time I picked it up it just took to me, settled right in there.
The neck on it was superb. So superb, in fact, that a few years ago Larry Carlton was playing it, and he asked Mike McGuire—who makes Valley Arts guitars [speaking in 1995] that Larry used—if he could make him a neck like that. Larry said he thought it made him faster. I don't know how he could tell—he's so fast anyway, shouldn't make a big difference [laughs]. Mike took the measurements and made him a neck of the exact dimensions for his Valley Arts.
So, the neck I've got on the Gretsch is great. There's nothing more exciting than finding a new guitar, but that was such an experience I've not bought many new ones since then. Felt no need for it.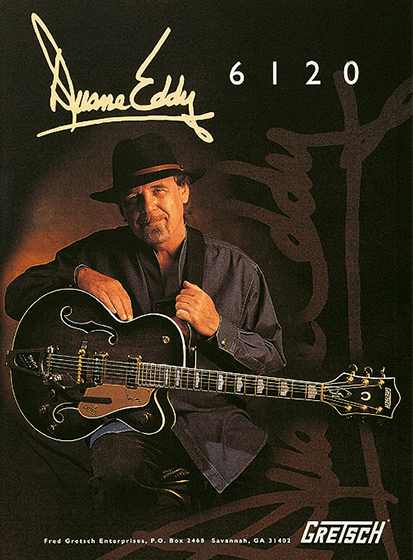 Gretsch 6120 Duane Eddy Advertisement
That guitar seems to have lasted you right through?
I'm still using it, yeah, still plan to use it on a new album.
Did you do any promotion or advertising with Gretsch?
No, never did a thing. I probably sold more Gretsches than anybody other than Chet Atkins! But maybe they're finding out, because they called and wanted to make a guitar for me a few months ago, wanted to talk about it. So I'll talk to them about it. I'm also talking to Gibson, and I'll probably have a new guitar of some kind. Don't know who it will be with. [Gretsch offered a Duane Eddy signature model from 1997 to 2003; Gibson's Custom Shop produced one from 2004 to 2011; and then Gretsch was back with theirs from 2012.]
How did things go with your playing career once you got the Gretsch?
I'd gone to Phoenix and started working there more, working Saturday nights, so I moved there and lived there. I worked the local DJ's TV show there every week—Colonel Sanders was there selling his Kentucky Fried Chicken, just starting out in those days. That was 1956 or '57. So we'd do the Top 10 records every week, country charts—they didn't change that much [laughs]—so we just changed the people doing them each week.
I'd sing one, next week the singer in the band would do the same song. There'd be Hank Thompson songs, "The Blackboard Of My Heart," Louvin Brothers songs, Red Foley and Kitty Wells, Ernest Tubb, Webb Pierce, Faron Young—the country charts.
I kept on that all through '56 and '57, and toward the end of '57, Lee Hazlewood—who'd been a friend I met before I ever started going to Phoenix—he was a disc jockey in a little town nearby called Coolidge. We just met, and he had this DJ job, and I played and he was interested in the local music. He took us to Phoenix to the talent show that first time, and that's how we got to know everybody up there.
So we were still friends, and by this time Lee had gotten out of DJ-ing and into producing records. He produced a hit with Sanford Clark called "The Fool." He went to Dot Records for a year, then came back as an independent producer, had a business partner and all that. He came back to Phoenix, knew the talent was there. So he was trying to do different acts.
I didn't want to sing—I'd given up on that. I was playing full-time, and Lee said, "Well, why don't you write an instrumental?" But I'm getting ahead of myself—we did try another track first, "Ramrod," but we couldn't place it anywhere.
Duane Eddy - "Moovin' 'N' Groovin'"
Did it seem an unusual thing, to do an instrumental, at that time?
Well, not terribly, because "Honky Tonk" had been a big hit in '56 with Bill Doggett. Lee was just trying to do everything he could to try to get a deal with some company and get an act placed. He'd done it once with Sanford Clark, so he kept trying to do that with everybody in Phoenix. He was running out of people, and he thought, well, let's try an instrumental [laughs].
So we went and sat down and wrote "Moovin' N' Groovin'," late '57. We cut that in Phoenix at Floyd Ramsey's studio, Ramsey Recorders [later called Audio Recorders]. Lee and his partner made the deal with Jamie Records, we put it out I think in January or February of '58, and it got up into the 70s with an anchor. [Billboard's charts marked a record with a bullet symbol when it was moving up and with an anchor symbol when it was likely to fall.]
When Sanford Clark did his hit at Audio Recorders, the studio was what later became the control room, and what was the control room later became the bathroom. So it was back to the studio with the barber shop in front. And the studio that I recorded in had been used to store square-dance records and everything, because Floyd was into square-dances very big [laughs]. And he had a little record store out in front, too, so he'd store records back there.
Floyd cleaned all the albums out and put them somewhere else and used the studio for the control room. It was just a good size for it, and the board's there, a divider here, and a door back here. They cut a window in the wall and made a storage room for the studio, a studio size room.
We had three tracks at first, then Jack [Miller], one of the engineers, brought his four-track in. When I came back in the fall after having my first hit with "Rebel-'Rouser," they had a four-track machine there, so we could do stereo. I was one of the first people in rock'n'roll to cut stereo records. Most people felt it was a waste of time, because nobody had stereo players, but we were trying to keep on top, on the cutting edge and all that.
What was your first stereo record?
The first album I did, Have Twangy Guitar Will Travel [released early '58]. "Rebel-'Rouser" and some of the early singles were in that album—it was half singles, actually—we only had to cut five or six songs and we had the album. And so half of it is not in stereo, because four or five songs were cut before we had it. But "Detour" and "Lonesome Road," "Anytime," "Loving You," all the extra songs we put in to fill up the album, they were cut in stereo.
What was the band in the studio at that time?
We had two basses, an upright acoustic bass and a Fender bass that did the click sound. Yeah, Lee wanted the click thing, but I don't remember whose idea it was. Buddy Wheeler wanted to play Fender bass on that, because we didn't use steel, and he was a steel player. He was also the one that modified our amps and made them really clear and good.
So we said to Buddy, "Sure, you can play Fender bass." He showed Lee that click sound, because he had this amp that was amazing. He could take one of our guitar amps and made it for a bass, a tweeter in there and everything so he could get a real sharp, edgy sound. He was just showing us things, and he did this, we heard it, and it sounded great. Lee said, "Yeah, why don't you try to do that?" The stand-up bass would give us our note, and the Fender bass the click. Later they started doing that click with Danelectro bass guitars, but I think we had it first.
What was your first record you used that on?
"Rebel-'Rouser." Didn't use it on "Moovin' N' Groovin'," just had one bass on that, also on its B-side, "Up And Down." We did "Rebel-'Rouser" and "Stalkin'"' and "The Lonely One" for the next session, and we used it on all those.
So, myself on guitar, the basses, piano, at least two and maybe three rhythm guitars, and drums, of course. That was it. We overdubbed [Steve Kreisman on] sax because we didn't have a sax player in Phoenix at the time that played rock 'n' roll. There were only two or three in the whole country: King Curtis, Plas Johnson, Gil Bernal, and I guess Steve Douglas—he was the fourth guy that came along and could play real rock 'n' roll sax.
You continued to use the Gretsch?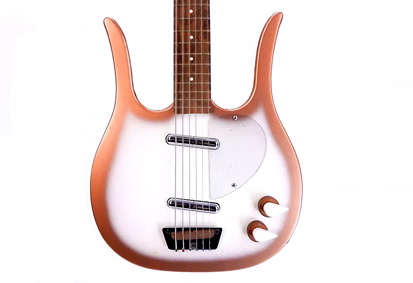 Danelectro 4623
Shop Now on Reverb
I was playing the red Gretsch for the first two albums, and then the third album, just before I did that, 1959, I walked into the Music City store in Hollywood, on Sunset and Vine, and I saw this guitar sitting there, $140 or $150, something like that, a Danelectro [4623 Long Horn six-string bass in bronze-and-white burst].
It caught my eye, the shape's so funny and it looked so cheap and weird and different.
I looked it over and realized it had six bass strings on it, so I plugged it into some amp they had there, to see what it was like, and I thought, Hey, maybe somebody who likes my sound has made a whole guitar based around it? You know [laughs]?
It was interesting. I thought, These pickups are cheap. They can't possibly have a good sound.
But it was only $140 or $150, so I figured I'd just buy it, take it home, and try it out. And I did, and I thought the pickups were great. They had this sharp edge. It was wonderful!
So I did practically the whole next album on that guitar, The Twang's The Thang is the name of it, things like "Blueberry Hill," "Night Train To Memphis"—I think there's only one or two, like "Trambone," that I used the Gretsch on.
"Last Minute Of Innocence," that was Dan'o, did a single with it, "Bonnie Came Back," and then next year did one of the biggest singles I ever had, "Because They're Young."
By that time I had bought a black Danelectro [UB-2 six-string bass], which looked a little better [laughs]. I got that one at the same store, just a few months later, I think, in 1960, maybe late '59. Had a real long neck on it—but it was black [laughs].
Had you heard of Danelectro before that?
Never had. The whole experience was new: Never heard of the brand, never heard of the guitar, never seen it nor heard of it. Just walked in the store and saw it. Picked it up, tried it, and took it home. Glad I did, because it worked out great.
Went back later, saw the black one, thought this one looks a lot better if I need to use it on stage. Looked a little better—but wasn't much better [laughs]. It had the white binding around the sides, which I did away with—I've had Mike McGuire refinish it for me. It's all black now, looks kinda cool. Still sounds the same, though. It's a great guitar.
Duane Eddy - "Rebel-'Rouser"
What were the important TV shows back in those days?
Well, I got to do the Dick Clark show and "Rebel-'Rouser" was a hit, that was July of '58, and Dick said, "Could you play 'Moovin' N' Groovin'' to open the show?" Said sure. We rehearsed it and ran it down, then I mimed "Rebel-'Rouser," because we were on a forklift going down through the audience and then jumping on the stage and finishing off the song, you know? No way you could take that!
So we did all that, and Dick said they needed a closer for the show. "Got anything that's really fast and up?" I thought "Stalkin'" wouldn't do, which is the B-side of "Rebel-'Rouser." Maybe "Up And Down"? Nah. He asked if I'd got anything else. I said, "Well, there's a song I recorded last summer, never came out, we could do that, it's called 'Ramrod.'" So we played it, and he said, "That's perfect!"
Great—so the credits rolled and we played "Ramrod." Monday morning, there's orders for 150,000! So they panicked, said, "Can you fix that track up?" Lee said sure he can do that, and I said, "Oh Lee, I want to record it over, we've got a different arrangement now and everything."
He said, nope, can't do it, they want it now. He tells me not to worry, he saw the show, he knows what we did. And he did a great job on it on the Tuesday, overdubbed and edited, put [Plas Johnson's] sax on it, which we didn't originally have, had The Sharps doing the oohs and aahs, handclaps and all that.
Threw it all together, mastered it, sent it to the pressing plant Tuesday night, started pressing Wednesday, shipping Thursday, and by Friday, less than a week later, it was in the stores and at the stations. "Rebel-'Rouser" was still a hit, still in the Top 10 at that time, but it worked out fine because it started coming down and "Ramrod" was coming up. And… it didn't go all that! I think it got to maybe number 27.
Radio was important, too, in those days. Did you listen to much radio?
Mostly country stations, but then after rock 'n' roll started happening I was listening to rock 'n' roll. Lee Hazlewood was a DJ in Phoenix before he started producing. In 1955 he was doing that, and he was the first one in Phoenix to play Elvis. Nearly got fired!
He really liked Elvis, thought he was great, but a lot of people called up and complained—this was one of the country stations. "What is that weird music you're playing, guy with the weird name?" The station told him he'd got to stop playing him, but Lee said, oh no, not doing that. So he compromised, kept his job, played him less, but still he played him.
Did you meet Elvis?
Yeah. He was just like I wanted him to be. He was cool. He and Priscilla were together, spent an evening with him, four or five hours, in 1971. Up in Vegas, he'd just finished his last show at the Hilton, and we went backstage, he invited me up to the penthouse suite there, they were having a kind of end-of-engagement party.
Course, I knew the musicians, James Burton, all those guys. Gradually as the evening wore on they drifted off—there was just Priscilla, him, myself, I think Dottie West was sitting there, a few other people. He started showing me all the stuff he had, his badges and things like that, which in some cases he would be an actual deputy sheriff.
In his spare time he'd fly out there and take the test and do the whole thing. It was a hobby with him. He probably would have been a cop if he hadn't been a singer. He also would fly out, donated a whole heart wing in a hospital in a couple of places, had it built, paid for it.
He did a lot of good things, and he was just great fun to be around. We talked about a lot of things, religion, philosophy—he was educating himself at the time, reading a lot, varied things. There's a book called The Last Train To Memphis [by Peter Guralnick] on Elvis and I think that probably describes him the best. They don't dwell on the music as much as they do on him as a person, and it's filled in by people who knew him. After reading that, it all fell into place, how he was thinking, and how the treatment he gave me was much the same as it was with other people.
How did you deal with becoming famous?
Well, I just heard all those things about not becoming big-headed, so I was on guard against all that. It wasn't hard because there's no reason to get an inflated ego over it, anyway. I was doing the same thing I'd been doing a few months before for $10 a night. Now I'm getting paid thousands of dollars and it's my own songs—that's the only difference. And more people come to see you. Also, all the responsibility was mine, which playing in a country band in a club, well, all you had to worry about is getting your solos right [laughs], you're just having fun with it.
In the early '60s Guild made a Duane Eddy model. What prompted that?
I really thought that Gretsch might have wanted to do a Duane Eddy guitar, but they were all Chet Atkins Gretsches, so I guess maybe Chet didn't want it or maybe they didn't want it. In 1962 we'd had four years of hits, and we decided to have a Duane Eddy guitar made, you know? Wanted to market those, and my manager talked to Gretsch, to Gibson, to Guild, and Guild came up with the best deal.
Guild were supposed to make an expensive model [the DeLuxe DE500], around $600, and another one [the Standard DE400] around $400. The DE500 was gonna be done in gold trim and blonde finish, which is what I played. I basically wanted the same setup I had on the Gretsch, because I was used to having the volume control down here, and the first one they sent me of course had the volume control up here and the pickup switch down here, and a thick neck on it that I didn't like.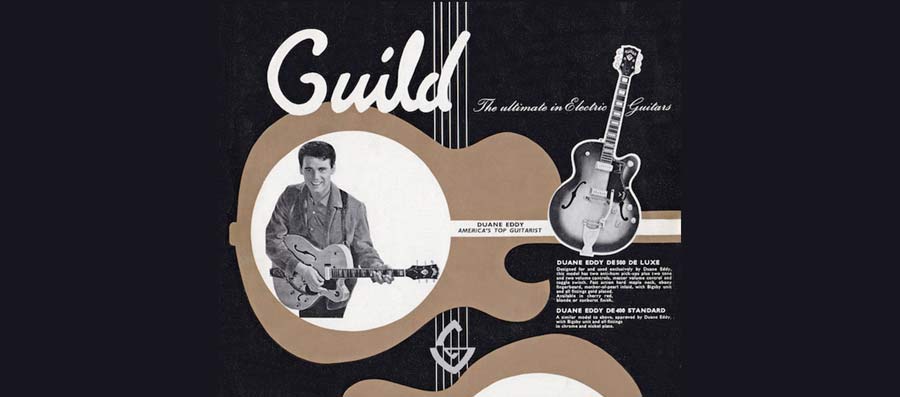 1963 Guild Duane Eddy DE500 De Luxe Advertisment

Guild De Luxe DE500 and Guild Standard DE400
When you got the proper Guild, did you stop using your Gretsch?
No, I still used the Gretsch in the studio, but I stopped taking it on the road. The Guild worked great on stage, but didn't have exactly the same sound under the microscope in the studio. It was close, and it's gotten closer through the years as the wood has aged, oddly enough. Now, I don't think you can hardly tell the difference.
How did the Guild deal work out?
I think they made more pickguards with my name on than they did actual guitars [laughs]. And they got away from the blonde in the 500, just made it in several different colors. They really didn't take it very seriously. Later they changed the pickups around, didn't say anything, just changed them. But I had better management who was keeping an eye on all that. I never made any money off of it. I think I got a few hundred dollars in royalty statements, couple of times, the first year, and after that nothing. Then their records all conveniently burned.
Were you responsible for making the electric guitar more popular?
Well, I think that's for other people to say. Because I didn't have any sense of that. I knew I was having hit instrumentals and a lot of other groups were as a result, because that's the way the record business works. If there's a bandwagon out there, folks will jump on it. I don't mean the other instrumental groups, they'd probably been trying all along, but it gave the record companies more interest in them.
The DJs would play another instrumental group's records where they might not have done six months before. They'd say, well, we've got a hit instrumental with "Rebel-'Rouser" or "Cannonball" or "Because They're Young," and they'd go ahead and play other instrumentals as well, because they seemed to be happening. That's very normal and natural. But I didn't think I was doing anything special—I was just doing what other artists did. The only difference was I didn't sing. I always say that was my biggest contribution to the music business, not singing [laughs].
But a lot of people said I did do that, I did bring the electric guitar to the forefront. And what it did that was fun was that all the guys who'd been doing what I'd been doing not too long before, it gave them something to play.
The guys that didn't want to sing and that played guitar in a group, they had a song that was a hit that people would recognize that they could play. They could play "Rebel-'Rouser" and "Ramrod" and "Cannonball" and get up there and actually be a star for a little at their local club.
Did players come to you to find out if there was some kind of secret to the sound?
Oh yeah. I took my amp in to be fixed one day at Manny's music store in New York, and they sent it out to the guy and he went through it with a fine-tooth comb. They told me later. And I said well, that wasn't very nice: They wanted to give the sound to Al Caiola [sighs], who did have some hits as well, you know, imitating me, my sound. And I thought well, that's kind of cold, it's not for you to do. But they did it. I thought well, don't tell me about it, you know? I'd rather not know you did that, because I'm not coming back here again, I'm certainly not bringing any of my amps in here again [laughs].
The word Twang became the identification for your sound. Was that the record company's idea?
No, it was Lee Hazlewood. He said it had a twangy sound, and [record company man] Lester Sill's partner broke up so bad over it that it became a running joke. And then we decided to name the first album Have 'Twangy' Guitar Will Travel and they decided to call it twangy guitar, and it stuck. Just became a trademark kind of thing. It's rather a silly word, and not entirely descriptive, I don't think, but it was something for the average person in the street to identify.
So how would you describe your sound?
Oh well, it's a rock 'n' roll sound. I don't know. I guess twangy is as good as anything. I don't know how you'd do it in one word. There's times it does get twangy, other times it gets smooth and dragging and menacing. Then I can turn around and do a pretty song, a ballad or something, with a gentle warmth.
---
About the author:
Tony Bacon writes about musical instruments, musicians, and music. He is a co-founder of Backbeat UK and Jawbone Press. His books include
The Gretsch Electric Guitar Book
,
Echo And Twang
, and
Electric Guitars: The Illustrated Encyclopedia
. Tony lives in Bristol, England. More info at
tonybacon.co.uk
.