If you're getting ready to list your gear on Reverb, you should go ahead and download our mobile app. Available on both iOS and Android platforms, the Reverb app is designed to make listing gear quick and easy. So if you don't have it already, go to the Apple App Store or Google Play on your phone and download it now.
With your smartphone in hand, you'll be able to get a piece of gear listed in a matter of minutes, leading to a quick, reliable, and secure sale. Whether you're the owner of your own music store or a musician trying to offload part of your collection, the app is the key to selling with ease.
How exactly, you might ask? Let's go through some of the features and tools.
Your Next Sale Starts Here
---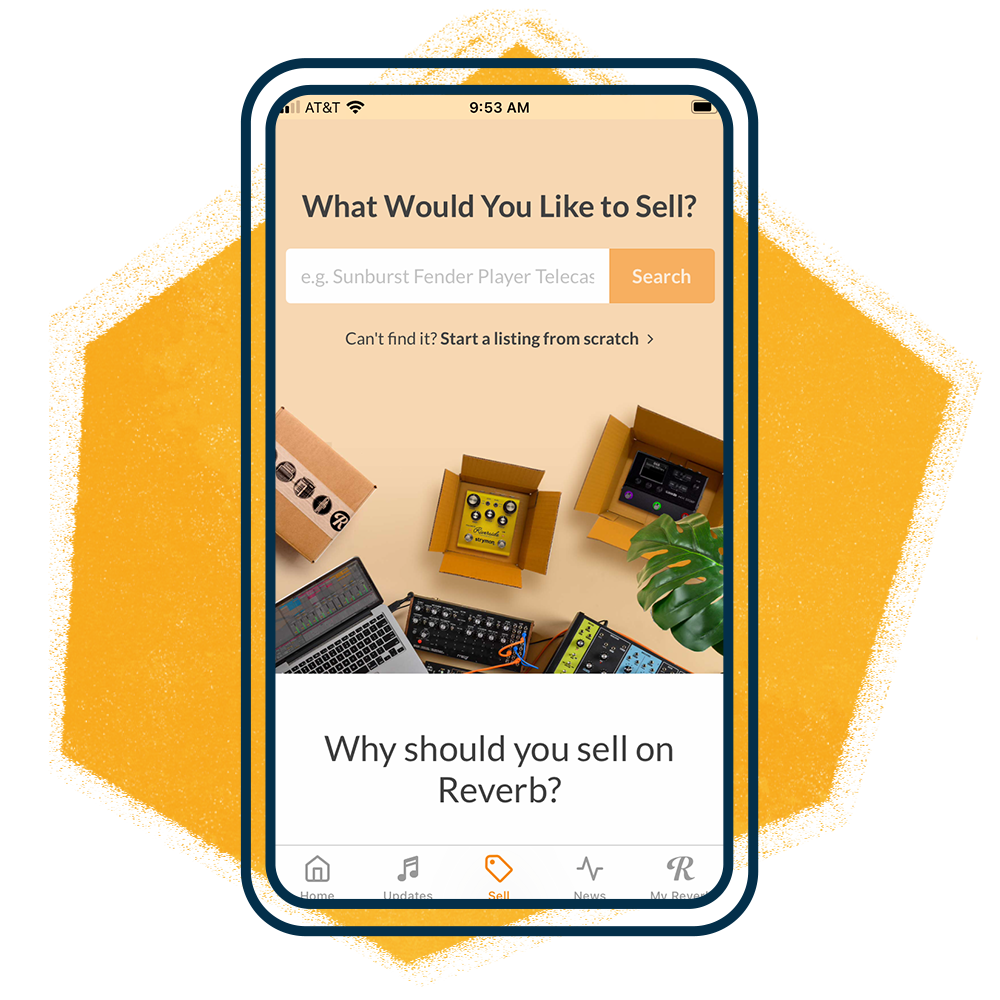 Use the search bar on the Sell page to find similar items. (All photos from Reverb's iOS V4.40 app.)
The "Sell" page on the Reverb app is the portal to your next sale. Just search for the item you want to sell there. Chances are, Reverb has the basic product info already. So if you see a similar item in the search results, click it, and all the basic info like make and model will already appear on your new listing.
Take and Edit Photos Fast
---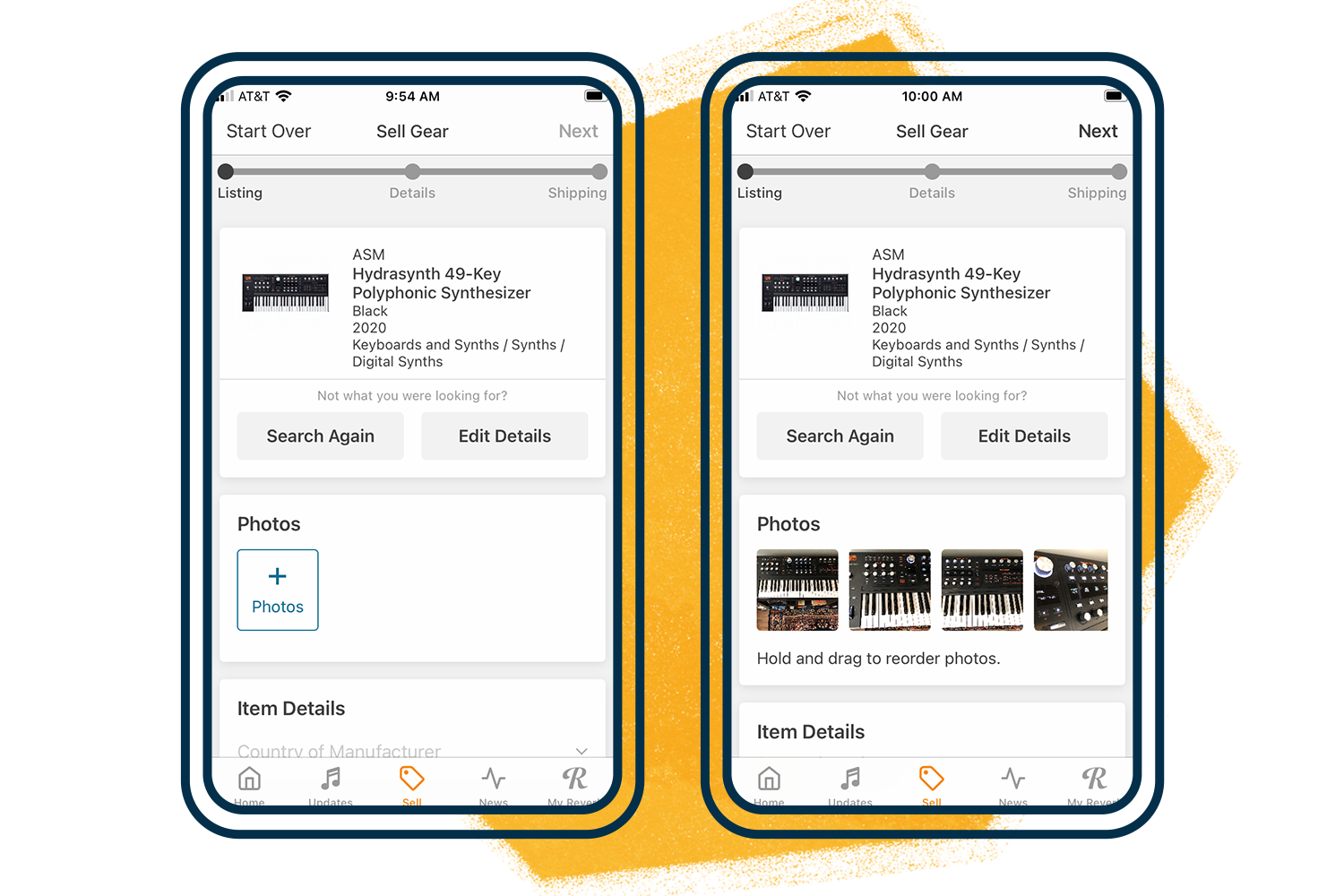 Just click the Photo box to take new or add existing photos. Snap high-quality pics from every angle.

A set of good, clear pictures of the item you are selling is an essential component for any Reverb listing. There's no easier way than snapping high-quality pics from your smartphone.

When making a listing, you can either choose from your photo library or take new shots directly in the app. And you can rotate and crop each image as you select it, so there's no need to jump in and out of the app to edit your pictures.

Pro tip:

Taking good photos from every angle not only lets a potential buyer know exactly what to expect—it also helps your listing sell.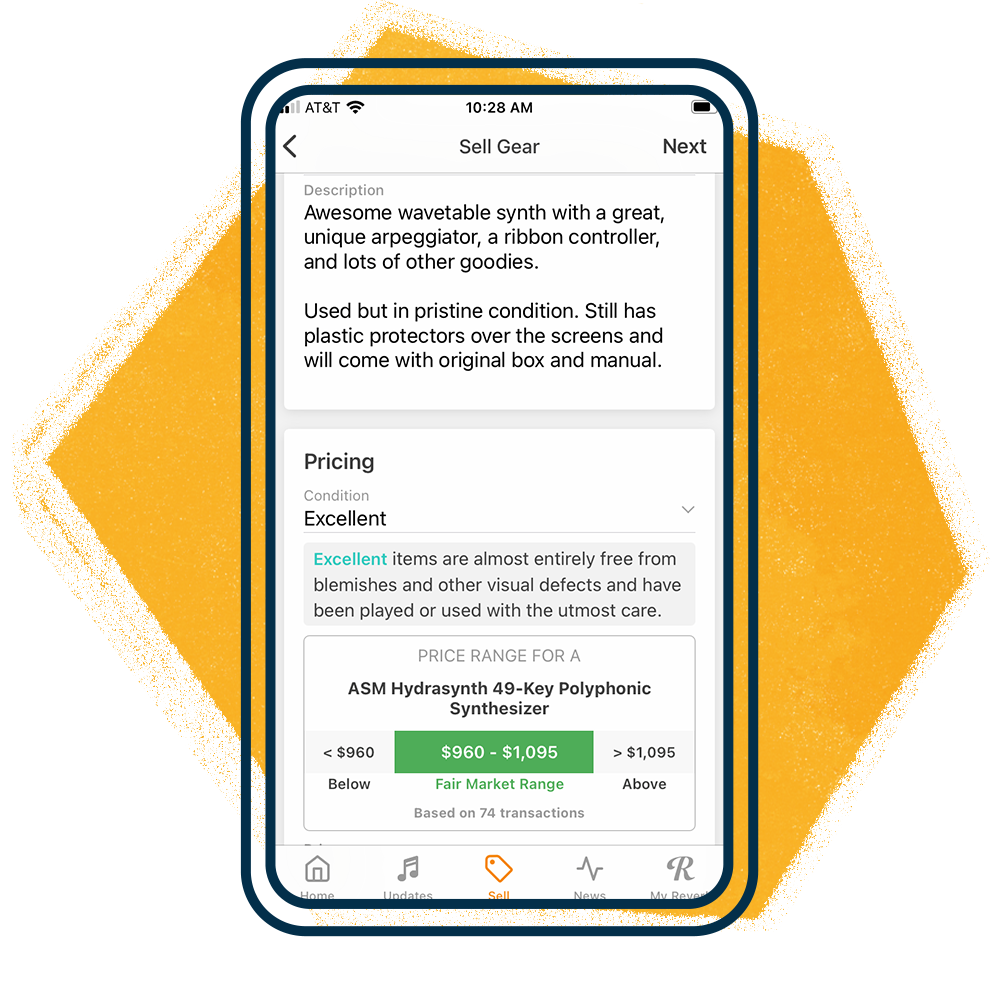 Our automated price range can help you choose your price.
Once you've added your pictures to your listing, you'll be prompted to add more info. Write a quick description that explains why another music maker might be interested in your gear, and make sure to disclose any blemishes or signs of use.
As you do this, Reverb provides recommended pricing data from our Price Guide for most popular items, helping you make an informed decision on where to set your price. These pricing estimates are based on real-time sales data and provide the most up-to-date market intel in the business.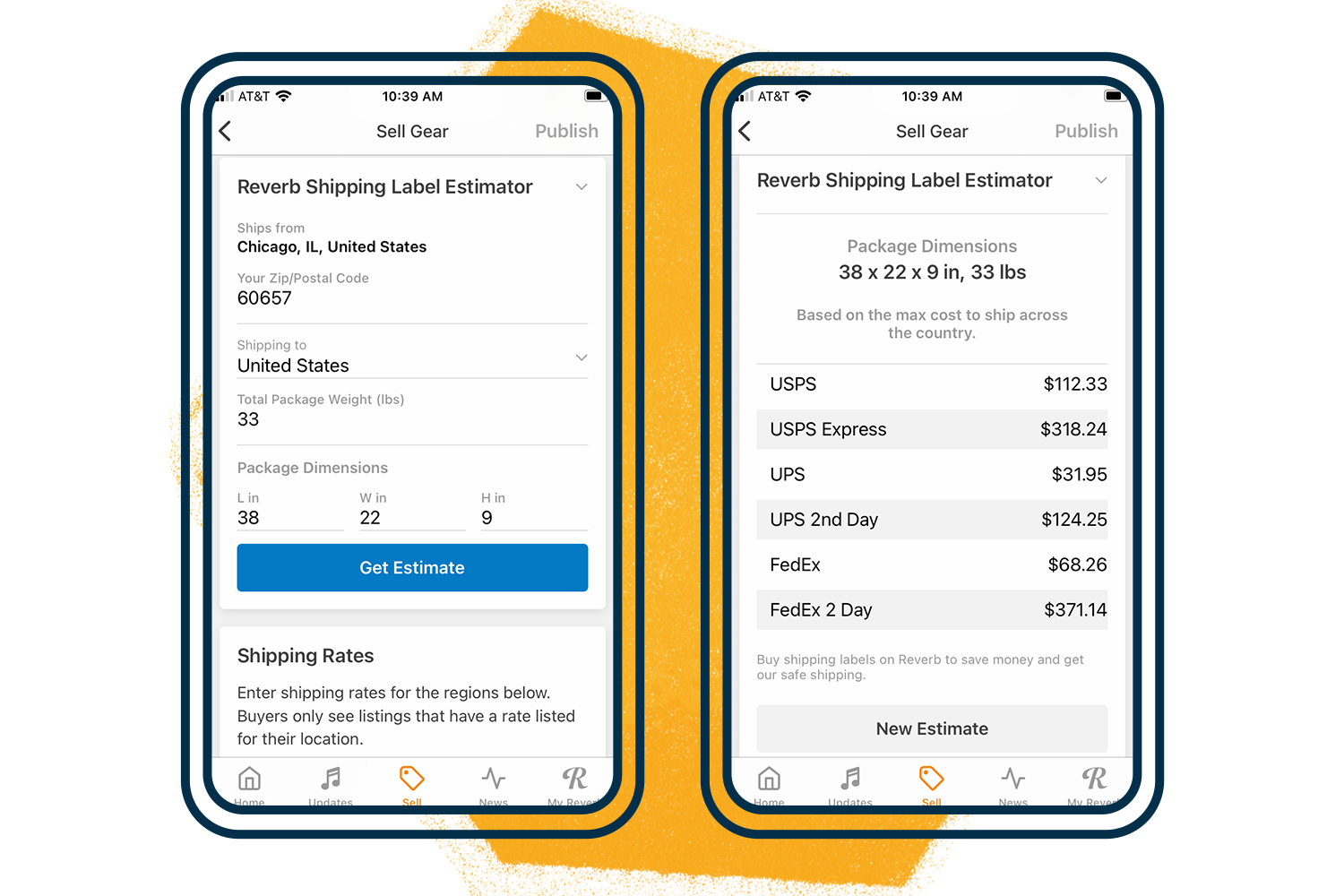 Enter the shipping details like weight and dimensions. Get detailed shipping estimates from multiple carriers.
Reverb includes a built-in shipping estimator so you can set the shipping price for your listing. Just enter the size and weight of the item and the app will provide a shipping cost estimate based on the most likely shipping outcome.
Like our pricing estimates, these rates are based on real market data, and while the ultimate shipping you pay when your item sells may vary, these estimates take much of the hassle out of the process.
Pro tip: Select "Local Pickup" as an option too so that you can make a sale to a buyer in your area without dealing with shipping.
Messages and Offers On-the-Go
---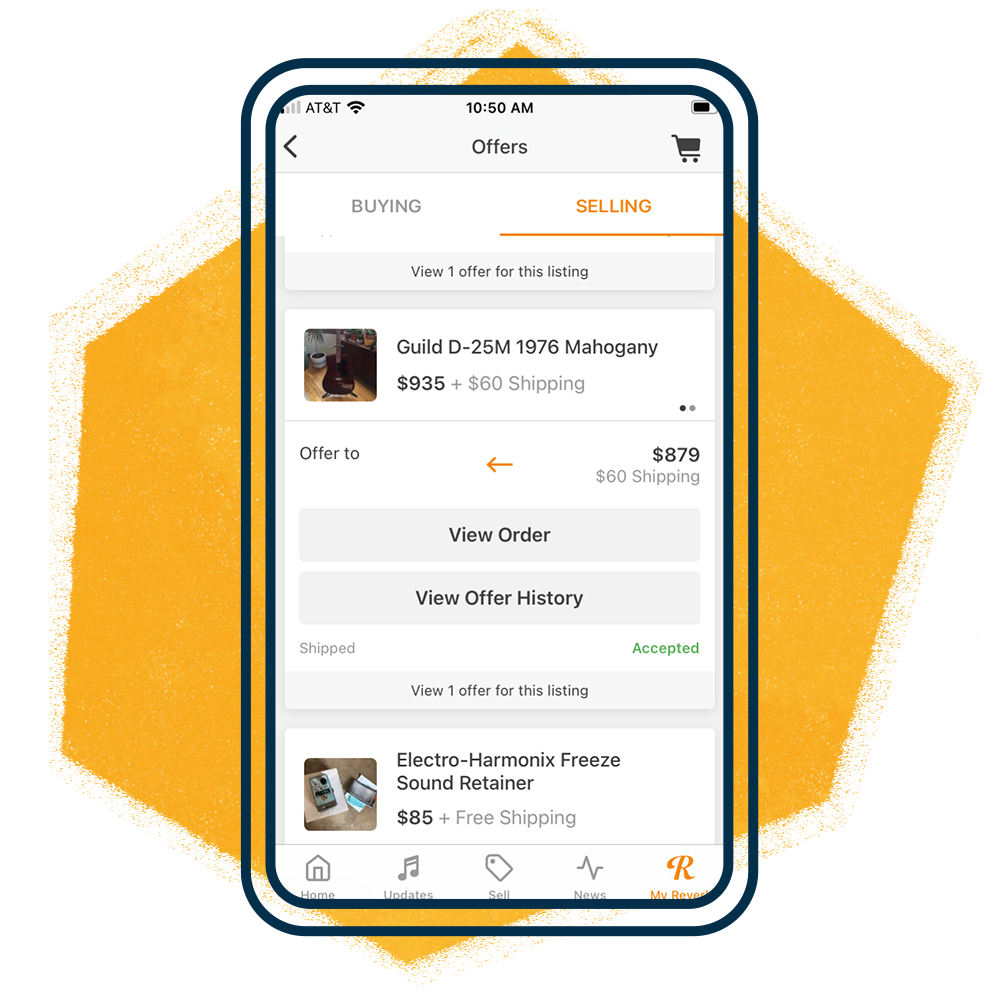 An example of an accepted offer, on a '76 Guild D-25M.
One of the biggest benefits of selling through the Reverb app is that you can respond to all offers and inquiries easily, whether you're far away from your computer or just sitting comfortably on your couch.
Especially if you're running a larger shop with many items, being able to quickly accept, deny, or counter offers will help you make more sales.
Pro tip: Enable push notifications so that you'll never miss a message or offer.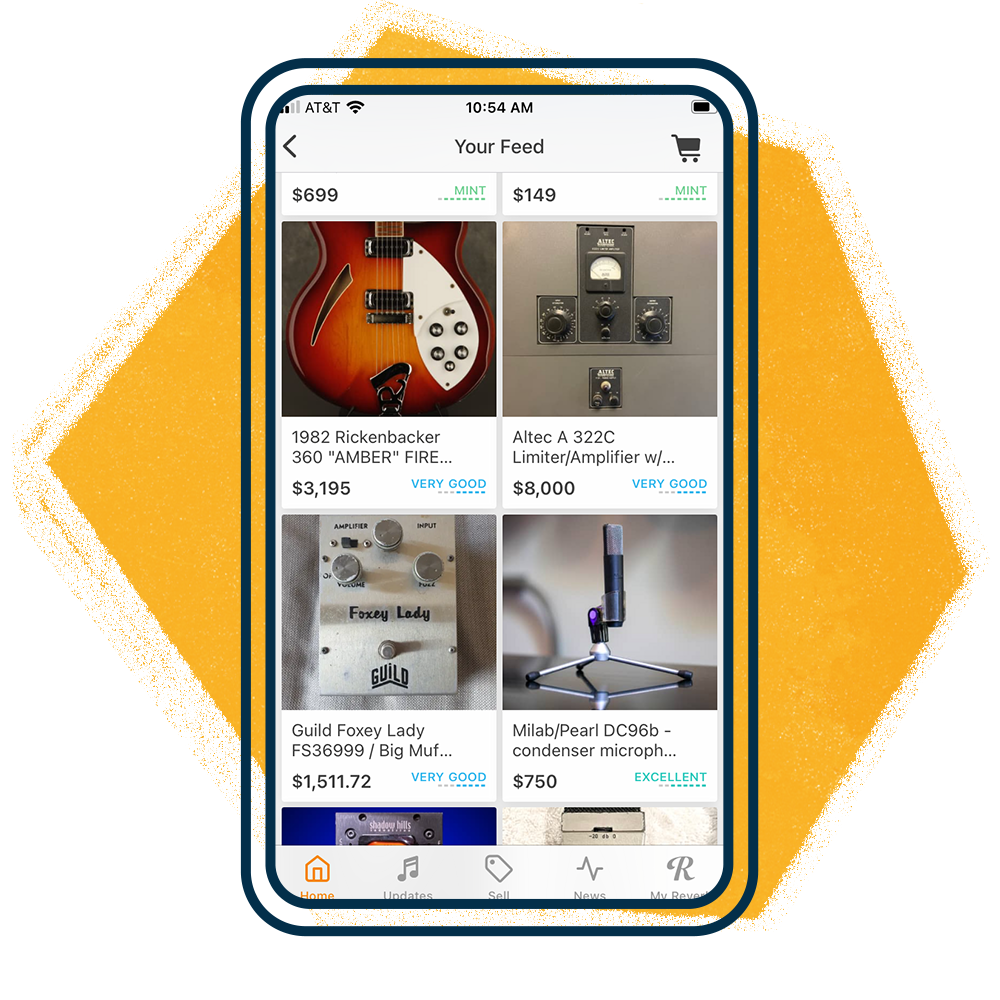 A vintage Guild Foxey Lady fuzz and other items in a Reverb Feed.
Using the Reverb Feed is the best way to make Reverb work for you as a buyer: Just follow the gear that most interests you, and new listings will hit your Feed every day. But it's also a great tool for sellers.
If you are selling a particular guitar pedal, for example, following that pedal in your Feed can help you keep on top of other listings and get a sense of the overall market. If you want your listing to sell fast, make sure it's not priced above other similar items.
---