Hello Kitty—a Japanese cartoon character first created in the '70s—is a billion-dollar industry, with all types of products, from apparel to theme parks, made with its image. But cartoon characters, no matter how popular they are, tend not to add much value when painted onto guitars.
Well then, consider us surprised, because the prices of Hello Kitty Strats on the used market have skyrocketed.
Back in 2006, Fender released a licensed Hello Kitty Stratocaster through its budget-friendly Squier brand. The pink or black guitars, with the face of Hello Kitty (aka Kitty White) in the middle of their bodies, were marketed to pre-teens. They were discontinued without fanfare a few years later.
A little while back, we here at Reverb noticed "hello kitty" pop up in our search data. Hmm, must be some kind of glitch, we thought. But we recently checked our Price Guide graph for the guitars and—yowza. Guess people really are interested.
Since December 2019, the average used price for the Hello Kitty Strat has more than doubled, going from around $275 then to more than $700 last month.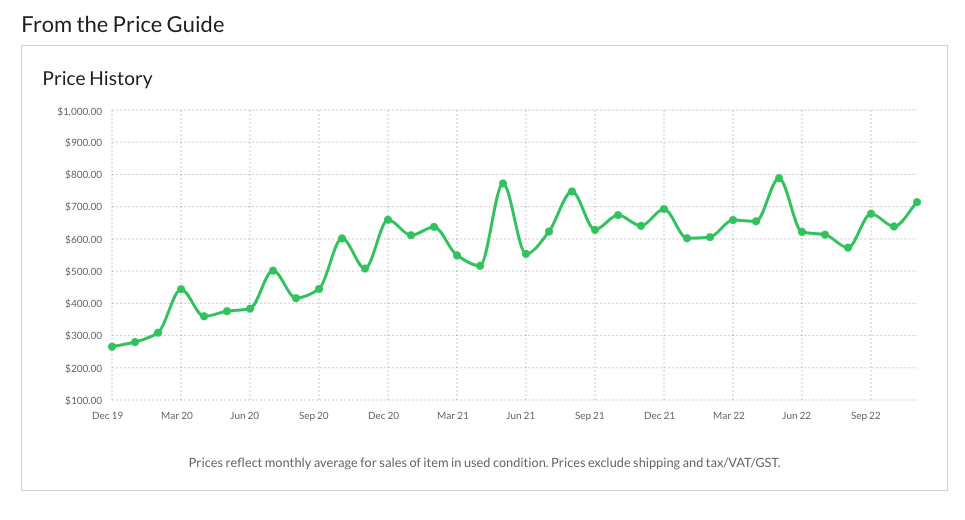 The Reverb Price Guide graph, from December 2019 through October 2022, showing the upward march of prices for the Hello Kitty Stratocaster.
Reverb sellers—some of whom are optimistic enough to list their Hello Kitty Strats for $1,000 or more—are now saying things like, "This is a collector's dream," while reviewers rave about their "great investments." One such reviewer wrote: "I bought 10 of these years ago, four with cases and straps for $125 to $300, and people laughed. It only gets better!"
So, we likely speak for many when we ask: What happened?
If the words "TheDooo" and "Omegle" mean nothing to you, then you probably didn't see this coming either.
TheDooo is a popular gamer, musician, and YouTuber who creates videos of his game-playing and guitar-playing in about equal measure. Two years ago, he started a bit with a Hello Kitty Stratocaster on Omegle, a video chat site that randomly pairs two users together.
The first of TheDooo's Hello Kitty Strat videos.
"Playing Guitar on Omegle but I pretend I'm a beginner" is both the title and the premise of the videos. When he and another user enter a chat, TheDooo asks if he can try to play a song for them. The first take is terrible, as he fumbles and apologizes. But on the second take, he absolutely shreds. That this all takes place on a Hello Kitty Strat just adds to the shock value.
Ever since March 2020, when TheDooo started to post these Omegle videos on his YouTube channel, they have garnered nearly 60 million views, which is a whole lot of views. Used prices of Hello Kitty Strats shot up a little right away, jumping to a $450 average in March 2020, and have climbed pretty much ever since. It's been more than a year since TheDooo posted a Hello Kitty Strat video, and yet demand—at these new high prices—remains steady.
Maybe these videos are not solely responsible for the rise. Maybe they've just reminded viewers what they've known, secretly, all along: that Hello Kitty Strats, as another happy buyer wrote, "are just cool collectable guitars." But TheDooo's influence remains the most compelling reason behind the trend.
As one commenter said on a TikTok we made the other day about beginner guitars: "I love that the dooo is the reason for the hello kitty squiers price going up"—and we couldn't have said it better ourselves.
---