Part of what makes a vintage instrument extra special is the history that it comes with. This is particularly true for this week's Reverb find: a 1953 Gibson Goldtop. This beautiful, player-grade vintage guitar was purchased brand-new in 1953 by a musician named Linda Lee—the sole owner, so far, of this instrument.
Lee was a professional, gigging guitar player for many years in Chicago, and she made some unique modifications to this Gibson to suit her performance needs. One of the more typical modifications was that Lee swapped the Goldtop's original trapeze tailpiece with a Bigsby tremolo in the early '60s.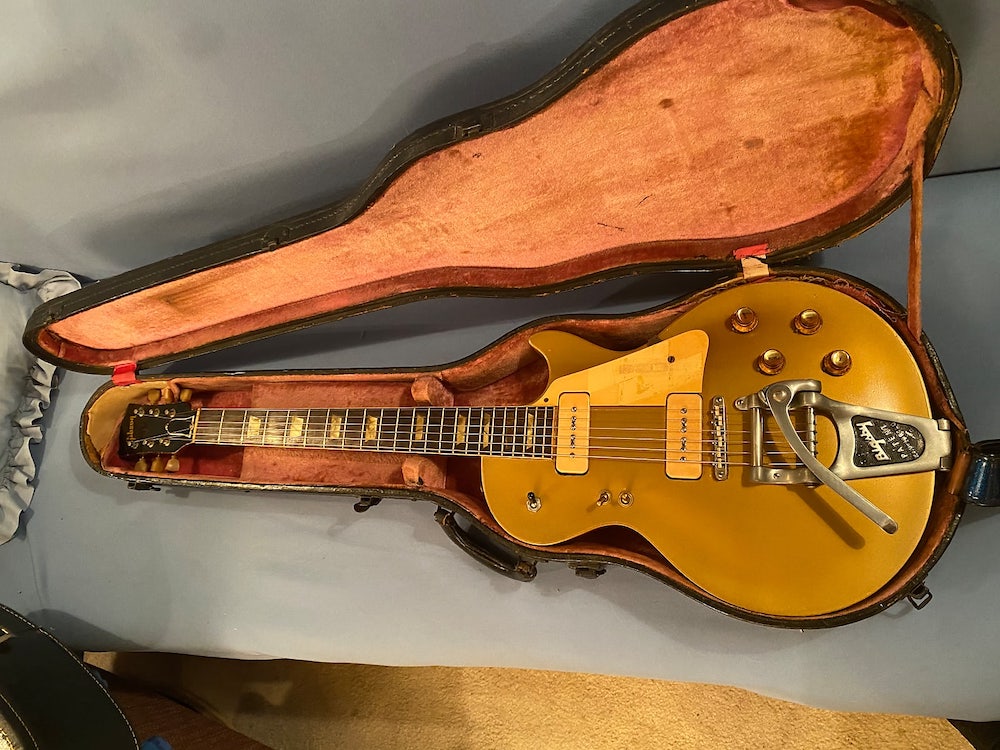 Linda Lee's 1953 Gibson Goldtop
But particularly unique to this guitar is the addition of two toggle switches on the top of the body that replaced more conventional footswitches for effects.
As Lee writes in her listing, "I had to stand up and play a four-hour gig in high/spike heels and it was hard to step on the reverb and vibrato foot switches, so there are toggle switches to turn on/off anything you want to use with your right thumb." Via the quarter-inch inputs, players today can connect anything they'd like to those switches for super easy effect access.
Linda Lee and her 1953 Les Paul Gold Top Electric Guitar
As this guitar has been loved and heavily gigged for decades, it has suffered a few consequences of its aging. The neck, for example, developed a slight crack near the nut but has been professionally repaired and remains original. This Goldtop has also been professionally refinished. It comes with the original case, which Lee painted black.
Check out the video above to see this instrument in action, and be sure to view the listing as well for more details and to make an offer.