Today, Boss has announced the release of a limited edition anniversary pair of iconic pedals from the brand's lineup, coming this June: the SD-1 Super Overdrive and MT-2 Metal Zone.
These are two of the longest-running pedals in Boss history, with the SD-1-4A celebrating 40 years and the MT-2-3A celebrating 30 years of continuous production here in 2021.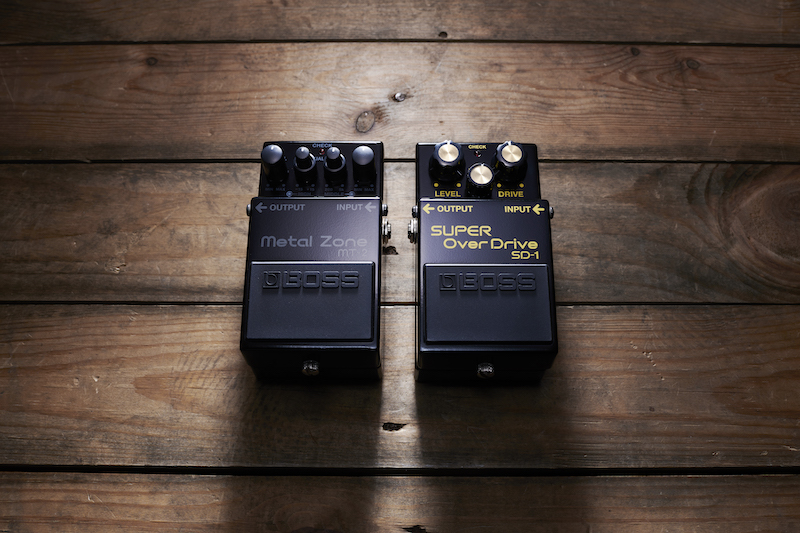 The Anniversary Limited Editions
Introduced in 1981, the SD-1 Super Overdrive derived its smooth voice from the OD-1 Overdrive that came before it, in 1977. It was groundbreaking for its ability to produce the sound and feel of a tube amp, thanks to its asymmetrical clipping circuit, and quickly became a longstanding go-to for guitarists of all genres.
Ten years later, Boss again delighted the guitar-playing masses with the more aggressive MT-2 Metal Zone. It was perfectly tuned for the needs of heavier guitarists playing powerful rhythms and soaring solos and is still one of the best high-gain distortion stompboxes on the market. Next to the DS-1 Distortion, it's the second most-popular drive pedal Boss has ever made.
Available SD-1s & MT-2s
These anniversary pedals will be packed in black chassis with unique styling (yellow lettering and gold-capped knobs for the SD-1 and grey lettering with a vintage silver thumbscrew for the MT-2) and will only be available throughout this year. The SD-1 will retail for $59.99 USD and the MT-2 will retail for $112.99 USD when they hit the market next month.
If you don't want to wait, there are tons of used options you can pick up right now on Reverb. Check out the previous releases of the MT-2 here and the SD-1 here, or by clicking any of the products above.