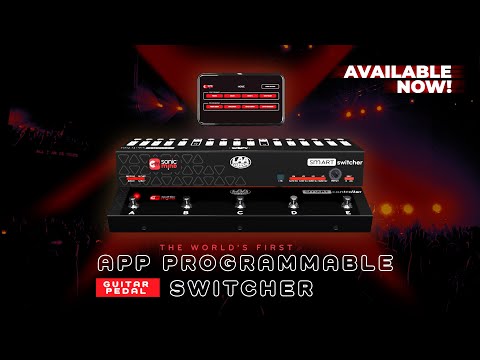 Own one like this?
Make room for new gear in minutes.
Sell Yours
***THIS PRODUCT IS DELIVERED WITH ALL DUTIES PAID WHEREVER FREE SHIPPING IS INCLUDED***

*** THIS PRICE ONLY AVAILABLE FOR LIMITED PRE-ORDER - STANDARD PRICE €1,300 / $1,400. DON'T DELAY! ***

** LEARN MORE - CHECK OUT THE VIDEO BELOW **

Here it is! A ground-breaking new concept in the field of pedalboard management – the LAA Custom SmartSwitcher is an advanced effect loop switcher, controlled by a remote footswitch unit and programmed via Bluetooth using an intuitive app on any mobile device.
It brings together the functionality of a high-end switcher, a wirelessly-operated footswitch unit to control it, and a dead-simple mobile app interface to enable easy-programming and total flexibility in the sequence of your pedalboard. Bringing together all these elements in a single, simple package is a true revolution – finally making it possible to get the absolute best out of your effects and enabling you to create countless new sounds.
What you really want from a switcher
The SmartSwitcher is feature-rich, of course, with up to 14 effects loops. The tone path remains 100% analog to preserve its purity, while the integrated digital control achieves an unprecedented level of flexibility and versatility. It may well be the only switcher that allows you complete freedom to decide – PER PRESET - in what order you want your pedals in the signal chain and where you want each effect pedal to be positioned – in front of the amp or in the amp's send/return effects loop.
Of the 10 loops available, 4 of them are stereo, with built-in 1:1 line mixer for parallel dry/wet functions available on 2 of those, and on 2 of the mono loops you can also program the level of dry signal to add in parallel with the connected effect.
The compact SmartSwitcher can be fitted under the pedals in most pedalboards, saving precious space, or in a rack – both options making the connections to the pedals simple and logical.
True remote control + easy programming
The switcher is remote-controlled through the 5 fully-programmable footswitches (10 with an extension!) on the SmartController unit, which communicates with the SmartSwitcher, lightning-fast and cable-free, over industrial-grade remote-control – meaning total flexibility in how you arrange and use your gear. The innovative remote communication utilises the latest technology from SonicMind, a company that has developed an innovative digital platform to control analogue guitar gear.
The free SonicMind app runs on both iOS and Android and enables programming of all pedal sequences into unlimited presets that can be arranged into songs and setlists to match any scenario required on-stage or in the studio.
The whole system can be easily monitored and controlled in real-time on your choice of mobile device.
Attention to detail
The SmartSwitcher is exceptionally compact, taking the bare-minimum of space on any pedalboard, and will even fit under the pedals on most pedalboards. Alternatively, it is also rack-mountable. The accompanying, sleek SmartController unit features 5 fully-programmable bankable footswitches in a minimalistic, yet ergonomically-designed format, without needing any physical cable connection.
The remote connection between the SmartSwitcher and the SmartController allows for the maximum flexibility of the setup since there's no physical cable joining the two! The main pedalboard can live at your feet, or out of the way – at the back of the stage with the amp or in a rack.
The 5 footswitches on the controller are fully-programmable and configurable, with 4 banks per switch – and the capability to easily program what you want each footswitch to do through the intuitive app. If the 5 footswitches aren't enough, an extension unit (https://reverb.com/item/52730463-laa-custom-smartswitcher-5-switch-extension-unit-black) with a further 5 fully-programmable switches can easily be added – and the whole thing will still be less than 2 feet long.
Easy APP interface – for programming and performing
The SonicMind app is so intuitive that you probably won't need to read the instruction manual! Yet it's extremely powerful. Pedal sequences can be saved into infinite presets that can be built into unlimited songs (even multiple versions of each song) then songs can be flexibly grouped into setlists. In this way, you only need to be pressing one switch to move seamlessly through your entire setlist! If you like to work in a different way, the multiple modes give you the freedom to do things the way you want - just easier and better than before!

The app runs on iOS and Android, allowing you to select your preferred performance interface, and fix it where and how it integrates best with your setup. Use a mobile phone or a tablet, put it on the pedalboard, on a monitor speaker or on a mic stand - wherever works best. The main screen offers a clear, immediate view of the current preset, where you are in the song (plus what's coming next) and in the setlist, in any lighting conditions.
SPECIFICATIONS
Smallest 10-loop switcher on the market: 300mm x 110mm x 44mm (11.75" x 4.24" x 1.75")
Sleek front-of-board remote control unit with 5 footswitches: 300mm x 65mm x 26mm (11.75"x 2.5"x 1")
6 mono and 4 stereo loops (using a Y-splitter cable can actually enable up to 14 mono loops)
Customizable signal path and effect positioning for each preset
Fully-flexible positioning of send/return loop – per preset
Full programming via intuitive app (iOS or Android) – connected via Bluetooth
Unlimited onboard presets
Full output level and boost (up to 6dB), programmable for each preset
Optional extension unit to expand by additional 5 footswitches
Stereo or a/b/y user-selectable outputs
1:1 stereo mixer on loop 9&10 for parallel dry/wet and spillover
Programmable dry signal in parallel with mono loops 1 & 2

LAA True Coil transformers on the main output
Phase reverse on Output A or B
Audio-grade buffers
Ground-loop isolator
4 aux switches for amp channel switching
2 expression pedal inputs
Midi in/out interface
Full midi mapping with Control Change and Program Change on the app
Up to 8 simultaneously output midi messages on different channels

Full, secure back-up of all settings and preset + offline editing
Optional cable connection between controller and switcher
Condition
Brand New (New)

Brand New items are sold by an authorized dealer or original builder and include all original packaging.

learn more

Brand
Model
Finish
Categories
Made In