Yes, it's real.
Following leaked product details earlier this month, Roland has officially announced the highly anticipated SP-404MKII, the latest model in the SP sampler series.
Initially released in 2005, the SP-404 has become a top choice by many beatmakers and performers, celebrated for its distinctive sound, intuitive workflow, resampling, and effects. (Check out the IG Live we hosted on Instagram to hear the new 404 in action.)
The retail price of the MKII will be 499 USD, making it less expensive than the current SP-404A model, even though the MKII is a full 404 with all the features of the original and then some: like 17 velocity-sensitive pads, an OLED display, and an overall enhanced design.
---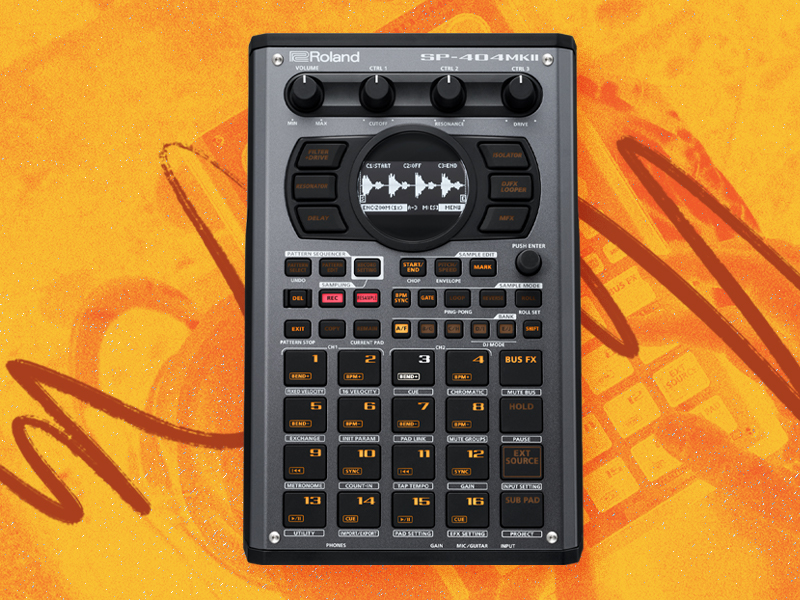 ---
Most MKII functionality will be familiar to SP users, but there are significant workflow improvements. The MKII adds auto-chopping, an envelope, and pitch and time control, putting this model on par with most mid-budget standalone samplers and pad-based workstations.
The new Skip-Back sampling mode allows you to sample what you played via the recording buffer that is always recording 25 seconds at a time. This feature will be handy for generating ideas and capturing the moment. In addition, the new DJ mode takes the possibilities of performing with an SP to new heights: Users can manipulate and control two tracks at once, loaded onto virtual decks, with a mixer that includes headphone cue control.
Roland's YouTube premiere of the SP-404MKII
With all the new features, it's quite the feat that the MKII can run on AA batteries, offering the same portability as its predecessors. Alongside a USB-C connection for power and USB audio, you can also connect to the new Roland app, where you can organize the newly added project files, manage samples, make custom faceplate designs, and convert files from 404SX or 404A machines.
The new SP-404MKII hits every mark that SP users have wanted for quite some time, adding to a long list of standalone samplers that will find their way into beatmakers' bedrooms and stages worldwide.
A complete list of features, according to Roland, includes:
17 velocity-sensitive, 9-color RGB pads.
OLED display
On the go – ultra-lightweight design (2.6lbs / 1.2kg), powered by USB C / mobile battery, 6x AA batteries, or AC adapter.
Bus FX Routing & 37 Effects— Legacy FX like Vinyl Simulation and DJFX looper with new expanded FX including Lo-fi, Cassette Simulation, Resonator plus Vocoder, Auto-Tune, and Guitar Amp Simulator on the Mic / Guitar input.
On-board sample editing & Resampling workflow
Capture audio from or stream audio directly to your mobile device via USB-C
32-voice polyphony, 160 samples per project, and 16 internal projects
Roll Function
DJ Mode
BPM Sync & Auto-Detect
Manual Pattern Chain & Pad-Link
On-board sound library
Pattern sequencer
Extensive customization options with removable metal faceplate, downloadable design template, multiple screensaver options
I/O— 1/4" line in / line out, 1/4" mic or guitar input, 1/4" and 1/8" headphone output, 1/8" TRS MIDI IN and OUT.
SP app
Roland Cloud Compatible
Roland's SP-404MKII will begin shipping this November, and we have every reason to believe it will be a very popular instrument from now through the end of this year. To secure your MKII, preorder through Reverb as soon as listings become available.