The Reverb Price Guide is the only place where you can see real, final prices paid for thousands and thousands of popular music gear products.
In years past, you could try to stay up-to-date with used gear pricing by chatting with your local shops, checking annual reference books, or trying to keep up with online auctions (bonus points to anyone who remembers PrePal).
Now, you can know exactly what prices buyers and sellers agree on, thanks to the Reverb Price Guide.
Here's how you can find and use this unprecedented sales data for yourself.
Estimated Values & Price Guide Graphs
---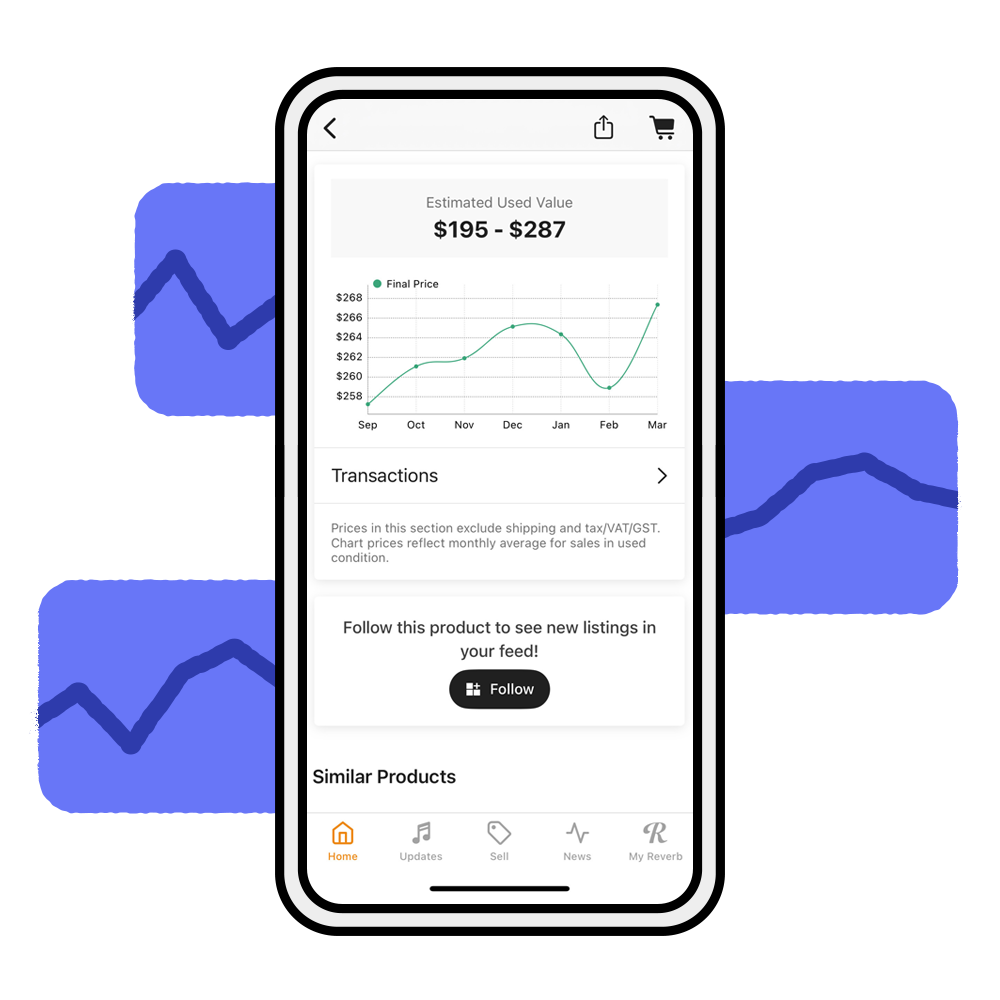 The Price Guide graph for the Arturia Microfreak, as of March 2023.
At the bottom of product pages all across our website and app, you'll find Price Guide-powered graphs and estimated values.
Take, for example, the Estimated Used Value and Price Guide graph for the Arturia Microfreak.
The graph shows the average price of all Microfreaks in good or greater condition sold in recent months. (That is, all synths in good, very good, excellent, or mint condition, excluding fair, poor, or non-functioning units.)
The Estimated Used Value shows the range of recent prices that buyers and sellers have agreed on for the product.
You can expect that mint-condition specimens would fall at the range's high end or even a bit higher, while good, fair, or non-functioning Microfreaks would be at the low end or even lower.
Final Sale Price Transactions History
---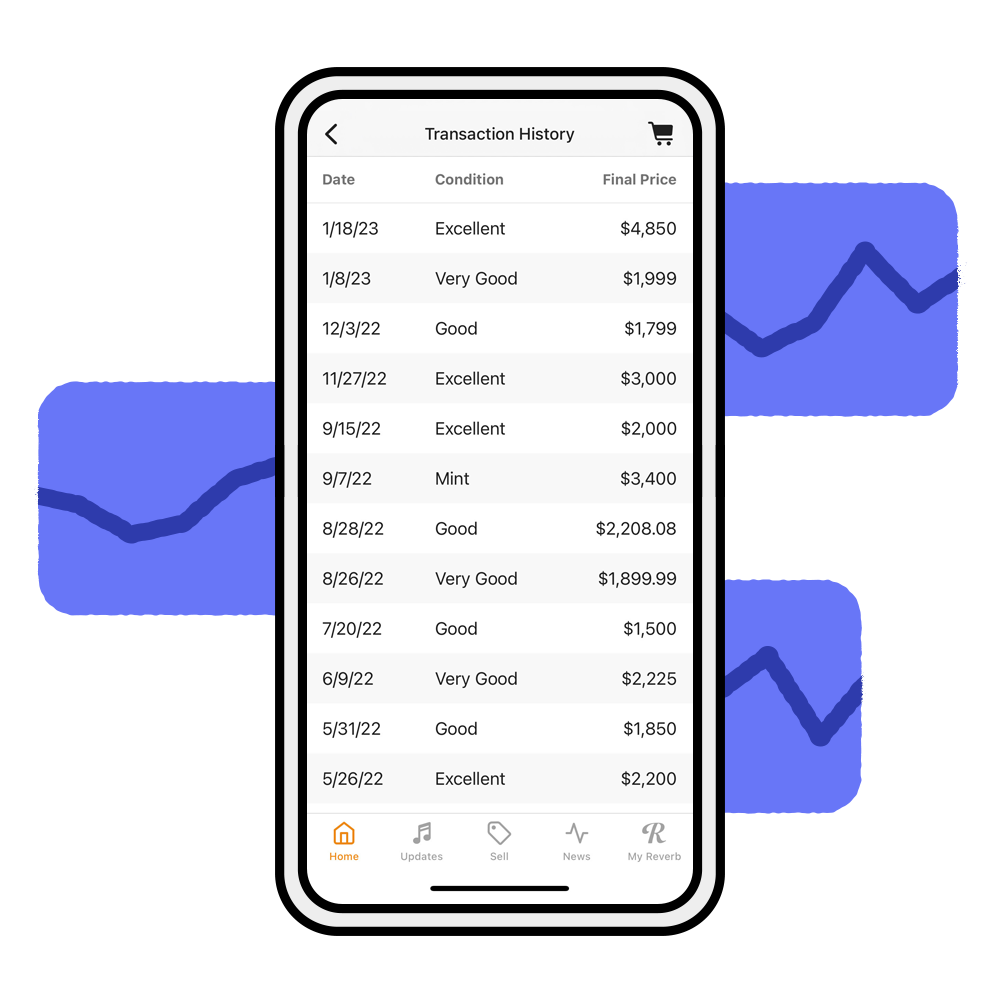 The Transaction History of the Fender Coronado II ('66-'72), as of March 2023.
On product pages, you can also access the Transaction History in order to see a comprehensive list of final sale prices.
In this example, from the page for Fender Coronado II guitars built between 1966 and '72, you can see that a recent excellent-condition model went for $4,850 and a good-condition model went for $1,799 (both excluding shipping and tax).
Keep scrolling and you'll see the final sale prices for each and every transaction for Coronado IIs, stretching back years in time.
Want to know if you're getting a good deal or selling for a good price? Simply check back to see the middleground other buyers and sellers have reached.
Greater Granularity in the Price Guide
---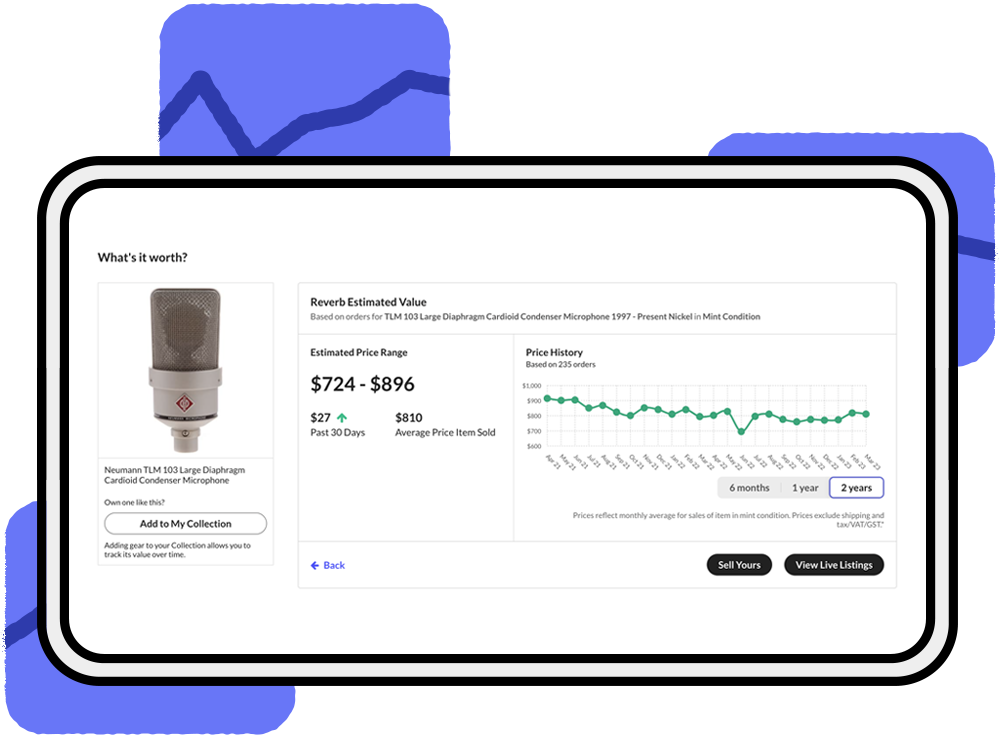 The Price Guide graph for mint-condition Neumann TLM 103 mics in Nickel finish, as of March 2023.
If you're visiting the Reverb website from a computer (rather than using our app), you can get even more granular Price Guide data.
By visiting the Price Guide directly or clicking the "View Price Guide" button from a product page, you can then sort by condition and exact model (for example, mint-condition Neumann TLM 103s in Nickel finish).
There, you can see a Price Guide graph, Estimated Price Range, and Average Sale Price, all based only on sales that match that strict criteria.
---
With the Reverb Price Guide, you can dig into sales data for thousands upon thousands of popular pieces of music gear.
Whether you're buying or selling, it offers an unprecedented level of access to sales data in the musical instruments industry—and helps level the playing field for everyone, as we all try to find agreeable prices for used music gear, no matter what side of the transaction we're on.