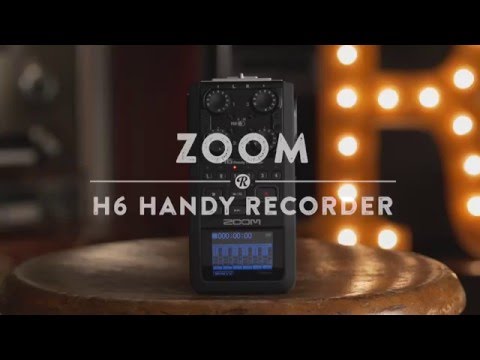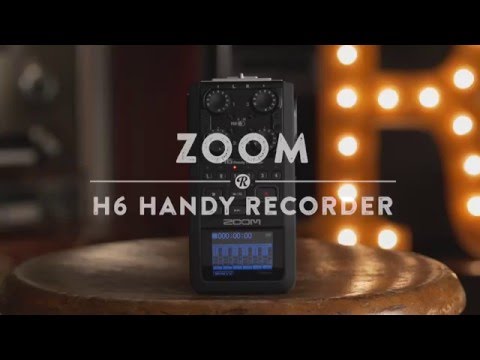 ZOOM H5 Portable Handheld Recorder Bundle w/ SKB iSeries Case & 32GB SDHC Card
About This Listing
Zoom H5 Portable Handheld Recorder
Evolved recording in more ways than one.

Our products are constantly evolving to meet the needs of the creators who use them. With the H5 Handy Recorder, the tradition continues. The H5 provides four tracks of simultaneous recording and, like our flagship H6, it can use all Zoom interchangeable input capsules, allowing you to choose the best microphone for every recording situation. The flexible and powerful H5 provides everything you need to create multitrack recordings, audio for video, and state-of-the-art podcasting, broadcasting and electronic newsgathering.
X/Y recording allows you to cover a wide area yet still capture sound sources in the center with clarity and definition, making it ideal for all types of live stereo recording. The XYH-5 X/Y microphone capsule included with the H5 provides two matched unidirectional condenser microphones set at a 90 degree angle. These are housed within an advanced shockmount that employs rugged external mic wires and rubberized material to isolate the unit from the H5 body and thus minimize vibration and handling noise. The design of the XYH-5 also allows the H5 to handle louder sounds than any other Handy Recorder model: 140 dB SPL, to be precise—equivalent to the sound of a jet aircraft from less than 200 feet away—enabling you to capture sounds louder, closer, and cleaner than you ever could before.
Interchangeable capsules that can be swapped out as easily as the lenses of a camera
The H5's modular design means that you can always use the best microphone for every recording environment.
The Hardware
User Interface
In addition to standard transport controls (stop, play/pause, record, rewind and fast-forward), the front panel of the H5 offers dedicated record arming buttons for each track, which double as mute switches during playback. A Hold switch disables all front panel buttons to prevent accidental operation during recording. The H5 can be attached to a camera strap or, with the use of our optional Hot Shoe mount, mounted directly to a DSLR or camcorder.
Inputs
The H5 also provides everything you need to connect with the outside world. Dual combo XLR/TRS inputs that can handle both mic- and line-level signals allow you to connect external microphones and line-level devices like mixers, portable music players, effects processors and electronic keyboards—even electric guitars or basses equipped with active electronics. Each H5 input has its own dedicated gain control knob, located beneath a protective bar that prevents accidental movement during handling. The supplied XYH-5 X/Y capsule also provides a secondary input for connecting stereo mic- or line-level signal via a ?" mini phone jack. The H5 supports a +4 dB (professional) input level and utilizes the same high-quality preamps as our flagship H6, ensuring great-sounding recordings in all sonic environments.
Outputs
There are lots of output options as well. A dedicated Line Out with adjustable volume allows you to send a stereo audio output from the H5 to the mic input of a video camera or other device without the need for an attenuator cable. In addition, there's a separate headphone output with a dedicated volume control. You can use both outputs simultaneously to route audio to your DSLR while monitoring over headphones. There's also a built-in speaker for fast access playback, and a USB port which allows the H5 to be used as an audio interface for your computer or iPad.
Power and Storage
Just 2 AA batteries—either alkaline or rechargeable NiMH—are required for power. When using alkaline batteries, the H5 will operate for more than 15 hours, even while recording continuously. You can also use an optional AC adapter to power the H5 without batteries. The H5 records directly to SD and SDHC cards up to 32 gigabytes. Maximum recording time is dependent upon the card size and file type; for example, the supplied 2GB SD card can hold approximately fourteen hours of stereo 320kbps MP3 files, three hours of stereo 16-bit / 44.1 kHz WAV files, or an hour of stereo 24-bit / 96kHz WAV files.
The Software
File Types
The H5 can operate in two different modes—choose stereo for two-track stereo recording, or multitrack for four-track recording (in either stereo pairs or individual mono tracks)—and it captures audio in the two most commonly used file formats: WAV and MP3.

The WAV files recorded by the H5 can be 16- or 24-bit, with sampling rates of 44.1, 48, or 96kHz*. They are automatically time-stamped and thus Broadcast Wave Format (BWF) compliant, allowing for precise synchronization in video post-production. MP3 files, while slightly lower in fidelity, are much smaller than WAV files and are thus easier to email and post on social networking sites—allowing you to quickly and easily share your creations around the world.

* 96kHz sampling rate available in stereo mode only
Signal Processing
The H5's onboard effects allow you to add polish to your recordings. Compression and limiting compensate for fluctuations in input level, while a low-cut filter helps eliminate wind noise, blowing, and other kinds of low frequency rumble. There's even an onboard metronome and chromatic/guitar/bass tuner.
Other features
But the list of H5 features doesn't end there. There's playback looping, pitch change and variable playback speed (without pitch change) to help with phrase training. A pre-record function that keeps the H5 continuously recording in the background, keeping the previous two seconds before you hit RECORD.
There's an Auto-Record function that allows recording to begin automatically when a certain level of sound is detected and an equivalent Auto-Stop function that ends recording when the sound drops below a user-designated level, either immediately or up to 5 seconds later. And then there's Backup-Record—the ultimate safety net.* It enables the H5 to automatically record a duplicate set of stereo tracks with 12dB less input gain. Even if your original track is distorted, chances are the Backup version will be fine!
You can even use your H5 as an audio interface, complete with a Loop Back function that makes it easy to add narration to music playback. Simply connect the H5 to your computer or iPad** via USB, launch your favorite DAW or use the included Cubase LE or WaveLab LE software, and start creating a masterpiece.

* 44.1 and 48kHz WAV files only.
** Apple Camera Connection Kit required.
Attach to a video camera as an external microphone.
The H5 is perfect for use on a video or DSLR camera. The remarkable depth and clarity of sound achieved by the stereo mic design brings additional realism and depth to HD video. By attaching the H5 to a DSLR video camera with an optional hot shoe mount (HS-1), you can create a professional video system with high-quality sound.
Features:
• Uses a system of interchangeable input capsules that can be swapped out as easily as the lens of a camera
• Includes detachable X/Y capsule (XYH-5) with extended signal capacity and shockmounted mics for reduced handling noise
• Compatible with all Zoom input capsules
• Four-track simultaneous recording
• Large backlit LCD display
• Records directly to SD and SDHC cards up to 32GB
• Up to 24-bit/96kHz audio in BWF-compliant WAV or a variety of MP3 formats
• Two mic/line inputs with XLR/TRS combo connectors each with selectable phantom power and -20dB pad
• Analog-style gain controls for each input
• Protective "roll-bar" type covers prevent accidental movement of gain controls
• Plug-in power (2.5 volts)
• Built-in effects, including low-cut filtering, compression and limiting
• Chromatic tuner and metronome
• Auto-record, Pre-record and Backup-record functions mean that you'll never miss that perfect take
• MS decoding
• Multitrack to stereo internal mixdown
• Normalize, Divide and Trim editing
• Voice memo and up to 99 marks per recording
• A/B loop playback
• Variable playback speed and variable pitch without affecting playback speed
• Multichannel and stereo USB audio interface for PC/Mac/iPad with loop back function
• Mountable to DSLR or camcorder with optional HS-1 Hot Shoe Mount adapter
• Uses two standard AA alkaline or NiMH rechargeable batteries
• Over 15 hours of operation with alkaline batteries
Adata Premier SDHC UHS-I U1 ASDH32GUICL10-R Memory Card 32GB
As the demand for digital device storages continuously grows, the widely used SD memory card has evolved into the SDHC (Secure Digital High Capacity), including a new interface that enables faster transfer rates and a higher memory capacity. The ADATA SDHC Class 4 supports all consumer digital devices that are in conformation with SDHC specifications, including digital cameras, DV cameras and camcorders, PDAs, multimedia players, PCs, printers, card readers and more.
The ADATA SDHC Class 4 is manufactured in accordance with the SD Card Association's SD 2.0 standards, making it compatible with all SDHC host digital products. Adopting the FAT32 file system format, the ADATA SDHC Class 4 unlocks the 2GB capacity limit of traditional SD cards and provides a minimum transfer rate of 4 MB/s, meeting Class 4 specifications and taking care of your needs for memory card storage and the best read/write speeds.
With a maximum storage capacity of 8GB, the ADATA SDHC Class 4can hold more than 2,000 MP3 files, 2,400 high-resolution JPEG photos or other digital data1. It also supports Error Correcting Code (ECC), which automatically detects and corrects errors during data transfer, preventing corruption and loss of your important data. Additionally, the SDHC's In-System Programming (ISP) feature allows users to load the latest firmware and improve compatibility. The built-in write-protection switch keeps your data even safer, preventing accidental over-writing and file deletion.
ADATA is committed to quality and your peace of mind. Therefore, every ADATA SD card is manufactured under stringent guidelines to ensure the highest in quality and backed by a lifetime limited warranty.
SKB 3I-0907-4-H5 iSeries Injection Molded Case for Zoom H5 Recorder
This Military-Standard waterproof hard case was specifically designed for the Zoom H5 recorders. The interior is custom cut high quality PE foam that includes space for the H5 recorder as well as an open pocket for additional accessories.

Not only does the SKB Zoom H5 case provide the ultimate protection for the recorder, it is backed by SKB's unsurpassed Lifetime Warranty.

SKB iSeries Injection Molded Mil-Standard Waterproof Cases are molded of ultra high-strength polypropylene copolymer resin, featuring a gasketed, water and dust tight, submersible design (MIL-C-4150J) that is resistant to corrosion and impact damage. Features a molded-in hinge, patented trigger release latch system, comfortable, snap-down rubber over-molded cushion grip handle, automatic ambient pressure equalization valve (MIL-STD-648C), resistance to UV, solvents, corrosion, fungus and impact damage (MIL-STD-810F).
Features
Custom durable PE foam for H5 and open pocket for accessories
Waterproof and dust tight design (MIL-C-4150J)
Molded-in hinge for added protection
Trigger release latch system
Snap-down rubber over-molded cushion grip handle
Ambient pressure equalization valve (MIL-STD-648C)
Resistant to UV, solvents, corrosion, fungus (MIL-STD-810F)
Resistant to impact damage (MIL-STD-810F)
Specifications Zoom H5 Portable Handheld Recorder
Specs:
Recording Media: 16MB - 2GB SD cards; 4GB - 32GB SDHC cards
XY mic (XYH-5):
Mic Type: Directional
Sensitivity: –45 dB, 1 kHz at 1 Pa
Input Gain: –8 to 52 dB
Maximum Sound Pressure Input: 140 dB SPL

[MIC/LINE IN]
Connector: 1/8" stereo mini jack
Input Gain: –8 to 52 dB
Input Impedance: 2 kO or more
Plug-in Power: 2.5V supported
Inputs 1/2:
Connectors: XLR/TRS combo jacks
(XLR: 2 hot / TRS: TIP hot)
Input Gain (PAD OFF): –8 to 55 dB
Input Gain (PAD ON): –8 to 35 dB
Input Impedance 1.8kO or more
Maximum Input Level: +22 dBu (PAD ON)
Phantom Power: +12V / +24V / +48V
Equivalent Input Noise (EIN): –120 dBu or less
Line Out:
Connector: 1/8" stereo mini jack
Rated Output Level: –10 dBm
(when output load impedance is 10 kO or more)
Phone Out:
Connector: 1/8" stereo mini jack
Output Level: 20 mW + 20 mW (into 32O load)
Built-in Speaker:
400 mW/8 O mono speaker
STEREO FILE mode:
[WAV setting]
Sampling Frequency: 44.1/48/96kHz
Bit Rate: 16/24-bit (Stereo, BWF-compliant)
[MP3 setting]
Sampling Frequency: 44.1kHz Bit Rate: 48–320 kbps
Maximum Simultaneous Recording Tracks: 4 tracks(L/R + backup recording)
MULTI FILE mode:
[WAV setting]
Sampling Frequency: 44.1/48kHz
Bit Rate: 16/24-bit (Mono/Stereo, BWF-compliant)
Maximum Simultaneous Recording Tracks: 6 tracks (L/R + 1/2 + backup recording)
Backup recording: 12dB lower than set L/R gain
Recording time (with 2 GB card):
03:08:00 (44.1kHz/16-bit WAV)
34:43:00 (128kbps MP3)
Display: LCD (128 x 64 pixels) with backlight
USB:
[Mass Storage Class operation]
Class: USB2.0 High Speed

[Audio Interface operation: Multi-track mode]
Class: USB2.0 High Speed
Inputs / Outputs: 4 / 2
Sampling Frequency: 44.1/48 kHz
Bit Rate: 16/24bit

Note: Use with Windows requires a driver, but Macintosh does not.

[Audio Interface operation: Stereo mode]
Class: USB2.0 Full Speed
Inputs / Outputs: 2 / 2
Sampling Frequency: 44.1/48kHz
Bit Rate: 16 bit

Note: iPad operation supported in stereo mode only.

Battery Life (with alkaline battery):
STEREO FILE mode
XY mic, 44.1kHz/16-bit (stereo x 1): about 15 hours
XY mic and Inputs 1 and 2, 48kHz/24-bit (stereo x 2): about 7 hours 10 minutes

Note: The above times are estimates. Approximate continuous recording times when using battery power were calculated using our own testing method. They may differ greatly depending on operating conditions.
Power:
AA size (LR6) battery x 2
AC adapter: AD-17 (DC5V/1A/USB-type) (optional)
USB bus power
Dimensions:
H5 main unit: 66.8 (W)x 135.2 (D)x 42.1(H) mm
XYH-5: 65.5 (W)x 62.2 (D)x 41.0 (H) mm
Weight: H5 main unit: 176g (without batteries)
XYH-5: 94g
Included Accessories: XYH-5 X/Y mic capsule, SD card (2GB), AA size (LR6) battery x 2, USB cable, Foam windscreen, Case, Operation manual, Steinberg Cubase LE software download, Steinberg WaveLab LE software download
Adata Premier SDHC UHS-I U1 ASDH32GUICL10-R Memory Card 32GB Capacity32GBStandardSDA 2.0Dimensions (L x W x H)24 x 32 x 2.1mm (W x H x D)Weight2gVoltage2.7~3.6VPerformanceSpeed (read) : 10~14 (MB/s)**
Speed (write) : 4~5 (MB/s)**CertificationsFCC, CE, BSMI, VCCIWarrantyLife-Time warrantyNote**Read/write speed based on ADATA internal testing; performance may be lower depending on host device.Speed ClassSpeed Class : Class 4CompatibilityDigital Camera / DSLR / CamcorderOperating temperature-25°C (-13°F) ~ 85°C (185°F) SKB 3I-0907-4-H5 iSeries Injection Molded Case for Zoom H5 Recorder
Lid Depth: 1.19 in
Base Depth: 2.94 in

Exterior Length: 10.73 in
Exterior Width: 9.69 in
Exterior Depth: 4.80 in
Exterior Cu. Volume: 0.29 cu ft

Min. Temperature: -69.00° F
Max. Buoyancy: 0.00 lb

Carton Length: 10.75 in
Carton Width: 9.75 in
Carton Depth: 4.88 in
Carton Cu. Volume: 0.30 cu ft

Product Weight: 2.80 lb
Shipping Weight: 4.00 lb
Buy now, pay later – from 0% APR
As low as $18/month with Affirm monthly payments.
Only 1 available and
1 other person has this in their cart
View Full Listing