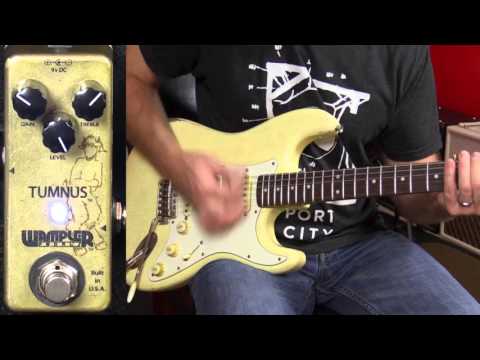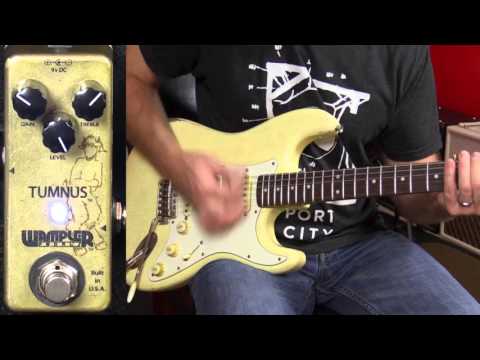 Wampler Tumnus Classic Overdrive Mini Pedal
About This Listing
Stomp on the Tumnus for that mythical overdrive tone without the large footprint or price tag. Go from boost to full overdrive with a flick of the gain dial.
Wampler's Take on the the Legendary Klon Overdrive Tone
The Wampler Tumnus Classic overdrive mini pedal takes that iconic tone you know from guitarists like Joe Perry, John Mayer, and Keith Urban, and adds dynamic overdrive control as well as boost capability. You can use this pedal as a stand-alone overdrive pedal, a signal booster with a low-end push, or stacked with other overdrive pedals to bring more body into your signal chain. Inside the compact, pedalboard-friendly Tumnus, you'll find Wampler's renowned hand-built circuitry along with true-bypass configuration to keep your signal's original character unaltered when the effect is disengaged.
Adding a Little Flavor to a Legendary Tone
There's a famous golden overdrive pedal used by guitarists to get a particular tone, but you can get that powerful punch at a fraction of the cost with your Tummus Classic overdrive mini. Wampler pedals are designed to hone in on their targeted tone with remarkable accuracy, and can really add a wide range of dynamic reach to your game in one simple stomp.
Wampler's Hand-Built Circuitry
Brian Wampler builds his pedals to ensure that your signal is getting the best treatment possible. Wampler pedals are known for their transparent sound due to their hand-built circuitry and careful attention to detail. As a result, they work wonders with a wide range of guitars and amplifiers and stack well when combined with other effects pedals.
Dialing In Your Target Tone
The Tumnus Classic gives you a simple control layout to dial in your tone. The gain control takes you through grit, drive, and clipping for a wide tonal spectrum. The treble brings in a nice helping of shine and clarity, which may be necessary since this pedal does add a sizable load of body to your signal. The level control sets the volume level of your output. If you keep your gain down low, you can use your level control as a signal booster for solos and leads.
Stand-Alone or Stack It
The boost effect of your Wampler Tummus Classic overdrive mini stacks well with many different overdrive pedals, so you can add in a little life and decibel-boost your signal chain when you need it. This pedal can also work wonders with your amplifier's overdrive settings, so be sure to spend the time exploring how your rig can make your overdrive tone stand out from the crowd.
Features:
- Overdrive pedal with boost voicing
- Based on legendary overdrive
- One 1/4" instrument input
- One 1/4" output
- Stacks very well with other pedals
- Hand built true bypass circuitry
- Circuitry uses high grade film capacitors and resistors
- Easy to use gain, level, and treble controls
- Compact pedalboard-friendly size
- Power via external 9-volt power supply -- sold separately
- Weight: 1 lbs.
- Power draw 20mA at 9v
Weight, Dimensions, and Manufacturer Part Numbers
Shipping Weight: 0.5 lbs
Shipping Dimensions: 5 x 4 x 4 in
Manufacturer Part Number (MPN): 3769
zZounds is an authorized dealer of Wampler products.
Buy now, pay later – from 0% APR
As low as $9/month with Affirm monthly payments.
View Full Listing