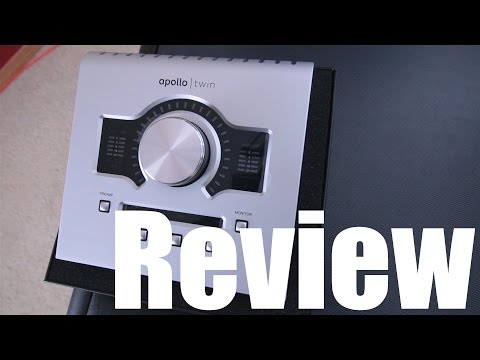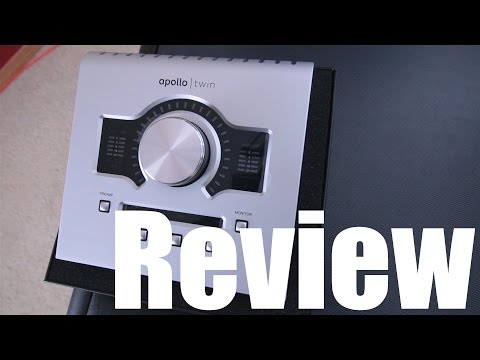 Universal Audio Apollo Twin Duo + Audient ASP880 Interface/Converter/Mic Pre Combo
About This Listing
Apollo Twin Duo
Apollo Twin. High-Resolution Desktop Music Production with Classic Analog Sound.
With its class-leading resolution and Realtime UAD Processing, Apollo Twin sets a new standard for desktop music production. This 2x6 Mac Thunderbolt interface allows you to record with near-zero latency through the full range of UAD Powered Plug-Ins — ingeniously merging classic analog tones with cutting-edge features. Watch the Overview Video Key Features
World-class 24-bit/192 kHz audio conversion
Realtime UAD Processing — track through vintage Compressors, EQs, Tape Machines, and Guitar Amp plug-ins with near-zero latency*
New Unison™ technology for stunning models of classic mic preamps**
Available with either UAD-2 SOLO or UAD-2 DUO DSP Processing onboard
Includes "Realtime Analog Classics" UAD plug-in bundle
Thunderbolt connection for blazing-fast PCIe speed on modern Macs
2 premium mic/line preamps; 2 line outs; front-panel Hi-Z instrument input and headphone output
Digitally controlled analog monitor outputs for full resolution at all listening levels
Uncompromising analog design, superior components, and premium build quality throughout
Full Features & Specs
System Requirements
Record and Mix with Stunning
24-bit/192 kHz Sound Quality With the highest dynamic range and lowest noise of any desktop interface, Apollo Twin gives you stellar 24-bit/192 kHz sound and breathtaking clarity.
Its premium mic preamps, input stage, and audio conversion are identical to the famed Apollo series, translating into rich three-dimensional recordings with exceptional depth and punch. Digitally controlled analog monitor outputs provide full resolution audio (without digital scaling) at all listening levels — letting you create better mixes in real-world environments. A Complete Analog Studio with
Realtime UAD Plug-In Processing Imagine having access to a classic analog recording studio, right on your desktop. Apollo Twin lets you record and mix through the full range of UAD Powered Plug-Ins — including vintage EQs, compressors, reverbs, tape machines and more — at near-zero latency, regardless of your audio software buffer size. With award-winning UAD plug-ins from Ampex, Lexicon, Neve, Moog, Roland, SSL, Studer, and more,* Apollo Twin serves up authentic analog tone and warmth. The key to its analog magic is onboard UAD-2 SOLO or DUO DSP Processing, which powers the UAD plug-ins while reducing the strain on your host CPU. Apollo Twin includes the "Realtime Analog Classics" plug-in bundle, featuring a choice selection of vintage compressors, EQs and reverb, plus guitar amps and tube mic preamp emulation. From there, you can choose from a vast and expanding collection of plug-ins in the UA Online Store
.
Track Through Classic Mic Preamps Using Unison™ Technology High-speed Thunderbolt Connection to
your Mac Unison technology allows Apollo Twin's mic preamps to sound and behave like the world's most sought-after tube and solid state preamps — including their all-important impedance, gain stage "sweet spots," and circuit behaviors. Based on breakthrough integration between Apollo's digitally controlled analog mic preamps and its onboard UAD processing, Unison lets you track through colorful preamp emulations like the bundled UA 610-B Tube Preamp plug-in, with more emulations coming soon. Apollo Twin's Thunderbolt connection features ultra-fast PCIe audio drivers for high-bandwidth, low-latency performance on all Thunderbolt-equipped Macs. Because Thunderbolt offers 12x the bandwidth of FireWire 800, you can connect numerous devices in line with Apollo Twin — including hard drives and HDMI/USB3 hubs — all with fast, flawless performance.
Professional I/O Connections Apollo Twin is a 2-in/6-out interface with two class-leading mic/line preamps, two analog line outputs, two digitally controlled analog monitor outputs, and up to eight additional channels of digital inputs via Optical connection. Its conveniently located Hi-Z instrument input and headphone jack allow you to capture inspiration the moment it strikes. Console Application and Console Recall Plug-In The Console application is Apollo Twin's software control interface. Its intuitive, analog console-style design provides "realtime" tracking and monitoring with UAD Powered Plug-Ins — a feature not found in any other interface. Complete Apollo Twin Console setups can be saved as presets, or even saved within your sessions using the Console Recall plug-in (VST/AU/RTAS/AAX 64). This enables hardware recall of all Apollo Twin settings, even months and years after you last opened your session.
Easy to Use with Any Mac DAW Apollo Twin is compatible with all major Mac DAWs, including Pro Tools, Logic, Garage Band, Cubase, Live, and more — allowing seamless integration no matter what recording software you use. ASP880 8 Channel Microphone Preamplifier and ADC
ASP880 is an 8-channel microphone preamplifier & ADC that will transform your sessions into world class recordings, the perfect addition to your set-up. ASP880 provides eight of Audient's renowned console mic pres, pristine converter technology and a versatile feature set that includes Variable Impedance and Variable High Pass Filters. All in a 1RU rack!
8 Audient Console Mic Pres
All new, Burr Brown AD converter technology
Variable Input Impedance
Variable High Pass Filters
8 Insert points between the mic preamps and AD converters
2 Channels of Class-A Discrete JFET D.I instrument inputs
Digital Outputs - ADAT, AES & S/PDIF
Transform your sessions into world class recordings with ASP880, the perfect addition to your set-up. Bypass the mic pres and converters in your current interface and achieve the same audio excellence as the top studios.
Audient's renowned Class-A, console mic pre outshines the competition and gives you the same sonic quality of products costing three or four times the price. Capture the detail and excitement of your audio sources, all with a hint of analogue colouration that will sound stunning on any project!
Developed by design legend David Dearden, our mic pre is used by thousands of professional studios around the world. With its versatile nature and accurate translation, the ASP880 will quickly become your 'go to' mic pre.
ASP880 provides you with the highest grade converters from Burr Brown, the leaders in converter technology. The integral ADC guarantees you will have the best conversion possible.
This isn't just the best converter in a mic pre either, it stands up against dedicated converters too. You can focus on the music and let ASP880 take care of the rest.
As well as offering you 8 channels of mic pre and line inputs, ASP880 has two sonically accurate discrete JFET DI inputs, so you can plug your guitar or bass straight in.
Bring your outboard in from the cold
Ever wanted to add compression or EQ to your signal before going to the computer? Well with ASP880 you can. Simply insert any analogue processor before the converters - it's as easy as that!
The A-D button allows ASP880 to function as an 8 channel mic pre while you use the converters separately in stand-alone mode.
Say Goodbye to Pesky Low frequencies
Lose those unwanted low frequencies with a simple to use variable high-pass filter. The result is a clean, ready to record signal.
Wrap it up with a ribbon
If you're partial to the character of ribbon mics, then ASP880 is made for you. Variable impedance allows you to match the pre to your favourite ribbon mic. Retain the punch and frequency response the mic was born with. It also works on your other mics, just more subtly.
ASP880 has been designed to last, its all-metal construction and hand milled aluminium knobs will stand up to countless late nights in the studio and days on the road.
All this in 1RU!
Free Shipping
2-Day Shipping available
Buy now, pay later – from 0% APR
As low as $102/month with Affirm monthly payments.
This seller is open to offers
View Full Listing