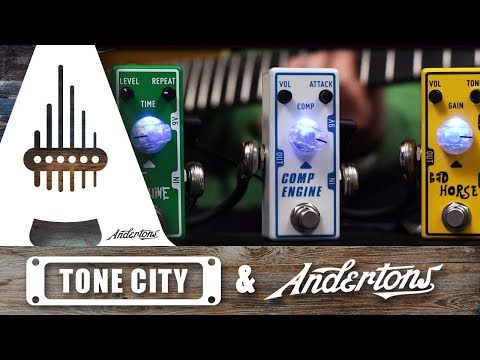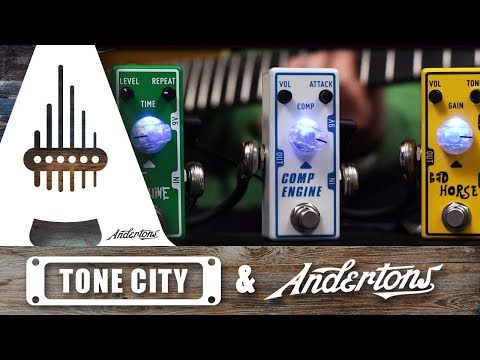 Tone City Comp Engine A Mighty Mini Fast U.S. Shipping NO Overseas or Cross Border wait times!
About This Listing
Tone City Comp Engine Compressor
All Mini's are NOT the same
Fast U.S. Shipping NO Overseas or cross border wait times!
Compressor may not be an effect you have considered. That is ....until you own one. The difference it can make to your tone when used correctly will surprise you! It is the silent wonder of the guitar world, which is why Tone City have designed their very own version..... the Comp Engine.
Squeeze Your Tone
There are two very common ways to use a compressor. One method is by turning the threshold (comp control) up high, delivering a very squashed sound that brings out the attack in your notes and smooths the level out. That is perfect for blues, jazz and funk in particular, where that consistency is vital when playing chords or lead lines.
The other way that you can use a compressor is by running it into a slightly distorted rig. With just a small amount of compression and a lot of volume, this method provides incredible sustain. Ever wondered how some guitarists get their notes to ring out for so long at the end of a solo? It was most likely by employing a compressor in this way.
The Comp Engine, with its 3 essential controls, can let you run your compression exactly the way you want - perfect for either method described above.
Small & Portable
All Tone City pedals are built in a micro pedal format, which not only helps to save precious real-estate on your pedal board, but no wallet busting at their amazingly low price. But don't worry, you don't lose any quality when going down to this small size or cost.
The controls all use high-quality components, and with true bypass switching, your signal will stay as clean and pure as possible.
Specifications: Technology: Analog
Input Impedance: 500k
Output Impedance: 10k
Mono / Stereo: Mono In, Mono Out
Controls: Volume, Attack, Comp
Bypass Mode: True bypass
Power supply: 9VDC, Center negative
Power Consumption: 8 mA
Housing size: Mini
Dimensions: 1 1/2" W x 3 1/2" H x 1 1/4" D
Note:
Power supply not included.
Please use the 9V power adapter whose polarity is negative center otherwise, the product may not work properly.
NO waiting for Overseas shipping!
Thanks from
The Earth City Sound Company
As low as $5/month with
This seller is open to offers
View Full Listing