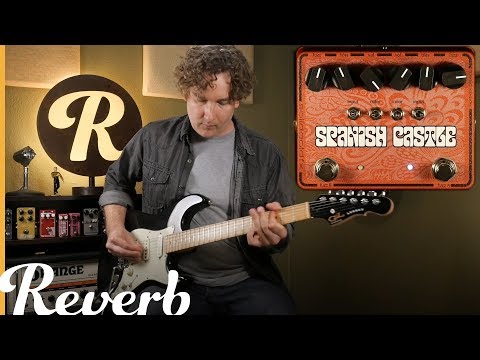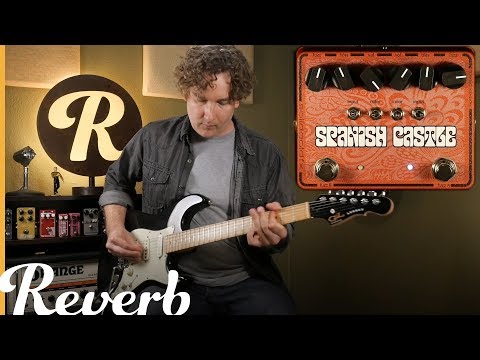 SolidGoldFX Spanish Castle Dual Fuzz Guitar Effects Pedal True Bypass Stompbox
About This Listing
SolidGoldFX Spanish Castle Dual Fuzz Guitar Effects Pedal
The year 1969: Not only was Led Zeppelin's eponymous album released, but Woodstock took place in August. 1969 marks a turning point in the gear world also; it was the year that Dallas-Arbiter switched Fuzz Face production from the lower-gain germanium transistor core to readily available higher-gain silicon devices. Our Spanish Castle pays tribute to this year.

Packed to the turrets with fuzz spread across two separate and footswitchable If 6 Was 9 circuits, the Spanish Castle is the perfect device for the fuzz-crazy and fuzz-curious alike. Combining both Fuzz Face eras with a little contemporary magic is what we do around here.

The right side of the Spanish Castle represents the warmer pre-'69 circuit and is equipped with low-gain silicon transistors that emulate the rich character of germanium with more stable and consistent operation. Carbon-composition resistors further round everything out for a sound that is just like they used to roll them off the line. Unlike the Faces of yore, this circuit is equipped with a bias circuit to dial in just the right flavor, and cleans up like a champ. The original tenant of the Spanish Castle would have loved it.

On the left side, our post-'69 If 6 Was 9 circuit lies in wait. This wing of the Spanish Castle offers up higher-gain silicon transistors for a more buzzsaw-like grind, metal film resistors for tighter tolerances and an extended bias range for dialing in ripping gated fuzz textures as well as full-bodied snarl.

Each side offers up two toggle switches—Color is a three-position switch that adjusts the EQ of its respective side, from flat EQ to two settings that shave off treble and mids. The Input toggle is also a three-position switch, changing gain and bass values that make the Spanish Castle adapt better to your wahs and other pedals.

If that's not enough control for you, each side contains an internal switch that changes between Bold and Comp modes, the former increasing the output and midrange, and the latter offering a softer, more compressed tone.

Please enjoy your stay in the Spanish Castle. You'd better make yourself at home. You're going to be here a while.

KNOBS

Fuzz:

Most Fuzz Face-style pedals only produce usable fuzz amounts at the end of the knob. Not ours. Each Fuzz knob is designed to give you an even sweep of fuzz throughout.

Bias:

These knobs vary the voltage to the collector of of the second transistor, giving you burlier (clockwise) or leaner/gated fuzz tones (counter-clockwise).

Volume:

Gives you more output than vintage-style Fuzz Faces. Note: when running both sides at once, Side B's Vol control becomes the "master volume" while Side A's control becomes a "saturation" control.

TOGGLE SWITCHES

Color:

These three-position switches adjust the EQ of the side they're found on. The center position of each switch bypass the EQing, while the "left" positions shave a small amount of treble and scoop a small amount of mids from their respective sides. The "right" positions shave an even greater amount of treble while scooping a greater amount of mid frequencies.

Input:

These three-position switches adjust the input attenuation and wah friendliness of the side they're found on. The "right" positions leaves its respective side alone with regards to attenuation. The center positions heavily cut gain and bass, while the "left" positions mildly cut gain and bass. The center and left positions help adapt the Spanish Castle to a more wah-friendly fuzz.

UNDER THE HOOD

Bold/Comp (internal DIP):

Each side contains a DIP switch that toggles between Bold and Comp settings. The Bold side increases the output level and the midrange content, while Comp delivers a softer and more compressed tone. The default setting is with Comp on.

AUXILIARY
Input: Instrument or other pedal goes here (right side).
Output: Amplifier or other pedal goes here (left side).
True bypass footswitches: Turns each side of the effect on and off.
Specifications
POWER: The Spanish Castle requires a center-negative 9-to-18VDC power adapter with at least 10mA of current (not included). Almost all power supplies meet this requirement, but check yours beforehand. There is no option for a battery.
DIMENSIONS: 4.67" x 3.68" x 1.18" (119mm x 94mm x 30mm)
Buy now, pay later – from 0% APR
As low as $14/month with Affirm monthly payments.
This seller is open to offers
View Full Listing