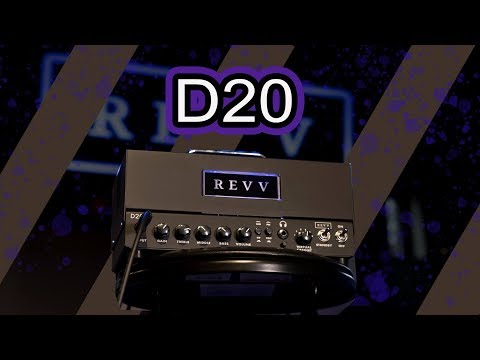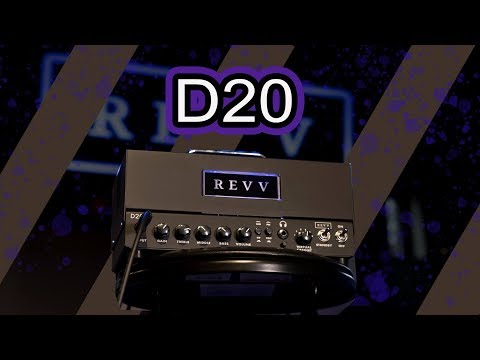 Revv D20 - Tube Head w/ Built-in Reactive Load & Virtual Cabinets
About This Listing
The D20 is the world's first Two notes Torpedo-Embedded amplifier.
This all-tube head has an optional reactive load for organic feel & tone when playing without a cab & hosts virtual cabinets onboard for direct recording, silent playing, & live performance without a microphone.
We set out to build an amp that not only has this new modern featureset but sounds incredible on its own as a standalone amplifier. The result is something convenient & great sounding at the lowest price point Revv has ever had.
Read more to see your own rig-building opportunities with the D20.
• All tube. ~9lbs. 20 or 4 watt operation.
• World-class clean & crunch tones developed with Nashville session greats.
• Two notes reactive load & virtual cabinets built in.
• FX Loop, MIDI, & more.
• Build your own rig with amp-voiced pedals for high gain.


Note on Two notes Torpedo Embedded Features: As we have finalized the software with Two notes the following onobard featureset has been decided on at launch: Choice of speakers, cabinet, mic, mic position, EQ, & reverb all onboard. However, by owning the Revv Virtual Cabinets included in the amp - you are entitled to a lifetime copy of the Wall of Sound Plugin if you register with Two notes, where you can not only purchase more cabinet/speaker combinations if you choose, but you can also access more features such as compression, exciter, and more in your DAW.


Included Two notes Virtual Cabinets when you register your amp to your Two notes account, or create a new account when registering. (6 front-panel knob presets are custom Shawn Tubbs blends using Revv Virtual Cabinets). Please see their website for an in-depth description of each cabinet/speaker.
- Deluxe
- Brit VintC
- Eddie
- Green Tri
- Kerozen
- Revv 1x12 ET90
- Revv 2X12 Closed back
- Revv 4x12 Closed back
- SilverJen
- WattfanC
Full specifications:
• Inspiring Clean & Crunch tones developed with Nashville sessions guitarists
• Perfect platform for your favorite gain pedals
• 3-band EQ + Volume & Gain controls
• Push/Pull gain pot for 2nd crunchier voicing
• Switchable from 20 to 4 watts
• 2 6v6 - 2 12ax7
• Buffered Series FX Loop
• Switchable 4/8 Ohm speaker jack 


• Embedded Two notes Reactive Load & Virtual Cabinets
• Go direct to Front of House, interface, or headphones - without a cabinet.
• Hundreds of virtual mics, speakers, cabinets, EQ, reverb, & more available.
• XLR Balanced Direct Output, USB, & Ground Lift for Torpedo Embedded
• 6 Pre-Loaded Virtual Cabinets selectable via front knob - all customizable. Or up to 128 via MIDI.
• 100ms Virtual Cabinet length

• "Pre & Post" switch selects whether (in reactive load direct mode only) the power amp is in the signal chain. This is so you can take advantage of Two notes' power amp simulation & dramatically change the character of the D20 with virtual tubes such as EL84, if you like.
• Reactive Load automatically engages when speaker is not detected to preserve amp
• Select Between Internal & Speaker Load
• Level-Adjustable Headphone Out 


• Small, Light, & Durable
• 6.3125"x7.5"x12.3125" including knobs, not including handle
• High Quality Transformers
• Easily Accessible Rear-Bias Test
• Easily Accessible Fuse
• Durable, Lightweight Aluminum Enclosure
• Weighs ~9lbs
• LED-Illuminated Badge
• International Voltages Available
• 1 Year Warranty
[For more information visit revvamps.com]
As low as $56/month with
This seller is open to offers
View Full Listing