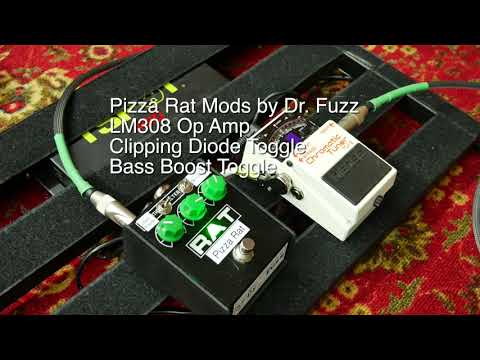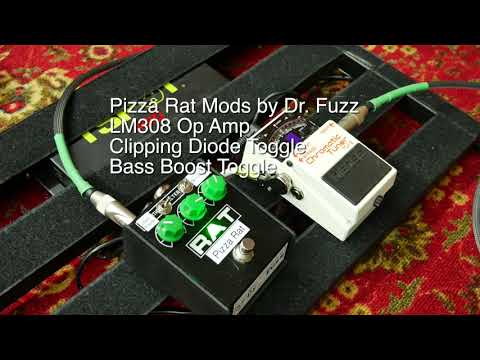 DIY Pizza Rat Mod Kits (mod your own pedal)
About This Listing
This item is a DIY Mod Kit for your ProCo Rat, Pedal is not included.

The Pizza Rat DIY Mod Kit includes replacement knobs and a fresh superbright LED. Purple or Green 1510 Davies knobs available. Green, Orange, Blue, White, and Violet LED colors available. These aesthetics let everyone know that you do not have an ordinary stock Rat. All DIY Kits also include all the necessary components and instructions as well as a brief write-up explaining the electronics theory behind the mods you will perform on your own ProCo Rat pedal (pedal not provided by Dr. Fuzz). After ordering please message me with your knob and LED color preference.

Currently there are three unique mods in this kit: The Clipping Diode, Bass Guitar, and Op Amp Mods.
The Clipping Diode Mod includes a toggle switch and a couple different options for stock, boost, and turbo clipping modes.

The Bass Guitar Mod includes a toggle switch and components required to add just enough low end response to make your Rat a phenomenal bass distortion pedal or bring that thunderous low end for some truly heavy guitar tones.

The Op Amp Mod includes a Potpourri of Op Amp flavors for your own experimentation.
National Semi LM308N Op Amp
Texas Instruments uA741 Op Amp
Texas Instruments TL071 Op Amp
Texas Instruments NE5534 Op Amp
To protect the devices from ESD damage, they will be packaged on ESD-safe foam and within an ESD-safe bag. Handle with care and follow typical ESD-safe handling guidelines (
e.g.
do not handle while working or walking over carpeted areas and always ground your body before touching any ESD sensitive components).
I will be shipping this mod kit via USPS First Class Package.