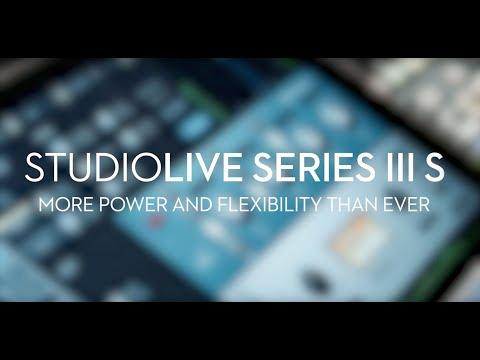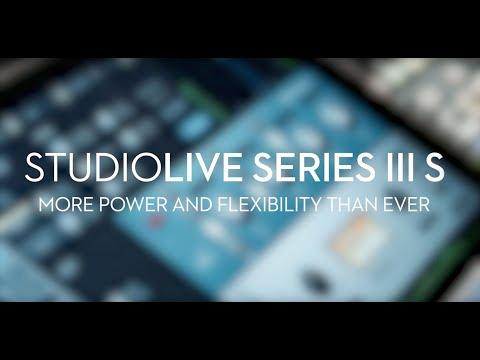 PreSonus StudioLive 32SX Series III Digital Mixer 2020 Black / Silver
About This Listing
Power meets efficiency.
Loaded with the processing power, studio-grade audio quality, and flexible routing options that made StudioLive mixers famous, the StudioLive 32SX is the perfect compact 32-channel digital mixing solution. Powered by the dual-core PreSonus FLEX DSP Engine, the StudioLive 32SX digital mixer is equipped with 40 mixing channels, 26 mix buses, and 286 simultaneous processors—including 4 stereo reverberation systems, and Fat Channel plug-in models on every input and mix. The low profile of the StudioLive 32SX makes it an ideal solution for any mixing environment where desk real estate is at a premium. The split-fader workflow lets you manage 32 input channels in two fader layers, while still providing access to your mix outputs on eight additional faders. With 32 XMAX mic preamps and 16 balanced mix outputs, the StudioLive 32SX packs connectivity and power into an efficient use of space.
The scalable digital mixer.
The StudioLive 32SX digital mixer and the complete PreSonus StudioLive Series III ecosystem of AVB networking products allow you to create a system that is truly customized for your needs. Add to give your musicians their own customizable 16-channel monitor mixes. Connect a to use as a remote stage box or monitor mixer. Multiple can be networked, allowing you to route audio to and from any device on the audio network thanks, to the flexibility of Digital Patching onboard your StudioLive 32SX digital mixer and in.
Superior sound.
We built our reputation designing great-sounding analog circuits for critical studio recording environments, and we put all of that experience into designing the StudioLive 32SX digital mixer. In 1995, PreSonus patented digital control over analog circuits with our first studio product. Building on this legacy, we created a separate digital volume-control circuit ahead of our lauded analog XMAX mic preamp design, providing the convenience of digital recall without sacrificing fidelity. This allows the StudioLive 32SX mic preamps to be remote-controlled with UC Surface software or Studio One®, and when you load a StudioLive 32SX mixer scene, the mic preamp trim values can also be recalled along with the other settings.
Record music with or without a computer.
PreSonus ® recording software is an intuitive multitrack recording application with a fully integrated Virtual Soundcheck mode that runs directly on your StudioLive 32SX digital mixer or on your Mac® or Windows® computer. Record all 32 channels plus a stereo mix of your choosing via USB, to an SD Card, or both for the ultimate redundant live recording rig. StudioLive mix scenes can be stored with your recordings to speed up virtual soundchecks. Best of all, Capture sessions open natively in with the entire StudioLive mix scene re-created in the Studio One console, complete with fader levels, Fat Channel settings, mutes, solos, and more. No other multitrack software makes recording as fast, simple and hassle-free so you can focus on mixing the show.
The best music recording software… included.
Studio One revolutionized music recording, making common mixing and production tasks as easy as drag-and-drop. Tight integration with StudioLive 32SX digital mixers allows you to control preamp levels and more right from the Studio One software console. Press the DAW button on your StudioLive 32SX, and your Studio One controls are right under your fingertips on your digital mixer. Studio One control can be toggled on and off, allowing you to quickly switch between your live mix and your production mix with the press of a button. is included with the StudioLive 32SX, so you can start recording right out of the box.
Remote control your digital mixer from anywhere—on any device.
PreSonus StudioLive Series III digital mixers are tightly integrated with an entire suite of state-of-the-art software. Mix wirelessly using touch-control software for macOS®, Windows, iPad® and Android™. Control your monitor mixes with for iPhone®, iPod® touch, and Android devices. Whether you're adjusting monitor mixes on stage, moving around the room to dial in your mix, or using your mobile device as a second screen for your StudioLive 32SX digital mixer, remotely controlling your mix from anywhere just got easier.
Flexible mixing for studio and stage.
The StudioLive 32SX was designed to fit well in any application. Its 16 FlexMixes can be individually configured to function as an aux bus, a subgroup, or a matrix mix. Four designated effects buses provide a total of 24 mix buses plus an independent solo bus and the main mix. We also provided 24 DCAs so you can more easily and flexibly control groups of channels. Inputs and buses can be freely routed internally, out to your AVB network, and over the USB bus, allowing you to customize your StudioLive 32SX for your unique mixing style.
The best USB audio interface for mixing.
With 128 (64x64) channels of recording over USB, you can record every input channel and bus on your StudioLive 32SX for the ultimate recording rig. Each channel can independently access its analog input or its dedicated digital return from your computer. Six pre-installed vintage EQ and classic compressor Fat Channel plug-in models can be used onboard your mixer as well as within Studio One. And you also get Fat Channel Collection Vol. 1... which includes 15 additional vintage-modeled EQs and Compressors—a $149 (USD) value if purchased separately. Fat Channel plug-ins can be inserted on every input channel and output bus, giving you extensive, studio-style processing while mixing and recording.
A complete networked solution.
StudioLive Series III networked products form an ecosystem that is easily expanded and quickly configured. Designed to enhance each other, these products are at the forefront of AVB networking technology. Connect to and add a dedicated monitor mixer. Route audio to for customized mixes on stage. With powerful plug-in processing, advanced recording features, and a full complement of analog I/O in a compact chassis, the StudioLive 32SX is an ideal centerpiece for sound systems of any size.
Three year warranty—for
all
Series III and III S mixers
When we introduced the StudioLive Series III S mixers, we upgraded all Series III mixer warranty programs to three years as well, including both console and rack mixers. Even if you bought yours two and a half years ago, you're covered.
We take our build quality seriously, and if anything goes wrong with your mixer in your first three years of ownership (assuming you don't throw it in a swamp or anything like that) we'll repair it.
Make your
own
magic.
At PreSonus, we want to make sure that our audio interfaces come with everything you need to craft your own mesmerizing spells in the studio. That's why we include Studio One Artist with every audio interface product we make. But here in Louisiana, we have a word: lagniappe. It means "a little something extra," and it's in that spirit that we also include the Studio Magic Suite of software with our audio interface products.
The 2020 Studio Magic is a major step up from the 2019 edition, and includes Ableton Live Lite, tutorials from Melodics, 6 virtual instruments, and 9 effects plug-ins in VST, AU, and AAX formats... all unlocked for use inside Studio One Artist with a retail value of over $1000 (US).
Software Library UC Surface
Battle-ready control software
Designed primarily for live mixing but also well suited to the studio, free UC Surface touch-control software for Mac®, Windows®, iPad®, and Android™ provides bidirectional control and editor/librarian functions for all StudioLive® Series III and StudioLive RML-series digital mixers. You can control the mixer with multiple iPads and—optionally—a computer, each running UC Surface with a different view, enabling you to see and touch all of the controls you need at a given time. UC Surface supports Windows touchscreens and networks via wired or wireless connections.
QMix®-UC
Wireless Aux-Mix Control Software for iPhone® or iPod® touch
With free PreSonus QMix®-UC software, multiple musicians can simultaneously control their StudioLive mixer's monitor (aux) mixes using an iPhone®, iPod® touch, or Android™ smartphone. If you have a PreSonus Studio 192 or Studio 192 Mobile audio interface, you can use QMix-UC to control the interface's monitor outputs too!
Capture™
Live Recording Software
Designed exclusively for StudioLive mixers, free Capture multitrack recording software for Mac® and Windows® allows instant setup and one-click recording of up to 34 tracks at up to 48 kHz, directly from the mixer, with no configuration. Capture simplifies your live-recording environment, providing only the tools necessary to do a true virtual soundcheck and record a great performance, without placing huge demands on your CPU. And because Capture looks and operates like a classic multitrack hard-disk recorder, it's instantly familiar. Best of all, Capture uses the highly lauded, 64-bit, Studio One® audio engine, so your tracks will sound amazing!
Studio One® Artist
Creative Music Production Environment
Studio One is a completely modern professional environment for music recording, mixing, mastering, sharing, and collaboration. It's Internet-savvy and provides a complete solution, combining the features you really need with the ease of use you always dreamed of. Based on an elegant user interface and a content browser with powerful drag-and-drop functionality, feature-rich Studio One will let you work quickly and stay focused on your inspiration.
Features
Powered by the new dual-core PreSonus FLEX DSP Engine to provide the most processing of any digital mixer in its class

40 input-channel digital mixer with 25 touch-sensitive motorized faders

32 local digitally controlled XMAX mic/line inputs

2 balanced stereo aux inputs

1 stereo tape input (RCA, USB, AVB or SD)

4 FLEX FX returns

1 Talkback

26 mix buses

16 FlexMixes (Aux, Subgroup, Matrix)

4 dedicated FLEX FX buses

4 dedicated subgroups

Stereo Main bus

286 simultaneous processors

HPF

Gate / Expander

Compressor with Fat Channel plug-in models

4-band/6-band parametric EQ with Fat Channel plug-in models

Limiter

31-band Graphic EQ

4 FLEX FX slots featuring legendary classic reverb emulations and delays

State Space-Modeled Fat Channel compressor and EQ plug-ins available on every input channel and output bus

FLEX FX multi-effects processor with 4 slots to load legendary reverb emulations and delays with 4 dedicated effects buses

24 DCAs to control groups of channels

128-channel (64x64) recording over USB

Onboard multi-channel SD recorder (34x34) with true Virtual Soundcheck mode

AVB Networking onboard (64x64) to connect with other mixers, NSB-series stage boxes, EarMix 16M personal monitor mixers and more

User Profiles for managing multiple operators with custom permissions

Per channel digital patching from any analog, AVB, USB, or SD Card source

DAW Control

Advanced Studio One control integration

MCU emulation mode optimized for Logic

HUI emulation mode optimized for ProTools

Remote control every mix function from your computer, iPad, or Android tablet with UC Surface (included)

Put your musicians' monitor mix under their fingers with QMix-UC (included) for iOS or Android

Capture 3.0 multitrack software included

Automated Virtual Soundcheck

Store StudioLive mix scenes with your audio

Advanced Studio One integration (Studio One Artist Included)

XMAX mic preamp control from Studio One

Control Fat Channel parameters from Studio One mixing console
Computer system requirements:
Below are the minimum computer-system requirements for UC Surface, QMix-UC, and Studio One®.
Mac
macOS® 10.11 or higher (64-bit only)

Intel® Core™ 2 Duo processor (Intel Core i3 or faster recommended)

4 GB RAM (8 GB or more recommended)
Windows
Windows® 7 x64 SP1 + platform update, Windows 8.1 x64, Windows 10 x64

Intel Core 2 Duo (Intel Core i3 or faster recommended)

4 GB RAM (8 GB or more recommended)
Mac and Windows Systems
USB 2.0 port

Internet connection

Internal or external 7200 RPM storage drive highly recommended

30 GB hard disk space

Monitor with 1366x768 resolution
iOS
iOS 10 or later

iPad Pro, iPad Air 2, iPad Air, iPad mini 4, iPad mini with Retina display, iPad (4th generation)
Android
Android™ 5.0 (Lollipop) or later

Android smartphone (QMix-UC)

Android tablet (8-inch) with 1024x768 resolution (UC Surface)
Note: The minimum system requirements may differ for DAWs other than Studio One. Please check the requirements for your DAW of choice with its manufacturer. Note that the speed of your processor, amount of RAM and size and speed of your hard drive will greatly affect the overall performance of your recording system. Also, a more powerful system (faster processor with more RAM) will allow for lower latency (signal delay) than you might experience while monitoring audio signals. Technical Specifications Mi crophone Preamplifier
Input Type
XLR Female, balanced
Frequency Response to Main Output (at unity gain)
20-20 kHz, ±0.5 dBu
Input Impedance
1 kΩ
THD to Main Output
<0.005%, +4 dBu, 20-20 kHz, unity gain, unwtd
S/N Ratio to Main Output (Ref = +4 dB, 20 kHz BW, unity gain, A-wtd)
94 dB
Common Mode Rejection Ratio (1 kHz at unity gain)
65 dB
Gain Control Range (±1 dB)
0 dB to +60 dB
Maximum Input Level (unity gain)
+12 dBu
Phantom Power (±2 VDC)
48 VDC, switchable per channel
Line Inputs
Type
¼" TRS Female, balanced
Frequency Response to Main Output (at unity gain)
20-20 kHz, ±0.5 dBu
Input Impedance
10 kΩ
THD to Main Output
<0.005%, +4 dBu, 20-20 kHz, unity gain, unwtd
S/N Ratio to Main Output (Ref = +4 dB, 20 kHz BW, unity gain, A-wtd)
94 dB
Maximum Input Level
+18 dBu
Tape Inputs
Type
RCA Female, unbalanced (stereo pair)
Maximum Input Level
+12 dBu, ±0.5 dBu
XLR Outputs
Type
XLR Male, balanced
Maximum Output Level
+24 dBu, ±0.5 dBu
Output Impedance
100Ω
Line Outputs
Type
¼" TRS Female, balanced
Maximum Output Level
+18 dBu, ±0.5 dBu
Output Impedance
100Ω
Tape Outputs
Type
RCA Female, unbalanced (stereo pair)
Maximum Output Level
+18 dBu, ±0.5 dBu
Output Impedance
100Ω
Headphone Output
Type
¼" TRS Female, active stereo
Maximum Output
100 mW/ch. @ 60Ω load
Frequency Response
20 Hz – 20 kHz (± 0.5 dB)
THD+N
0.01%, 1 kHz, max gain, 20 Hz BW, unwtd
S/N Ratio
96 dB, 1 kHz, max gain, 20 Hz BW, unwtd
System Crosstalk
Input to Output
-90 dB (Ref = +4 dBu, 20 Hz-20 kHz, unwtd)
Adjacent Channels
-87 dB (Ref = +4 dBu, 20 Hz-20 kHz, unwtd)
Digital Audio and Control
ADC Dynamic Range
115 dB (A-wtd, 48 kHz)
DAC Dynamic Range
115 dB (A-wtd, 48 kHz)
USB Recording Port
USB 2.0, Type-B
AES/EBU Output
XLR Male
Network Control Port
RJ-45
AVB Audio Network Port
Locking XLR Ethernet
Internal Processing
32-bit, floating point
Sampling Rate
48 kHz, 44.1 kHz
A/D/A Bit Depth
24
Reference Level for 0 dBFS
+18 dBu
Total System Latency
1.9 ms (local routing, analog in-analog out, all processing active)
Clock
Jitter
<20 ps RMS (20 Hz - 20 kHz)
Jitter Attenuation
>60 dB (1 ns in, 1 ps out)
Power / Environmental
Connector
IEC
Input-Voltage Range
90 to 230 VAC (±10%)
Power Requirements (continuous)
85W
Recommended Ambient Operating Temperature
0˚ to 40˚ Celsius / 32˚ to 104˚ Fahrenheit
Physical
Height
6.51" (165.36 mm)
Width
25.98" (659.81 mm)
Depth
22.97" (583.84 mm)
Weight
30 lbs. (13.6 kg)
As low as $91/month with
This seller is open to offers
View Full Listing