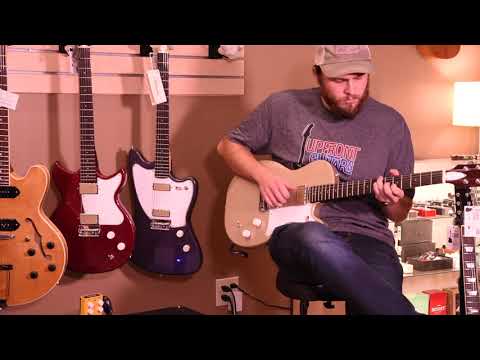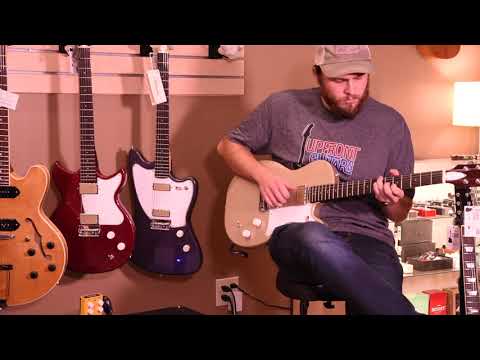 Harmony Jupiter Flame Maple Vintage Natural w/Mono bag
About This Listing
Founded in 1892, Harmony guitars was at one point the largest guitar manufacturer in the United States. Millions of guitar players got their start on a Harmony guitar. Harmony was there for the birth of rock and roll, and now they are back better than ever.
Now produced at the historic Heritage factory in Kalamazoo, Michigan, the Harmony Jupiter is a straightforward single cut solidbody guitar that's now available in flashy new transparent nitro finishes with flame maple tops
Unless noted, photos are of the actual guitar for sale.
The USA-made Harmony Jupiter features:
Mahogany body with flame maple top, 7.0 pounds

Nitrocellulose natural finish
Mahogany bolt-on neck, 25" scale, 1-11/16 nut width
"C" neck profile
12" radius Ebony fretboard
22 Medium jumbo frets
Custom gold foil humbucker pickups
Volume and tone control with orange drop capacitor
3 saddle compensated string-through bridge
Locking tuners
MONO Vertigo case
The revival of the Harmony brand brings back a historic name known to most for their quirky budget guitars of the 60's, often sold in mail order catalogs. The goal of the new Harmony is not "cheap" but clean, somewhat retro-inspired guitars, free of gimmicks and superfluous tech. The mahogany bodied Jupiters weigh around seven pounds, sporting an unusual for this price nitrocellulose finish, with a traditional three-on-a-side headstock with locking tuners. Nothing budget about this. The new for 2020 flame maple top is a classic pairing with the mahogany body, adding a touch more ring and high end snap.
We measure the neck profile to be roughly .805" at the first fret and .925" at the 12th fret. With the 1-11/16 nut width and not heavily rolled fretboard edges, it feels pleasantly chunky but never bulky. The thickness in the upper frets is just about perfect, and lends great palm support while working up the neck. The 25" scale is 1/2" shorter that the "other" bolt-on brand, and the bolt-on/shorter scale combo is a nice blend of snappy dynamics and comfortable string tension.
And what about those pickups? Gold foil itself is not really an indicator of anything, and the construction beneath foil pickups can vary widely. But it's a cool look, and was used to dress up otherwise nondescript low priced guitars. While we did not tear open these humbucker pickups to see how they are made, sonically they differ quite a bit from their more traditional PAF-style brethren.
The Jupiter pickups have plenty of snap and attack, and a firm midrange bite that is somewhat like a P-90 but cleaner and without the snarl. Neck tones are percussive and not overly bass heavy, and by itself or combined with the bridge pickup you can really get your funk going. It's got a lot of single coil character, but the strong midrange presence means you'll never mistake it for a Strat. The bridge pickup is bright with lots of clarity and sparkle, and luckily the Jupiter has a very effective tone control that can take the edge off without it sounding dark and muffled. The Jupiter is best described as "spunky" with a lot of punch and energy, no doubt aided by the note clarity of a bolt-on neck and mid-emphasis of the mahogany body.
Plugged into our Sparkle Drive Mod pedal, the Jupiter shimmered with lots harmonic clarity, great sustain, and note definition. The tonal balance is very even with no undue emphasis at any given frequency. Clearly these pickups have a lot of high end content, but it adds to the detail and dimension of the tone rather than being fizzy or tiresome. The Jupiter does not have immense low end, so don't expect chugging lows like a Les Paul, but it hits the mark for roots, funk, and alternative.
Fancy foil covers or not, the Harmony Jupiter has a unique tone that sits in its own space. It's got the solid midrange presence of a traditional humbucker without the sometimes flabby bass response, and the high end sparkle of a single coil without the edginess. Plus it's got a really sweet neck that plays flawlessly, and the combo of bolt-on snap and slightly lower string tension is a really neat twist. Add in the rugged MONO bag and and you've got a lightweight, rugged, and very portable rocker. The Harmony Jupiter is an excellent choice for players looking for an upgrade, or those looking to create their own voice and musical path.f
As low as $65/month with
View Full Listing