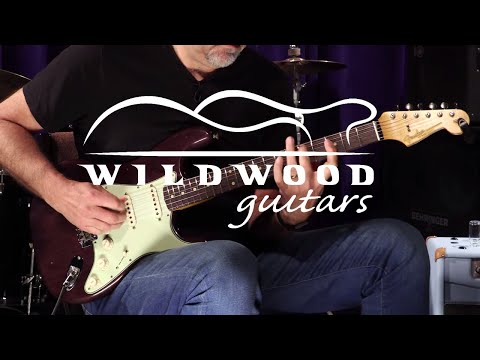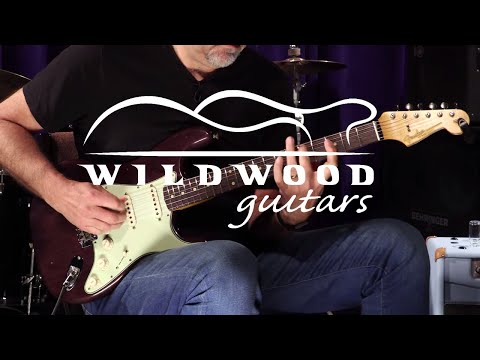 Fender Custom Shop Wildwood 10 1961 Stratocaster
About This Listing
Sonic Evaluation
Ooooo-weee! Transparent Ebony sure looks good on a Stratocaster, doesn't it? This serial has plenty of sweet sounds to tickle your ear drums, too. It has a delightfully growly attack with a little extra chunk on the front end of the note. This attitude-heavy attack gives way to a pitch-perfect frequency response profile. The high are chime-y and have plenty of bell-like singing overtones, and the midrange is quite touch-sensitive. It's broad and open when you play softly, and it becomes more focused and biting as you hit harder. This makes for a tremendously expressive playing experience! Beneath all that the lows are warm and robust, but with a dry vintage character that allows for maximum clarity. Anyone seeking a pretty Strat with a bad attitude will love this serial!
The Perfect 10 Years ago, we approached our friends at the Fender Custom Shop with a proposal: would they build us guitars that combined the mojo of a true-to-vintage reissue with modern handfeel and comfy modern ergonomics? They were enthused about the idea, and the Wildwood 10 was born. Thanks to the Custom Shop's incredible craftsmanship and artistry, these guitars look gorgeous, sound killer, and play like butter.
Each of these Custom Shop creations features a thin fifties-style nitrocellulose finish, which allows the voice of the resonant hand-selected tonewoods to shine through. They also have hand-wound Custom Shop pickups that are sure to inspire you to reach new heights on your sonic journey. Wildwood 10s feel great in your hands, too. Their modern 10" radius is suitable for a wide variety of styles and techniques, and their 6105 narrow-tall frets allow you to expend less energy with your left hand, especially when bending strings. To top it all off, they come with a limited edition Dealer Select Wildwood 10 hardshell case and a certificate of authenticity.
Supremely Fun Sixty-Ones By 1961, the Stratocaster was fast on its way to becoming a cultural mainstay after Strat-slingers like Hank Marvin took the airwaves by storm. The sixties were also an exciting time for Stratocaster design, as Leo and company outfitted them with rosewood fretboards for the first time. The rosewood produced a sweet attack that spoke to everyone from Hendrix to SRV! Our Wildwood 10 1961 Stratocasters pay tribute to the great Strat boom of the sixties, and we think they embody the sweet sounds of that era to a T. We have a wide variety of colors, relic'd finishes, and neck profiles on tap, so we invite you to browse away and find a Strat that plucks your heartstrings. Once you do, we're sure you'll fall under the spell of the Wildwood 1961 Stratocaster.
Model: Dealer Select Wildwood "10" '61 Strat
Finish Color: Transparent Ebony
Aging: Journeyman Relic
Finish Type: Nitrocellulose Lacquer
Weight: 7.65 lbs.
Body Wood: Alder
Neck Wood: Quartersawn Maple
Neck Shape: '59 Large C
Neck Dimensions: .880 1st - .950 12th
Fingerboard: AAA Indian Rosewood
Fingerboard Radius: Exclusive Wildwood Custom 10" Radius
Inlays: Clay Dot
Scale Length: 25.5"
Width at Nut: 1.650"
Nut Material: Bone
Frets: 21 6105 Narrow-Tall
Pickups: 3 Hand-Wound Wildwood 10 Strat Single-Coils
Controls: 1 Volume, 2 Tone, 5-way Switch
Hardware: Chrome
Bridge: Vintage Tremolo
Tuners: Vintage-Style with Nickel Buttons
Case: Limited Edition Hardshell Case with Embroidered Custom Shop Logo
COA: Yes
As low as $139/month with
View Full Listing