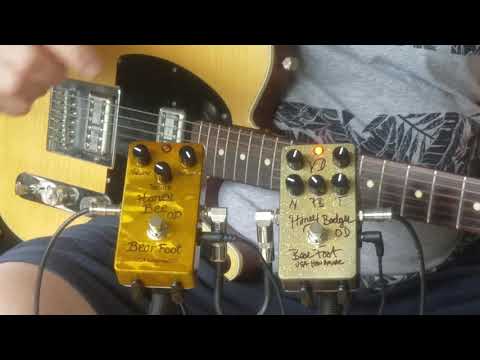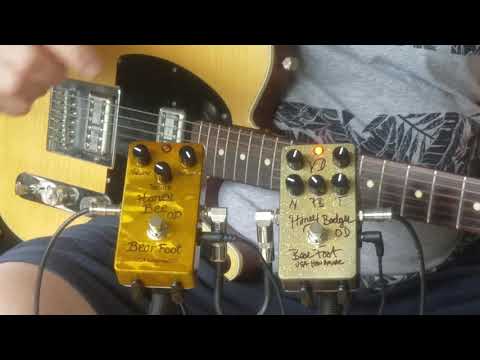 Bearfoot FX Honey Badger OD (Uber Beest) 2020 Twotone
About This Listing
Handmade in USA ... New batch Back in Stock!
"...the Honey Badger is a Dumble-style pedal with a Tweed/Supro platform "
From Ry Cooder Dtones to Larry Carltons early Tweed Deluxe ......
"Honey Badger revisited.......started tweaking the knobs more like the Lynx. Damn, nails Ry Cooder. Set the N from 9-11 o'clock as the Badger already has a "flabby" bottom and any farther left will make too much mud. I only mention this because I now have the Lynx and Honey Badger side by side on my pedalboard and I have that "caged tiger" sound for both clear-ish and dirtier settings. "

* Start with our classic BearFoot Honey Bee...
(Nature control starts neutral at NOON - to the left it adds PRE drive bottom end to get that greazy bloat of small 50s amps pushed to distorting. To the right of noon all the way up it raises the headroom and tightens the bottom end.)
* Add the extended Drive range (more and less) and Treble control from the Uber Bee...
* Add the Predrive Booster from the Honey Beest to give another option for creating harmonic dirt.
Plenty of new ground to cover by mixing the Predrive Booster with the extended Drive range. The booster keeps the low end the same while pushing the upper mids and presence forward (like the Red Rooster Booster). This is also really useful when using lower output pickups. A warm responsive dirt solution for any situation.
5 to 15v.
You can read longer reviews and clips and videos from The Gear Page Tourbox:
As low as $15/month with
This seller is open to offers
View Full Listing