After two years of postponements and virtual alternatives, the 2022 NAMM convention was back in full swing this weekend in Anaheim, California.
We were on the floor to see, hear, and play the latest and greatest new gear on display at the show. Below, see all of the highlights from Gamechanger Audio, Tosin Abasi, Guild, and more—along with a few amazing debuts from brand new companies you should keep an eye on.
Gamechanger Audio Revs Up the Motor Synth MKII
First unveiled at May's Superbooth show, the new Motor Synth MKII from Gamechanger Audio is on display at NAMM, and at the Reverb booth, no less. The Motor Synth is built with a motor oscillator engine—that is, eight actual motors spin to create sine, saw, square, and M waveforms.
Two separate motor voices with four oscillators each can be operated in mono, unison, or a four-note polyphonic mode. And there's a digital third voice you can use independently or to modify the raw sound of the other motor voices. It's a truly unique way to design sounds, with a wonderful resonant filter, envelope, onboard drive, and modulation to tame and shape the whirring engine.
A closer look at Gamechanger Audio's Motor Synth MKII from the Superbooth floor.
Guild Unveils New Affordable Surfliner Offset
What does the first new Guild solidbody design in decades look and sound like?
Guild has unveiled the newest addition to its product line, a vintage-inspired offset called the Surfliner. This bolt-on model takes inspiration from Guild guitars of the past and features appointments (like pickup switches and a vintage headstock shape) that call to that era of production.
It's packed with a DeArmond Aerosonic single-coil in the neck and vintage-style LB-1 humbucker in the bridge with a switching system that allows for up to seven total pickup combinations, so players can get anywhere from bright and jangly to full and warm tones from this guitar. The best part? It retails at just $449.
The Guild Surfliner is available now.
Tosin Abasi & Ernie Ball Music Man Collaborate on 7-String Guitar
A close-up look at the Kaizen from NAMM 2022.
"Kaizen is a Japanese word for continuous change or improvement over time," says Tosin Abasi, explaining the name behind the new 7-string guitar he collaborated with Ernie Ball Music Man to make. In partnering with the brand he's long admired, Abasi wanted to make something unique and innovative that didn't already exist in the Ernie Ball Music Man catalog.
Enter the new Kaizen—a seven-string, multi-scale guitar with a tremolo system, super unique double-cutaway body shape, and wedge-shaped fingerboard.
The Kaizen will be available in multiple finishes with an alder body, roasted maple neck, and ebony fingerboard starting this winter. A six-string version is set to follow in 2023.
Abasi Concepts' Own Emi Series Debuts
The Kaizen was one of the most popular guitars to be announced at NAMM 2022, but Tosin Abasi had more in store. His own brand, Abasi Concepts, unveiled its new Emi series, its first double-cut guitars. They will be available in 6-, 7-, and 8-string—as well as standard fretboard and multi-scale—configurations.
Martin's 2.5 Millionth Guitar Is Made With Actual Diamonds
See Martin's commemorative model and just-announced production models at NAMM 2022.
In partnership with Chris and Diane Martin's personal jeweler, Gary Werkheiser of Werkheiser Jewelers Ltd., Martin has made a commemorative acoustic to celebrate the 188-year-old company's 2.5 millionth guitar milestone. The acoustic's top is set with 436 diamonds that depict the night sky C.F. Martin and his family saw the night they arrived in New York City in November, 1833.
Similarly, the hand-engraved pickguard features a historically accurate map of lower Manhattan as it was in 1833, with a ruby placed at the location of C.F. Martin's first store.
Understandably, the guitar is not for sale. However, a replica was made that will be sold at a future auction.
Martin Debuts New and Refreshed Models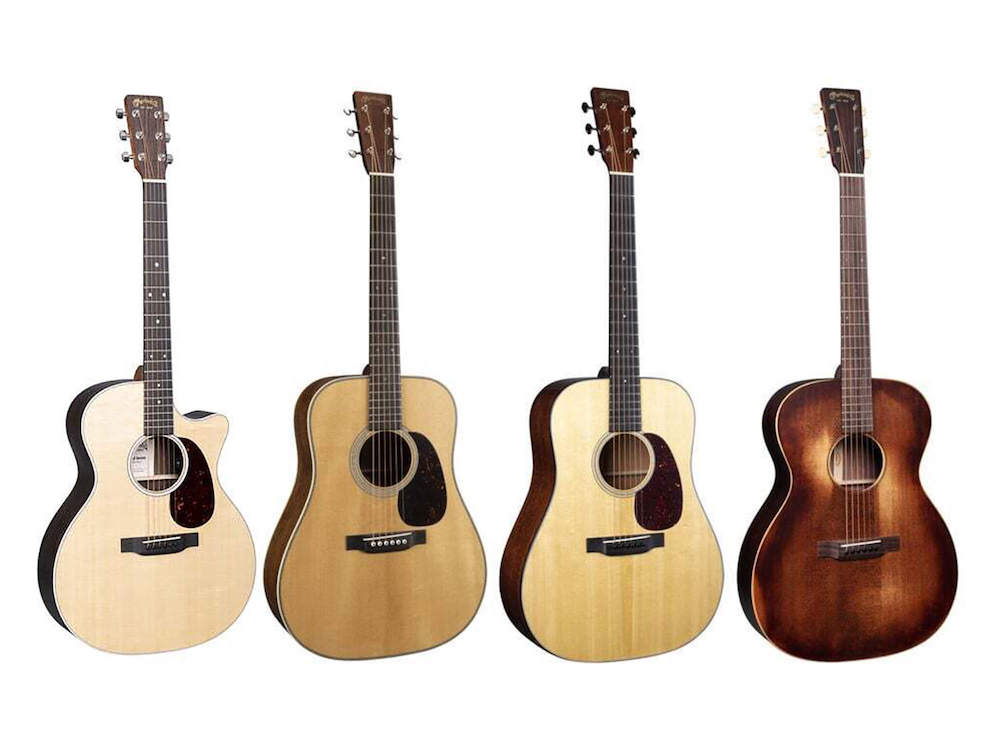 Martin's new models.
New for Martin this NAMM are two models: the 000-16 Streetmaster and D-18 Authentic 1937. For the former, this is the first time Martin's Streetmaster finish (which debuted in 2017's solid mahogany 15 series) has been applied to East Indian rosewood and Adirondack spruce. The new Authentic D-18 1937, meanwhile, is an authentic and historically accurate recreation of the famous model from that year. Both guitars employed Martin's Vintage Tone System (VTS) to age the top and braces of the guitar for that true vintage tone.
Martin also refreshed its D-28 Authentic 1937 and Road Series GPC-13E Ziricote for 2022, and unveiled a few new ukulele models (the 0 Tenor, T1 Tenor, and C1 Concert Ukulele.
Click the links above to add any new model to your Reverb Feed. As listings become available, you'll be among the first to know.
Eventide Misha Is a Serial Sequencer
Our first-hand look at Misha from the NAMM floor.
Eventide continues its Eurorack line with Misha, an "interval-based instrument and sequencer" that Eventide says "makes music in a way unlike any instrument before it." Its built around a tone row sequencer, based off of serial composition techniques like the 12-tone system used by Arnold Schoenberg. In total, it includes 100 factory scales and available memory for 100 more user-created custom scales.
The Misha will be available later this summer.
Dreadbox Continues to Expand Its Effects Pedal Line
Yiannis from Dreadbox shows off the Treminator and Raindrops Stereo Delay.
Dreadbox is best known as a synth brand, but its lineup of great effects pedals continues to expand. What's great is that most of them have CV inputs and outputs to interface with other CV gear, a fun feature brought over from the company's synth designs that greatly expand the functionality of those pedals.
The newest additions are the Treminator and Raindrops. The Treminator is a reimagining of one of their early pedals, a tremolo with variable waveshapes, with CV I/O for the Treminator's rate and VCA. Raindrops—which was previously announced but without full details—is a true stereo delay, without any CV connectivity. Both follow the recently released Disorder.
The Treminator and Raindrops are expected to be available this summer.
Groove Synthesis 3rd Wave Is a Stunning PPG-Style Debut
Our first look at Groove Synthesis' audacious debut.
The iconic German-made PPG Wave series of synths were among the first analog/digital hybrids to make use of wavetable synthesis. Now, newcomers Groove Synthesis have introduced the 3rd Wave, a state-of-the-art wavetable keyboard that takes the Wave's signature ultramarine design to new dimensions.
Blending wavetable oscillators with analog filters much like its predecessor, 3rd Wave possesses an impressive 24-voice polyphony, 4-part multi-timbral performance capability, and 64 custom wavetables through its Wave Maker sample-to-wavetable technology—and that's just the tip of the iceberg.
The 3rd Wave is scheduled to be released later this summer for $3,795.
Eastman Guitars Release New Solidbody Juliet Models
Eastman shows off the Juliet, a solidbody version of the Romeo semi-hollowbody guitar.
News of Eastman Guitars' upcoming solidbody new release started circulating back in April, but now the Juliet has officially been unveiled at the NAMM show. The new trio of Juliet guitars evolve on the Romeo model's ergonomic curves for peak playability and comfort and its Okume body and neck keep it nice and lightweight. It's fitted with Bare Knuckles Old Guard partially wax potted humbuckers and Old Guard low-wound P90s with a three-way pickup switch. The Juliet is also the first of Eastman's designs to feature a six-in-line headstock design.
The Eastman Juliet is expected to be available later this year, starting at $1,799.
Melbourne Instruments' Nina Is a 12-Voice, Motorized Polysynth
A first look at the new Nina polysynth with Melbourne Instruments.
Australian newcomer Melbourne Instruments unveiled their new product, Nina—a 12-voice desktop polysynth, complete with automatable, motorized rotary knobs that move with the change of a patch. A quick look at the specs reveals a versatile machine with plenty of room for morphing. Onboard, you'll find some variable shape triangle oscillators that can shift between triangle and sawtooth, a four-pole transistor ladder VCF, filter overdrive, digital wavetable oscillators, sampling capability, four quadrant DCAs for panning, and an array of digital effects.
The Nina is expected to start shipping later in 2022.
Playtime Engineering's New Blipblox SK2 Is for the Kids
Our look at the mtTRACKs and Blipblox SK2 from NAMM 2022.
Playtime Engineering is back with a fresh new update to their Blipblox synthesizer, for kids of all ages. Like the debut model, the SK2 is clearly not your typical childproof music toy: its MIDI input and 1/4-inch output jack let it function like any other synthesizer in your rig. The box now includes 400 built-in melodies, wavetable synthesis, stereo delay, and a built-in drum machine with several new drum samples.
Also on the horizon for Blipblox is the myTRACKS groovebox, which we got a closer look at in our video above. Like the original Blipblox, it's a full instrument that happens to be kid-friendly. This time around though, myTRACKS takes its inspiration from MPCs and other sample-based grooveboxes.
The Blipblox SK2 and myTRACKS groovebox will be available later this year.
Soldano Unveils First Solid State Amp, the Mini SLO Super Lead
Watch George Lynch demo the new Soldano SLO Mini.
Legendary amp designer Mike Soldano has finally made the company's first solid state amplifier. Known for designing the now-famous Super Lead Overdrive 100 back in 1987, Soldano is now releasing the Soldano SLO Mini—a four-pound solid state sibling that shares a lot of the character of its $4,000 tube counterpart but only costs $249.
This mini amp features "the same cascade of gain stages, in the same configuration as it is in the tube amp," says Soldano. "The EQ stack and all of its components are the same values of what the tube amp is."
The 30-watt Soldano SLO Mini is available now.
Collision Devices' Nocturnal Promises Sleepless Nights
Hear the limited-edition Nocturnal Collision released earlier this year.
A three-in-one delay, tremolo, and reverb, the Nocturnal is "a nighttime-themed ambient texture pedal," Collision says. It's a standard production run for what had been a limited-edition pedal released earlier this year. The modulated delay circuit, named Dusk, has tape echo-style repeats and flutters. The Night dynamic tremolo increases in speed as your pick harder. And the Dawn is a shimmer reverb with two separate filter controls.
The Nocturnal is available now.
AMS Neve Announces Its First Dual-Mic-Pre Interface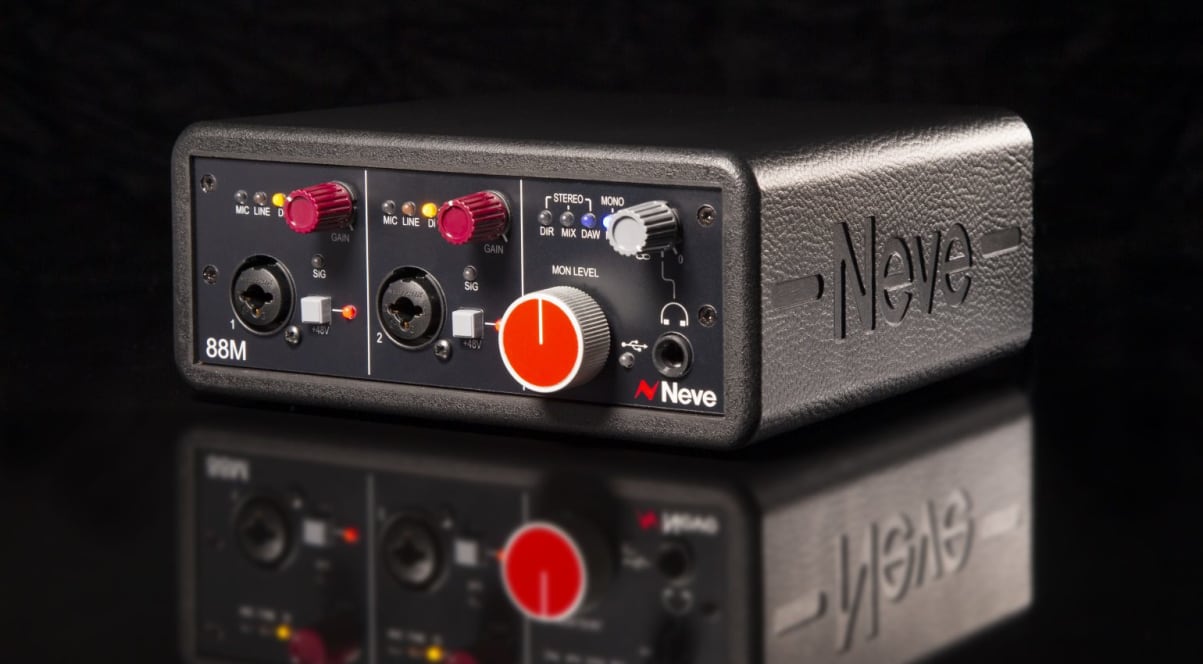 AMS Neve, one of two brands that shares and furthers the Neve name today, has announced its first audio interface for home recordists, the 88M. The USB interface features two mic preamps taken from the company's renowned 88R consoles. The 88 preamps are transformer-balanced and designed to give depth and character without any need for an additional outboard preamp.
While that may all sound enticing, the full details of the interface have not been released, and it's unclear when the 88M might be available for purchase.
Check Out Walrus Audio's New Lore Soundscape Generator
Reverb's Joe Shadid explores what the new ambient sound generator can do.
Walrus Audio's newest pedal, called the Lore, is an ambient soundscape generator based around two DSP chips running in series, each with their own analog feedback path. Players can select five different programs that change how those chips interact with each other and how the pedal operates. This new ambient pedal is a pitch-shifting, reversing, time-stretching modulation machine. Learn more about it here.
Focusrite's Vocaster Audio Interfaces Are Made for Podcasters
First look at the new Focusrite Vocaster.
Focusrite has announced a new line of Vocaster audio interfaces designed specifically for podcasters. Included in the range are the Vocaster One (for solo podcasters) and the Vocaster Two, which includes an additional mic input/headphone output. Both interfaces have features like Auto Gain and Enhance for setting your levels and making your voice clearer, respectively, as well as a mute button for cutting your mic when needed.
There's also loopback feature that allows you queue up and stream pre-recorded audio segments. The interfaces come with a proprietary software suite for recording, editing, and mixing your show, and if you go for the studio pack bundles, you'll get a few extras like a mic and headphones.
UAFX's New Amp Pedal Trio Place a Studio at Your Feet
Dig into the new UAFX line with Andy Martin.
Universal Audio's latest trio of effects pedals are here. Unwilling to be just another line of amp-in-a-box pedals, the new Woodrow '55 Tweed, Ruby '63 Top Boost Amplifier, and Dream '65 Reverb Amplifier promise players an entire studio-in-a-box experience.
Each effect faithfully recreates the signal path of their respective namesake amps, while offering additional tweaks like dialing in emulated effects, swapping in aftermarket speakers, pairing with classic cabs, and even setting the amount of room mic ambience in your mix.
The Woodrow '55 Tweed, Ruby '63 Top Boost, and Dream '65 Reverb are available now.
Cre8audio's West Pest Joins the East Beast
Watch the intro video from Cre8audio.
Cre8audio's newest West Coast-style semi-modular desktop mono synth—the West Pest—was made in collaboration with Pittsburgh Modular. It's a companion to the East Beast East Coast-style synth that they just introduced at Superbooth.
The West Pest features 18 patch points for Eurorack compatibility as well as 8 patchable modules—oscillator, wave contour, dynamic control, LFO, multi-mod, MIDI to CV, step sequencing, and a button keyboard. Fundamental to the West Pest is its wavefolding circuit, which amplifies and folds incoming waveforms back onto themselves for intricate harmonic potential.
Lzzy Hale's New Signature Gibson Explorerbird Is a Fiery Mashup
Check out Lzzy Hale's new Signature Explorerbird, cooked up by Gibson.
Gibson has finally unveiled the new Lzzy Hale signature model, which has been teased by Lzzy in interviews and stage-tested by her during Halestrom performances over the last few months. This is Hale's fourth Gibson signature model, but it's definitely the most unique of the bunch.
Officially dubbed the Explorerbird, its an eye-catching hybrid mashup of the iconic Explorer and Firebird models, fitted with features and playability qualities of both instruments.
The Explorerbird is available now for $2,799.
Warm Audio Takes on the C12 and U 47 FET
Hear the new 12- and 47-style mics with the rest of Warm Audio's lineup.
Warm Audio has extended its lineup of classic-style mics with the WA-CX12 and WA-47F.
The first is a faithful yet affordable recreation of the acclaimed AKG C12, a tube vocal mic known for its smooth high-end and full-frequency range. Meanwhile, the WA-47F is modeled after the Neumann's FET-transistor 47, which has been used by countless engineers on kicks, guitars, and other instruments.
The WA-CX12 ($999) and WA-47F ($799) are available now.
SolidGoldFX Announces If 6 Was 9 MKII
Hear the If 6 Was 9 MKII fuzz in action from the R.J. Ronquillo YouTube channel.
SolidGoldFX has announced an updated and improved MKII version of its If 6 Was 9 Silicon Fuzz for NAMM 2022. Some of the upgrades to this version include adding a Saturation dial to control setup for trimming input gain, which makes the unit more wah-friendly. It also features top-mounted jacks for a more compact design and now comes with a soft-relay footswitch and the capability to select internal voltages between 5V and 15V DC.
The New Meris LVX Is Here
Learn about the new Meris LVX.
Meris's new modular delay system, the much-teased LVX, is here. Equipped with a next-gen processor, this highly configurable delay allows players to craft their ideal, all-custom delay using the pedal's simple graphic interface. Preorders are open now, with an expected ship date of late this summer.
Artiphon Intros the Orba 2
Catch a glimpse of the "play any sound in the world" in action.
Artiphon has introduced Orba 2, the follow-up to their acclaimed handheld combo synth/looper/controller. The original was equipped with internal sounds and a circular playing surface that reacts to nine simple gestures: tap, press, radiate, tilt, shake, spin, vibrato, move, and bump. Now, users have the option to record and import their own sounds to create custom instruments.
With a click of the button in the accompanying app, any sound you encounter can be sampled and turned into an Orba preset, complete with automatic quantization. Their integrated MPE looper has also been upgraded significantly and can record loops up to 128 bars or five minutes.
The Orba 2 will be available for $149.99.
Audient iD44 MKII Adds Headroom and Streaming Features
Audient's intro video for the iD44 MKII
You can always expect high-quality and thoughtfulness from Audient's interfaces, and the new iD44 MKII is no different. Adding 9dB of headroom to the previous model, a dual headphone amp, and improvements to the A/D converters, it's now better and faster than ever.
It also contains a brand-new feature—Audio Loopback—which will allow streamers and podcasters to record themselves live, while adding effects and other audio sources like the mic feeds of their remote guests.
The ID44 MKII should be available this summer, for $699.
Casiotone Gets a Pop-Art Limited-Edition CT-S1
A quick video showing off the Britto-designed CT-S1FH
Casio has just unveiled a new Casiotone with a colorful twist. Designed in collaboration with pop artist Romero Britto, this limited-edition CT-S1, the CT-S1FH, is equipped with Casio's AiX Sound Source, which offers 61 tones, including acoustic piano, electric piano, and organ.
You may connect your smartphone or tablet to play along with your favorite songs using the Wireless MIDI & Audio Adaptor, making it ideal for any musician on the go. And with Britto's signature flower-and-hearts pattern, the CT-S1FH is sure to be a standout on any stage or studio.
No word yet on when the CT-S1FH will be available for sale.
Gretsch Unveils Player Edition Sparkle Jet Finishes
Listen to the new Gretsch Player Edition Sparkle Jets in action.
Grestch has unveiled two new G6229TG Limited Edition Players Edition Sparkle Jet guitars in Champagne Sparkle and Ocean Turquoise Sparkle. They both sport classic gold hardware and black pickguards, along with player-focused features like a lowered neck set to make fretting hand mobility easier. Check out Gretsch's video above to hear them in action.
Fluid Audio's New "2-in-1" Image 2 Monitors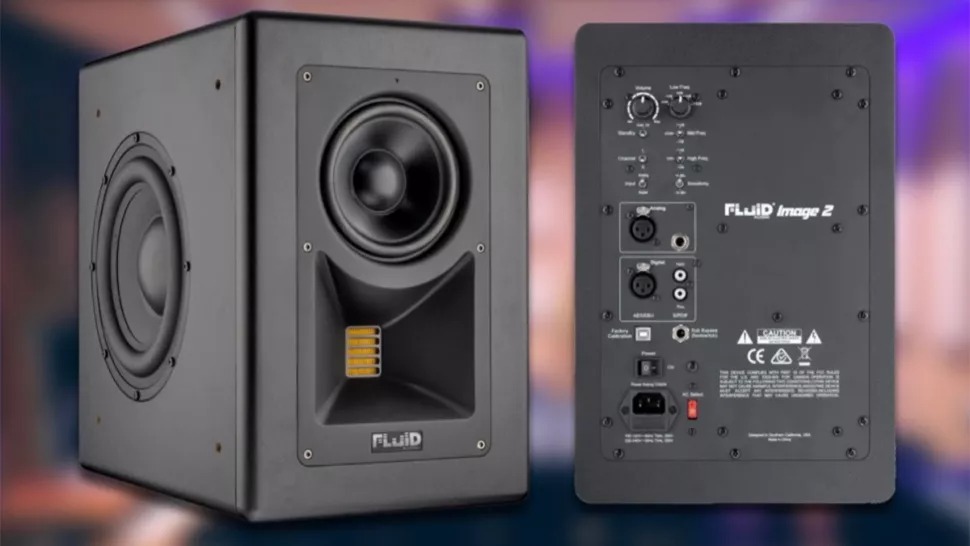 Fluid Audio has released the Image 2, a new studio monitor that the brand says will give you "two monitors in one." The Image 2 not only serves as a full-range mixing and mastering system but also includes a "mixcube" mode which dials in mids and low-end for "bass-challenged" devices as well as adjusting overall balance and depth. The new Image 2 will be available starting in September for $1,899 per unit.
Takamine Release New & Affordable G Series Models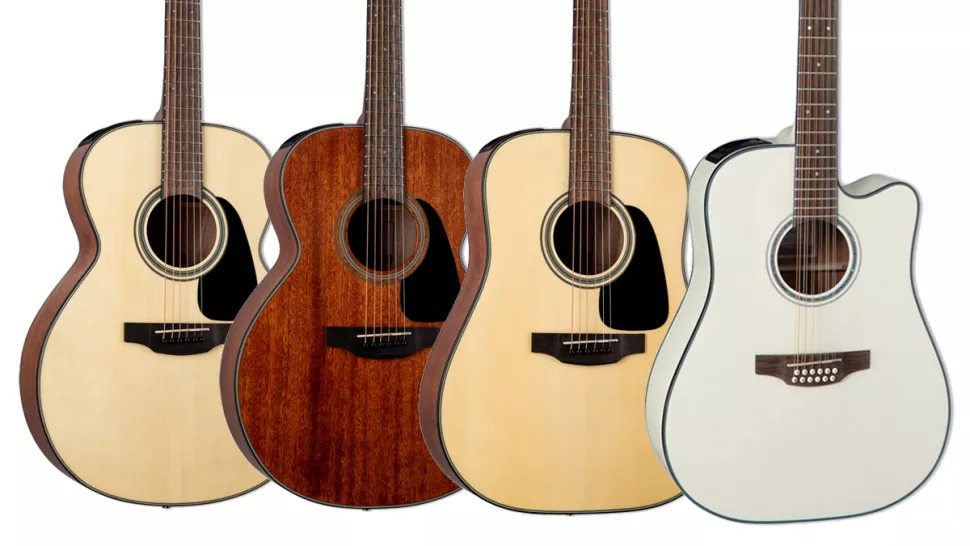 Takamine's G Series is a really solid and affordable acoustic line for new guitarists or any player looking for good tone in a wallet-friendly package. New for this year, Takamine has expanded on that series with the new GD35CE PW dreadnought and it's 12-string counterpart (the GD35CE-12), the GLD11E dreadnought and GLN11E mini-jumbo, and the GLD12E and GLN12E which are spruce top variants of the previous two models listed.
All of these guitars feature a slightly shorter 24.8-inch scale for easy playability and TP-3G electronics with a three-band EQ and onboard chromatic tuner.
Laney Amplification's New The Difference Engine Stereo Delay
A first look at Laney Amplification's new The Difference Stereo Engine Delay from Black Country Customs.
New for NAMM 2022, Laney Amplification has released The Difference Engine Stereo Delay pedal, made in the brand's Back Country Custom UK workshop. The digital delay processor features an Analog mode that emulates traditional tape machine sounds, an '80s-style Digital mode, and a Dynamic mode that draws inspiration from the TC Electronic 2290 Dynamic Digital Delay from the '90s.
What's particularly special about this pedal is that players can blend these modes by choosing which features they like from each delay style and putting those together. It also features MIDI in/out for triggering changes remotely.