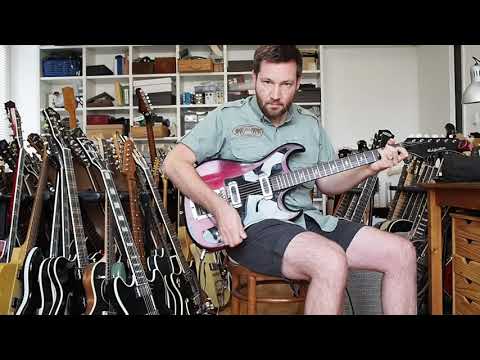 About This Listing
Welcome to another fine guitar from The Old Europe! Please make sure to read the entire description below carefully, and look at all the pictures. I am happy to answer any questions. Please note that you are looking at a used, and likely very old, guitar, and I can't list every little dent and bump – I do my best, but if you are unsure, either refrain from buying or ask as many questions upfront as you can. Don't be shy!
General introduction and background:
Super nice Musima Elgita guitar. The Elgita - stands for "Elektrische Gitarre" - was the most common model throughout the 1960s in communist East Germany and was widely exported to other Eastern Bloc countries, especially to the USSR.
This model features the Simeto type 2 pickups that were used from 1963 to 1973. The guitar could be made anytime in between, as the model did not change during those years.
This guitar underwent extensive restoration efforts to bring it to its original state and enjoyability.
Measurements, weight and other specs:

- Scale: 660 mm
- Nut: 41 mm
- Weight: 3,36 kg
- Pickups: two very bold single coils, P90 style. The pickups can be switch either: Neck PU alone/Both PUs/Bridge PU thinned out "Banjo mode"/Neck PU muffled to emulate a bass guitar. The pots are master tone and volume.
- Body: likely solid basswood or similar.
- Neck: maple with rosewood fingerboard.
Condition:
- Body: Lots of scratches, dings and dongs. A deeper scratch on the lower rear bout. The finish lacquer has become a bit milky, making it hard to polish the guitar to shine.
- Neck: straight neck, frets show some wear (5/10), and playing in some positions yields buzz (see video). Truss rod works.
- Electronics: fully functional, Tone poti also lowers volume.
- Hardware: fully functional.
- Originality: The original pickguard disintegrated and I had a custom one made that fits the guitar. The original tremolo arm was missing, and I had a custom one made that fits the socket. The wiring has been left as it was, but the original input jack was destroyed, so I installed a Tele-style socket. Two of the screws of the bridge are not original. Bridge, Pickups, Pots and switch, tuners are all original.
Sound and Playability:
- Playability and string action: The guitar plays very easily with a low string action, fun to play. Warm sounds from the pickups, also with lots of clarity. Please watch the video. Some buzz due to the worn frets.
- Intonation: pretty much spot on, adjustable with the bridge

- Sound: very bold single coils sounds, unfortunately the bridge pickup can only be heard alone in "banjo mode". One could always take out the rotary switch and swap it with a modern toggle switch for a standard tone layout.
Repairs, Service:
- Complete cleaning of body, parts and fretboard
- pickguard and trem arm custom made and replaced.
- Frets polished and fretboard oiled
- Full check of the electronics, the wiring is all ok.
- New 9 gauge Darco strings put on
- Set up as good as possible
- Ready to be played (just tune it up)
Auxiliary stuff:
- No case included. Will be shipped in wrap and sturdy cardboard box.
Please also have a look at my other offers and follow my shop!
PACKAGING: All guitars are shipped out in a sturdy cardboard box with lots of filler material. Please note that for the protection of the environment, I am reusing used packaging material whenever I can.
SHIPPING: Please check the shipping quotes in this offer. I ship with insurance, worldwide. Usually I am able to ship the item on the same day or next day of received payment. Please allow 1-2 days from pick up for delivery in Germany, and 1-2 weeks within the EU. US, Canadian and over overseas buyers: My shipping quotes are very competitive, I can only do that by using DHL Premium. Please anticipate a shipping time of up to 8 weeks depending on your location. Tracking is provided immediately when shipped out within the system. Please refrain from giving a review before you have received the guitar.
AFTER DELIVERY: After receiving the item, please inspect the package for obvious damages and make photos if there are any. After unpacking, check the item immediately for damages or other undocumented flaws. I accept a 14 days return and will pay for shipping if the item is in a different condition than described upon arrival. Please note that I will only take the item back entirely, but not grant any reduction of price and generally only accept returns if the item was unaltered after arrival.
CITES protection: all of the items I sell have been legally imported to the EU before January 1st 2017 and are registered with the authorities in Hamburg, Germany (if applicable).
DATA protection: German financial regulations demand that I keep your address on file in an invoice. The only information that I store is what this platform provides me. Please understand that I cannot delete that information from my files. You may ask what kind of info I have stored from you any time.
Product Specs
Listed
2 months ago
Condition
Fair (Used)

Fair condition gear should function but will show noticeable cosmetic damage or other issues.

learn more

Brand
Model
Categories
Year