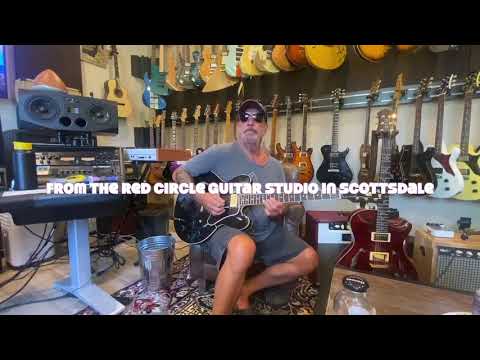 About This Listing
You won't find a Nashville build in this league. His wait list is renowned. I am lucky to get one a year let alone two! Ken McKay's attention to detail in the way he faithfully executes history is astounding.

Virgil Arlo is no longer accepting orders. This 1959 PAF set is now $1600+ at market pricing.

McKay 335 Dot "Under the Bed" - Very mildly aged as if it sat in its case under a bed since 1959, it looks played but loved, and yet it has not been played except to demo, of course.

Why Virgil Arlo '59 PAF for Ken's guitars? A superlative consistency is what drives the Arlo brand. The low wind opens up the guitar to possibilities where higher impedance pickups fall short. Arlo's intent is to create a very consistent low wind PAF that allows the guitar to breathe. Where roll-off in an OD environment is clean with some breakup. This is not just a function of just the pots and the caps. The pickups are designed to showcase the guitar's qualities. Because they are low wind, they show off the qualities of the guitar at higher gains perfectly rather than act as a driver to the pre-amp of the Amplifier and let the amp do the work.

What a couple of cool guys say about this very guitar.
" I loved all of his other builds and this one is every bit as good as the first I've played. Stunning"
Paul Turchetta - Cave Creek Guitars

" This one is really GREAT! They are all a little different but this one is a standout."
Michael Gallaher - Joe Cocker, Leon Russell


Ken McKay, from Michigan, makes the best of the best of the best Bench made 335 reproductions in the world in the opinion of many important collectors and players. Better than any Nashville custom built 335 on the planet. He does a '59 and a '64 version. This is the '59 version with the '59 Neck profile ( little more chunky) and '59 Virgil Arlo PAFs installed which really round out this incredible build. The pickups alone are $635. He has installed a Jumper Harness in the guitar so you can easily swap out pickups too.

Ken has a waitlist and you don't see many on the market because they are snatched up quickly and rarely sold. This one is NEW. It comes with a fitted hardshell case. Sadly the handle on this case is damaged at one end but we will attempt to fix it before the sale. If we are unable to fix it we will offer a fair discount.

SPECS:

Blond
Bridge: Gotoh
Machines: Kluson Vintage single Ring
Weight: 8.5 lbs
Pickups: Virgil Arlo 1959 Vintage PAF with a harness designed to allow the pickups to be changed out easily wiring through F-Holes.
Fingerboard: AAA Brazilian Rosewood
Mahogany Neck
Nitro Cellulose Lacquer

Here are some words from Ken from a form discussing his 335 design and build techniques.

"...Let me get into the other parts a little bit. But first I have to tell you that the ES xx5 guitar design is evolutionary. Once they got it right with the center block they pretty much kept it that way. That is until circumstances made it different and it became an entirely different guitar. Current 3xx guitars only replicate the essence of the original models. It's too bad some players get confused and think they're getting something that they are not. They are simply not the same. If a player wants that sound and feel that comes with a vintage guitar. Then only a vintage or McKay will get you there. If A player goes into a store and plays a new 335, and likes it, that's a different story. There's no confusion there and they're getting what they want. I would encourage players to play a few vintage models though to see what's really possible.

In my Benchmade guitars, I use different quality contour brace material. I also have the veneer sliced to different dimensions using different materials than the current factory does. I use different glue. And like you, I like to use Brazilian Rosewood for fingerboards.

It's an engineered guitar. It's a ply construction. Not just the top and back plates but the entire body. If you take a cross-section of the guitar body cut in half there will be 11 layers from top to back. Four veneers for the plates, spruce followed by Maple followed by Spruce again and then four more layers of maple veneer. These are all glued up in different succession to make up a composite. This was the best they could do at that time. The materials at the time were simply wood and glue. Metal was too heavy and Carbon plastics and things did not exist. And some things were happy circumstances, for example the glue they used dried hard and crisp. This of course could've been engineered into the plan but I think it was just circumstance. Because it helps retain the crisp high-end.

Another huge factor is the part of the guitar that is not there, the air. The pickups hear all the parts including the resonance of the air. Air is a cushion. It gives the guitar the acoustic attack and is mixed with the sustain of the center block maple. The amazing thing is they got the proportion correct pretty much from the start. Personally I think it's a practical thing if they were to have made it thicker it would be too heavy. In the body, the size does seem to be perfect. So this is part of the engineered guitar… the double air chambers.

The center block is soft maple. It's not too heavy. It's not too anything for that matter, it's just correct. I have used different material and it did result in different sounds. So this, of course, can be part of the process. Generally speaking, though lightweight, soft maple works out best. If you wanted for example little more crisp high-end and spankiness then perhaps hard maple might work out for you.

The Spruce contour brace material is also important because it helps sound waves travel rapidly. I use very straight grain material and the speed of sound is rapid through this material. With this, you get a quick attack. I think this would drive up the price of a factory guitar if they used only high-quality material as I do.

And then there are the other things that add up. Long studs, proper metal for saddle, bridge, proper nut material. The headstock angle and the neck angle also make a difference of course..."

This item is sold As-Described
This item is sold As-Described and cannot be returned unless it arrives in a condition different from how it was described or photographed. Items must be returned in original, as-shipped condition with all original packaging.
Product Specs
Condition
Brand New (New)

Brand New items are sold by an authorized dealer or original builder and include all original packaging.

learn more

Brand
Model
Finish
Categories