Photos by Shanté Carlan, courtesy of the artist.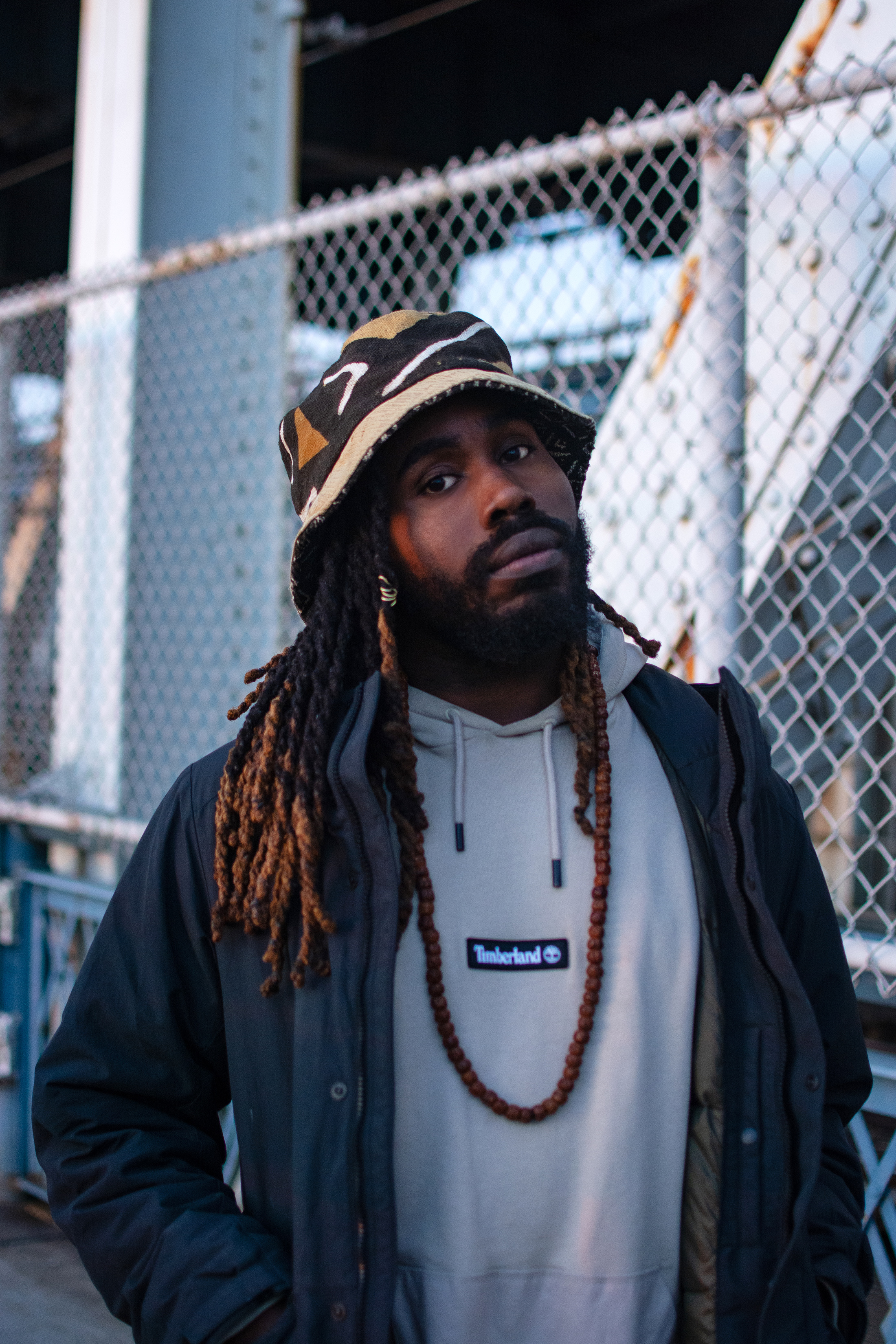 Nothing_Neue. Photo by Shanté Carlan.
For the most part, the art of beatmaking is a practice that happens in isolation. In the 1980s, the arrival of relatively powerful sampling instruments—such as the E-MU SP-1200 and Akai's MPC60 and S-950—gave hip-hop producers access to expanded sampling time, higher fidelity and flexibility to produce without the limitations inherent in the older machines.
This technological leap dovetailed beautifully with the end of rap's first golden era (1986-1989) and the dawn of its second (1992-1996). This period produced a stunning number of beloved classic albums and singles that documented the rapid growth and expansion of hip-hop as a cultural and industrial force. The creative and commercial boom that these eras produced a cottage industry of aspiring beatmakers holed up in bedrooms and basement studios around the world, hoping to get their music out into the world.
Today, more producers than ever can be found pouring over their DAWs and standalone samplers. Instrumental hip-hop has emerged as a legitimate subgenre, allowing producers to build fruitful careers without the aid of vocalists. Several affordable means of digital music distribution have been made widely available to those who seek to release music.
Despite all of this, beatmaking is also more communal than it's ever been. Picking up on the legacies of events like LA's Low End Theory and Beat Society in Philadelphia, major cities around the world are hosting live beat events where producers can link and build in person. Social media has also strengthened the beat community, acting as the nexus through which producers can connect and collaborate with their peers around the world.
---
---
When speaking with Brooklyn-based producer and multi-instrumentalist Nothing_Neue, the word community comes up consistently. Community is a unifying thread that runs through his music and life story. Growing up in a musical family, he learned to play drums at a young age and set out upon a lifetime exploration of music.
"Both of my parents are musicians and still are to this day," Nothing_Neue explains. "They played in a reggae band together and they had a lot of the rehearsals at my parents' house in the basement. Me and my brother followed behind—they had us on the drums and the keyboard, respectively. After a couple years of just playing what they were asking us to play and learning the basics, we both kind of started getting into more metal in our teenage years. Tony Hawk Pro Skater really opened the floodgate and led to a lot of different influences."
It was through his time playing in metal bands that Nothing_Neue began to get acquainted with the studio. His interest in the recording process and its possibilities lead him to begin making beats on his own around 2012. He was attracted to beatmaking because it allowed him creative autonomy and it ensured that he wouldn't have to rely on his bandmates to get things done. "I didn't want to have to wait for other people to write music. I'd rather do it on my own."
Since making his first beats on an MPC app on an old iPhone 4, Nothing_Neue has built a rich and diverse catalog of productions with albums and beat tapes that span a variety of genres. His latest, V2.WAV (the follow up to 2021's .WAVS) is a fresh collection of colorful, bass-heavy tracks that display Nothing_Neue's mastery of genres that range from hip-hop, house and U.K. garage. He crafts these beats with a synth-heavy home set up.
"Performance wise, I'm always on the Roland SP series and the Korg Kaoss Pad as well. Those are so tactile and easy to use—it makes it really feel like playing a drum. I got my mom's Roland Alpha Juno here that's super vintage, and I was a graphic designer for Korg, so I've got the Prologue here. The Korg SV-1 tends to be like the biggest part of my process—I'm big on Rhodes piano sound but I don't have the money for a real Rhodes, so the SV-1 does real well for that. The MicroKorg was like my very first synthesizer ever. I just got the Moog Subsequent 37. I'm a big Moog guy. All my basses on all my songs were Moog basses."
---
The Gear of Nothing_Neue
---
---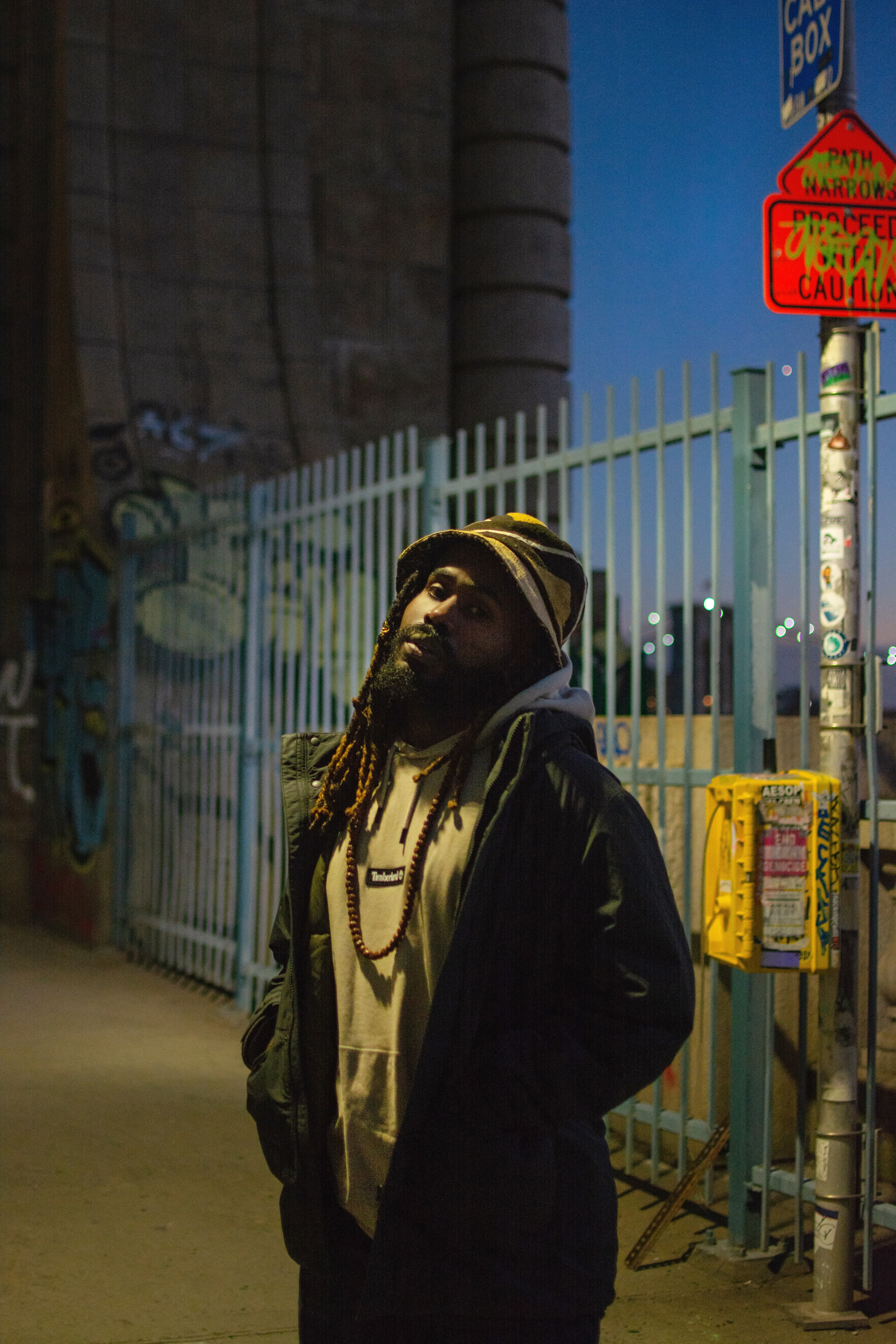 Nothing_Neue. Photo by Shanté Carlan.
Looking to foster a stronger community of like minds, Nothing_Neue began attending local live beat events and networking with producers, DJs and artists. This practice would culminate in the creation of In Plain Sight, the Bushwick-based live hip-hop event that he co-founded with the producer Swing Low in 2017.
"I had spent a lot of time making music and not understanding that there was a community of musicians in New York doing similar things. I started going to Beat Haus regularly, just being upfront, trying to be supportive in the community because that's how I've learned in other scenes, you start off as a fan. I would get videos of people playing and send it to them and I would network. I would talk to people and I thought 'Okay, that's a cool way to get a little bit more involved, but how do I get on stage?' Beat Haus did their first open aux in January of 2017 and I remember getting on line for it, getting ready to go and this dude Unusual was right behind me and I remember saying, "Go ahead, jump in front of me". We both got on the stage and we did our thing."
"I met a bunch of people who were also looking for more opportunities to play beats. After that I was trying to figure out what to do next. So I called up the people that were on the open aux with me and I was like, 'Hey, do you guys wanna like maybe come to my mom's house and sit in front of an iPhone, play beats on Periscope and see what happens?' They were all down to do it."
As the movement grew, In Plain Sight expanded out onto the street, commingling with an annual block party hosted on the block where Nothing_Neue grew up. To date, the lineup of artists that have rocked In Plain Sight reads like a who's who of contemporary hip-hop and beyond: AKAI SOLO, Birocratic, Vicky Casis, Nelson Bandela, KSOLAR, Josh Hey, P.U.D.G.E., Thomas Piper and more turning up for sets. Although the event has changed form and relaunched as a radio show, Nothing_Neue continues his work connecting producers and helping to push the magical, often-solitary art of beatmaking into the realm of a communal artform.
"At the end of the day, the position that I've always had with In Plain Sight is to ask how to add value to the community. How do I provide a platform to those that are already working in the community and are looking for more?"