There is such a wide array of samplers and drum machines available today, but if you want to make full-blown productions, which machines are up to the task?
Of course, you can make a song using standalone samplers like the Elektron Digitakt or the Korg Electribe samplers, or with grooveboxes like the Novation Circuit series or the Roland MC-707. But these options might require another piece of equipment or a DAW to arrange and complete the song entirely.
There are, however, standalone pieces that can do it all: workstations. A workstation usually consists of several types of music gear—a recorder, a sequencer, a drum machine, a sampler, and a synth engine—all in one device. A controller that operates software on a separate computer like the Native Instruments Maschine, Akai Pro MPC Studio, or Ableton Push can be used as a workstation, but the term generally refers to standalone pieces that can make music without an additional computer.
The vast majority of workstations are keyboard-based, but pad-based workstations have risen to the forefront in recent years. So how can we keep up with all the options and find the best deal on Akai MPCs or others?
One way is to let Reverb work for you through your Reverb Feed. By following filtered searches or specific products, Reverb will notify you whenever a workstation that matches your interests becomes available.
If you were to follow Reverb's Workstations and Drum Machines and Samplers categories by themselves, every newly listed workstation, drum machine, and groovebox would land in your Feed, and you'd probably have trouble finding exactly what you want. So let's use a few examples to see how we could narrow down the search.
Akai MPC Series
---
---
Decades after introducing the first pad-based workstation with Roger Linn, the MPC60, Akai Pro has remained the category leader.
Let's say you're not even sure what era of MPC most interests you. You can add all vintage and modern MPCs to your Reverb Feed easily: Start at the Akai brand page, search "MPC," and then click the blue "Follow This Search" icon (or just "Follow" if you're using our app).
There are currently more than 400 MPCs on our site, from brand-new models to MPC1000s, 2000s, 2000XLs, and more. But if you're looking for your first pad-based production workstation, you can't go wrong with one of the newer models.
The new MPC Live II, MPC X, and MPC One all share the same firmware, the same 16-velocity sensitive pads, and the classic MPC workflow, but with a lot of modern features today's producers have grown accustomed to. All of these models—and the discontinued MPC Live—are very powerful and worthwhile machines, and they only differ in connections and portability.
Finding the right MPC for your budget and needs has never been easier: the MPC One is the least expensive of the current lineup, but you can find great used deals on the MPC Live (which was only discontinued in 2020).
By visiting the product page for the MPC One, MPC One Retro Edition, MPC Live, or any other, you can hit "Follow This Product" to get only those specific models in your Feed. Then just wait for one to pop up at the price you're willing to pay.
Native Instruments Maschine Plus
---
---
Over a decade ago, Native Instruments introduced the Maschine, a pad-based controller that combines the best of NI's software (on a nearby computer) with tactile hardware control.
The hardware-software combo has become so popular that Native Instruments sought to take things entirely away from the computer by releasing the Maschine Plus, a completely standalone version of Maschine with the software built within the hardware.
Packed with an Atom quad-core processor, 4GB of RAM, and 32GB of hard disk space, the Maschine Plus is built for users who want to go completely laptop/desktop free but don't want to abandon the Native Instruments creative environment to do so.
The price tag on a new Maschine Plus will set you back $1,399, but used versions on Reverb consistently sell for around $900 and have gone for as little as $750. Let Reverb keep its eyes out for you: Follow the product from the Maschine Plus product page, and you'll see the option to "filter listings by price" before adding it to your Feed. Set a maximum of, say, $950, and you'll be notified only when the best deals hit Reverb.
1010 Music Blackbox
---
---
A smaller form factor than those mentioned above, the 1010 Music Blackbox might not seem like a workstation at first glance. However, it can sample, sequence, and arrange, as well as record and playback hours of loops, all without using a computer.
The multi-touch screen displays virtual 16 pads that can trigger one-shot samples, loops, and MIDI notes. In addition, users can use the Host input to hook up a USB controller for sample playback and parameters control.
The Blackbox is perfect for recording sounds from synths or other sound sources using multi-sample. Built-in BPM sync and time-stretch allow for the combination of loops and samples at different tempos.
If you're in the market for a workstation but aren't tied to a specific brand, add the 1010 Music Blackbox to your Feed as well to compare prices alongside MPCs and Maschine Pluses.
Toraiz SP-16
---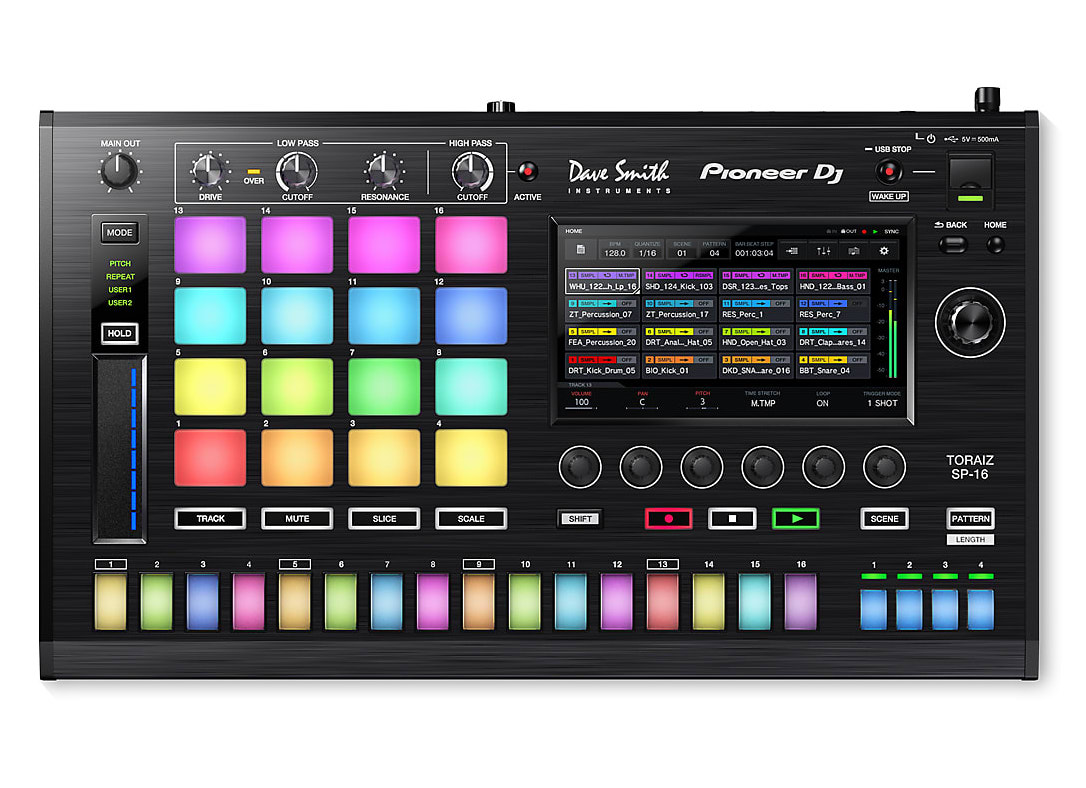 ---
The Toraiz SP-16 is Pioneer DJ's first foray into standalone production hardware. It's a dynamic sampling workstation with velocity-sensitive pads and a sequencer that is straightforward to use.
The SP-16 also features analog high-pass and low-pass filters from the Prophet-6 synthesizer designed by Dave Smith. In addition, a touch strip controller allows more expression when playing notes across the pads, like a pitch bend or modulation wheel on a synth.
Fans of the Toraiz SP-16 praise its real-time processing, as many of the features—like sampling and re-sampling—can be done without stopping musical play on the machine.
As with the others mentioned above, adding the Toraiz SP-16 to your Feed is easy: Just visit the product page and hit the "Follow" icon.
Classic Workstations
---
---
Even with the advances in current technology, plenty of older pieces can get the job done, even if they lack the new bells and whistles like color touchscreens, USB connectivity, larger onboard RAM, and modern sounds. Check out some of the legacy pad-based workstations listed below and add them to your Feed for some classic workstation variety:
---
No matter what particular workstations you're interested in, you can use these same approaches to make Reverb work for you. Newly listed items that match your criteria will automatically appear in your Feed, and if you elect to get a Daily Feed email, they'll be waiting for you in your inbox too.
Check out tips for other instrument types in the rest of our Search Is On series.