You've decided you want to buy your first hardware synthesizer. Maybe you've been working in the box with a DAW for a few years and want to supplement your studio, or perhaps you need one for a band. But which one should you buy?
These days, many people start not with an instrument in mind but with the amount of money they have to spend. However, knowing which synth is best within your budget can still be tricky. Many first-time buyers are also unsure about what kind of synthesis to go with—analog, digital, or what?
We've made up the buyer's guide below with these first-time buyers in mind. We've chosen the best synths at a variety of price points based on public opinion and our own personal experience. We've based these prices on brand-new units, so buying used may save you a few bucks. Also, we've limited our choices to instruments with proper keys—some units also have desktop or module versions, which could be an option if you already have a MIDI keyboard or space is limited.
Synthesis Types
Before we get into the guide, we should go over the main types of synthesis. Most synthesizers can be divided into two main camps: analog and digital. For analog synths, we have two recommendations: monosynths and polysynths. We've further separated virtual analog from digital for the sake of this guide.
Analog synthesizers use electricity to generate sound (rather than the ones and zeros of digital). They generally have a warm sound—in fact, it's their sound quality that makes them so attractive to many musicians. Think Moog Minimoog, Sequential Prophet-5, or Roland Juno-106.

Monosynths are monophonic, meaning that they can only play one note at a time. These synths are perfect for basslines, leads, or effects.

Polysynths, on the other hand, can play multiple notes, allowing for chords. Polyphony refers to the number of notes an instrument can play at a time. Why buy a monosynth over a polysynth? Polyphony is expensive—every possible note needs a separate set of components. If you plan to use your synth for bass or solos only, a monophonic synth could be all you need.

Virtual analog (a.k.a. VA) instruments recreate the sound of analog synthesizers using digital processing. What are the benefits of VA over regular analog? Polyphony isn't as much of an issue, for one, as you don't need multiple instances of components—it all happens on a chip. Putting things into the digital realm can also allow for more complicated synthesis. VA synths can do things that analog ones just can't. Finally, some people prefer the sound of VA, as it's cleaner than analog and has a more modern feel.

Digital is a catch-all term for a number of synthesis types. Usually when people talk about digital synths, they mean FM (frequency modulation) like the DX7, or a sample-based synthesis type like wavetable. Digital synths offer an incredible amount of synthesis flexibility. They can sound cold, though this might be exactly what you want.
---
The Best Synths for $300 or Less
---
The Best Analog Monosynth:

Behringer MS-1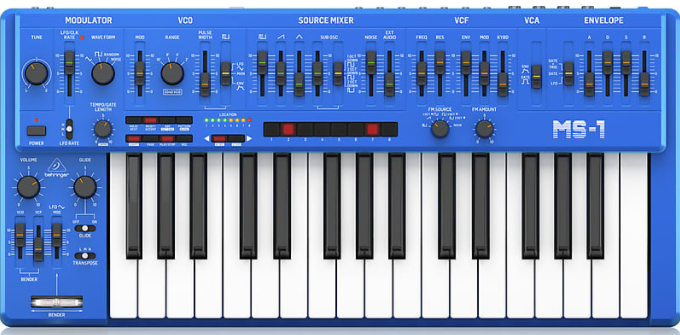 Behringer MS-1
Although the prices of entry-level synthesizers have been coming down in the last decade, it can still be hard to get something at this price range with a keyboard. That being said, Behringer's MS-1 is a great place to start your analog journey. A remake of Roland's legendary SH-101, the MS-1 has a three-octave keyboard and is superb at squelchy bass and leads. It's got an onboard sequencer and even has a handgrip for live performance.
The Best VA Synth:

Modal Electronics Skulpt SE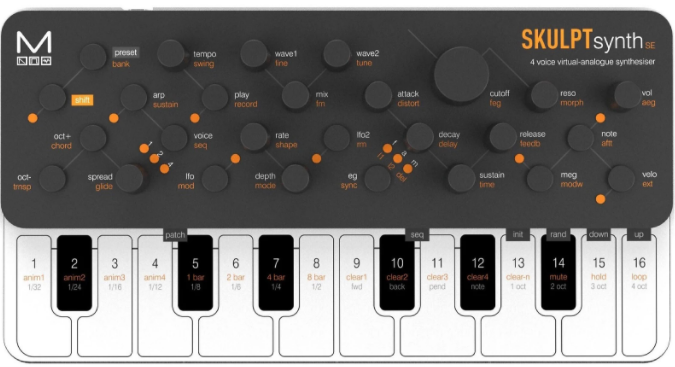 Modal Electronics Skulpt SE
If you want to dip your toes into the virtual analog hardware synth pool, reach for Modal Electronics' Skulpt SE. It's portable, for one, but packs a lot of power. It's got four voices of polyphony with each voice containing eight oscillators for 32 total. It has plenty of synthesis options as well, including two LFOs, three envelopes, and a modulation matrix. You can even hook it up to your computer or device and edit the synth via an app.
The Best Digital Synth:

Korg Volca FM
Korg Volca FM
Korg's Volca line of instruments are cheap and fun, and the FM is the best of the bunch. Essentially a Yamaha DX7 in a VHS cassette-sized box, the Volca FM is an inexpensive way to try your hand at digital synthesis. It's got six operators (FM-speak for oscillators) and 32 algorithms, just like the original, with an added onboard chorus effect and step sequencer.
---
The Best Synths for $700 or Less
---
The Best Analog Monosynth:

Novation Bass Station II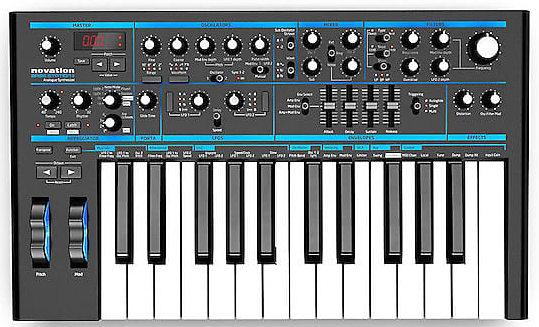 Novation Bass Station II
Novation's Bass Station II gets our nod for best analog monosynth under $700 USD. As the name suggests, it excels at bass sounds thanks to a deep sub oscillator. It's versatile as well and can do angelic just as well as demonic. Novation keep updating the firmware, making it something of a pandora's box of synthesis—just when you think you've mastered it, they go and make it more powerful. It's a true modern classic.
The Best Analog Polysynth:

Korg Minilogue XD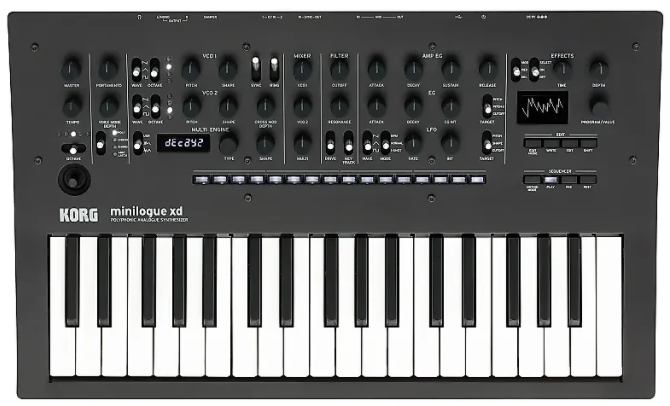 Korg Minilogue XD
Korg's original Minilogue helped kick off the modern analog poly boom. Its follow-up, the Minilogue XD, ups the ante by adding a third oscillator—a digital multi-oscillator—to the two analog ones. This adds depth to the already powerful sound while effects, a sequencer, and a cool oscilloscope round out the features. This pick is perfect for modern electronic music genres.
The Best VA Synth:

Roland JX-08 + K-25m

Roland's Boutique line features miniaturized recreations of their classic instruments. One of the latest is the JX-08—a VA version of the JX-8P. With its clean and lush sound, this is great for pads and other atmospheric sounds. The Boutique version adds 17 effects including chorus, a sequencer, and is two-part multitimbral, meaning that you can play two different sounds at the same time. It has 20-note polyphony as well. Pair it with the K-25m keyboard dock for the full experience.
The Best Digital Synth:

ASM Hydrasynth Explorer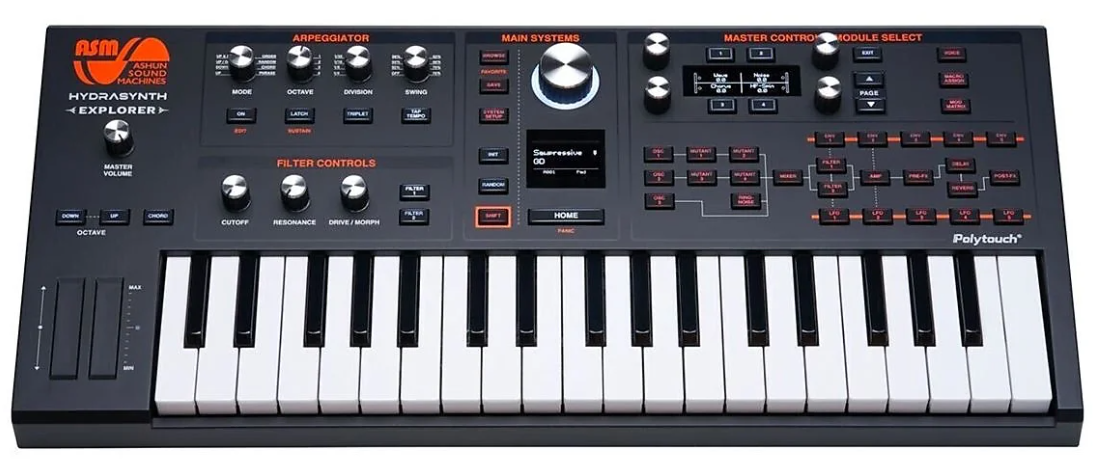 ASM Hydrasynth Explorer
Newcomers ASM released the digital Hydrasynth a few years ago and have now created the budget-minded Explorer version. It has the same deep, eight-note polyphonic sound engine, which includes wavetable, FM, subtractive VA, and more. On the performance side, it's got polyphonic aftertouch, meaning pressure on individual notes can be used to change the sound. The Hydrasynth Explorer is unashamedly digital and can be complicated, but for someone looking to explore the outer reaches of synthesis, this is the place to start your journey.
---
The Best Synths for $1,000 or Less
---
The Best Analog Monosynth:

IK Multimedia UNO Synth Pro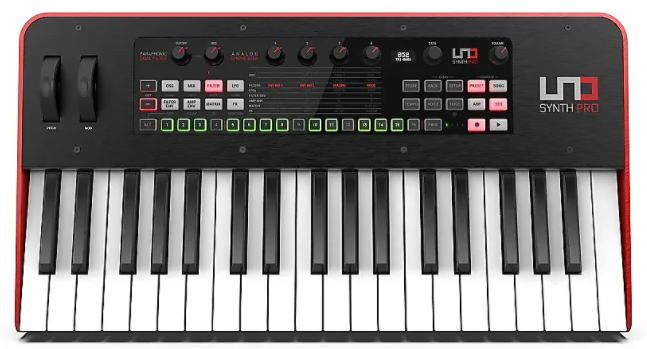 IK Multimedia UNO Synth Pro
It's rare to find such a well-apportioned analog synth in this price range but IK Multimedia's UNO Synth Pro has synthesis parameters to spare. Like the Moog Minimoog, it has three oscillators, allowing for some pretty complex harmonic combinations. It's got two filters (rare in any synth), as well as plenty of sound-shaping options. It also has effects—including a wicked analog drive—and a sequencer, and the Fatar keybed is the icing on the cake. Go for the cheaper desktop model if you don't need the keys.
The Best Analog Polysynth:

Behringer DeepMind 12

Behringer DeepMind 12
Behringer's reinvention as an analog synthesizer powerhouse started with the DeepMind, an analog polysynth inspired by legendary '80s synths. No mere copy though, DeepMind has two oscillators per voice, three envelopes, two LFOs, four gorgeous digital effects engines and a sequencer. It comes in a number of different configurations, including six-voice and desktop models, but we're recommending the 12-voice model. There are enough notes here for complex chords and then some.
The Best VA Synth:

Modal Electronics Cobalt8X

Modal Electronics Cobalt8X
UK company Modal Electronics specializes in digital synthesizers. The Cobalt line is a top place to start for those looking for the kind of synthesis flexibility VA can offer. Like the DeepMind, there is a variety of machines available, including 37-key and desktop units, but we like the Cobalt8X. The X stands for extended, and that's reflected in the 61-note keyboard. As the name suggests, it's got eight voices of polyphony, up to eight oscillators per voice, and plenty of waveforms to choose from. Throw in a multimode filter, effects, and a sequencer, and you have a lot of synth on your hands.
The Best Digital Synth:

Korg Modwave
Korg Modwave
Korg have been killing it as of late, with a series of unabashedly digital synths. Of the three (Opsix, Wavestate, and Modwave) we like the wavetable-based Modwave the best. With over 200 wavetables to choose from, two oscillators, and plenty of sound-shaping parameters, you're looking at hours lost to patch creation. The digital filter features models of some classic Korg synths like the MS-20 and Polysix. Most interesting, there's a chaos-modeling touchpad on the face of the synth to really tweak things out.
---
The Best Synths for $1,500 or Less
---
The Best Analog Monosynth:

Moog Grandmother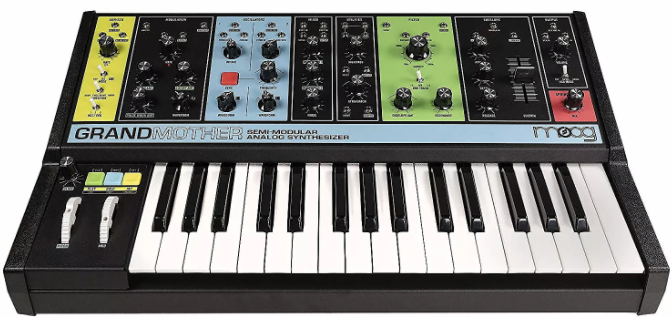 Moog Grandmother
Moog's Grandmother is a two-oscillator monosynth with bags of character. It's also semi-modular, meaning you can expand on its synthesis capabilities with patch cords (it will work without them too). The Grandmother is an excellent way to get into Moog and learn more about subtractive synthesis at the same time. It also pairs well with modular gear, should that be tempting to you. The Grandmother comes in two color schemes to fit your mood: bright and cheerful or dark.
The Best Analog Polysynth:

Sequential Take 5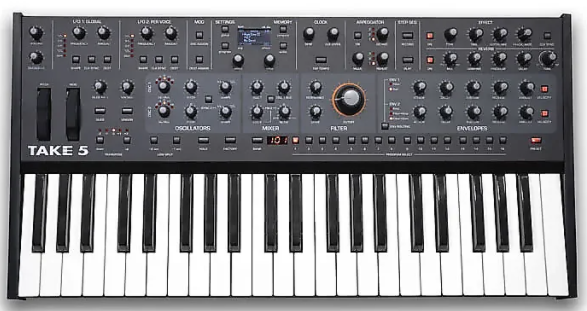 Sequential Take 5
Dave Smith is an absolute synthesizer legend. His company, Sequential, was responsible for the Prophet-5, which was recently re-released. Although that synth is beyond the scope of this buyer's guide, the new Take 5 does feature some of its DNA. With five-voice polyphony and two oscillators, a filter, two LFOs, effects, and aftertouch, the Take 5 is a solid way to get into Sequential without having to sell off any internal organs.
The Best VA Synth:

Roland System-8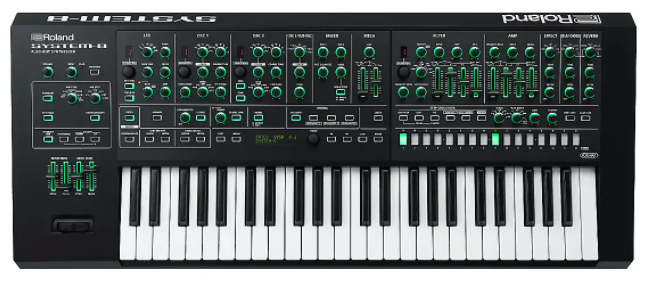 Roland System-8
If the idea of limiting yourself to just one synthesizer puts you off, try Roland's System-8. The Japanese company bills it as a "plug-out" synth, allowing it—like a DAW—to house different synthesizer models. It comes with three as well as its own engine, which has eight voices, three oscillators, filters, and a sequencer. Additional synths can be purchased online. The Tron-style green LEDs are polarizing but there's no arguing over the sound quality.
The Best Digital Synth:

Roland Jupiter-Xm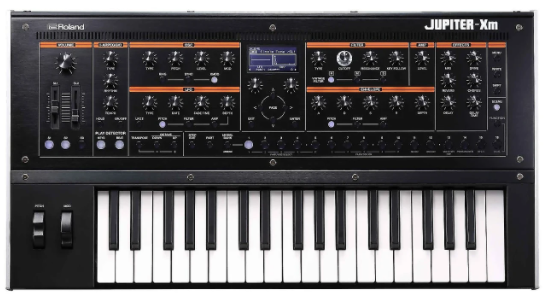 Roland Jupiter-Xm
Roland's Jupiter-Xm, the portable and more diminutive version of the Roland Jupiter-X, takes a cue from the System-8 by housing multiple synth engines. This includes the main ZEN-Core engine, which combines VA with a variety of PCM samples. The Models include famous Roland synths like the Jupiter-8 and Juno-106 as well as digital ones. The variety of synthesis engines plus the oceans-deep OS ensure it can do just about anything you need, although there is a learning curve.
---
The Best Synths for $2,000 or Less
---
The Best Analog Monosynth:

Arturia MatrixBrute

Sitting at the top position for monosynths in our buyer's guide is Arturia's MatrixBrute, an absolute beast of a synth. The monsterized version of the Brute series, it's got two oscillators, both with Arturia specialty circuits UltraSaw and Metalizer. For filters, it has two: a Steiner-Parker filter and a Moog-style ladder one. There's also that massive and eye-catching modulation matrix, which makes this a sound designer's dream come true. And did we call this a monosynth? It's actually capable of playing two notes at a time, with each oscillator taking a key.
The Best Analog Polysynth:

Sequential Prophet Rev2
Sequential Prophet Rev2
The Prophet Rev2 is Dave Smith's upgrade of the Prophet '08. It's got two oscillators (plus a sub oscillator for extra bass weight), a lowpass filter with selectable slope, waveshape modulation, onboard effects, and a polyphonic sequencer. The styling is reminiscent of classic Sequential Prophets while the sound of the new one will work in both retro and modern genres. We're recommending the eight-voice model here, but you can save up those extra pennies to take the voice count to 16.
The Best VA Synth:

Nord Lead A1

Nord Lead A1
Nord were pioneers in virtual analog synthesis, and the Lead A1 continues that pedigree. It has eight unique oscillators that can handle both analog and digital waveforms, a variety of filters, as well as modulation and effects. The quality is top-notch, and with its lightweight construction, the A1 is just begging to be taken out on the road. This is a good first synth—particularly for live performers—and one that will stay with you forever.
The Best Digital Synth:

Yamaha MODX7

Yamaha MODX7
Yamaha has a long history of digital synthesis. It's the company that brought FM to the world and it also knows a thing or two about PCM synthesis. The MODX7 combines the eight-operator FM-X engine with AWM2 sample synthesis in a 76-key synthesizer. It's got vintage effect modeling, a vocoder, and even drums. Designed to be affordable yet still give you a lot to chew on, the MODX7 can handle realistic tones as well as electronic ones. Go with this one if you need an instrument that can do it all.
---